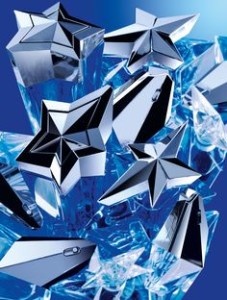 Collage of Thierry Mugler Angel star shaped flacons
In 1992, fragrance history was made. Parfums Mugler released what would become one of the best-selling perfumes in the world. Bottled in star shaped flacon and filled with juice that reminds one of the Blue Fairy, Angel has created a wide wake. Not only in the Industry itself by way of sales volume and numerous flankers, but as a polarizing scent people either love or hate.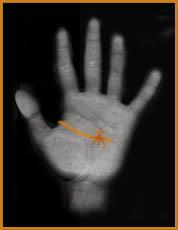 Star shaped lines on the palm
Legend has it that designer Thierry Mugler went to a fortune teller prior to becoming famous. She looked at his palm and noticed the lines made a star shape. She advised him that if he were to incorporate this shape in all his designs he would be world famous. He did as she advised him, and the rest is, well…history.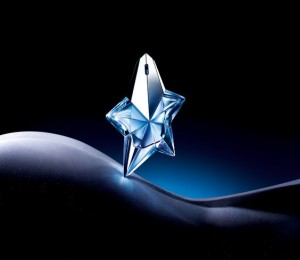 The iconic Star shaped flacon of ANGEL EDP
Angel, has gone on to become Mugler's most popular scents, and some say his flagship fragrance. Adored and worn by women ranging from 15 year old High School girls to women their mid-sixties and many men, Angel did something no other perfume (at that time) had done: it united the fruity floral and the oriental into something utterly unique-the modern gourmand.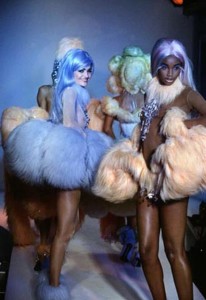 Helena Christensen & Beverley Peele, Thierry Mugler Fall 1991
Thierry Mugler was beyond fashion, he took glamour to the next level sublimating Divas from the past into future bombshells with fairy floss pink hairdos wrapped in sequins and feathers. So it's no wonder when he decided to enter the perfume game he did it his own way. Inspiration comes from the past, Thierry's first scented memories, his mother wrapped in vanillic swirls of Shalimar, the playground with aroma of candy floss and the cakes his granny used to bake for his birthday.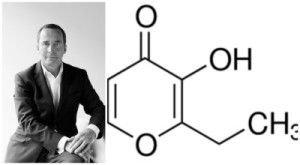 Olivier Cresp and the molecule ethyl maltol
After ten years of rejection, finally master perfumers Olivier Cresp accepted the challenge and composed a perfume that smelled like FOOD. Thierry Mugler Angel is a pampering scent with an overdose of patchouli wrapped in an unusual amber accord based on ethyl maltol. The molecule itself smells of candy sugar, strawberry jam, caramel and chocolate and was around since the late 1960s to enhance flavor in food.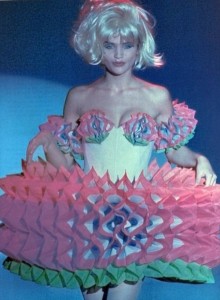 Helena Christensen Thierry Mugler spring summer 1991
If we revisit this era in history there was tremendous turmoil. These years were uncertain times when the Berlin Wall fell, world assets crumbled, the spread of AIDS casting a shadow on sexuality in scents, and nearly every perfume house was playing it safe with fragrances that smelled like clean laundrymusks. Ethy lmaltol was no miracle molecule fresh out of the lab but M. Cresp's creativity using it as a key ingredient in Angel, and the groundbreaking signature birth to the first "gourmand."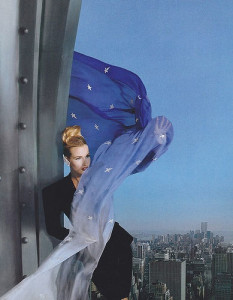 The first ad for Angel featured Estelle Lefebure in1994
I remember I didn't like the cleansing wave of aquatics that were flooding the shelves in the early 1990s and still enjoyed my powerhouse chypres despite the fragrant wind already changing. I also did not understand Angel at that time… but apparently I wasn't alone because it wasn't immediately a big hit. Credit Mugler with staying with it because Angel slowly reshaped the olfactive landscape, consumer taste, continues to gain more and more fans and spawned countless imitations. Nowadays I admit I smell Angel from a different perspective. We'll never know if the fortune teller's story belongs to reality or marketing, but the iconic star-shaped blue bottle designed by Mugler himself and still produced in France was truly a game changer in modern perfumery.
Ermano Picco, Contributor and Editor of La gardenia nell'ochiello and Art Direction and Contributions: Michelyn Camen.