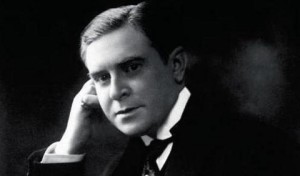 Francois Coty 1874-1934
There are few Houses that have shaped Modern Perfumery and continue to exert their influence worldwide. Coty is surely one of them and revolutionized the first thirty years of the 20th century. From the invention of new fragrance categories and formualtions,(most notably the Chypre and Oriental families) as well as introducing perfume and cosmetics that were made available at many price points. Francois Coty is unarguably one of the most brilliant and controversial personalities in the history of perfumery. He was France's first millionaire; who wasn't from France but from Corsica and like the Corsican born Napoleon, (Coty was a descendant of Isabelle Bonaparte, Napoleon's aunt), he went on to build an Empire that still flourishes today. At a time when perfumers kept a low profile, François Coty flouted every convention. He was the embodiment of the phrase "image is everything", bleached his red hair white, threw lavish parties and was known as much for his politics and philandering as for his perfume. Coty was a narcissist, (one of his famous quotes, 'Perfume is a love affair with oneself' certainly speaks to this!). He was a Fascist, an Anti- Semite, a bully, a showman, a visionary, an aesthete, a womanizer and a genius.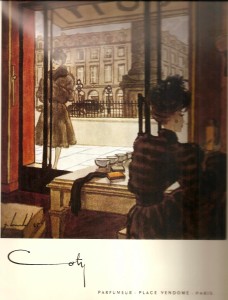 It is difficult to remove his unsavory politics from his achievements in the Fragrance Industry, but Coty was unlike any perfumer of the modern era. There has been so much written about François Coty's questionable character, that this article will focus on his four most important contributions to perfumery during the height of his career, 1902-1928… We will take a in-depth look at François Coty and his contributions to the perfume industry. They are many but most notably, the inventions of new fragrance types, the first use of color "coding" as an integral part of brand identity, marketing cosmetics with fragrance and fragrance sold as gift sets, creating memorable flacons, including his legendary work with René Lalique. Perhaps his most notable contribution that will resonate with consumers today can be summarized in his own words: "Give a woman the best product to be made, market it in the perfect flask, beautiful in its simplicity yet impeccable in its taste, ask a reasonable price for it, and you will witness the birth of a business the size of which the which the world has never seen."

To understand his drive and take no prisoners business practices it is important to note he was considered an outsider and his humble beginnings in Corsica drove him to become the "Emperor of French Perfumery". Born Joseph Marie François Sportuno in 1874, he was orphaned at an early age. He was raised first by his paternal great grandmother and then by his grandmother who lived in Marseilles. He changed his name to Coty, a variation of his mother Marie-Adolphine-Françoise Coti's surname. When he created his perfume company in 1904, he legally changed his name to Francois Coty as it sounded more French and could easily be pronounced by Americans who he saw as a viable market one day. In the 1890s, he served in the French army where he met his mentor Emmanuel Arene.
In my article on Houbigant, we last "met" Francois Coty skulking about the Houbigant Pavilion at the Paris Expo in 1900, fascinated by the beautiful flacons and imagery. Whereas Houbigant presented conceptual perfumery as a onetime event, it was here that Coty understood that Fragrance should be a fusion of scent, presentation, marketing and a weapon of seduction that engaged all the senses.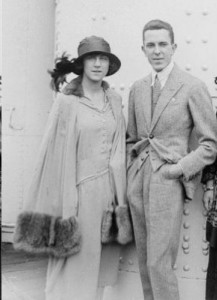 Francois Coty with his wife Yvonne le Baron
He married Yvonne Le Baron shortly after moving to Paris. He and his wife had a friend in common, Raymond Goery, who owned a Pharmacy that sold perfumes. After smelling an eau de Cologne in the shop, he knew he could make it better. So his friend gave him a chance at remaking this perfume, and sure enough Coty created a fragrance that was far more beautiful. It could be said that this was his first perfume which he called "Eau de Coty". He now had a career path and was on a mission to be the most formidable force in the market. He promptly packed his bags and headed for Grasse. His wife and first child came with him. Emmanuel Arene prearranged a meeting with Antoine Chiris. Antoine was the owner of the most modern distillery in Grasse. Coty became a perfume apprentice along with a group of young perfumers also training at Chiris including Henri Alemaris who became Paul Poiret's and Jean Patou's perfumer, a young Ernest Beaux who had worked for a Russian perfume house called Rallet who later gained fame as the perfumer at Coco Chanel. Coty met Vincent Roubert who would come to work with him at Parfums Coty in the future. Yet, Coty stood out amongst these amazing talents; it was at Chiris he began La Rose de Jaqueminot.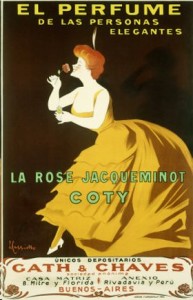 It was 1902 and he was ready to unleash upon the world, La Rose Jacqueminot. It was at the time the longest lasting rose perfume in the world. It was a very daring blend of strong Rose absolutes and oils with a heady jasmine on top of a bed of intense violet and iris notes. While at Chiris, he was fascinated by their proprietary Solvent extracted absolutes and he was the first to use them expansively in perfumes, instead of the Enfleurage extracts that were popular at that time. He also used synthetic materials with wild abandon, which other perfumers were using in minute quantities. Coty flouted the conventional notion that synthetics were less desirable and used them to punctuate his fragrances so they would stand out from the soliflores and timid women's scents the day. By combining an extravagent amount of absolues seamlessly blended with synthetics he was the first to create bold, dynamic perfumes with maximum sillage that were borderline scandalous. His fragrances stood out like gilded exclamation points.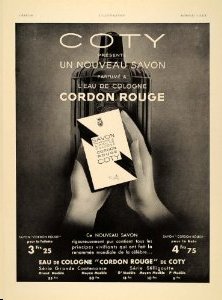 Coty's perfumery style was bright and vibrant which added a new dynamic. He composed a novel accord using citrus, orris, sandalwood and overdoses of civet and nitro musks that became one of the Coty signatures. Also the cologne he began working on earlier was reformulated and called Eau de Coty Cordon Rouge, using a higher concentration than any other cologne. This citrus, herbal and woodsy note is woven throughout the Coty collection of perfumes.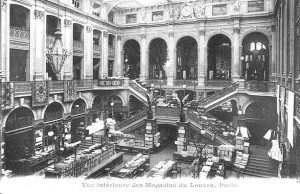 .Grand des magasins du Louvre in 1900. Vintage French post card
Now it was showtime. Although he had a knack for engaging women, buyers at that time were men and didn't like him and his flamboyancy. But that did not hold him back and the story of how La Rose Jaqueminot (1902) became a sensation is well known. He approached the buyer at the Grand Magasins du Louvre. This was the largest department store in Paris at that time. The buyer turned down all of Coty's efforts. Coty had a scheme in mind. His wife and her friends were in the store waiting in the wings. Coty "accidentally" dropped a large bottle of La Rose Jacqueminot on the floor. As soon as the glass shattered, the gigantic waves of Rose and Violet quickly wrapped their tendrils around the entire department store causing frenzy amongst the women shoppers. They flocked to the perfume counter demanding to buy La Rose Jaqueminot that very moment. Even back then, the customer is always right. To the buyer's chagrin, he was forced to sell all of the bottles Coty had taken with him, which sold out within hours. By the time the store closed for the day the perfume department had orders for over 20 more bottles of a perfume that was not technically for sale. Coty's career was launched and La Rose Jaqueminot became one of the best selling perfumes of the early 1900s and worn by the great Sarah Bernhardt. It was at this time he opened his eponymous boutique.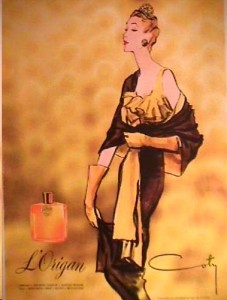 His next huge success was L' Origan which became a worldwide sensation in 1906. L'Origan is a warm wonderfully balanced perfume. Orange Blossoms and Bouvardia (a floral synthetic), twist and dance around a body with rose, jasmine, clove and cinnamon that rested on a complex, textured powdery base of musks. It was so popular that the manufacturer Firminich could barely keep up with the demand. Edmond Roudnitska once remarked that when he went to Paris, after L'Origan was launched that the whole city smelled of it. Any woman of fashionable society wore Coty's L'Origan as did every women no matter what her means, which goes back to Coty's strategy of bringing great perfume to the masses.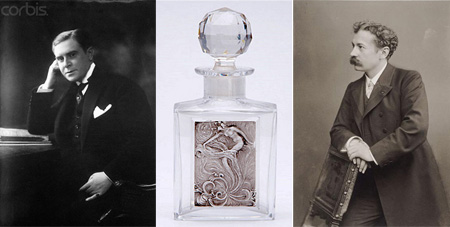 Francois Coty (L) Lalique bottle L'Effleur and Rene Lalique (R)
We have spoken about Coty's fascination for beautiful flacons. Using his power of persuasion, he convinced a reluctant Rene Lalique, a jeweler to design bottles for him. In all, over 17 bottles were designed by Lalique for the Coty brand. The first was for Coty Perfume L'Effleur in 1908. The name is a play on word, Flowering and the Flirt.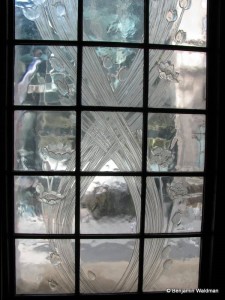 Lalique windows Henri Bendel, former Coty office source: untappedcities.com
When we think of Vintage Coty, it is important to note that while working for Coty, Rene Lalique was responsible for every aspect of design including advertisements, interiors and exteriors the Coty Stores in Paris and New York's Fifth Avenue, now home to Henri Bendel. Coty pushed Lalique to the brink and he stopped working for the House for about 12 years beginning in 1921 after the launch of Coty perfume called Paris. They reconciled in 1933, when he created the bottle and ad for La Fougeraie Au Crespuscles shortly before Coty's death.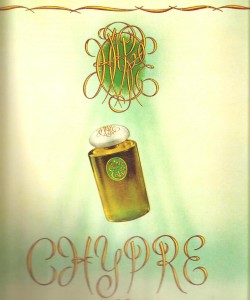 In 1917, right after World War I, Coty created one of the most famous fragrances of all time and shook the very foundation of the industry, Chypre. Not only was it a perfume, it became the most important fragrance family that dominated perfumery until the early 21st century. Chypre means Cyprus and for Coty who had been known for bright, joyful fragrances this was a turning point. On the original bottle it was written on the label, "This perfume of ambered mosses emanates at certain times from the woods and from the deepest parts of the forest." Coty's Chypre set the structure for this archetype of perfumery. It began with bergamot and lemon as the top notes, mid notes are a combination of herbal and florals, including absolues of jasmine, rose, lavender,amd clary sage. The base notes are what set this perfume apart and to this day evokes reverence. The key was the Oakmoss, which included seven different varietals and tree mosses along with patchouli, sandalwood and vetiver. One of the first perfumes worn by celebrities of the time; devotees included Tallulah Bankhead and Clark Gable.
Speaking of dark sides, Coty's jealousy alienated him from his peers. He tried to buy Houbigant many times. There was much tension between the two houses. Coty also tried to purchase Lubin, Roget et Gallet, Parfums D'Orsay and fashion designer Paul Poiret's perfume business, (the first designer perfume) called Parfums Rosine and when Poiret refused Coty threatened to crush his business.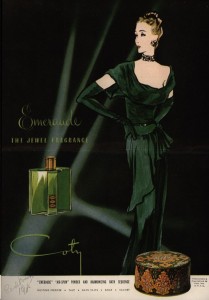 Many historians name Coty's Emeraude (1921) as the first Oriental preceding Guerlains Shalimar (1925), Emeraude was created during the time when Coty had achieved worldwide distribution and began to package fragrances with ancillary products such as scented body lotions, powders and soaps. It is best known for its unforgettable citrus top containing verbena and the overdose of vanillin and a new specialty base called Coumerone, which was heavily lactonic and loaded with tonka. Emeraude was made in an exquisite emerald cut flacon designed by Lalique but also available in a simple bottle, embodying every day glamour. On a personal note, this fragrance is very dear to me as my friend Connie who passed away at the age of 99 attended the gala launch of Emeraude in the U.S.A The haute society of New York was out in full force and Connie, who was just 11 years old spoke of it as the most enchanting evening and experience of her life Needless to say she wore Emeraude until her passing.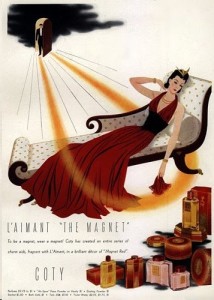 The magnificent L'Aimant created in 1926 by Vincent Roubert, who was a perfumer with Coty since 1910, was inspired by the trend for Aldehydic fragrances made popular by Chanel 5. It was Lily Guerlain's favorite perfume (she was the wife of Jacques Guerlain) much to the dismay of her husband who created L'heure Bleue for her. (Editor's Note: Vincent Roubert is the creator of Knize 10 and the brilliant Jaques Fath Iris Gris).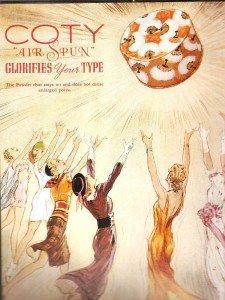 In 1928 Coty, introduced the concept of presenting perfume by color: Emeraude is a dark Green, L'Origan is golden, L'Aimant is Pink, and Chypre is a cool Aqua. The famous Coty Airspun Powder was made available in each of these scents. Polly Mellen who was the first editor of Allure magazine called Coty's Airspun Powder one of the 10 greatest cosmetics of all time and still is one of the greatest selling beauty products of all time.

So this brings our brief visit with Coty to a close. His company has continued on to become one of the largest beauty brands in the world. Coty is well known for celebrity fragrances for Jennifer Lopez, David Beckham, Katy Pery and Madonna. Would Coty have approved of all the celebrity perfumes and all that has been attached to his name sake company? Coty would have LOVED it! If he was living in 2014, he would say he achieved his dream to make perfumes worn by everyone and then be seen with a popstar on his arm
–Kevin Verspoor, Monthly Contributor and Perfumer for PERFUMEKEV (website launching 3/8/14) with contributions from Michelyn Camen, Editor in Chief
Art direction: Michelyn Camen, Editor in Chief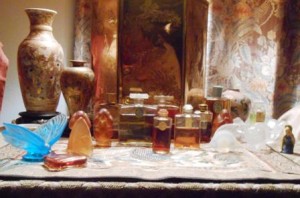 Photo: Kevin Verspoor vintage Coty perfumes


As a treat to our readers worldwide, Kevin is kindly offering ONE 2ml sample of either Coty's L'Origan,L'Aimant, Chypre, Emeraude or La Rose Jacqueminot circa 1920's from his own collection. To be eligible, please leave a comment about this article, something you learned about Francois Coty and your choice of the above vintage Coty perfumes by March 6, 2014
Editor's Note: Kevin's perfumery is heavily influenced by Francois Coty and he is considered one of the leading experts on Coty's fragrances