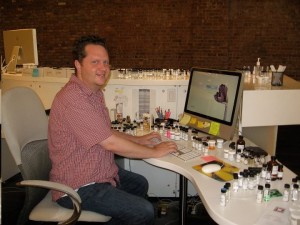 Kevin Verspoor
As a contemporary perfumer, I believe to embrace new directions and innovations, one must study the past. In addition to my years at Large Fragrance and Flavor Companies where I learned modern techniques, I studied the legends of Perfumery in great depth. I became an avid collector of vintage perfumes and own over 3000 bottles created from 1900-1989. It is wonderful that so many lovers of fragrance are interested in vintage perfumes and actively seeking to learn about the Great Houses. Each year, more and more people are looking for fragrances that have unique qualities- not the "engineered" perfumes created by marketing teams that are prevalent in many modern mainstream perfumes. I have found that fragrance lovers respond to scents natural ingredients, which is true of vintage formulas. Many people are truly interested in fragrances that have depth and a strong signature. In this bi monthly series, I will share my knowledge and yes my vintage perfume with the readers of CaFleureBon.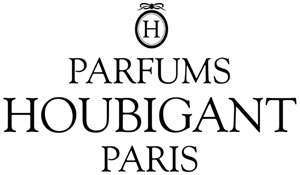 The illustrious perfume House Houbigant has been in business in some form or another since the late 1700's and is still in business today. There is so much that could be written about Houbigant that it would take a book to fully address all of the achievements of this amazing fragrance company. In this article, I will focus on the years 1882-1915 (including Houbigant's presentation at the Paris World's Fair in 1900). Houbigant's two perfumers Paul Parquet and Robert Bienaimee revolutionized perfumery and their work would influence many generations that would follow. The important innovations that they brought to the world of perfumery include creating multi faceted fragrances, using synthetic materials to achieve complex scents and creating beautiful imagery to perfume packaging, flacons and advertising.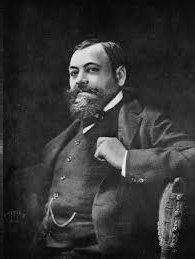 Paul Parquet
Paul Parquet is the Creator of Houbigant's Fougere Royal, L'Ideal and La Couer de Jeanette. Paul Parquet was an ingenious perfumer who was an artist as well as a chemist. He utilized the most modern materials of the time, including those that had been isolated from natural raw materials such a coumarin from Tonka and salicylates which were created from synthetic petroleum sources.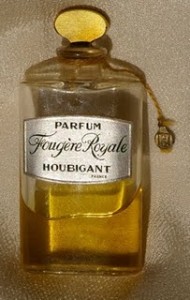 Vintage Fougere Royale perfume
What made Paul Parquet so important to perfumery was his avid interest in creating fragrances that where conceptual. In his Fougere Royale in which coumarin made its fragrant debut, Paquet was quoted as saying that "If God gave ferns a scent they would smell of Fougere Royale" (a continent away, he did not know that in the United States' North and Midwest that there is a species of fern referred to as the Hay Scented Fern which does have a soft coumarin note). Fougere Royale with its fresh lavender hay like scent and woody accords rounded by tonka bean was a breakthrough and created the category known as "Fougeres" which is important to contemporary perfumery. Vintage Fougere Royale does indeed smell differently than its current incarnation, much more subtle and uses oakmoss and natural ingredients that have been restricted. Parquet continued to innovate and his genius was to recognize that perfume could be much more than the soliflores (single note scents) that were prevalent at the time. He created two additional masterpieces of perfumery L'Ideal and La Coeur de Jeanette.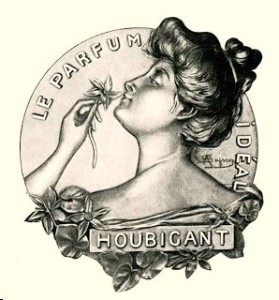 L'Ideal (Photo: Houbigant Blog)
In the original L'Ideal (1900), Parquet created a complex and vibrant fragrance composed of many contrasting materials. Floral and spicy with orange blossom, jasmine, rose, clove and cinnamon, L'Ideal was also musky with soft balsams such as benzoin and Peru balsam. What gives L'Ideal a unique twist was the addition of Cappucine oil (a type of nasturtium) which brings a green somewhat peppery note (similar to what arugula smells and tastes like) and gave the entire composition a bright fresh note. L'Ideal is considered to be the first multi faceted floral perfume.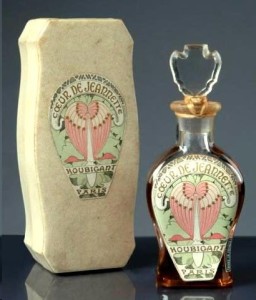 La Couer de Jeannette by Houbigant featured illustrations by artist Alphonse Mucha (Photo: Houbigant Blog)
Next he created a beautiful fragrance called La Coeur de Jeannette which many believe is the first "Floral Oriental" perfume. It came in a lovely bottle created by the famous Art Nouveau master Alphonse Mucha. La Coeur de Jeanette was a lovely harmony of orange blossom, clove, tuberose, acacia, rose, heliotrope, vanilla, ambergris and animal musk.The overall impressions that I get from all of my earliest bottles of Paul Parquet's perfumes is that they are all incredibly polished, soft, and powdery each with a definite character and wonderful diffusion. They all have a distinct top note, mid note and base. To the late 19th century nose they were designed to smell very modern and very expensive. To me they smell so beautifully blended; there are no rough edges and there is not one note out of place. They are very gentle, yet very dynamic at the same time.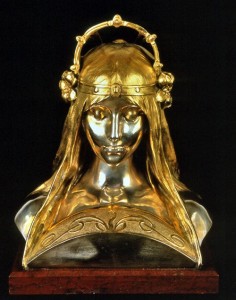 (Photo: Houbigant Blog) Alphonse Mucha for Houbigant
The House of Houbigant was one of the presenters at the Paris World's Fair in 1900. Houbigant contracted artist Alphonse Mucha, to design their pavilion at the Fair. Fragrant flowers were woven into the crowns of the gold and silver busts of women every day. The fantastical panels on the wall were various feminine Art nouveau forms. The perfumes were all given special packaging for the fair.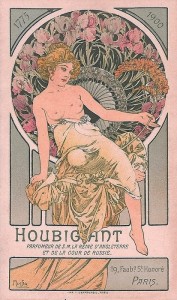 Panel from the Houbigant Pavillion Paris World's Fair 1900
This was one of the first times that we see a synergy between perfume and the visual concept of packaging. Before this, most perfumes were sold in more typical apothecary type bottles. In fact, a young Francois Coty visited the Houbigant Pavilion many times. He was so inspired by this idea that perfume should be presented with corresponding imagery, that a few years Parfums Coty that came renowned for its luxurious flacons (also in the Art Nouveau style) which were executed by Rene Lalalique.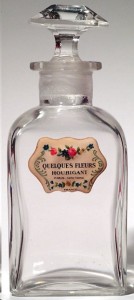 Quelques Fleurs (vintage)
During the first years of the 20th century Houbigant hired a young chemist named Robert Bienamiee who was only in his early 20s. Under the tutelage of Paul Parquet, Bienamiee, became proficient in both the Art and the Science of perfumery. His first major success was Quelques Fleurs "a few flowers." Robert Bienaimee created Quelques Fleurs in 1912 and it is a benchmark fragrance in modern perfumery as it had a lightness and a brightness that had never been achieved previously. He used new aroma molecules such as Hydroxycitronellal (which smells like Lily of the Valley) and Phenyl Ethyl Alcohol (evoking the soft green nuances of roses). He also used certain floral bases from Givaudan and DeLaire. This fragrance is credited as being the first modern floral fragrance.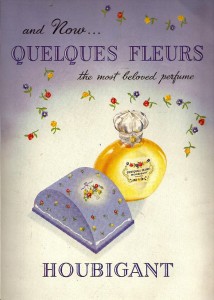 (Vintage Ad for Quelques Fleurs: Houbigant Blog)
This perfume was so popular that almost every other Perfume House began creating fragrances that florals influenced by Quelques Fleurs and it also inspired many other fragrances such as Chanel No. 5 Chanel No. 22, Belodgia de Caron, Fleurs de Rocallie de Caron and even L'Air du Temps Nina Ricci. Francois Coty was so jealous of Houbigant's successful fragrance that he created a perfume called "Paris" in 1920. Coty tried more than once to purchase Houbigant because he loved their fragrances so much. He also loved how much money they made. He was quoted as saying that besides his own creations he was inspired by and loved Houbigant's Fougere Royal, L'ideal and Quelques Fleurs as well as Guerlain's Jicky. Of course no one at Houbigant was interested in merging with another company.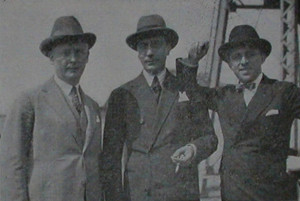 The Houbigant Team – Bienamee, Droz and Javal in 1925 (Photo: Houbigant Blog)
By 1919, Houbigant was the largest and richest perfume house of the era. They had opened distribution centers all over the world . By the 1920's Paul Parquet had retired and Robert Bienaimee and other business associates where running the company. Robert who was considered by all to be a very kind man had invested in the future of the company by hiring two younger perfumers Paul Shiving and Raymond Kling. These two who would go onto create the post World War II successes. The Depression of the 1930's and World War II proved to be difficult times for Houbigant. Robert Bienaimee left Houbigant to create his own perfume company called Parfums Bienaimee.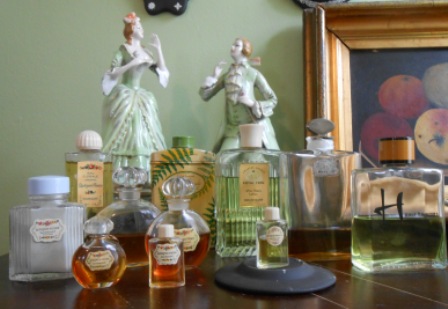 Vintage Houbigant parfums from Kevin's collection include the orignal formulations of Fougere Royal and Quelques Fleurs
Houbigant is truly one of the most important Houses to perfumery as we know it today. They should be credited for not only creating the Fougere family but also the Floriental and Floral bouquet families as well. It is important that we take a little time out of our lives to realize without the visionary accomplishments of these creative perfumers and artists a century ago, many of the fragrances we love would not exist!
–Kevin Verspoor, Contributor and Perfumer for PERFUMEKEV
Very few people have access to these great masterpieces, so Kevin will offer The Houbigant Fougere Royale Parfum (from the 1920- 1930's bottle) or 1.5ML of Houbigant Quelques Fleurs Parfum (1920's-1930's bottle) drammed from his own collection to two reader worldwide. To be eligible please leave a comment with what you learned about Houbigant and their contributions to perfumery and your choice-Fougere Royale or Quelques Fleurs. Draw closes January 19, 2013.
Editor's Note: Like fine wine, vintage perfumes are very rare and Kevin is so generous to offer these.
We announce the winners only on site and on our Facebook page, so Like Cafleurebon and use our RSS option…or your dream prize will be just spilled perfume.
Editor's Note: To learn more about Kevin Verspoor, the creator of the FiFi award winning Odin New York 6 Amanu read his Profiles in American Perfumery