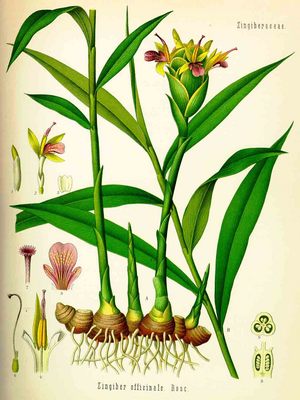 Ginger is a spice, biting sometimes, fresh and mild if young and tender, hot and fragrant when mature, and quite potent when old. It may be called gingembre in French, gingifere in Old English, even inji ver (Tamil) or by its scientific name Zingiber officinale. Other members of this fragrant family include ginger lily, galangal (Thai ginger), turmeric, and cardamom. Ginger lily rhizomes and flowers both produce fragrant products that may be distilled or extracted for perfumery. There are more than 1000 species in the ginger family from Africa, Asia, and the Americas and many of them are fragrant. All have large rhizomes or underground stems that are fleshy and often spicy. Many are used as ornamental plants having unusual flowers and attractive foliage. The flowers and leaves may also be used in food preparation in addition to the rhizome. From this large family with scented leaves, flowers, seeds, and rhizomes we get a wondrous variety of fragrant products but it is ancient and complex ginger that is most familiar and perhaps most widely used.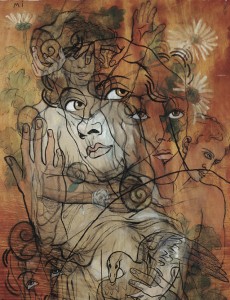 Mi, 1929, Francis Picabia. French (1879 – 1953)
Ginger essential oil is used in perfumery to add spice and depth to Oriental or spice blends. It's also valuable for incense or gourmand fragrances and a tiny bit will add interest to florals. When fresh ginger is distilled it keeps a light, lemony and fresh ginger note that is lovely with citruses and tropical florals. Fresh ginger essential oil has a true zingy ginger odor highlighted by a lemony topnote while the other has a deep, spicy, woody scent sometimes accompanied by a hint of earthiness. Fresh ginger essential oil adds an interesting unique vibrancy to oriental perfumes. While it is often compared to black pepper or cinnamon bark, its spice is fresh and uplifting. Fresh ginger is unexpected and original and adds freshness, heat and spice to floral blends. It blends well with amber, bitter orange, petitgrain and pink lotus. It is worth seeking out a truly great fresh ginger as many ginger essential oils on the market can have a "cooked" note and lack the vibrancy that a good quality fresh ginger oil possesses.Two types of essential oil are produced from ginger, one from the dried rhizome and one from the fresh rhizome. There are three main components, zingerone, shogaols,and gingerols that make up about 1 – 3 percent of the weight and give the characteristic odor and flavor.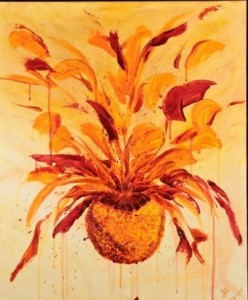 give a gift of ginger painting credit
I once heard that the best way to thank someone for a plant is to pass along a piece of it to someone else. If you'd like to propagate your ginger plant or give some away, it is best to use the rhizome (the spicy, thick root-like structure) and make sure some growth nodules included. They look like the eyes of a potato. Ginger plants do well potted but don't always bloom. Most plants in the ginger family are perennial with reed-like leafy stems that may grow up to a meter tall. Once the stalk withers the fleshy root or rhizome can be gathered. If it is scalded or washed and scraped it will not sprout. Or, the root can be divided and planted to grow more ginger plants
1001 Arabian Nights Virginia Frances Sterrett illustration
The ancient Romans appreciated ginger but it declined in use after the fall of the Roman Empire. However, Marco Polo came back from the Far East with ginger, bringing it back into favor in Europe. Trade in spices, with ginger playing an important role, is an ancient commerce extending back into antiquity and was conducted both overland and by the sea with spices commanding high prices. Beginning with a monopoly in the Middle East, the sources of the spices were kept secret and often the subject of imaginative tales and source of vast riches. Ginger is one of the spices mentioned in 1001 Arabian nights. In 1585, Jamaican ginger, said to be the best, was the first oriental spice grown in the New World and imported back to Europe. It grows wild in the Caribbean Islands adding to the lush tropical settings.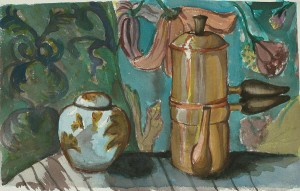 Ginger and tea painting by Carol Oufnac Mahan
In western cooking ginger is usually used in sweet foods like ginger ale, gingerbread, cookies and even a ginger-flavored liqueur called Canton from Jarnac, France. The leaves may be used in Vietnamese soups to add a subtle flavor of ginger. Jamaicans make ginger beer as a carbonated beverage but will also make it fresh in their homes for drinking. Queen Elizabeth I invented gingerbread men which became a popular Christmas treat. Colonial apothecaries relied heavily on ginger and used it as an infusion for a cure-all. Warm plasters made with powdered ginger and whiskey were used to relieve pain. Some suggest using a small bit of powdered ginger inside slippers or shoes may help keep your feet warm. Daily consumption of ginger may reduce muscle pain associated with exercise by 25%. One of its best known uses is for nausea; in fact it was tested by Mythbusters (a television show that tests the truth of myths and legends) as a seasickness cure. They built a seasick chair and got quite sick by spinning around and found that ginger pills worked to alleviate the nausea. Ginger is considered one of the most important plants used in herbal medicine and is mentioned in some of the oldest medical texts from both India and China.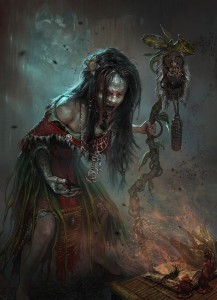 Mambarang by pervandr
In the Philippines practitioners of sorcery are called Mambabarang, also known as familiar spirits. The mambabarang keeps beetles in a bottle or in a section of bamboo and feeds the beetles ginger root. When he is ready to attack a particular person he will whisper the name of the victim to the beetles and release them.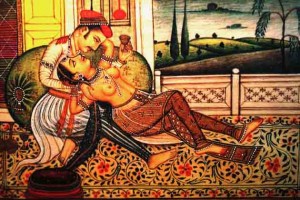 ginger increases desire (illustration Kama Sutra)
Ginger can stimulate the circulatory system and warm the body, all influences that may contribute to its effects as an aphrodisiac. It also increases the heart rate and circulation. Perhaps the spicy rich fragrance is also a signal for romance and passion. Avicenna, the ancient Arab physician credited ginger with increasing lustful yearnings and as a cure for impotence. The French Courtesan, Madame du Barry, who was mistress to Louis XV, was said to feed ginger to her lovers to make them completely submissive to her desires. The Kama Sutra mentions it as an enhancement for love making. In Senegal women have worn belts containing ginger roots to enhance their partner's desire and it has been used in love rituals throughout Asia and the South Pacific. Sometimes known as the plant of burning desire, ginger has spice, it has a sweet richness, it has complexity and a sharp tang. Keep a bit of ginger around as an important ingredient in the formula of love.
–Elise Pearlstine, Contributor
Art Direction: Michelyn Camen Editor in Chief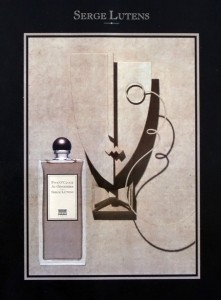 Merci from our Amies at Serge Lutens: 50 ML Five O'Clock au Gigembre -"Tea at Buckingham Palace"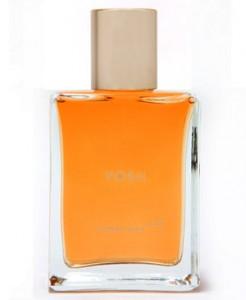 50 ML Ginger Ciao by Yosh Han -The seductress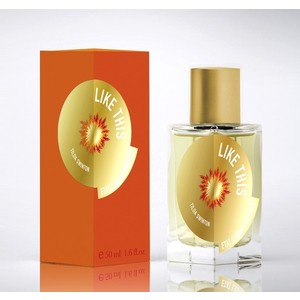 Thank you to EuroScents USA 50 ML Etat Libre D'Orange Like This Tilda Swinton by Perfumer Mathilde Bijaoui "Winner of the FiFi France 2011 Best Niche fragrance – "The Specialists Prize"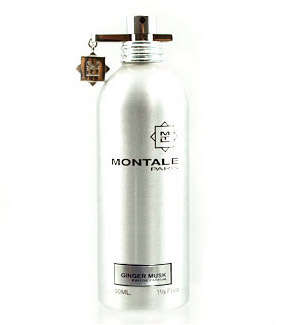 The generosity of Euro Parfums 100ML of Montale Ginger Musk- Scintillating and shocking "berry different"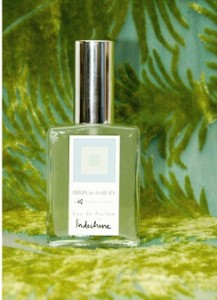 With love… Dawn Spencer Hurwitz of DSH Perfumes Indochine 25 ml EDP and 4.5 oz Organic Shea Butter- erotic and exotic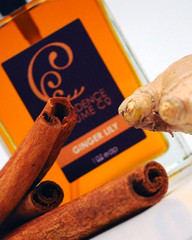 15 ML of Ginger Lily EDP from the charming Charna Ethier of Providence Perfume Co. uni-sexy and spicy ALL NATURAL
From the gracious Eleanor Nuttal 30 ML Halona by Tallulah Jayne Fresh ginger and green tea ALL NATURAL
Generous JoAnne Bassett 's 30 ML Petit Trianon A sensual floral with fresh ginger from her royal collection ALL NATURAL
Many thanks to Anya McCoy of Anya's Garden for 3.5 ML of Temple -Gorgeous ginger and meditative mitti ALL NATURAL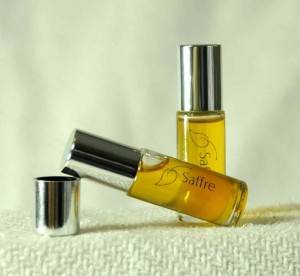 Our talented Author Elise Pearlstine created Saffre Perfume for Cafleurebon' Ophiucus The13th sign Natural Perfumer Guild's Internet project ( the zodiac sign for those born Nov. 29 – Dec. 17) -fresh ginger, frankincense and myhrr (5ml rollerball parfum) ALL NATURAL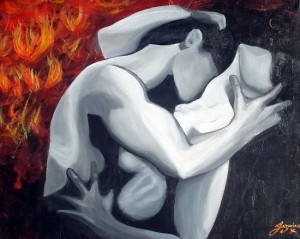 Burning desire by Jazmine Saunders
To be eligible, please leave a comment noting something you learned about Ginger and perfumery or found particuarly interesting, as well as list at least four of the above ginger fragrances that you are burning with desire to win. Please note: TWO MUST BE ALL NATURAL OR YOUR ENTRY WILL NOT COUNT. Draw closes November 22, 2012.
We announce the winners only on site and on our Facebook page, so Like Cafleurebon and use our RSS option…or your dream prize will be just spilled perfume.