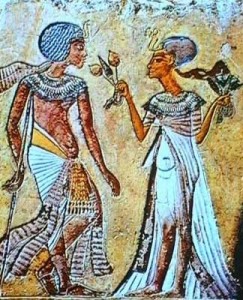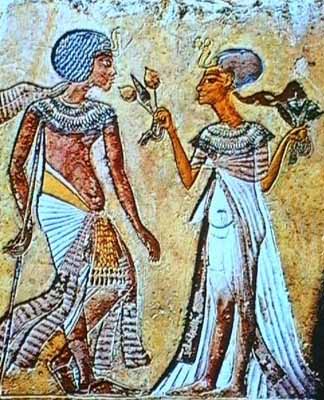 Queen Nefertiti offering pefume to husband Pharoah Akhenaten (It doesn't look like she had purification on her mind)
They are the breath of the gods, the transport for prayers, the foundation of ancient and powerful incense, and the tears of trees. Frankincense and Myrrh grow in inhospitable lands in the Middle East and Africa creating fragrances from rock, wind,sun and rain. From the beginning of civilization, priests and supplicants believed that the only thing which could cross the physical barrier between Heaven and Earth was the smoke of incense. Indeed perfume takes its name from the Latin "per fumare" which means "through" or "by" smoke. If you prayed to your God, and you wanted your prayers to be answered, it made sense that the magical smoke of burning aromatics sweetened your request. Frankincense and myrrh were amongst the first scents used in both prayer and in perfumery as far back as 3,700 years ago.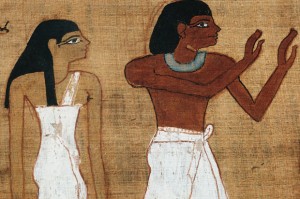 The origin of "guyliner"- Egyptian men wore make-up too
Frankincense and myrrh are ingredients of the ancient incense kyphi which was used in the fumigation of ancient Egyptian temples. Within the Egyptian ceremonies frankincense was burned at dawn, myrrh at mid-day and kyphi at dusk. Kohl, the blackened eye makeup used by ancient Egyptians consisted of charcoal mixed with frankincense and was worn by both men and women. Sacks of frankincense have been seen on Egyptian murals and written descriptions of the substance have been found in Greek, Arab and Hebrew scrolls and texts.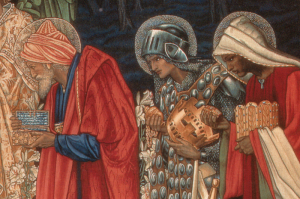 The Adoration of the Magi, a tapestry designed by Edward Burne-Jones.
The Bible mentions frankincense about 50 times and myrrh about 20. They were used for everything from an aphrodisiac and perfume sachet worn by King Solomon, to incense burned by temples and places of worship around the globe. Frankincense and myrrh are famously two of the three gifts from the Magi to the infant Christ child and were highly symbolic; gold for royalty, frankincense for divinity, and myrrh for suffering.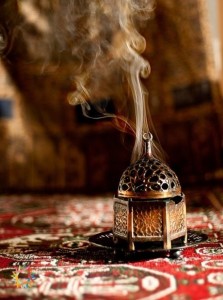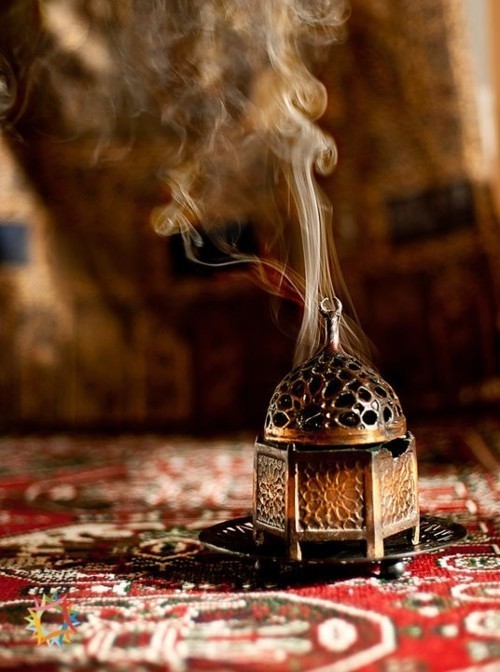 Frankincense

refers to several species of the genus Boswellia, some growing best in the southern tip of the Arabian penninsula where there is little rain. During the summer, however, a foggy mist surrounds the rocky hills and cliffs to provide moisture to these small trees. Frankincense trees may also be found attached to marble rocks and rock crevices in East Africa. The name frankincense comes from the Old French franc encens which means "pure incense" or "free lighting." The Arabic word for frankincense is luban which refers to whiteness and infers purity. It was used thousands of years ago as incense, for embalming, and an in cosmetics. It is part of the formulation of the holy incense handed down by God to Moses. Frankincense (also known as Olibanum) produces about 5-9% essential oil blended with alcohol-soluble resins and water-soluble gums. The aroma of frankincense has some common aspects between species and is fresh, resinous and woody, with a sweet balsamic undertone. The smell is very familiar to church-goers, particularly Catholics, as it is a main ingredient of the incense used for worship.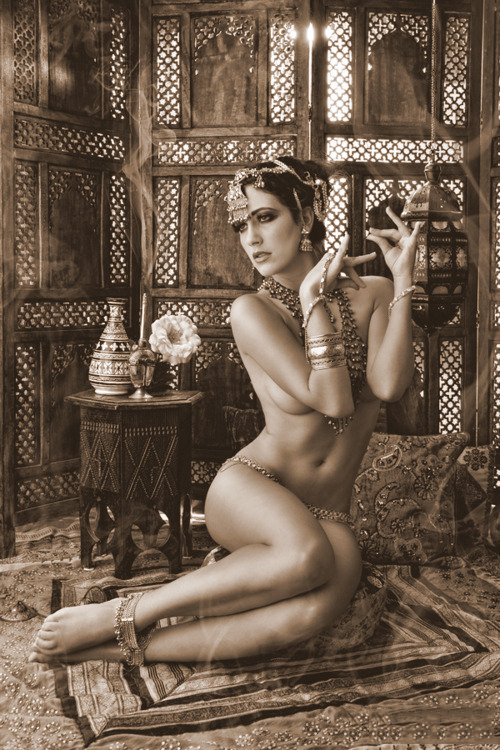 Frankincense and myhrr in Oriental perfumes
High quality frankincense exhibits citrus, floral, or amber notes with hints of green apple. All scents are light and centering. Frankincense essential oil is a key ingredient in Orientals, ambers, powder perfumes, citrus colognes, masculine scents, as well as being essential to incense or olibanum perfume compositions. It may produce surprising and unique effects when combined with spice oils such as cinnamon, is often an ingredient in powder-like blends, and when sandalwood and vetiver are included may produce a true Oriental note. It also enhances and modifies sweet citruses and adds smokiness to florals. The term Olibanum is also often used to refer to frankincense or to gum resins but may refer specifically to Boswellia serrata, a species with a distinctive sweet orange citrus note that is different from the hint of lemon in most frankincense varieties. The highest quality frankincense is usually Boswellia sacra (synonymous with B. carteri). It is burned in Oman to welcome guests; the niche perfume house from Oman, Amouage, highlights traditional Omani ingredients by using the highest quality frankincense.
The word myrrh comes from the Hebrew murr or maror, which means "bitter". Myrrh is native to northeastern Africa in the tropical region there. Myhrr and Frankincense are harvested by cutting the bark and gathering the 'tears' or semi-solid resins that spill from the cuts.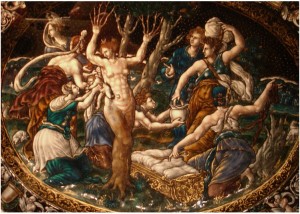 Jean de Court, ca 1560 Myhrra assisted by Lucina the birth godess
The Greek myth of Myrrha tells the tale of the daughter of the king of Cyprus, Cinyras, who refused all her suitors since she was deeply in love with her father. Overwhelmed by her illicit love, she was rescued from attempted suicide by her nurse who then helped Myhrra seduce her father (who did not know the identity of his lover). Upon learning of this unthinkable act of incest, he threatened to kill her. Myrrha who was now pregnant with her brother and father's child, wandered in the deserts of Ethiopea for nine months, until it was time to give birth. Begging the gods for help they took mercy on her and turned her into a tree, as she gave birth to her son Adonis. The tree's resin is Myrrha's tears a reminder of her once human form. The tears of Myrrh also play a prominent part in Christianity. The tomb of Saint Nicholas in Myra, Turkey is said to exude a clear, sweet, watery liquid called manna or myrrh that has been taken all over the world in vials for centuries.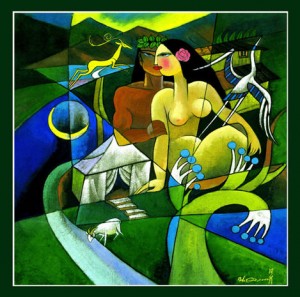 song of solomon he qui
In the Song of Solomon, myrrh is clearly an ingredient that stimulates desire not sorrow. The most erotic psalm in the Bible uses many allegorical sexual references to frankincense and myhrr and is believed to be the love story between King Solomon and Makeda, also known as the Queen of Sheba. The anticipation and intimicay of their union- "Until the day break, and the shadows flee away, I will get me to the mountain of myrrh, and to the hill of frankincense" (1.13) and "A bundle of myrrh is my well beloved unto me; he shall lie all night betwixt my breasts"(5.5) is a theme throughout the Song of Songs.
Betrand Duchaufour was inspired by Wasulan from Africa, the Malian art of making perfume, handed down through the generations from mother to daughter as an aid to seduce and keep your beloved when he composed Timbuktu for L'Artisan Parfumeur which is rich in both frankincense and myrrh.
The fragrance of myrrh is earthy, resinous, and yet also balsamic, warm and spicy having a bit of a medicinal note. The aroma of the oil or absolute is very unique. It can act as both a sweetener and a fixative. Both an absolute and essential oil are produced from the tears of the myrrh tree. Sweet myrrh is also known as opoponax and comes from a medium-sized tree that is closely related.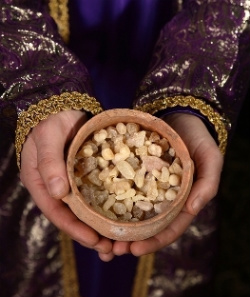 Frankincense is famously thought to repel evil spirits and attract angels, often being used to cleanse homes and mosques in the Middle East. In Mesopotamia wounds were washed with water or milk and dressed with honey or resin –often myrrh and frankincense—then dressed with wool or linen. Frankincense has been used for over 5,000 years for spiritual healing in many worldwide religions and has recently been proven to have anti-depressant properties by a team of scientists including some from Johns Hopkins University and Hebrew University in Jerusalem. Burning frankincense releases aromatic components that affect areas of the brain known to be involved in emotions, and nerve circuits affected by depression and anxiety drugs.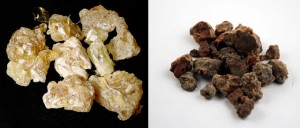 Frankincense and Myrrh
Frankincense and myrrh were commonly used throughout history as medicine to heal the body. Myrrh has anti-microbial effects and is used in a variety of infections, wounds and abrasions in addition to having preservative effects. It was part of the Elixir of Vitriol used along with aloes on old English sailing ships for seasickness. Both frankincense and myrrh contain substances to help with inflammation of the lungs to assist with chest infections. The Indian myrrh, known as guggulu, was used as a medicine to ease the symptoms of coughs and chest infections and as an aid in weight loss. It was also used to treat rotten teeth by the early Sumerians. Chinese healers incorporated it into remedies for bruises and infected sores, including those caused by leprosy. It was used in Kenya for dressing wounds and as a treatment for worms. English alchemists recommended frankincense to live a longer life.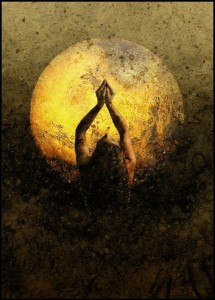 .
Frankincense and myrrh were highly sought after by many ancient civilizations and were important trade items by land and by sea. They continue to be treasured and collected by perfumers and spiritualists throughout all societies in recognition of the blessings and health achieved by breathing in these primal scents. Ancient perfumes, holy symbols, healing, and uplifting—these essential perfume ingredients serve to enhance and exalt whenever they are used. Frankincense and Myrrh are more than symbols of the season; these resins have been used throughout history to transport prayers, uplift the spirts, soothe the soul, inspire passion, heal the sick and are the foundation of both ancient and modern perfumes.
Elise Pearlstine, Contributor
Art direction Michelyn Camen
For our draw we have 12 pefumes that use frankincense and/or myrrh in traditional and unusual ways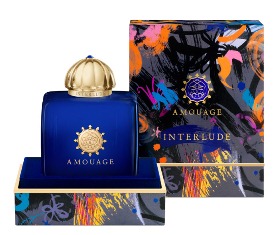 100 ml Amouage Interlude for Women– This is Christopher Chong's personal choice for this post symbolizing the disconnection and need for reunification in our modern life -Frankincense, myrrh, opopanax (signed by Karin Vichon Spenhner)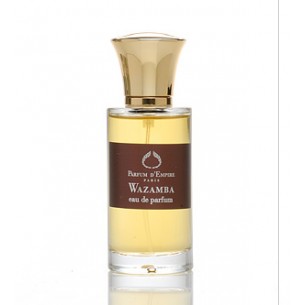 From our friends at Fragrancesandart 50 ml Parfum D'Empire Wazamba Marc-Antoine Corticchiato's homage to Africa's tradition of using incense as purification with an expected fruity twist: Somalian incense, Kenyan myrrh, Ethiopian opoponax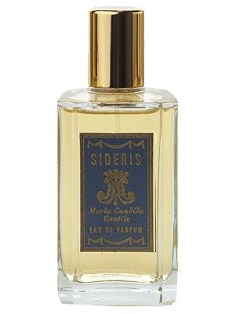 From Maria Candida Gentile 100 ml/3.3 oz of Sideris Fragrant prayer to the heavens: Frankincense and Coriscan Myrrh available at Parfum 1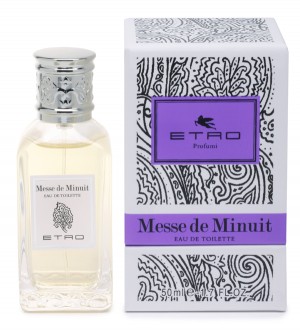 The iconic frankincense and myrrh fragrance evokes Midnight Mass in a gothic church: 50 ml of Etro Messe de Nuit available at Essenza Nobile
L'Artisan Parfumuer "Big Bad Wolf" Mechant Loup– The sexy side of Myrrh -alone in the forest dripping with honey (signed by Bertrand Duchaufour)100 ml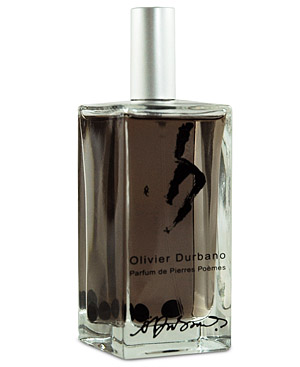 From Olivier Durbano 100 ml of Black Tourmaline perfume- Olivier's third rock poem wafts the sweet smoke of frankincense and fragrant spices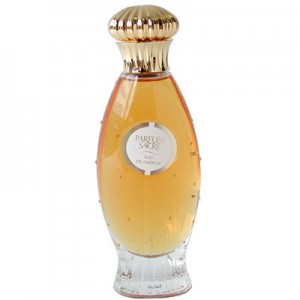 Thank you to Nasreen of Parfumerie Nasreen (check out her fabulous new website) we are offering 3.3 oz of Caron Parfum Sacre , exotic and bewitching with myrrh, roses and spices

From our friends at the Natural Perfumers Guild who are so very generous every month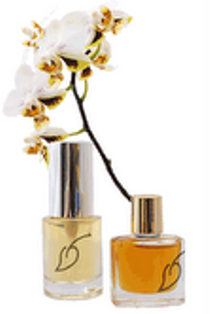 From our author and Natural Perfumer Elise Pearlstine of Bellyflowers Wild Chypre– sweet Myrrh grounds this floral/ citrus ALL NATURAL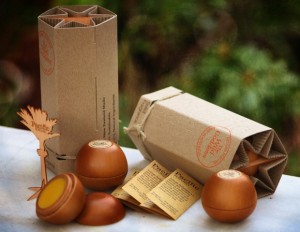 Francesca Brice of Pacific Perfumes is offering The Wild Goddess 10 ml solid perfume in their award winning packaging. Rose and labdanum meld with Frankincense Absolute from India ALL NATURAL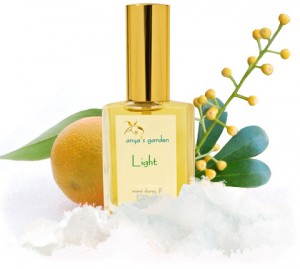 Anya McCoy of Anya's Garden Light in a 15ml bottle: two types of frankincense-from Oman and Somalia, ambergris, a bright and heavenly floral citrus ALL NATURAL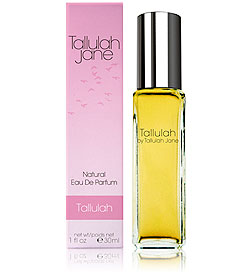 Eleanor Jayne of Tallulah Jayne is offering 30ml of Tallulah with an overdose of frankincense in a heady jasmine/floral perfume ALL NATURAL

Alexandra Balahoutis of Strange Invisible Perfumes Frankincense and Coriander 8 oz body wash formulated with hydro distilled frankincense from Oman –ALL NATURAL
To be eligible: Please leave a comment noting what you learned about frankincense and myhhr in perfumery and history as well as including as many fragrant prizes you would like to win BUT YOU MUST INCLUDE AT LEAST 2 ALL NATURAL.
I want to take this opportunity to thank the Natural Perfumers Guild for hosting the ingredients and notes in perfumery posts as well as the many sponsors who offer such wonderful giveaways. Draw closes December 20, 2012
Happy Holidays from all of us at CaFleureBon…and remember we don't take Christmas off, so we greatly appreciate our readers ongoing support and emails.
-Michelyn Camen, Editor in Chief
We announce the winners only on site and on our Facebook page, so Like Cafleurebon and use our RSS option…or your dream prize will be just spilled perfume