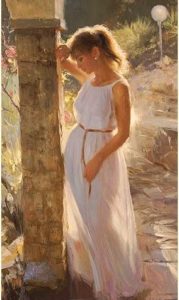 Waiting Vladimir Volegov
A few years ago, my sense of smell was diminished by medication. For many months I had a vague feeling something was wrong. There were a few bottles of fragrance I had enjoyed, but perfumes seemed to lose their beauty by almost imperceptible degrees. I had to abandon them for a time. Food also was unappealing, flavors were flattened, depressing. Thankfully I was able to discontinue using the troublesome medication. My sense of smell gradually returned. I then realized what had been so wrong. I was missing the smells that make life vivid and real.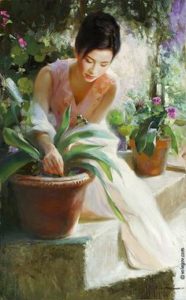 On the Garden Vladimir Volegov
I was starved for scent, so I looked for it everywhere. I returned to my kitchen. I chopped fresh basil leaves, rosemary sprigs, lemons, and shallots so I could inhale them, cook them, and eat. I baked bread and made soups so that their smells would fill my home. I searched for flowers and sniffed roses, nasturtiums, even dandelions. I pruned tree branches and pulled up handfuls of grassy weeds, then held their broken edges to my nose.
Flowers Near The House Vladimir Volegov
I returned to wearing my perfumes. They were beautiful again. But they were not enough. I felt there had to be more for my newly awakened nose. I wanted to be intoxicated by scent. I remembered, and then dreamed, of the jasmine flowers and vines that grew in the garden of my childhood home.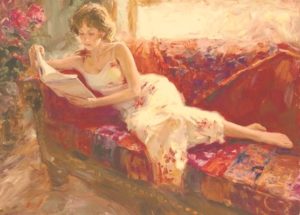 The red couch Vladimir Volegov
I turned to bottles of scent for relief. Jasmine essential oil was so lovely it brought tears to my eyes, but it was not a proper perfume. I thought of Jean Patou Joy and hoped it would fill me up. Joy is beautiful, but I found it is not a fragrance I can wear. I sampled an unfamiliar perfume, Serge Lutens' A la Nuit, but it was not my jasmine. It was not my scent-memory.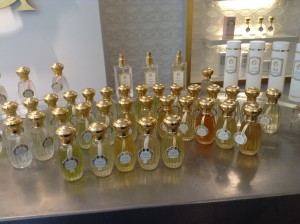 Annick Goutal Perfume bottles (photo by Hernando at the Madison Avenue Boutique)
As I hunted for fragrance, a sight-memory surfaced: a row of gold-capped bottles with a slender ribbed shape, hung with paper labels. They had stood unassumingly, uniformly on a perfume counter. I had ignored those fragrances, but now I remembered and felt obsessed. I needed to find them, even though those bottles were thousands of miles away and years in the past.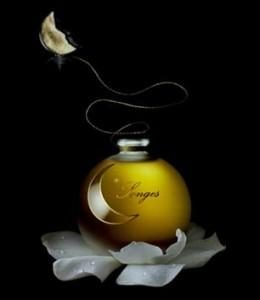 Photo courtesy of Annick Goutal circa 2010
Spare moments were spent searching online. I read about many perfumes without feeling moved to smell anything. On shopping trips I looked in all the wrong places. I was desperate to find those remembered bottles. And then I read, here at CaFleureBon a reverie titled Sweet Dreams Are Made of This — Annick Goutal Songes. The description of this white and yellow floral scent, housed in a beautiful globe with a moon-shaped stopper, made me believe I would find the perfume I imagined, one that would fulfill my hopeful longing.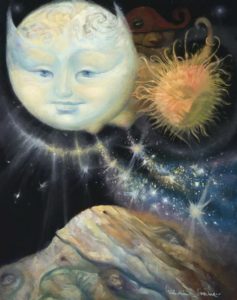 Daniela Ovtcharov Dream
Little did I know that Songes was exactly that: a fragrance born of dreams and means 'dreams' in French. Guest Contributor Felicia Hazzard wrote in April 2010, "For me, Songes is all about letting your dreams manifest into reality and doing so with style and grace. The sweetness of this fragrance and the magic of the bright moon in the sky will keep hope alive for you and turn the impossible to the possible."
I needed to smell Songes right away. I knew Songes was available in the beautiful moon bottle. Then I learned that Songes is available in the Annick Goutal flacon. That was my bottle, the one I remembered. A few days later I smelled Songes for the first time. It matched my imaginings of my idealized jasmine memory, yet it was much more.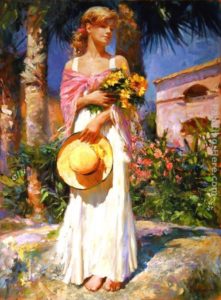 Yellow Bouquet Vladimir Volegov
Songes is well-known as a tropical beauty. It can be a reminder of far away places, of time spent on sandy beaches near frangipani flowers. For me Songes is an olfactory home, the scent of white and yellow flowers, and the memory of the garden I played in as a child. Songes is perfume in the best sense: the scents of the real world sculpted, married, and heightened into fragrant magic. My mind and sense of smell were awakened to something utterly beautiful and beyond expectation when I first smelled Songes. I had found my first niche fragrance in the world of Annick Goutal perfumes.
Notes: frangipani, tiare, jasmine, incense, vanilla
Disclosure: From my own collection
Tiffanie Dyer – Guest Contributor and long time ÇaFleureBon reader
Art Direction Michelyn: I chose the dreamy figurative multi-sensorial paintings of women, flowers and seascapes of the famous Russian painter Vladimir Volegov
Editor's Note: For more insight into Annick Goutal, Isabelle Doyen, and Camille Goutal, please read my interview with Madame Goutal here. Fragrant Awakenings was a series former Managing Editor Tama Blough and I brainstormed and began in May 2014 leading off with Andy Tauer L'Air du Desert Marocain, Frederic Malle's Carnal Flower and Olivier Durbano Turquoise (June 2014). Our purpose was to spotlight perfumes that changed our perception of what we could or would wear as well as the first niche perfume we fell in love with. Sr Contributor Tammy Schuster's fragrant awakening was The Party in Manhattan, Editor Lauryn Beer's was Montale White Oud, Contributor Aaron Potterman's was another classic Annick Goutal Eau d'Hadrien and Sr Contributor Gail Gross' was Parfums Divine Divine. Are you a reader or blogger who would like to participate in this CaFleureBon series? Please email me; my contact information is in About Us– Michelyn Camen, Editor in Chief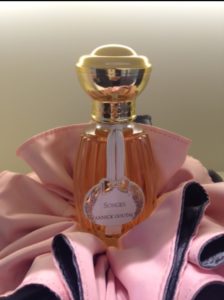 Annick Goutal Songes 100 ml EDT photo from Francoise
Thanks to the generosity of Françoise Allesi, the Retail Manager of Annick Goutal in New York City, (located at 955 Madison Avenue/ P (646)964-4795) we have a 100 ml bottle of Songes Eau de Toilette for a registered reader in the US. To be eligible please leave a comment with what appeals to you about Songes based on Tiffanie's review, if you have recaptured a scent memory through a perfume and your favorite Annick Goutal fragrance. Draw closes October 28, 2016.
If you want your comment to count twice please LIKE our Facebook Page CaFleureBon Fragrant Awakenings
We announce the winners only on site and on our Facebook page, so Like Cafleurebon and use our RSS option…or your dream prize will be just spilled perfume