Ida and B on their Honeymoon
Originally, I thought of the first niche fragrances I ever experienced: Jean La Porte's earlier works, now hen's teeth-rare (Vent du Maquis, I'm looking at you, you celery/patchouli exquisite hot mess; I used to prepare you 50/50 with L'Eau de L'Artisan for a delicious herbal elixir) and all the Comptoir Sud Pacifique scents I discovered in 1983 on my honeymoon (I brought home Vetyver Haïti).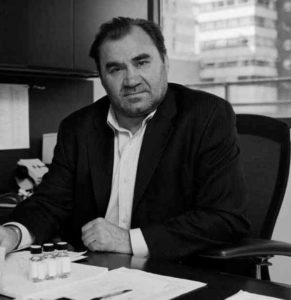 Maurice Roucel of Symrise
Which brings me to my awakening; the first niche perfume I ever blind-bought and which changed how I felt about perfume altogether, was Mâitre Maurice Roucel's rhizomal wonder for Serge Lutens' boutique in Paris: Iris Silver Mist.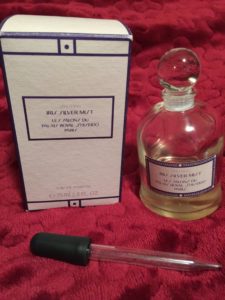 Ida's original bell jar circa 1994
Firstly, you might need to know that I tend to be Queen Geek. Despite having two children under the age of four and working at that time, caring for several relatives at once in different states – I frequented the Harvard Square Out of Town News kiosk regularly, (because a woman shouldn't lose her facility in several languages just because she was otherwise preoccupied by the vagaries of La Vie Quotidiènne). I couldn't afford all those papers and magazines – so I had to choose just three. I would purchase Time magazine in Italian, Der Spiegel, and Marie Claire in French. It was through French Marie Claire that I first found out about Iris Silver Mist.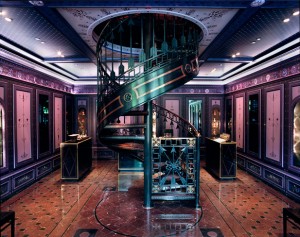 Serge Lutens Palais Royal via googlesearch
It wasn't easy to acquire my untested, unknown quantity: I had to call Paris' Palais Royal, conduct the entire interaction in French, and convince them to sell it to me – then convince them to send it. They were reluctant in the extreme; they gave me a good earful. I must have been pretty persuasive though, because they ended up sending me my bell jar; my first, but not my last. When Iris Silver Mist arrived, I opened it with trembling hands. I was beside myself: what had I done? I'd never spent so much on a perfume in my life, much less any perfume I hadn't sampled upon my own skin. I needn't have fretted. One whiff and I was hooked.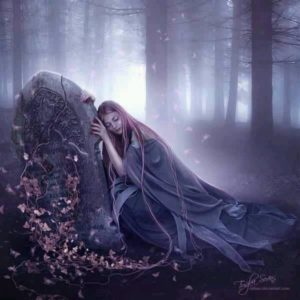 The Unquiet Grave
Strangely, it felt like home to me – this otherworldly iris, cool and metallic, rhizomal, rooty, damp as the red earth of native Virginian soil. It was floral and herbal, lilting, melodic. Chilly as the "Unquiet Grave". It exceeded any possible hope or expectation I could have formulated in my overly-fertile imagination. I loved it deeply, the way I love Kurt Weill when Lotte Lenya sings it: chills down the spine, authenticity in the voice.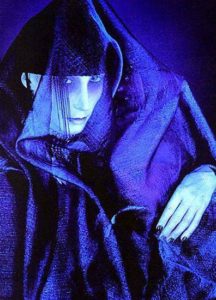 Image Serge Lutens for Shiseido
One mustn't look away; turn a blind face, deaf ear, a biased nose. I've never smelled anything to touch it, before or since. And that was fine by me; I'd found a new fragrant muse, a genuine original. Over the years, I have read (and continue to read) of others' struggles to come to terms with Iris Silver Mist.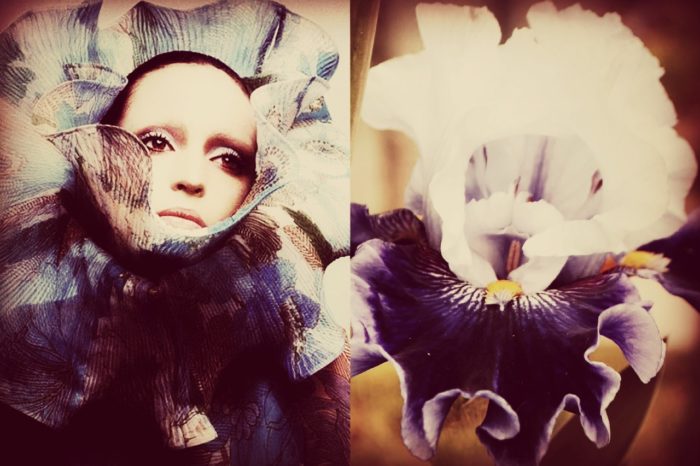 Match #371 Photo by Clive Arrowsmith, 1970 and iris
We were/are accustomed to powdery lipstick-and-face-powder, swan's-down-puff violets and irises – as ionones exist in both and each. Other than L'Artisan Parfumeur's Fleur de Carotte, no one had had much experience with a really rooty iris, and that lovely umbellifer was the closest we had come to it. As things go, Fleur de Carotte was discontinued; I suspect that it was simply misunderstood. Carrot seed has a more raw feel to it, although its scent profile complements orris root CO2, concrete, etc. It is certainly much, much less costly. I always keep a bit of both on hand, carefully preserved in a dark cool place – for my own olfactory education (I like to understand how things work – half instinct, half forensic).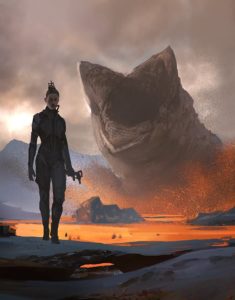 From Frank Herbert Dune illustration of Arrakis, the desert planet via deviantart.com
If one can approach Iris Silver Mist with an open mind, and purely smell it – over and over and over again, if need be. It is likely that'll you'll wrest at least a grudging admiration from it, and for it. For me, it was like a scene from Frank Herbert's Dune: it changed the face of Arrakis.
–Ida Meister, Senior Editor
Art Direction: Michelyn Camen, Editor-in-Chief
Editor's Note: Ida was one of the founding editors of CaFleureBon in 2010 and has returned as a Sr. Editor writing exclusively for us once again. We are thrilled she is back home
Have you experienced Iris Silver Mist. Tell!