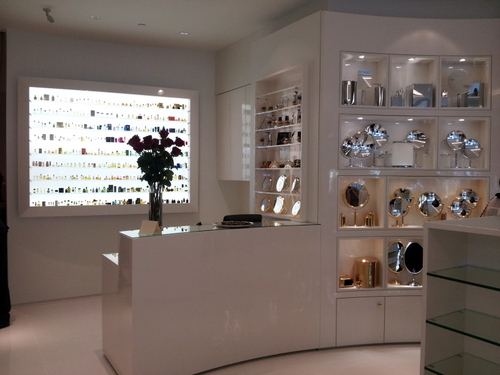 Osswald NYC photo Michelyn in 2011©
Osswald NYC's boutique is slightly raised from the street level by marble steps that are so clean it's easy to forget that you are in New York. The rose-gold copper bases of the display tables and a chandelier are a brief distraction from the central attraction, perfume. But those marble stairs need a diva. Imagine Marilyn in diamonds and pink taffeta, floating towards you on a pink cloud of roses. She sings, "perfume bottles decked in crystals are a girl's best friend." Climbing the stairs to OsswaldNYC is an anticipation of smelling something exquisite, but today the experience is visual too because Parfums De Marly has brought a giant perfume bottle made of pink roses!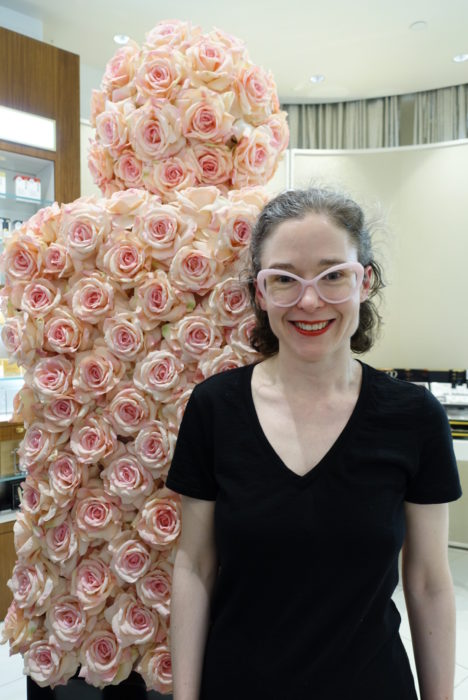 Prasida with Parfums De Marly pink roses perfume bottle (Photo via Instagram @prasida.perfume)
I thought that I had come to Osswald to hear Creative Director Yvan Jacqueline talk about Parfums De Marly fragrances. For me, this was research. Even though I didn't yet understand the difference between designer and niche, I had started writing fragrance reviews on Instagram. As a child, I had tried to write as soon as I learned how to read. Unable to obtain a journal at five years old, I selected a book with space between the illustrations and the writing. I remember seeing the book as an older child. My scribbles were a visualization of the pure impulse to write (surprisingly this impulse doesn't involve words or even a concept. After reading Chandler Burr's "The Perfect Scent", I was curious. I very much wanted perfume journalism to be my genre. Something about Burr's whimsical use of things like aluminum, frozen green goo, electrical appliances and cat breath to describe poorly made male fragrances inspired me to seek out a variety of perfume experiences and to write about it.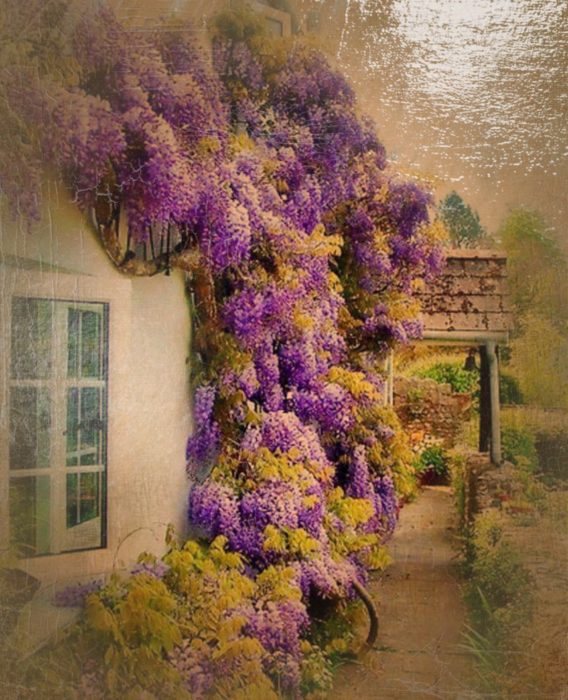 Digital art apped by Robert H©
My fragrant awakening came that night earlier this year at OsswaldNYC, via a scent memory from my childhood. In one of the most exclusive perfume boutiques in the world, a forgotten dream that started under the lilac bushes of my childhood was realized by the genius of a brand willing to make unapologetically feminine perfume. Like many perfumistas before me, I had tried to make perfume when I was a child. I knew the lilacs, their seasons, the fleeting nature of their beauty. At eight I acquired a bottle of Yardley's English Lavender. On that first spray I was thrilled to smell flowers. The preciousness of flowers can be captured in a bottle! (It was an epiphany because the women in my family didn't wear fragrance.) As I saw that it was mostly alcohol, I tried soaking lilacs in rubbing alcohol. Clearly, it wasn't so easy, but I began to dream.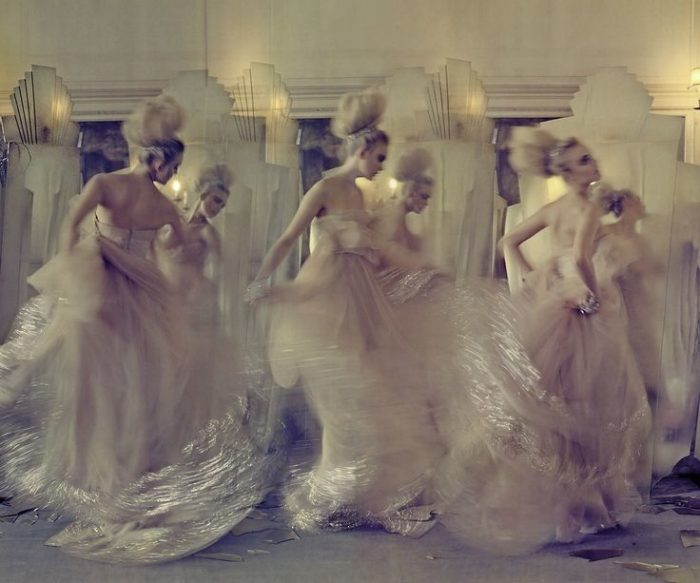 Tim Walker for Vogue ©
Before smelling Parfums De Marly Sedbury, I had sampled many perfumes. I had already noted on an Instagram post that "I like tuberose only if it's high quality". How do you describe the moment of identifying a fragrance? It's an odd mix of rational thinking and intuitive response. After one spray I decided that not only are the jasmine and tuberose of Parfums De Marly Sedbury worthy of winning an Oscar, they would also tie for best dressed on the red carpet. Who wore it best? We don't know! Jasmine and Tuberose are tied for best dressed white floral!
Tim Walker©
Months later, I'm wearing Parfums De Marly Sedbury. Playing the role of childhood dream detective has me searching for clues amongst the notes. There's something elusive about this perfume. The opening has momentum, energy carrying it forward into the unfolding of the middle notes and the sensual, oriental dry down. One word, lavender. In my childhood that beautiful European lavender had been distilled, bottled and distributed at a liquidation store near my home, at the time when I was first curious about perfume.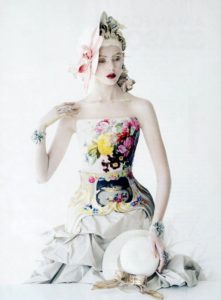 Tim Walker© for Mulberry
Floating slightly above the glamour of the flowers in Parfums De Marly Sedbury there is a wave of mandarin, bergamot, sage and lavender. These aromatic notes cut through the flowers, forcing those decadent white florals into flower bomb territory. Sometimes I smell jasmine (or is it tuberose), sometimes it fades, and in that dance on my skin the perfume keeps me interested. In the dry down, vanilla, benzoin, patchouli and vetiver reveal the oriental glory that is Sedbury.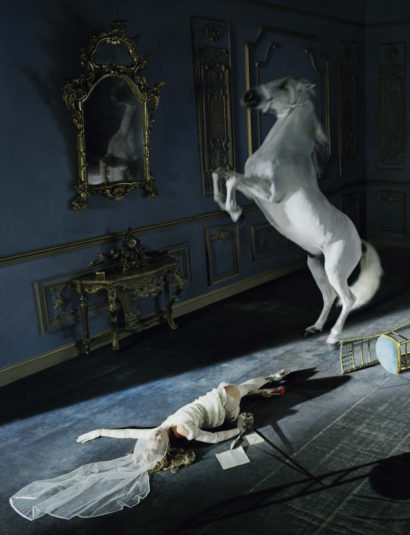 Kate Moss by Tim Walker for Vogue Italia December 2015
Even today I'm noticing a new aspect to Parfums De Marly Sedbury. At the end, it turns slightly animalic. Yes, on me, hours after the show, it's the teeniest bit skanky. There are moments when it smells like a slightly sweeter version of me. I don't fully understand how 40+ notes contribute to an experience of a few of them weaving in and out for hours and hours, but I don't need to know. My favorite thing about this perfume is that it has a beginning, a middle, and an end. Nathalie Lorson (perfumer) has told a story written in petals and I am happily entertained.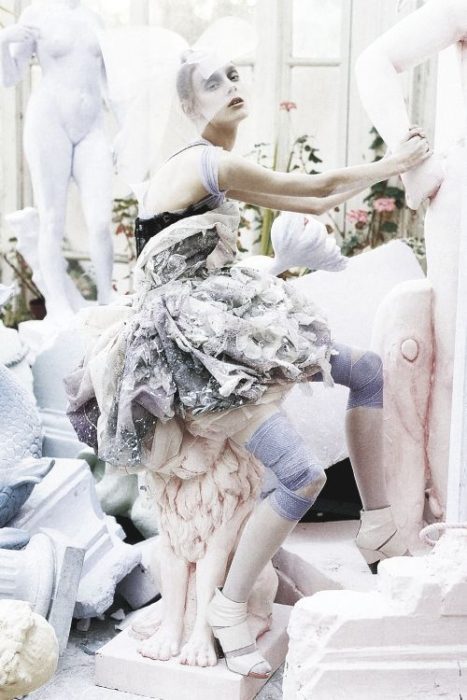 Tim Walker for Vogue Wonderland
What does Parfums De Marly Sedbury smell like? It's the thought that doesn't leave you, what you crave when it's not yours. I'm seduced by the powdery tuberose and jasmine heart. A perfume that carries my day: grapefruit and lavender wake me up, labdanum and musk smell good on my pillow. While currently the "type A woman" might be the only one paying it any attention, I've noticed fragments of Parfums De Marly Sedbury DNA shimmering in new releases. Live your best life and leave a hauntingly sweet memory of tuberose with everyone lucky enough to meet you.
Disclosure: I purchased Parfums De Marly Sedbury at OsswaldNYC, opinions my own
Prasida Newman, Guest Contributor
Art Direction: Michelyn Camen, Editor-in-Chief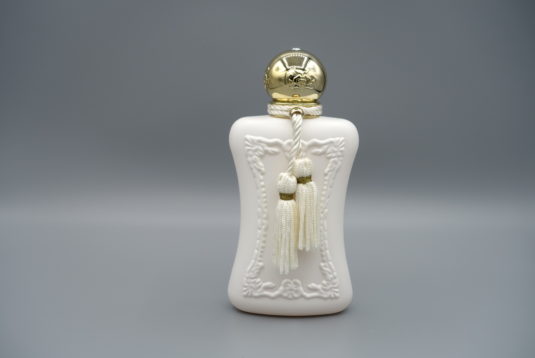 Parfums De Marly Sedbury (Photo via Instagram @prasida.perfume)
Thanks to the generosity Thanks to Fine Fragrances Distribution and Director Yvan Jacqueline of Parfums de Marly we have a draw for a registered CafleureBon USA reader (if you are not sure if you are registered click here (you must register on our site or your entry will be invalid) for a 120 ml bottle of Parfums De Marly Sedbury. To be eligible please leave a comment on Prasida's Fragrant Awakening, and her review of Parfums de Marly Sedbury. Draw closes 12/6/2018.
Check out @cafleurebon @prasida.perfume @parfumsdemarly on Instagram as well.
Available at Osswald NYC and other fine stockists
We announce the winners only on site and on our Facebook page, so Like Cafleurebon and use our Blog FEED…or your dream prize will be just spilled perfume