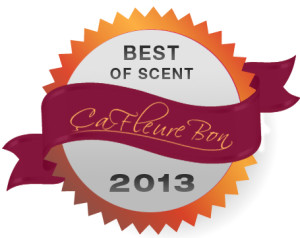 CaFleureBon is a team of talented Editors and Contributors. Since you have heard plenty from Mark and me, I asked Sr. Editor Tama Blough, Sr. Editor John Reasinger, Sr. Contributor Valerie Lee Vitale, Contributors Nancy Knows and Alex Law for their two favorite fragrances of 2013 which would make collectively a Top Ten Best of Scent 2013.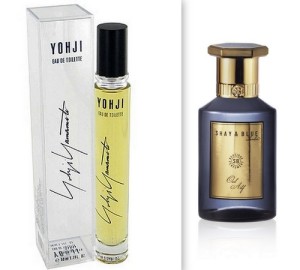 Contributor Alex Law
Yohji Yohji Yamamoto and Shay & Blue Oud Alif (Creative Director Dom De Vetta and Perfumer Julie Massé)
The first bottle I have selected is the 2013 re-release of Yohji by Yohji Yamamoto,composed by Olivier Pescheux is a worthy continuation of the dark raspberry praline and galbanum classic from 1996. As my favourite designer perfume of all time, its reintroduction was something I'd been anticipating for years and in hindsight, it remains one of the standout bottles of 2013 on department store shelves.
My overall winner this year is an incredibly well conceived and attainable gourmand oud from the English niche perfumery Shay & Blue, Oud Alif. In a nutshell, Oud Alif is a high-quality European take on the ubiquitous Middle Eastern trend featuring an irresistible dark chocolate theme. Oud Alif deserves such recognition, for its bold and unforgettable sense of smouldering decadence.
Jardins D'Ecrivains Orlando and Imaginary Authors Cape Heartache
Most of the scents that appealed to me in 2013 had duality as a notable theme. My choice for the top fragrance of the year executed that idea masterfully: Perfumer Anais Biguine's Orlando (Jardins d'Ecrivains). Inspired by the titular character of the Virginia Woolf novel, who lives for over 200 years and transforms from male to female, Orlando opens brash with citrus, wood, and spice, but slowly melts into a warm, spicy, powdery cloud. With notes of orange, pink pepper, ginger, amber, patchouli, cloves, guiaic wood, peru balsam, and musk, it gender-bends gorgeously while straddling the line between classic and modern, and manages this feat without ever becoming discordant.
My other favorite is Josh Meyer's Cape Heartache (Imaginary Authors), a fragrance that reminds me of the country parts of my childhood. Among its notes of fir, pine, vanilla, hemlock, strawberry and fog, the pine and strawberry are most prominent. This is a duality that sounds like it wouldn't work on paper, but the ingenious pairing uplifts like a ride to a scenic overlook on a clear day.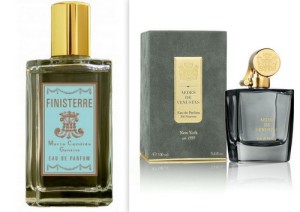 Contributing Editor Valerie Lee Vitale
Finesterre by Maria Candida Gentile and Iris Nazarena for Aedes de Venustas
"Best of" means one thing to me: master perfumers making stellar fragrances. The following two fragrances easily define this notion, and therefore landed at the top of my scent bucket list for 2013. Both inspire olfactively, allowing us to elevate the reality of our everyday life, yet they also take us on a quick olfactive jaunt. Maria Candida Gentile Finesterre, is inspired by the sea, specifically through the lens of Spain's Camino de Santiago de Compostela. Aedes de Venustas Iris Nazarena, composed by Ralf Schwieger, is inspired by a unique Iris flower that can only be found on the hillsides east of Nazareth.
Finesterre is superb. Gentile's manipulation of marine notes is fearless, she has managed to temper and finesse them, and in her hands the accord is perfectly balanced, one of the best I have ever smelled. Slightly sweet Anisic/herbaceous notes, and juicy citrus accords brilliantly collide into this masterful marine accord. A honeyed immortelle creates warmth and depth, while pine creates lift. Gray amber and sandalwood support and continue to give us the illusion of the atmosphere of the sea one that is surrounded by pine, yet baked in salty driftwood. Toss your marine note fragrances and grab onto this one tightly.
The first time I smelled the stunning Iris Nazarena it left me speechless, and I didn't want to write about it for days. I wanted to enjoy it on my skin, and in the air. Slowly this sensual fragrance revealed itself in a very particular way, I started to experience Iris Nazarena through color, as if it were constructed through a blue/gray-filtered lens, with gilded gold specs. Ralf Schwieger masterfully redirects us to experience the pairing of iris and incense in a way that is completely modern, yet nods to antiquity. Its texture plays with strength and delicacy. Imagine flower and incense having an intimate conversation.
Bottega Veneta Pour Homme (Daniela Andrier and Antoine Maisondieu) and En Voyage Perfumes Zelda by Shelley Waddington
2013 was a better year for fragrance than last year, in my perfumed opinion. It seemed to me even the corporate bean-counters were more concerned with quality over quantity. Many flankers came out this year that stood on equal or higher ground with the originals. Adam Levine even released a celebrity scent worth owning and raving about. A few houses (Patou and Rochas most notably) reissued some classic scents that were not watered down to within an inch of their lives. 2013 may not go down in the annals of perfumed history; but it gives this perfumista hope for both mainstream and niche. PS: Even though I adore it to no end…enough OUD already!!
What is my fragrance of the year? You might as well ask me to pick which one of my kids I like best. Many gorgeous orientals appeared on the mainstream market this year. Scents like Hanae Mori's HiM and YSL's L'Homme Parfum Intense made me "ooh" and "aah"; but none as much as Bottega Veneta's Pour Homme. Modern elegance and sensibility fused with the scent of pure masculine herbs and spice waxes slightly vintage, yet never could never be called dated. Sheer citric and slightly sharp herbal tones set the stage for the magnificent drydown of creamy leather, rich labdanum and silky soft patchouli. Opening green, yet sensually spicy and clean, Daniela Andrier and Antoine Maisondieu rolled fresh and sexy into one scent that works just as well in a tux out on the town as it does for staying in and cuddling. A true "wear anywhere, anytime" scent that is infinitely classier than its any of its department store counter contemporaries, it's a true classic in the making.
2013 was also a banner year for Indie and Natural perfumers. Many have heard me lament there are no more "WOW!" perfumes out there that exude the sophistication and panache of classic vintage scents. Shelley Waddington of En Voyage showed me how wrong I can be when she released Zelda, a collaboration with our very own Editor in Chief Michelyn Camen. In my opinion, few perfumers this year have breathed such beauty into their creations inspired by the inpirational literary or historical characters. Blasting out in a frivolous and fun cloud of bergamot, galbanum and spice it saunters seductively into a heart of magnolia and flowery accords. Capturing Zelda's persona from fun outgoing gal to warm lover and friend to the dark base symbolizing her struggles with madness and addiction, this culminates in a veritable treasury of aromatics used in 1920's vintage perfumes. Authentic animalic skank embraces rich resins and dark woods making our heroine unique unto herself. This one blows every other "vintage inspired" scent out of the water and can truly be called a "modern vintage" perfume.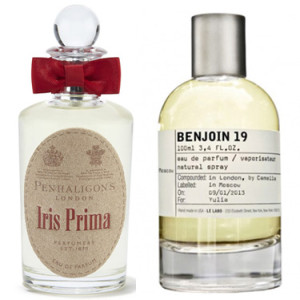 Senior Editor Tama Blough
This was an interesting year for me for perfume experience. I made a few discoveries in the Indie and Niche world, but for the most part I got the most enjoyment out of exploring more established lines, and veering into the mainstream as well.
Were I able to give an award for House of the Year it would go to Penhaligon's, for bringing new life and excitement to the brand, but in lieu of that I have chosen their Iris Prima, composed by Alberto Morillas, as one of my top two perfumes of the year. I have a complicated relationship with iris as a note, and the first time I smelled Iris Prima I was smitten, because it was a perfect balance of earth and floral. Every stage of the perfume offered a new olfactory twist, taking me from the thrill of a grand jeté to the leather and animal smells of backstage. I enjoyed knowing the backstory of the perfume's creation, but ultimately, the perfume itself won me over completely.
Anyone who has read my reviews this year won't be surprised that I have chosen Le Labo Benjoin 19 as a top pick. Offering to sell my grandma or marry perfumer Frank Voelkl are pretty big clues to this being a perfume that delighted and intrigued me from beginning to end. It isn't a complex, crazy, modern artwork, with angles and shiny places; it's the epitome of visceral comfort and contentment. I can wrap myself in it like the skin of a warm beast and feel more myself with every breath I take.
Editor's Note: Who deserves the best of scent for 2013, (and for every year)? The best smelling staff in the fragrosphere: CaFleureBon's Alex Law, David Falsberg, Douglas Bender, Elise Pearlstine, John Reasinger, Kevin Verspoor, Mark Behnke, Nancy Knows,Tama Blough and Valerie Lee Vitale whose dedication, passion and eloquence remind me each and every day that CaFleureBon is a team effort; we have been able to post 365 days a year since our inception. Thank you to Michael Devine, Jasia Julia Nielson, Olga Rowe and Maggie Mahboubian for their valuable contributions this year as well.
We treasure our relationships with the myriad of Creative Directors, Perfumers, Publicists, and Retailers who have supported CaFleureBon this year with samples and the almost daily perfume draws we offer our readers. To our dear readers we value each and every one of you; you are our extended family. –Michelyn Camen, Editor in Chief
Editor in Chief Michelyn Camen and Managing Editor Mark Behnke's CaFleureBon Best Of (and worst of 2013) is offering a draw for EX IDOLO Thirty Three sponsored by Twisted Lily here
For Managing Editor Mark Behnke's Top Twenty Five and to enter our draw for Le Parfum de Couture Denis Durand by M.Micallef sponsored by Parfums M. Micallef click here
We have two fabulous draws celebrating 2013 Best Fragrances' selected by our team. If you leave a comment here, your comments will count twice for the other draws. If you have enjoyed even one of our team's articles letting them know is always appreciated. Were there any on this top ten perfume list that you gave high marks to as well?