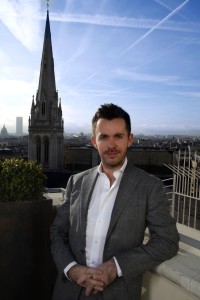 Nick Steward of L'Artisan Parfumeur
Before there was the term "niche", as early as the late 1980s, I sensed that some fragrances were different. They didn't smell like the perfume in the department stores. They took me to far away places, evoked images. They were ART. That was the case with Jean Laporte for L'Artisan Parfumeur. I discovered the brand at the boutique on 870 Madison Avenue in 1991, spent a week's salary on perfume and there was no turning back. Twenty two years later, L'Artisan Parfumeur is the benchmark that many niche brands can only hope to aspire to. They are a big name in fragrance, but a relatively small staff of dedicated personnel run all aspects worldwide. At the helm is Nick Steward, the Creative Director of L'Artisan Parfumeur. On a recent trip to New York City earlier this month, I had the pleasure of meeting Nick and we spent two hours over lunch (he was late for his next appointment, but he admitted he wished he could stay longer), talking about his vision, the new fragrance CALIGNA, and the rich heritage of the brand whose future innovations will still be firmly rooted in its past. –Michelyn Camen, Editor In Chief
I come from a family of "rootless cosmopolitans," so I grew up surrounded by various languages and cultures. A family of Francophiles, we had a very pronounced respect for French culture and language, so it was natural for me to be drawn to Paris. History, film, books all have a great influence on me. I love photography – I was very moved by the Diane Arbus at the Jeu de Paume, and I love the colour, drama and humour of David LaChapelle. I am also very interested in decorative arts, and craft (which shouldn't be a surprise given where I work.) The Campana brothers from Brazil are amazing talents.
A career in fragrance was serendipitous. I had studied Oriental Languages and History at university, but I knew that I wanted to work with something I could hold in my hands, and with a sense of culture and aesthetics. I started with Puig, on Paco Rabanne and then Carolina Herrera, in what is called "Marketing Development" in France – which really means you work on everything from the product concept, the perfumer brief, bottle design, and advertising campaign – everything that you can smell, touch and see.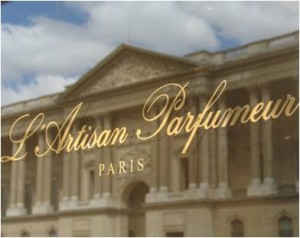 I arrived from L'Oréal Luxury Products Division (fragrance development), so I had 'lived the life' of the big luxury groups, which is excellent schooling. I came to L'Artisan Parfumeur in Autumn 2009, but I had been a customer for many years and it was always a House that 'spoke' to me: the first fragrance I had bought was Dzing!, and I had les Boules d'Ambre in my home – which are still handmade by the same mother and daughter north of Paris, true artisans.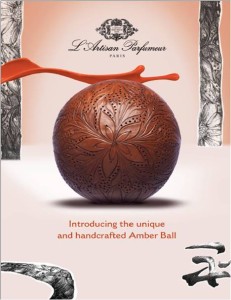 The women cannot be rushed and are quite particular; when I mentioned I wanted to pay them a visit, my colleauges actually had looks of fear in their eyes; the ladies do not like company. It's an amazing product, artisanal, but married with a very expert technology, which is why it's become such an emblem of the brand.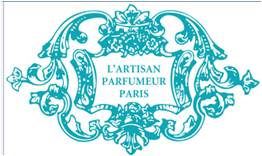 I knew that L'Artisan Parfumeur was something special. In France especially, L'Artisan Parfumeur is the reference in the world of fragrances, it is part of the patrimony. I have great respect for our incredible heritage – but this brand isn't a museum piece, and it can be more alluring, more luxurious, and even more daring. Looking at our archives is a fantastic source of inspiration for me for the future. It all seems so modern in many surprising ways.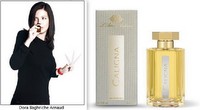 Dora Baghriche-Arnaud and Caligna, the soon to be released
The development of briefs is very important in what I do. But, the creation of something new is a collective effort, the different experiences and influences coalesce and cohere. But it has to start with a singular idea. The brief must be a moment of clarity, it must create the first spark – and it must be compelling. And I imagine perfumers are seeing many boring, uninspiring, me-too briefs. When you work for a brand like L'Artisan Parfumeur, the bar is very high: we are perfectionists and expect incredible things, to be true of the founding vision of Monsieur Laporte. So for me, the brief must tell a real story we can believe in. For L'Artisan Parfumeur it can't be anything fake, superficial, or conceptual for its own sake. For example, when I first met Dora Baghriche-Arnaud, we went through all of the fragrances in our range, because I wanted her to know the richness of what we have – I guess that is quite intimidating for a new perfumer working with us! It's one of the reasons why Dora, working on CALIGNA, chose a fig note (as a subtle reference to Premier Figuier) and the Jasmine Marmalade accord (which again, is a very subtle nod to La Chasse aux Papillons).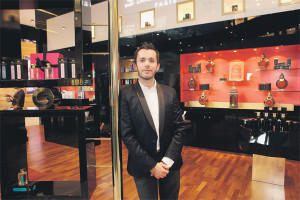 ( Photo: PATRICK CASTILLO)
My role means wearing many hats, and often in the same day. I can be copywriting, thinking of a new brief, working on quantities and costings for a new development, or working on window and POS display. Thinking about the name for an upcoming launch is clearly important – and that's a real challenge now for us; as so many names are already registered, and legally it's a minefield.
It's not an ivory tower, with some mad creative just throwing out crazy ideas –: the stereotypical "today … I see blue" (maybe this is what some of your readers prefer to imagine!) Actually, creativity demands a huge amount of organisation, the channeling of ideas and energies. I am very rigorous in my approach to creativity. It's the skill of an editor, or I would say in my case of a translator, married with the skills of a marketer. It needs poetry, imagination and intuition, but also grounding in reality and in the history of the brand, an understanding of the process and timings, and what is technically feasible. That doesn't mean limiting the creativity. My job is to enable. I am very hands on with everything surrounding the product: the strategy, the story we want to tell, the perfumer's work, the packaging development, production issues, the marketing plan, how we promote, the boutique experience, the window design, how our partners get excited about what we're doing, how it translates into other international markets, the press – it's important to touch it all, to tie it all together.

The making of the scented leather gloves
I think the L'Artisan Parfumeur signature is our uncompromising quality and expertise. Everything must be well-judged and well-executed. For me, it's very Parisian, this perfect balance between sophistication and simplicity. Because of the status of our brand, we are offered the best, the most exciting ingredients – and, of course, it's still an area where we really invest financially, so everything is permitted for the perfumer! I would say the other signature is that of 'contrast,' something you find, for example, in Fou d'Absinthe, with the feeling of hot and cold. People do also expect to be surprised by what we do. I know they were when we brought out the Mûre et Musc Extrême scented leather gloves, and I think they will be when they smell CALIGNA. Finally, the 'artisan' spirit means that everything must be well-considered.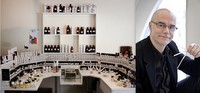 Bertrand Duchaufour and his Labo at the flagship store in Paris
There is no formula in terms of how we work. I would argue every project is different, but I always try to bring intelligence, sensitivity and an open-mind. It can start with one ingredient that we fall in love with and want to use as a 'building block' for something greater than the sum of its parts. Travel is obviously a key source of inspiration for L'Artisan Parfumeur (we were the first house to send perfumers on journeys, asking them to 'capture' a fragrance on their journey), and travel is one of my own particular passions. We're very privileged to have Bertrand Duchaufour around us, working in our offices – as he has a very special bond with L'Artisan Parfumeur. He's obviously a remarkable talent: a master of his materials, highly cultured, very inspiring to work with (no wonder he is in such demand.) Just to see Bertrand in his element in his lab at our Grande Boutique opposite the Louvre is very inspiring. He loves his ingredients, which to me seems a very 'artisanal' sensibility. As I live and work between Paris and London, and work in two languages, there's a certain mental gymnastics which also makes for an interesting time. I suppose what is common is the feeling of 'translation' that I touched upon above. How do I translate a feeling, a visual snapshot, a sense of place, into something that can have L'Artisan Parfumeur on it.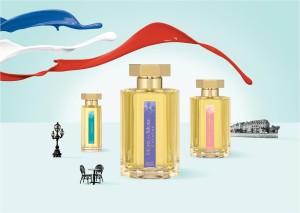 What makes a great fragrance? It must smell great. Sometimes, I fear that in this increasingly saturated 'niche' market, we've forgotten that very basic fact. Second of all, it must tell a story, it must say something. Otherwise, how do we connect with it? It must be memorable. For me, that is a critical point in the evaluation process. Will I remember it? Will I be able to summon it later, even when I am no longer wearing it? More technically perhaps, but does it have a great sillage – for L'Artisan Parfumeur that is important, because many people come to us via word-of-mouth, and this is the way they discover our fragrances, first smelling them on someone else.
–Nick Steward, Creative Director of L'Artisan Parfumeur Worldwide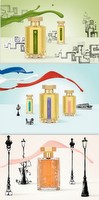 For our Draw, L'Artisan Parfumeur is offering a reader's choice of 100 ml of many of its iconic fragrances: Mure et Musc (1978, Jean Laporte), Premiere Figuier (1994, Olivia Giacobetti), La Chasse Au Papillions (1999, Ann Flipo) 'Dzing! (Olivia Giacobetti 1999), Timbuktu (2004, Bertrand Duchaufour) Fou d'Absinthe (2006, Olivia Giacobetti), Nuits de Tubereuse (2010,Bertrand Duchaufour) or the new Caligna, the first perfume in the new Grasse collection, which Mark Behnke reviewed last week (2013, Dora Baghriche-Arnaud), exclusively at Barneys New York USA in April.
To be eligible please leave a quality comment about what you found fascinating about Nick Steward as a Creative Director for L'Artisan Parfumeur and your choice of perfume from the above. If you choose Caligna, you will need to be patient for a month until it is available, but we assure you it is worth the wait. Why not leave a comment on your favorite L'Artisan Parfumeur fragrances as well? Draw closes March 1, 2013
Please LIKE CaFleureBon Creative Directors in Perfumery on Facebook and your comment will count twice
Editor's Note: I know many of our readers have been dissapointed by the discontinuation of their favorite L'Artisan Parfumeur scents. Nick explained that as a team they agonize over each one; for Nick it is Couer de Vetiver Sacre,(for me they are L'Artisan Parfumeur's Special Harvest Series, which included Fleur d'Oranger (2005), Fleur de Narcisse (2006), and Iris Pallidia (2007), as well as Havane Vanille by Bertrand Duchaufour (2009), renamed Vanille Absolutement) but these perfumes are not selling and resources are needed to continue growing the brand. If you love a L'Artisan Parfumeur perfume, buy it; that is one way to ensure its continuation in the line. Every year, the Company does bring back past fragrances as special editions, and this Spring it will be Cote d'Amour and Ananas Fizz
All images are used with permission of L'Artisan Parfumeur and are subject to copyright
We announce the winners only on site and on our Facebook page, so Like Cafleurebon and use our RSS option…or your dream prize will be just spilled perfume