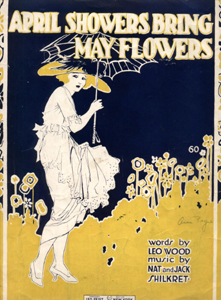 "April showers bring May flowers." We've all heard this verse from childhood. It's a popular thing to say and hear around the springtime, but one thing you might not know is where the rhyme originated from the mid 1500s, by a gentleman by the name of Thomas Tusser who compiled a collection of writings called "A Hundred Good Points of Husbandry". In the April section he wrote:
Sweet April showers
Do spring May flowers
There is meaning behind the words, as well. "April showers bring May flowers" is reminders that even the most unpleasant of things, in this case the heavy rains of April, can bring about very enjoyable things indeed – in this case, an abundance of flowers in May the sign of renewal. (Editor's Note: can someone send a scented message to Mother Nature that its time to stop raining in NY)
The Dandelion/ by Ida Meister, Senior Editor
All right, my friends- laugh away.
The lowly-born pissenlit, Löwenzahn, paardebloem, diente di león, kiaulpiené…French, German, Dutch, Spanish, Lithuanian. In any language, it's a weed, no? Not to me. This little beauty got its English and French name [and many others, besides] because of its many-toothed leaves, resembling the "lion's teeth". It is "pissenlit" not only for its known diuretic properties-But because it resembles a little wet spot in the bed- "wet the bed", if you like 😉
Christopher Brosius [hunky polymath with the glorious head befitting a Roman emperor] captures it perfectly in his composition I am a Dandelion.
Dear to my very soul- small, humble, earthy, and transformative in its late blooming stage-[So magical! You can make a wish, and blow it away, like a birthday candle flame!!!]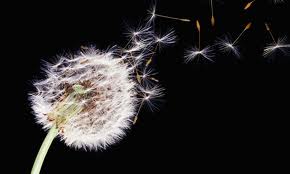 The dandelion has always been a welcome visage to me- and absolutely terrifying to our eldest.The mere glimpse of its leaves made him cower and avert his gaze. What was it that frightened him so? Those toothy leaves? The way the blooms emerged everywhere, as if by sorcery? The fear of being bitten, as if by some latent lurking serpent? To this day, he is reluctant to say…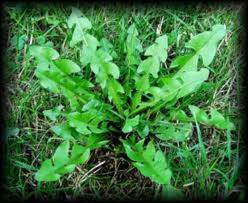 But for me, the inebriating odor of damp soil, slimy sap from the freshly broken stem, and blowsy pollen heart commingle in CB's creation.
It embodies the joy, the innocence of all that is simple, good- And free. Money can't buy it.
Immortelle/ By Mark Behnke Managing Editor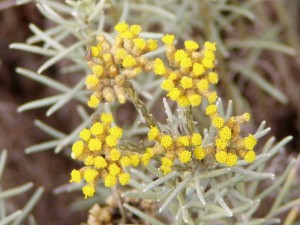 When it comes to fragrance I am a fan of almost all of the floral notes. Clove-like carnation, many-faceted rose, indolic jasmine, and mysterious narcissus; to name a few. The one which grabs my attention and holds it is a weird little floral note called The Everlasting Flower, Helichrysum angustifolium or just plain Immortelle. Immortelle has a strong odor which has caused it to be called a curry plant; although it is not used in any curry that I am aware of. Immortelle, when distilled to an oil, and used in fragrance smells nothing like curry. The common comparison is to maple syrup and I find that comparison to be apt.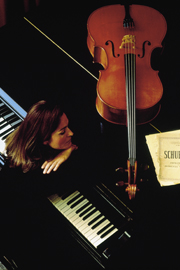 My first exposure to the rich syrupy character of Immortelle in a fragrance came when I tried Annick Goutal Sables for the first time. Annick Goutal created Sables for her husband, cellist Alain Meunier; in 1985. I didn't discover it until twenty years later. The moment it hit my nose I knew I found a note which resonated within like the vibrato of M Meunier's cello. Immortelle is not a subtle note and it really seems like it is the only note present in Sables at times. But like grace notes there are hints of sandalwood, vanilla and pepper but always the Everlasting flower is everlasting.There are not a lot of fragrances which use Immortelle because of its ability to overpower a fragrance. Two other excellent examples of its use in fragrance are Christian Dior Eau Noire, and Serge Lutens Chene.The silver lining to being an Immortelle fan is it is pretty easy to own all of the fragrances which contain it.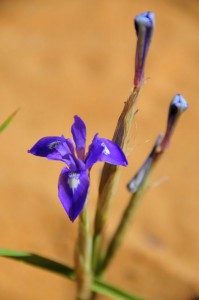 The Iris/ By Contributor Mary Beth Devine
We seem to have misplaced spring here in the mid-Atlantic region. The jonquils hung in for about ten days, the tulips were torn apart by storms within a week. Now it's all about the iris starting to bloom. Come on…..you knew I was going to choose iris!!! So – let's talk about Le Labo Iris 39, shall we?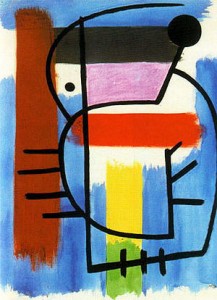 Joan Miro

Lest you sit there and yawn, there's a brightness in this one…the faint smell of ginger – slightly sweetened – the sort of candies you got when you had a head cold in childhood. Cardamom and patchouli add a smoothness and spiciness to my beloved orris root. Think of cardamom here as a more mellowed cousin of the ginger in this brew. Since some consider cardamom and patch as aphrodisiacs, my guess is that they add a human warmth to the otherwise chilly iris as does the civet. D

id I mention civet? Synthetic, I'm sure, but civet nonetheless. I get it a few hours in. This is not a "in your face skanky civet".

This is a little dirty, a little sexy. It lingers, but doesn't overwhelm. Fabrice Penot of Le Labo describes it as the "sexiest human being at a publishing house party of St Germaine des Pres on May 26, 1931 at 11:30 PM". I can live with that, I think. For me, it's totally work appropriate and embodies the ying and yang of spring. Cold, gray mornings; blindingly bright afternoons; and always a surprise if you only take the time to look – or sniff. It seems to not get the love (or the second look) that it somehow deserves. Rather than the predictable woodsy base engendered by other houses, Iris 39 is packed with small surprises in the same way an unfurling iris does. The opening is accented by a shot of sweet green – lime peel – unexpected, refreshing, but NOT the run of the mill galbanum blast. I swear I feel a touch of aldehydes in the opening, though I've yet to find official mention of them. No matter. It's an interesting segue-way to the late spring flowers of rose and ylang-ylang that are scattered on our path. Violets – and dark green violet leaves – create a soft cushion of childhood contentment.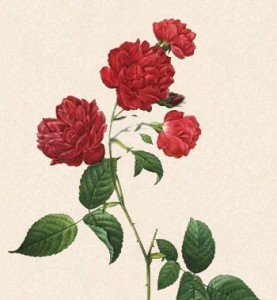 Carnation/ by Leah Strigler, Editor
My first perfume love is Bellodgia to which I was introduced as a child of seven or so via the collection of a good friend's mother. Carnations flowers often get little love, a cheap, accessible flower that reminds many of funerals and sad associations.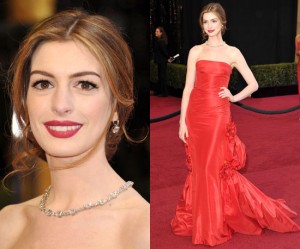 Anne Hathaway on the Oscars 2011 Red Carpet
However, dressed up by Caron in this ball gown of this classic perfume (created by Ernest Daltroff and released in 1927) it is sumptuous, an accessory for the red carpet, a bottomless bouquet of rich, spicy elegance. I have owned this scent through many incarnations, starting with a ridged square bottle purchased as a tween. Today's version is not quite as heady/heavy as the fragrance I remember from childhood but it still fills one's nose and mind instantly with that crisp dark clove-like bite – a sort of ideal disembodied version of the flower, perhaps what carnations were meant to be.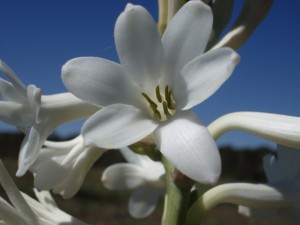 Tuberose / by Senior Editor Emmanuelle Varron
I'm a not really what you call a "flower woman", speaking of perfumes, of course ! First of all because when I was a child, I considered flowers as something only made for gardens. My parents where fond of ambered, spicy perfumes, which are still, today, my favorites. Second, flowers don't really like my skin. Jasmine disappears as soon as I wear some, same thing for mimosa or lily of the valley. The only flower that works on me is tuberose. That's why I love it so much. And thanks to our perfumers great talent, you can wear as different tuberoses as the woman you want to be : "fatale", passionate, sophisticated. Never shy, and always with personality .
My May tuberose is of course joyful, sunny, still feminine, but a bit kinky…. And the best one I found is called "3 Fleurs", by Parfum d'Empire.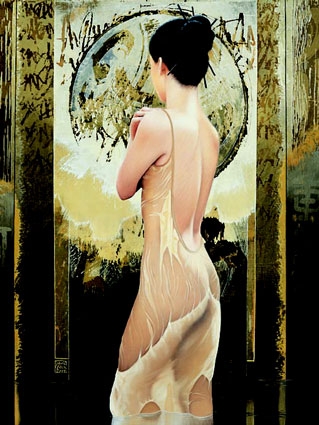 Ma rc-Antoine Corticchiato ensured that the ensemble of tuberose would create ART, tuberose, jasmine and rose, three magnificent flowers, with a strong identity needed to blend perfectly into one scent. Rose is the symbol of passionate love, dedicated to Venus and jasmine is linked to romantic love, and the sensual but smart Sheherazade. What about the tuberose, the one that, of course, speaks the most on my skin ? Well, it symbolizes the forbidden love. During the Italian Renaissance, young girls were not allowed to walk through tuberoses gardens at night. It was believed they could lest their virginal defenses…
I've been wearing 3 Fleurs since the first sunny days in Paris. I have to admit it makes me feel more feminine, and springful, And so uncommon, as all Parfum d'Empire créations are !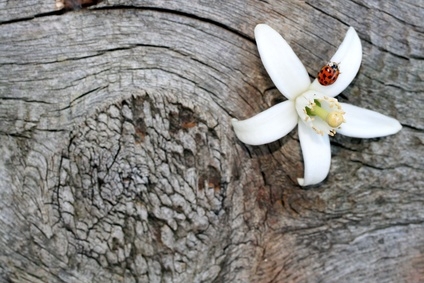 Orange Blossom/ by EIC Michelyn Camen
No surprise… I am known as the Queen of Orange Blossom ( in truth my favorite flower is the orchid but no jus can be extracted from its bloom, "Only the "fruit" of the vanilla orchid (Vanilla Planifolia), the bean, has any value to the perfume industry,"according to Anya McCoy of Anya's Garden). My current favorite is from Atelier Grand Néroli, created by perfumer Cécile Krakower. Grand Néroli opens with a joyful burst of neroli and orange blossom (those two lovely, but differently-achieved, products of the same flower aka the couchon de parfumerie). Ahhh, the galbanum seems to extend the citrus notes without turning them too green, and the vanilla and amber lend an air of mystery and warmth at the base; this is definitely my type of scent (a toe into my beloved fruity floral and gourmand scents…all redolent of resins).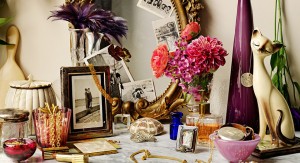 Grand Néroli evokes all that is sun-warmed and healthy. It is also the flower best known for a bride, which I am soon to be. It's the most "feminine" Atelier fragrance (but worn by many men I know), with a permanant spot on my bureau. Pssst CaFleureBon loves this line, so tightly edited and we believe there is a summer scent for everyone(Mark and I wore it even before Sylvie Ganter made her debut at Bergdorf Goodman during Sniffapalooza Spring Fling 2010).
For our draw: Please comment on your favorite flower and perfume. You may select one of the following to add to your comment, or tell us about your own. In this draw, CREATIVITY COUNTS. A POEM .. A SONNET.. A COMMENT Draw closes Wednesday May 18th.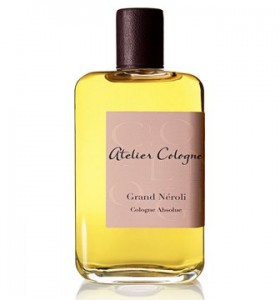 200ml of Grand Neroli courtesy of www.ateliercologne.com
1.7 oz of Parfum d 'Empire 3 fleurs courtesy of www.parfumdempire.fr/
1.7 oz 3 Fleurs Courtesy of www.parfumdempire.fr/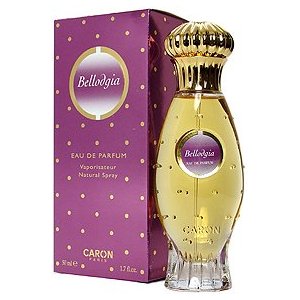 1.7 oz of Belladogia Courtesy of Sudhir of
www.eauyesny.com (site under construction). For more information contact sbang@susanbang.com of Susan Bang PR
—–Michelyn Camen, Editor-In-Chief
Special acknowledgement to Charlotte Estes Scheuer the Admin of Facebook Fragrance Friends. Although we have had this at the ready on wordpress and on our editorial calendar since April 27, 2011; we enjoyed Floral Week! It just kept raining and raining….