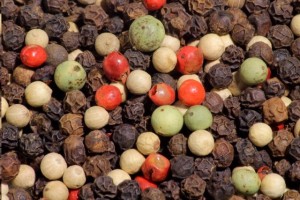 Black, Pink, White, Green peppercorns
Disturb the rough, dark surface of a humble black peppercorn and get ready for fire and spice with a hint of citrus and fine woods. Peel back the papery skin of the pink pepper berry and reveal sweet, piquant rosiness with just a bit of a spicy resinous bite.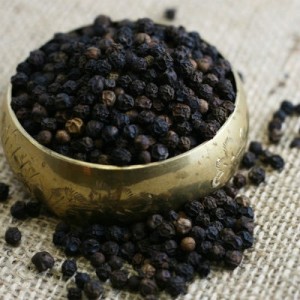 Black pepper is known as the King of Spices, giving warmth to savory dishes and unexpected fire to fruity and sweet foods. The essential oil of black pepper is similar to the spice with a sharpness and freshness but it should also have a slight citrus note and a backdrop of fine woods and balsam.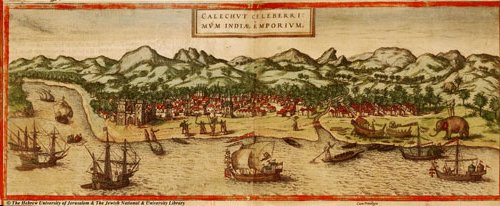 Portugese illustration: Black pepper trade 1500s
From the Old World, with origins in the Malabar Coast of India, black pepper (Pipir Negrum) has been the the most highly desired pepper varieties since the Portugese promoted its use in the lucrative spice trade during the 1500s. Prior to that, as far back as the 4th century Pipir Cubeb, also known as Long Tail, Java or Chinese Pepper was cultivated and used in Asian, Arabic and Indian cultures; it has a bitter, aromatic odor and is seldom used today. Green pepper essential oil is not as complex, having a sharp green spicy note; white pepper has sharpness without complexity and possesses just a hint of urinous musk.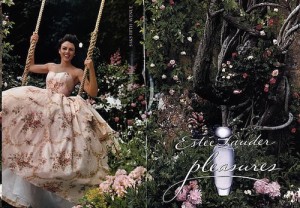 Estee Lauder Pleasures ad featuring Elizabeth Hurley
From Brazil and Peru in the New World, the Peruvian pepper tree gives us a slightly sweet fruit the size of a peppercorn with hints of rose and resin. A CO2 extract produces the best oil for use in perfumery and is rosy but with sharpness that adds piquancy and freshness to perfumes. Estee Lauder Pleasures (1995, Perfumers Alberto Morillas and Annie Buzantian) was one of the first perfumes to use pink pepper, which was previously considered to be of lesser quality and many have since taken advantage of this uplifting, pink, floral note. Black pepper gives sparkle and a kick to many categories of perfume including Woody, Oriental, Aquatic (it is believed that black pepper co2 was used in the original Light Blue for men), Florals (especially lovely in rose and carnation fragrances) and Gourmands (perfect to balance fruity and chocolate notes). Pepper notes interact well with musks, other spices and resins– teasing them up out of the heart and base, while adding smoothness to the drydown.
Right:Vintage Arpege ad and Vintage Caron Poivre ad (1955)
Black pepper has been used in modern perfumes since the early 1900s and is purported to be one of the 313 ingredients in the original formulation of (1913 ) Houbigant Quelque Fleurs by Robert Bienaimé. Black pepper was one of the secret weapons in Lanvin Arpege by André Fraysse (1927) and Caron's "Urn /Fountain Fragrance" Poivre created in 1954 by legendery perfumer Ernest Daltroff, added black pepper to Caron's signature "carnation/floral" formulation and a trend was born…a new perfume to spice up the lady like florals that were popular at the time.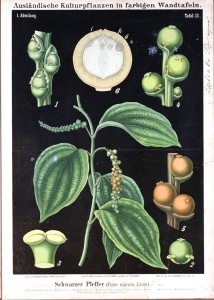 Botanical illustration Pipir Nigrum
Black pepper vines grow up the trunks of tree in the humid forests where they get hot sun and monsoon rains. The vine has shiny green heart-shaped leaves that are aromatic and sweet that may be used to wrap betel nuts, a pepper relative. The black pepper vine puts out tiny white flowers in clusters that produce green berries that eventually ripen to a deep red. The peppercorns ripen at different times so that harvesting can take place over several months. Black, white, green (and very rarely pink peppercorns) come from the same plant and arise from different harvesting and processing methods.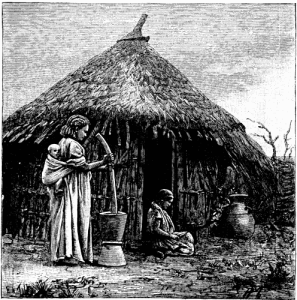 Abyssinian woman grinding pepper
For a millenia, ancient cultures used black pepper in their food and drink. Peppercorns are traditionally laid on woven mats to dry in the sun to the familiar black, wrinkled peppercorns. This activates an enzyme that causes the color change but also creates the pungent flavor and aroma, mainly due to piperine and other volatile oils that are created in the process. Then they are ground. White, green and pink peppercorns are treated differently—either picked while unripe (green and pink) or having the black outer skin removed (white).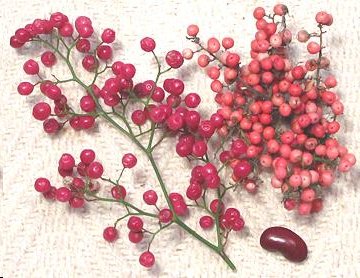 Pink Pepper (in French is known as Baises Rose de Bourbon)
Pink pepper commonly comes from an unrelated plant, a small tree called Peruvian pepper or molle and a close relative, Brazilian pepper (Shinus Species). Both are New World tropical species and are invasive outside their native habitat, producing abundant deep pink to red berries. The Inca used the sweet outer shell of pink pepper to make a drink after carefully removing it from the bitter inner part. The trunk of the Peruvian pepper tree produces a resinous extract that may have been one of the aromatic plants placed with the mummies of Inca kings before they were placed in their graves. Boiling the leaves and bark produces a natural yellow dye.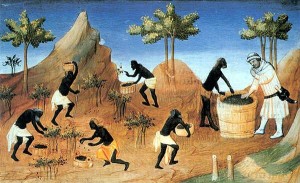 Black Pepper harvested for the European trader, from a manuscript (Livre des merveilles de Marco Polo)
Warriors and Lovers both have always treasured the heat and strength of black pepper. When Alaric, king of the Goths, conquered Rome he demanded a ransom of 3000 pounds of pepper. In China during the 15th century all government employees and soldiers received part of their salary as pepper. The taste of freshly ground black pepper is like no other spice and was a revelation to Europe of the 16th century. It became so valued that it was used as currency for dowries, taxes, and even rents, giving rise to the term "pepper corn rent." Rich men would keep their pepper locked up in treasure chests, bringing the peppercorns out for lavish banquets and for paying bribes. Ancient Egyptians used the peppercorn for embalming, and it is used in many Ayurvedic medicine for cold, fever, aiding digestion and speeding up metabolism, including losing weight (be careful of too much pepper in your diet if your Dosha is Pitta as it can aggravate your already "hot" temper).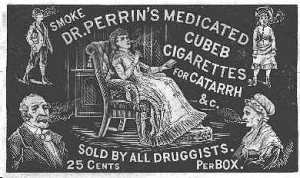 A Victorian advertisement for Dr. Perrin's Medicated Cubeb Cigarettes
The Book "1001 Arabian Nights", compiled in the 9th century, mentions Cubeb pepper as a remedy for infertility, (known as a seed thickener) and included a recipe combining it with many ingredients such as cinnamon, cardamom, and star anise pounded into a paste. Edgar Rice Burroughs was fond of smoking Cubeb cigarettes and quipped if he hadn't smoked so many cubeb cigarettes, he may not have written Tarzan. In the musical The Music Man, set in rural Iowa in 1912, the character Harold Hill alarms parents by telling them that their sons are trying out cubeb cigarettes at the notorious pool hall in the song "Trouble". Cubeb was used in creating Bombay Sapphire Gin and is not often used in perfumery although John Varvatos Vintage, composed by Rodrigo Flores Roux, lists cubeb as one of its ingredients.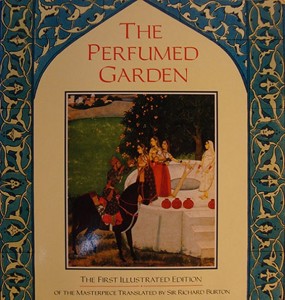 The Perfumed Garden, a 15th-century text, nicknamed "the Arab Kama Sutra", was written by Muhammad ibn Muhammad al-Nafzawi in what is now Tunisia
The warming effect of black pepper led to its use by the ancient Romans as a cure for impotence. In The Perfumed Garden (a 15th century sex manual) a man is advised to rub a mixture of ground pepper, lavender, galangal, and musk mixed with honey and ginger on the genitals to make them more brawny and thus to afford his partner a "marvelous feeling of voluptuousness." In a wedding story found in the Kama Sutra, Sugar and Pepper was sprinkled on the bride's wedding veil; sugar for the sweetness of life, pepper for the promise of joy and sensuality (Editor's Note:L'Artisan Parfumeur's Poivre Piquant is based on this tale from the Kama Sutra and uses white pepper, which seldom used in perfumery and has a civet like character).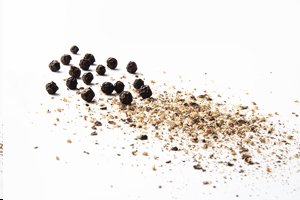 Black pepper may be one of the most common household spices, but it is used quite frequently in hoodoo, voodoo and folk magic. Be careful if someone is following you with a shaker of black pepper; it is used in hexes! In Appalachia, Granny women would use black pepper in an infusion to help induce labor in an expectant mother because of its stimulatory nature. They would have the mother snuff the pepper or even quill it. Quilling involved blowing pepper into the woman's nose with a goose quill, reed, or rolled piece of paper. This would induce violent sneezing that would induce labor. Mixing black pepper with salt and throwing it after someone when they leave your home will help prevent them from returning or doing you harm. Black pepper is associated with the element of fire and can be burned to rid a house of negative energy before smudging with sage. Black peppercorns, carried with you, can help you summon up the courage to do difficult things. Keep a bit of pink pepper around for its cheerful effect on your mood.
Rich with Old and New World history, pungent, piquant and arousing, black and pink pepper intertwines our love of perfume and food, with our sensual appetites in the perfect blend of passion and spice.
–Elise Pearlstine, Monthly Contributor and Perfumer for Tambela Natural perfumes
(with contributions from Kevin Verspoor, Contributor & Editor in Chief ,Michelyn Camen)
Art Direction: Michelyn Camen
For Our Favorite Pepper Perfumes Draw: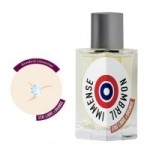 WORLDWIDE From Fragrance & Arts 50 ml Etat Libre D'Orange Nombril Immense composed by Nathalie Feisthauer with black pepper absolue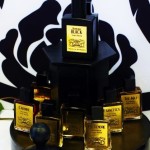 WORLDWIDE ALL NATURAL: A special sneak preview !!!! 5 ml of House of Matriarch's YET TO BE RELEASED Black Boheme by Perfumer Christi Meshell which contains both piper nigrum from Malabar and cubeb pepper and will be released on Black Friday November 29, 2013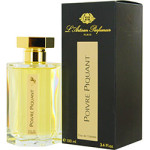 USA and Canada: Thanks to L'Artisan Parfumeur 100 ml of Poivre Piquant EDT composed by Bertrand Duchaufour, with white pepper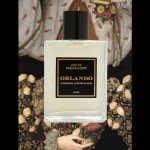 USA Thanks to Sens-Unik, the US distributor of Jardins D'Ecrivains 100 ml of Orlando composed by Anais Biguine with pink pepper from Peru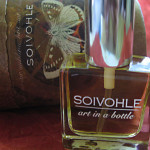 USA With gratitude to Liz Zorn (for bringing back one of our favorites) from the Soivohle Studio Collection 11ml of Raspberries and Black Pepper with black pepper 🙂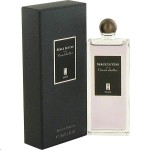 USA Our friends from Fragrance.net are offering 50 ml Serge Lutens Vitriol d'Ouillet with black, cayenne and pink pepper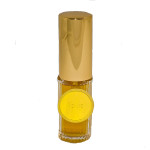 USA from the lovely Dawn Spencer Hurwitz of DSH Perfumes 10 ml EDP Spray of Poivre with Malabar black pepper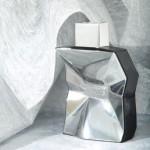 USA Courtesy of 99perfume.com 100 ml Marc Jacobs BANG! composed by Yann Vasnier with black, white and pink pepper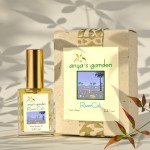 USA ALL NATURAL 5 ml of Anya's Garden River Cali by Perfumer Anya McCoy with pink pepper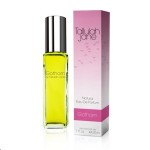 USA ALL NATURAL Perfumer Eleanor Nutall of Tallulah Jane is offering 30 ml of Gotham with black pepper from Malabar. PLEASE VOTE FOR TALLULAH JANE IN THE ECOSALON AWARDS BEAUTY bit.ly/1dLler6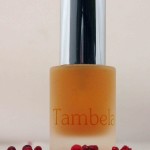 USA ALL NATURAL From our esteemed author Perfumer Elise Pearlstine 15 ml Tambela Pink Pepper with pink and black pepper
To be eligible for our Favorite Pepper Perfumes draw, please leave a comment with what you learned about Pepper in perfumery and list all the fragrances you would like to win (country restrictions) AT LEAST ONE OF YOUR CHOICES MUST BE ALL NATURAL. Please let us know the Country you live in. Draw ends November 27, 2013.
The draw is random but we will try to match winners with their choices. If you only wear natural perfumes please note that in your comment.
We announce the winners only on site and on our Facebook page, so Like Cafleurebon and use our RSS option…or your dream prize will be just spilled perfume.