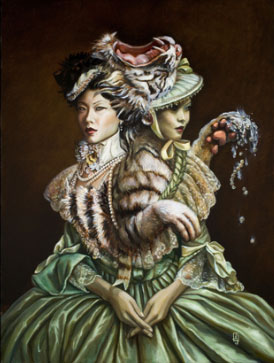 Was 2011 as good year for perfume as 2010? Only time will tell. According to Women's Wear Daily over 2,000 fragrances were launched in what they stated is a 20 billion dollar industry this year and we question that statistic; we think that there were more, as global natural and artisanal perfumers took center stage with perfumistas and blossomed like the proverbial flowers they are (and probably were not counted).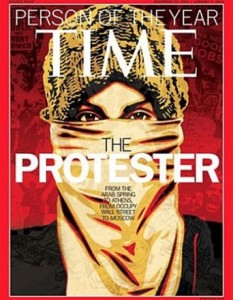 Time magazine named the 2011 Person of the Year "The Protestor", and in a way that fits with many of the awardees; we believe that out of the over 500 fragrances Tama Blough and I have sniffed, tested and worn in 2011, many of the best are by independent perfumers or perfumeries whose work rose above the mediocrity of most fragrances this year. Did we miss a few? Yes; after all we have only four nostrils –Michelyn Camen, Editor In Chief and Tama Blough, Editor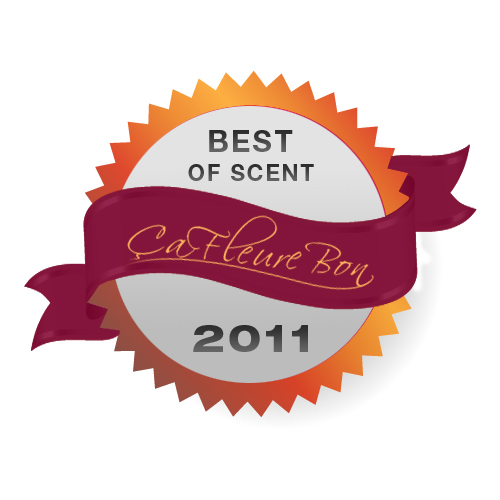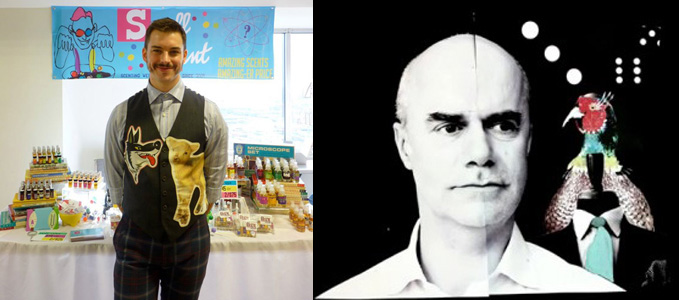 Perfumer of the Year
Tama: Brent Leonesio, Smell Bent
Brent has delivered fun, wearable, affordable fragrances for his two years in business, but this year saw the introduction of several surprising, risky, fascinating scents that are still fun, wearable and affordable. He also created the daringly animalic Untitled #8 for Luckyscent, which was the love it/hate it creation of the year (Debonair au Dandy and *Mountain High are Fifi Nominees for Best Indie perfume of 2012).
Michelyn: Bertrand Duchaufour, The Pirate of Perfumery
Sixteen fragrances in one year… ranging from good to amazing. All niche and all on his own terms.The Perfumes: Seven Mon Numeros for *L'Artisan Parfumer,Penhaligon's Esprit de Roi, *Jardin de Poete for Eau d'Italie, MCDI Belle Helene, t*hree for Neela Vermiere, Frapin 1697 and Petit Mort for Marc Atlan (FiFi nominees for best indie perfume 2012 ) and for the Different Company Oud Shamash. (Bertrand has won my best perfumer award for three years, including 2009 for FashionTribes).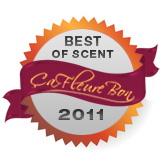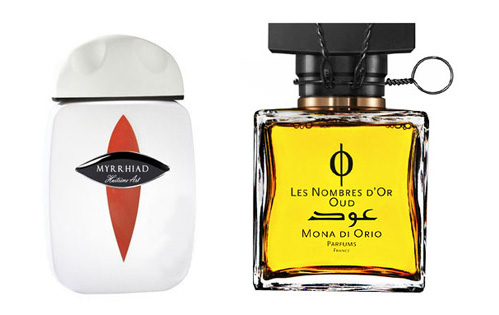 Fragrance of the Year
Tama: Myrrhiad, Huitieme Arts Parfums- Myrrhiad is practically the poster child for rich, honeyed, spicy, incense fragrances. Nice work from Pierre Guillaume and the best winter scent I have tried in a while.
Michelyn: *Oud, Les Nombres di Orio Mona di Orio- There was no rival. Only real Laotion Oud oil was used, and as every batch is different, it cannot be replicated. The osmanthus note is genius as was its creator Mona Di Orio. The oeuvre of a beautiful life.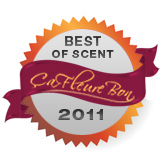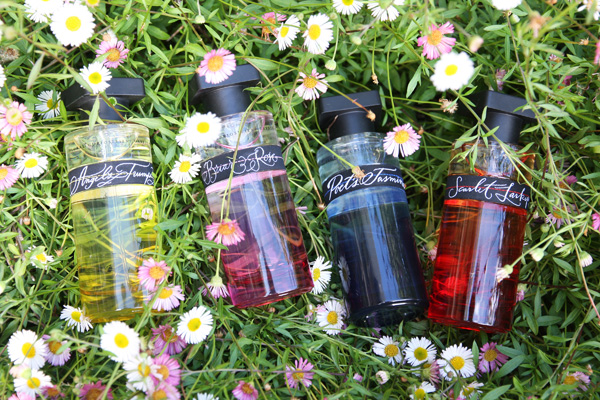 Best Fragrance- Specialty Store
Tama and Michelyn: *Floral Curiosities by Ineke Perfume – All of the Floral Curiosities fragrances, available at Anthropologie, have their own distinct personalities. Well-done, and affordable.Brava Ineke. Rumor has it smaller sized flacons will be coming to an Anthropologie near you. Buy them all.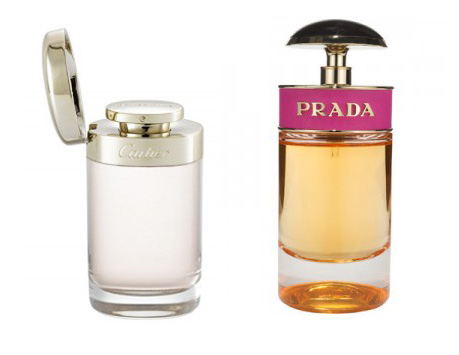 Best Department Store
*Tama: Cartier Baiser Vole –I have described this as "it's like they took the whole lily plant, roots and all, stuck it in a blender, and bottled it." This was a wonderful mainstream offering , by perfumer Mathilde Laurent, in a year of good department store scents.
Michelyn: Prada Candy- I am a Candy girl. Perfumer Daniela Andrier is one of the few perfumers that can take a scent and capture the brand DNA in a bottle. Sillage, ingredients, price point. Laotian benzoIn evokes the coveted No 9 Benjoin.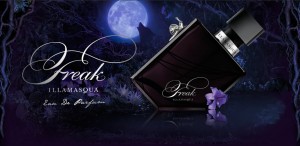 Best Fragrance you can find at Sephora
Tama and Michelyn: Illamasqua Freak – A seductive (datura) and fun(hemlock) fragrance, with ingredients that sound more like a witches brew, but trust us, Freak makes us feel like anything but; our sex appeal is as hot as the the bottle (which can be a very good thing). So get your Freak on.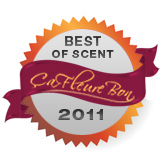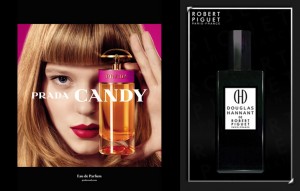 Best Designer Fragrance
Tama: Prada Candy-I was nervous about testing this because I thought it would be super-sweet, and like 99.9% of sniffers, I pulled the top off and screwed up the tester, but the fun candied violet was not too sweet nor too dry – just right.
*Michelyn: Douglas Hannant by Robert Piguet– I was seduced by Aurelien Guichard's 2011 feminine fragrance. The Pear Note. The Orange Blossom. The Tuberose. This was the first new scent (not reformulated) for Piguet and I hope it won't be the last. A fashionista's perfume.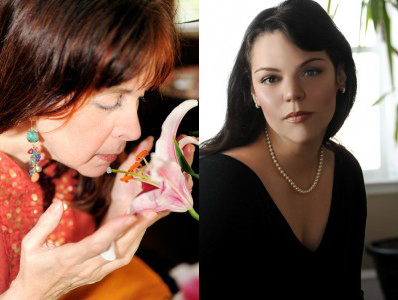 Best Natural Perfumer
Tama: Mandy Aftel, Aftelier Perfumes- Smitten hard last year by her collaborative effort with Andy Tauer, Honey Blossom, I was smitten again this year with the sensuous Secret Garden (a nominee for the 2012 Indie FiFi award and one of the commitee members ). Sumptuous flowers with a horde of animalic base notes including castoreum and civet create a languorous, heady bouquet.
Michelyn: Charna Ethier Providence Perfume Co.- There is no doubt in my mind that Charna represents the future of young American natural perfumers AND the future is now. This is a tricky category; there are many talented natural perfumers. My test is: all things being equal, a natural perfume is fine fragrance. Charna's background in synthetic perfumes allows her to translate her scents, naturally. Eva Luna is a mimosa fragrance which on my skin is similar to the beautiful Caron Montaigne. Rose Boheme with its 25 % patchouli took months and months to perfect. And she did. (Both Rose Boheme and Eva Luna are nominated for Indie FiFi 2012).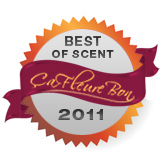 Best Natural Perfume
Tama: I smelled some lovely naturals this year, but Aftelier Secret Garden wins.
Michelyn: I tested over 60 natural perfumes this year and *Providence Perfume Co. Rose Boheme ties with Alexandra Balahoutis of Strange Invisible Perfumes' sheer gourmand Dimanche (both FiFi 2012 nominees)

Rising Star – Natural
Tama: Jane Cate – A Wing & A Prayer. Jane has created some ethereal and lovely natural perfumes this year, including Wild Rose, Epione and Haight Ashbury. Keep your eye on this one.
Michelyn: As Ida Meister once quipped, "who knew there were so many talented natural perfumers from all over the world?" I chose both Tanja Bochnig of April Aromatics AND * Dominque Durbrana aka Abdes Salaam Attar's whose Sharif was outstanding. Tanja's Nectar of Love is aptly named (a 2012 FiFi Nominee) and Amber Chocolate (last year's winner as best natural fragrance) has me addicted. Follow the Oud Carvaan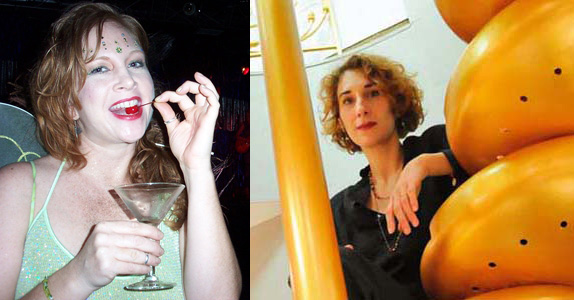 Best Niche/ Independent Perfumer
Tama: Kedra Hart, Opus Oils -This year, her vibrant Les Bohemes line, plus the amazing patchouli fragrance Wild Child, showed that Kedra is definitely a force to be reckoned with.
Michelyn: Mona Di Orio for Les Nombres di Orio- What might have been If she had not been taken from us so early, we won't know, but Tuberouse, Vanille, Vetiver and Oud were her best work. Love you Mona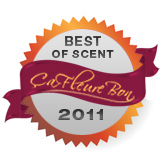 Best Indie Fragrance
Tama: Tiger Meat Star Fucker (Tiger Powers for Opus Oils) – Just the name was totally polarizing, causing internet arguments and facebook unfriendings. Lost in the shuffle was the brilliance of this bright refreshing scent with a bit of a sexy, dirty underpinning. This is a tie with Pandora by DSH Perfumes which forced me to appreciate a good chypre. After trying to decipher a list of notes as long as my arm, I just gave in to the artistry of the blend, a magnificent green chypre (Pandora is a FiFi nominee for Indie Perfume 2012).
Michelyn: Mirabella by DSHPerfumes stole my heart and nose as did the caramelized burnt sugar note in this creme de brulee fragrance – *Soivohle Leather Krem (FiFi nominee for Indie Perfume 2012).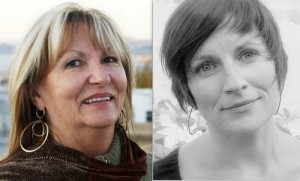 Rising Star – Indie
Tama: Shelley Waddington, EnVoyage Perfumes- Shelley has caused quite a stir with her scent line, including a couple of my faves, Peche Noir and Go Ask Alice, and I look forward to smelling what's next.
Michelyn: Jessica September Buchanan,1000Flowers- JSB has all the right stuff to become a world renowned perfumer. Regalisse Noir, her debut perfume was awarded a CafleureBon Best of 2010 award by one of the sharpest noses in the industry…our own Mark Behnke. Jessica followed up with Fleure. No 1 and then with her first all natural fragrance Narcotic Flowers. Did I mention she packed up her bags, sold her house in Canada to move to Grasse and with your support she was able to eat three meals a day. She has been on our radar ever since she accidently met Mark at the Jo Malone counter at a Sniffapalooza event. 2012 will be her year, I just feel it.
Best Vanilla
Tama: Vanille, Les Nombres di Orio- A shimmering, spicy, slightly dry vanilla that is like liquid gold by a marvelous perfumer taken from us too soon.
Michelyn: Vanilla Insensee, Atelier Cologne– Vanilla in a cologne with sillage by Ralf Schweiger (a 2012 FiFi indie award nominee).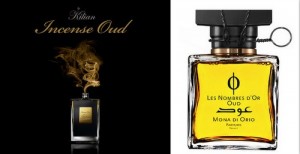 Best Oud
Tama: By Kilian, Incense Oud –The By Kilian Arabian Nights line is nicely done in general, but the Incense Oud made me swoon. Rich and spicy, and the oud is not sweaty at all.
Michelyn: Les Nombres di Orio Oud- Brilliant and magical which is why it won my pick as best perfume of the year.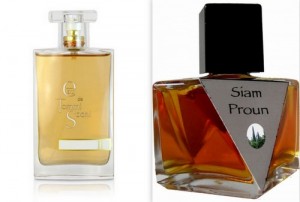 Best Fragrance You Never Heard of
Tama: Tommi, Sooni Eau de Tommi II – This whole line from Australia is worth a look, but the ylang ylang, greenery and honey of Eau de Tommi II knocked me out.
Michelyn: Siam Proun, Olympic Orchids – all of the above and Siam Proun is a glorious, luminous oriental that evokes a scent of place- The Paris Hotel.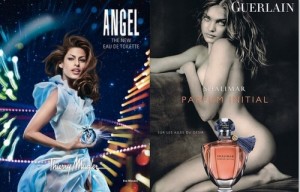 Best Flanker
Tama: Angel Eau de Toilette – created for Thierry Mugler by Amandine Marie,Angel EDT is a more wearable, brighter and fruitier version of the original. The flacon is also gorgeous (as is Eva Mendes) – it's a winner all around.
Michelyn: Shalimar Initial Guerlain -Perfumer Thierry Wasser has earned his place at Guerlain.He hit this one out of the ball park.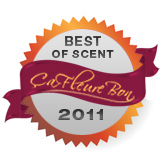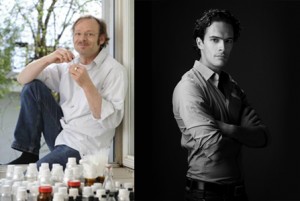 Perfumer of the Decade
Tama: Andy Tauer, Tauer Perfumes – Andy started my path down the rabbit hole of niche, and has been my idol ever since. Not only has he made some of my favorite perfumes and keeps pushing the envelope, he is one of the nicest men on the planet.
Michelyn: Pierre Guillaume- Why? Let me count the Myrrihad of reasons. Pierre start Parfumerie Generale in 2002 (with Coze), he has consistently created fragrances that are the definition of chemistry meets alchemy and are ultimately wearable and intelligent. Huitieme Arts is pure genius with its idea of phyto perfumery captured through a limited number of accords. Pierre's collaborations for* Phaedon and Laboratorio Olfacttivo this year proves he plays well with others' and Tonkamande, *Indochine, Praline de Santal and Myrrihad were four of his finest fragrances.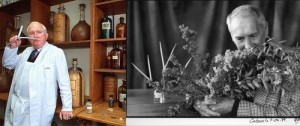 MichelMv
Lifetime Achievement
Tama: Jean-Paul Guerlain, Guerlain – He caused a bit of controversy last year, but the work must speak for itself. He has been creating classic fragrances for Guerlain since the late 50's, but I will be surprised (and pleased) if we see any more work from him.
Michelyn: Edmond Roudnitska, Perfumer – The father of Michel, mentor of Jean Claude Ellena and Mona Di Orio, he is a legend whose legacy is a "more streamlined and contemporary" approach to perfumery. M. Roudnitska's accomplishments are too numerous to list but May Day is forever known as Diorissimo Day.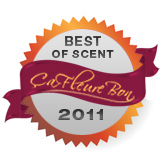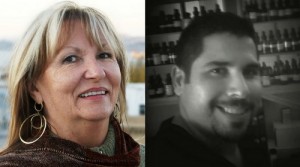 Best Collaboration
Tama: Shelley Waddington and Juan Perez – for the two fragrances Vents Ardents and Nectar de Iles for En Voyage. Representing the bride and groom scents that then merge to become one, the sensational tropical scents were created to be worn singly or layered.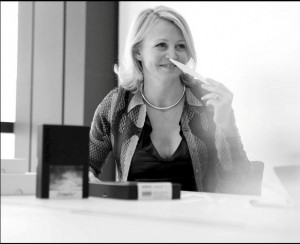 Michelyn: *Celine Verleure Olfactive Studio – Our former First Lady and Secretary of State, Hillary Clinton said it takes a village. Facebook, photographers, and perfumers produced three bottle worthy scents.
Best Reformulation
Tama and Michelyn : Houbigant Fougere Royale – We never smelled the original formulation of this, but we don't care. It completely stands on its own as a very well-made classic. Bravo, Rodrigo Flores-Roux and Roja Dove.

Best Collection
Michelyn: Miriam Vareldzis of 40Notes (an Indie FiFi nominee for 2012) dazzled with her debut collection; *Neela Vermeire with Bertrand Duchaufour were equally brilliant.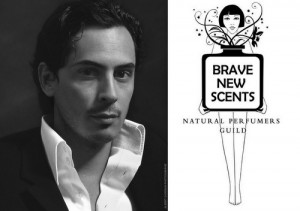 Best Internet Marketing
Tama: Kilian Hennessy sent real folk who joined his club on Facebook a gorgeously presented sample pack of the entire L'Oeuvre Noire collection. Initially offering it to only the first few hundred, they expanded it to include anyone. The buzz about the By Kilian fragrances grew on facebook and elsewhere exponentially.
Michelyn: Natural Perfumers Guild, Brave New Scents – The brave professional perfumers of the NPG Anya McCoy, Elise Pearlstine, Charna Ethier, Jane Cate, Ambrosia Jones, Joanne Bassett, Adam Gottschalk, Christi Meshell, Liz Cook and Rohanna Goodwin Smith each earn the CaFleureBon best of scent award.

Best Flacon
Tama: Illamasqua Freak – I bought this just for the bottle (and thankfully liked the perfume). The whole presentation is fabulous, but the slanted bottle that looks partially buried, with its little silver snail climbing up the side, is fabulous.
Michelyn: De Profundis by Serge Lutens – Just look at it.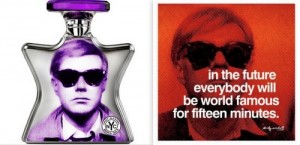 Best Celebrity Fragrance
Tama and Michelyn: * Bond No. 9 Andy Warhol will enjoy more than 15 minutes of fame. Well done Laurice Rahme.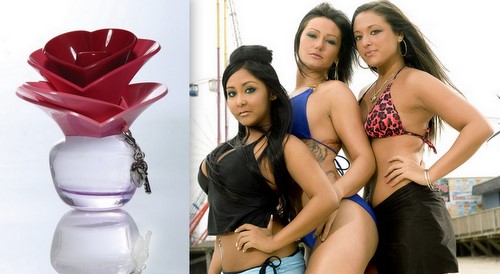 Worst Celebrity Fragrance
Tama: Justin Bieber Someday- The bottle top is a cross between Marc Jacobs Lola and a Judy Chicago dinner plate, much too vulvular for a teenage boy. The fragrance is more of the same fruity floral dreck we have been getting beaten over the head with for too long.
Michelyn: Here is the Situation.The reality is that New Jersey's slogan "The Garden State" encountered its most Dangerous threat as the three perma -tanned bimbos from the Jersey Shore –Snooki, Sammi Sweetheart and J- wowwow all bombarded us with their fragrances this year. Bow wow (yes, I smelled each of them and I am still recovering).
Worst Advertising
Tama: Justin Bieber Someday – There is something a bit unsettling about this appeal to young girls' dads. Just the thought of a father overhearing their daughter screaming out the name of any boy conjures imagery I don't even want to think about.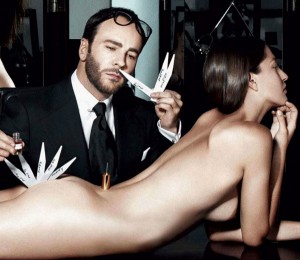 Michelyn: Tom Ford – Unsettling? The Biebs is in the minor league of sleaze. I really hope that Tom Ford isn't the misogysnist that is portrayed in this ad (which was published in Russian GQ September of 2011; the cover not shown was equally revolting) . The King of Shock just became the King of Schlock. There are some lines even Tom Ford shouldn't cross. He would never get away with this in the US. Sickens me. And from the look on his face he isn't happy with the scent of a woman; so why does he make them for us. Mr. Ford, if you were looking for publicity you got it and in the worst way.
Best Advertising
Michelyn and Tama: Dior J'Adore – Charlize Theron, filmy dress, gold upon gold upon gold. What's not to like? Calice Becker of Givaudan we adore.
.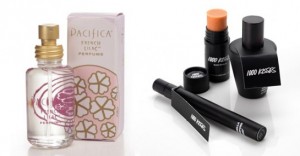 Best Bang for the Buck
Tama: Pacifica French Lilac- It's not easy to find good lilac soliflores – to find a good one for under $30 is a bonus.
Michelyn: 1000 Kisses Deep, The Gorilla Perfumes – For a cheap thrill nothing beats Lush's Gorilla Perfumers for quality, packaging and great scents. Who wouldn't want 1000 deep kisses for 16 bucks.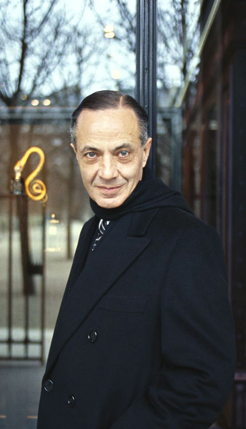 Best Buzz
Tama and Michelyn: The House that Serge built not only released new and controversial fragrances that made some perfumistas' believe he has one foot in the grave (De Profundis and Vitriol d'Oiellet). M. Lutens finally gave non Parisians have the magnificent Tubereuse Criminelle. And then there was Jeux de Peau. We hope that the maestro returns in 2012, as we continue sending scent mules to the Palais Royale to satisfy our urge for Serge.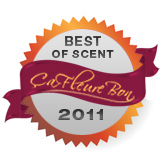 Michelyn's Editor's Prizes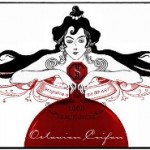 Best Blogger: Octavian Coifan of 1000 Flowers – Octavian founded his blog in 2005 and has become a leading fragrance critic, author and voice in the industry. He posts every day and is incorruptible. I may not always agree with what writes, but his critiques and articles are written thoughtfully and with passion. He coined the term we take for granted "The 8th Art".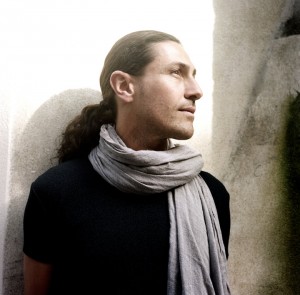 Best "Rock Star": Perfumer Olivier Durbano, Bijoux de Pierres Poemes – Over the past five years he has created both perfume and jewelry based on seven gemstones.Citrine was his final fragrance as an EDP and as of 2012, Olivier will be reformulating his seven scents into extraits. (He also creates magnificent jewelry that corresponds to each stone poem).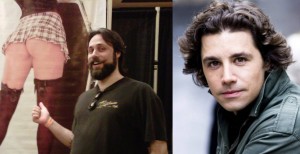 Secret Scent Crush
Tama: Tiger Powers – Do I need to explain? He makes me laugh.
Michelyn: Aurelien Guichard – Do I need to explain? He created "My Best of Designer Fragrances Douglas Hannant", my wedding day scent Visa as well as Piguet Calypso AND he looks like this. Did I mention he is French?
–Tama Blough, Editor and Michelyn Camen, Editor in Chief
* For Managing Editor Mark Behnke's list of the top 25 new perfumes of 2011 click here
For our draw we are offering three winners the following:
10ml of Pandora by DSH Perfumes
10ml of Soivohle Leather Krem- One of Mark Behnke's Best 25 fragrances of the year
One ounce of Star Fucker by Tiger Powers
Please leave a comment congratulating the winners to be eligible
We announce the winners only on site and on our Facebook page, so Like Cafleurebon and use our RSS option…or your dream prize will be just spilt perfume. Draw will close on December 31, 2011