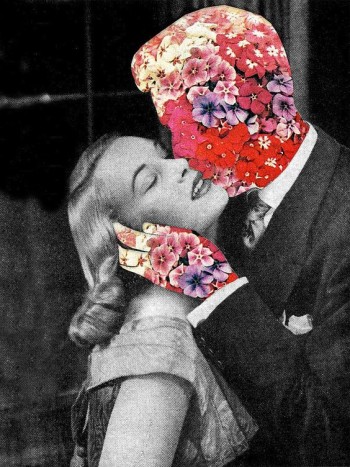 Photo by Eugenia Loli
Make me a Fragrance that smells like Love– Christian Dior
Love, like perfume, speaks a language, without saying a word. The Contributors and Editors of ÇaFleureBon all have fragrances we wear that attracts the person we desire, makes us feel sexy and ultra confident…At ÇaFleureBon we believe that confidence and scent are the ultimate aphrodisiacs.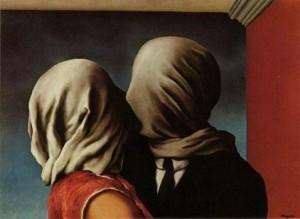 Renee Magritte Les Amants
Love is sharing… To share your life, to share your possessions and even your perfume. So the most suitable scents for Valentine's Day are the shared ones. Bond No.9's New York Patchouli created in 2013 for Creative Director Laurice Rahme, is a perfect example of a shared fragrance. Musk, rose and patchouli have always appealed to both men and women and they always will. New York Patchouli is one of the best combinations of these notes in perfume history.
Since I'm writing about "shared notes", amber is probably the most "shared" ever. Creating an amber fragrance that's suitable for both genders has always been a challenge. It has to be seductive, warm, yet comfortable. Histoires de Parfums Ambre 114, created in 2001, is a reference amber perfume that in my book is all about love, coziness and warmth and is one of three tomes in Gerald Ghislain's Cult Books. The sensuous touch of vanilla and benzoin dials it up a notch to "let's stay under the covers this weekend" territory. –Berkan Basoglu, Contributor and author of Gurme kokular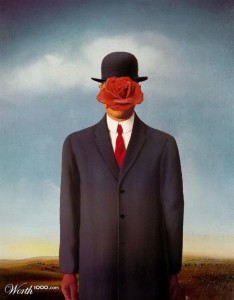 Tom Ford Private Blend – Noir de Noir, created by master perfumer Harry Fremont of Firmenich in 2007, is one of the sexiest, darkest fragrances in my collection. Noir de Noir is rose dominant but the rose is not really an in your face rose! There's something dark and mysterious about this rose scent! It's earthy, but creamy/chocolatey at the same time and who wouldn't love chocolates and roses for Valentine's Day? It's the perfect scent to be worn by couples on the most romantic day of the year. –Sebastian Jara, Contributor and YouTube fragrance reviewer for Looking Feeling Smelling Great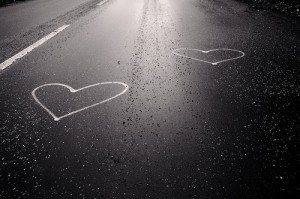 Vero Profumo Onda Extrait from perfumer Vero Kern (2008) is like a magnetic encounter, it's all about opposites attracting, odd and beautiful. Moist roots dip into honey enrapture with smells of hay and harness fading into the ones of a suite: Biedermeier furniture, two unlikely lovers rolled in silk sheets, the sparkling air at dusk and finally the eloquence of a knowing look vanishing behind the last cigarette, before they say goodbye.
Love is sharing the primitive paradise hidden in our heart, letting our partner enjoy the golden light of desire and sensuality. It's not difficult to guess what Creative Director DelRae Roth and Michel Roudnitska imagined when creating Parfums DelRae Bois de Paradis in 2002. Its discreet yet deep embrace of roses, lush vegetation and ripe fruits never disappoints and its beauty and is moving, no matter if a modern day Adam or Eve is wearing it. It wasn't an apple that tempted Adam in The Garden of Eden; it must have been the scent of Bois de Paradis. – Ermano Picco, Contributor and Author of La gardenia nell occhiello
La Vie Parisenne Illustration by Cheri Herouard 1928
Is there anything more romantic than a walk in the woods? Maybe dessert at dusk as your lover feeds you rich, dark chocolate as the light from the sunset filters through the tall branches. Created in 2013, by Ellen Covey, this is what Olympic Orchids Seattle Chocolate is all about – dark, rich chocolate trimmed in Balsam fir, tree sap and black Bourbon vanilla. Perfect scent for both those who think camping is sexy and for those who rather stay in a four star hotel in the mountains.
I'm the type of person who loves strawberries in anything. Strawberries are a must-have treat any way I can get them – in desserts, salads, sauces, and yes, in perfume also. Which is why I Profumi di Firenze's Plenilunio, released in 2012, is my absolute favorite strawberry perfume. Mandarin oranges at the top, a ripe, young fresh strawberry heart, and some light ambers and musks to finish. The name translates to Full Moon, and my sweetheart absolutely howls in delight when I wear it. Plenilunio could easily be layered with Seattle Chocolate and turn anyone who wears them together into a human Dark Chocolate-Dipped Strawberry, and if that doesn't smell like romance, I don't know what does. Pam Barr, Sr Contributor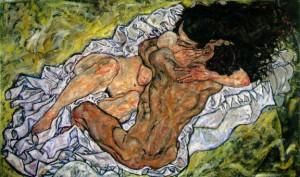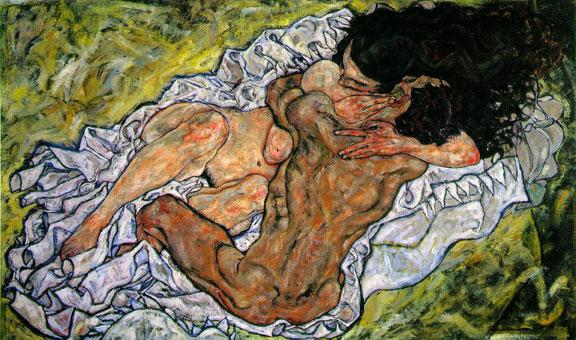 The Lovers Egon Schiele 1913
Daniel Josier, Josune. What better way to express ones love than with a fragrance inspired by the true love of the perfumer-his wife. Composed in 2015, Josune begins with wonderfully blended notes of white crisp jasmine, romantic rose buds, and bergamot with a sweet and tender base of musk and praline. The perfect scent for the perfect love.
Amouage, Lyric Man composed in 2008, is words of romance transformed into scent. Crisp rose and incense deliver the perfect intimate aroma for the man whose heart beats for one and one only. –The Nosey Artist, Sr Contributor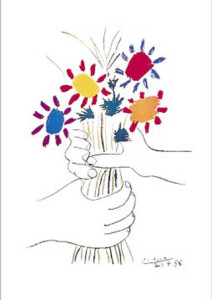 Picasso Hands with a Bouquet 1958
1000 by Jean Patou is romantic and full of nostalgia, one of the greats from the great Jean Kerléo released in 1972. It starts out big and bright with a rose bouquet to die for. Thank you for the flowers, darling. Among the roses are random florals (muguet and jasmine) that hardly fade as the romance continues to get deeper and more seductive the more you get to know it. In the end the lights go down and a seductively appointed patchouli and civet come out making for a love affair to remember-as it's dirty in the nicest of terms. Romantic bliss in a bottle that's a little naughty, but not too naughty. –Aaron Potterman, Contributor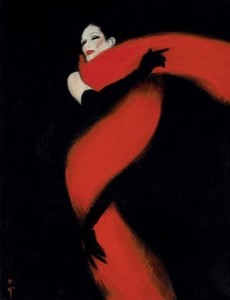 La femme en Noir (1980 – René Gruau)
No. 26 Isparta (Parfumerie Générale) : You can't go wrong with a rose perfume for Valentine's Day. We want a rose scent that is as far from innocent and dewy as possible. Isparta is a deep sexy rose dusted with dusky patchouli and covered in purple jam. This vivid, deep rose is almost sticky, as though it has been caramelized, but not overtly sweet. Some perfumes make us linger a little longer, and really savor the experience; Pierre Guillaume's Isparta, created in 2014 is a rare breed, indeed. –Michelyn Camen, Editor in Chief with Bettina Korp, Contributor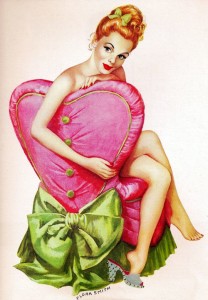 Vintage Valentine's Day Pin Up Girl Flora Smith, 1948
As a perfumista, I'm always disappointed that most florists' roses are devoid of scent, so on Valentine's Day I anoint myself with my favorite rose perfume, Annick Goutal Rose Absolue. Rose Absolue was created in 1984, by Annick Goutal herself, as a tribute to her favorite flower. What better day to wear a perfume dedicated to beauty and eternal femininity? Then, just before my husband gets home, I'll intensify the romance factor even further by transitioning over to the exquisite N'aimez Que Moi by the incomparable House of Caron. Created in 1916 by Ernest Daltrof, N'Aimez Que Moi has a history as rich as its fragrance. French soldiers gave this beautiful perfume to their sweethearts before they left for the battlefields of WWI, as a way to keep love alive across endless miles. Lush with Caron's signature rose, tender with violets, warmed by sandalwood and amber, N'Aimez Que Moi is truly unforgettable. –Tammy Schuster, Contributor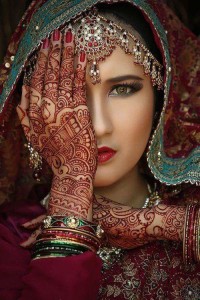 What can I say…I want a little bling on Valentine's Day. Neela Vermeire Creations Bombay Bling, composed in 2011 by Bertrand Duchaufour with Neela Vermeire is a unique take on my much beloved fruity florals. Mango tangos with black currant in the opening number Rose, jasmine, ylang-ylang, tuberose, frangipani, and gardenia petals rain down on the audience as I dance center stage in an extravagant Bollywood production. But it's that sexy sexy drydown of sandalwood and vanilla that turns Bombay Bling from a flirt into a femme-fatale. Raucous, joyous but hang out the do not disturb sign. –Michelyn Camen, Editor in Chief
Art Direction: Michelyn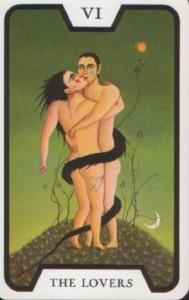 For our Favorite Valentine's Day Perfume Draw: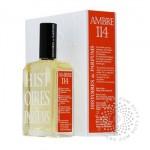 WORLDWIDE: Merci Gerald Ghislain for 2 oz of Histoires de Parfums Ambre 114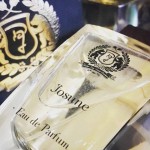 WORLDWIDE: merci, gracias to Daniel Josier for 100 ml of Josune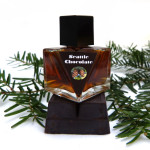 WORLDWIDE: Always generous, thank you Ellen Covey of Olympic Orchids for 15ml of Olympic Orchids Seattle Chocolate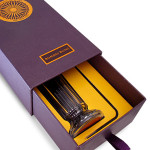 EU, CANADA AND USA: 60 ml of Bombay Bling thanks to the ever generous Neela Vermeire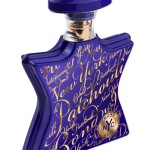 USA ONLY: Bond No.9's New York Patchouli courtesy of the lovely Laurice Rahme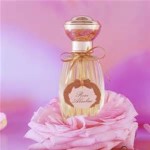 USA ONLY: Thank you to Francoise Allessi of the Annick Goutal Boutique located on 955 Madison Avenue in NYC for a 100 ml flacon of Annick Goutal Rose Absolue
USA ONLY: With gratitude to Diane Haska, Caron Ambassador the Caron USA team for 7.5ml of N'Aimez Que Moi extrait, an Urn fragrance.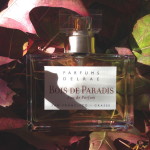 USA ONLY: We thank DelRae Roth for 100 ml of Bois De Paradis (this is currently out of stock so you will need to be patient)
USA ONLY: Thank you to Miryana Babic of Isabella Imports, the US distributor of I Profumi di Firenze for a special a travel size spray bottle of 12ml Plenilunio with a handwritten label.
To be eligible for our favorite Valentine's Day Perfume Draw, you must be a registered reader. Please leave a comment with which of our favorites send an arrow into your heart (including those not for draw), list as many choices as you would like to win (country eligibility), where you live. Draw closes 2/12/2016
We announce the winners only on site and on our Facebook page, so Like Cafleurebon and use our RSS option…or your dream prize will just be spilled perfume.