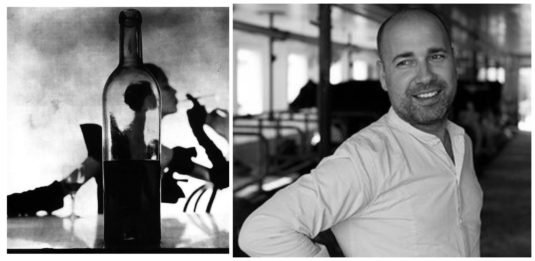 Nick Auraz of Caswell-Massey
I first met Nick Arauz of Caswell-Massey at Sniffapalooza's 2017 Fall Ball where he was a Guest Speaker at the Saturday Lunch. He gave a brief historical overview of the storied US brand and what to expect in 2018 when he will have the fragrance collection updated & rebranded for the modern era.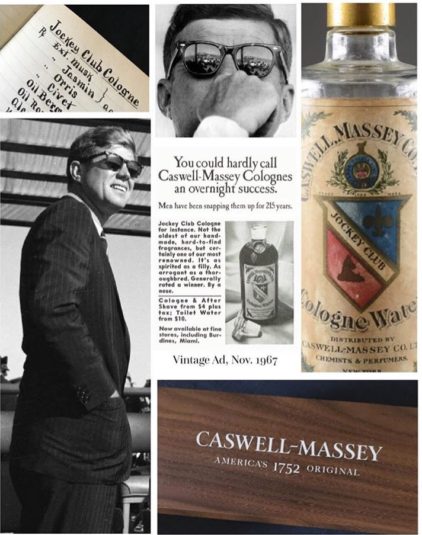 John F Kennedy wore Caswell-Massey… collage with Jockey Club Cologne (1940) via Instagram @caswellmassey
Last month, PERFUMARIĒ hosted Caswell-Massey's Fragrance Launch. CEO Nick Arauz presented the fragrance line, for the first time- a new direction for the brand. and introduced the IFF perfumers, Clement Gavarry, Yves Cassar, Chiaki Nomura, Pascal Gaurin, Jean-Marc Chaillan, and Laurent Le Guernec. Caswell-Massey count two Presidents, George Washington and John F. Kennedy as former devotees along with Jaqueline Onassis, Cole Porter, Lauren Bacall. Mick Jagger is a customer.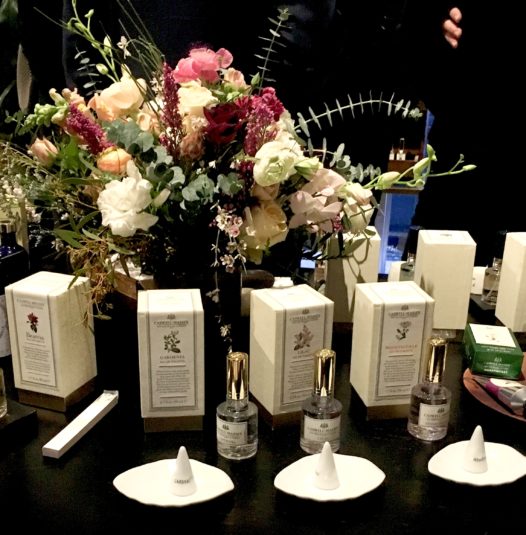 Caswell-Massey Lilac, Gardenia, Honeysuckle, ROS, and Beatrix composed by Laurent Le Guernec of IFF
A collaboration between Senior Perfumer Laurent Le Guernec, the Master Gardners at the Botanical Garden, and Botanical Scientists at IFF resulted in a collection of perfumes, Lilac, Gardenia, Honeysuckle, ROS, and Beatrix based on the rare plants and flowers at The New York Botanical Garden caught my attention. The latter is in honor of Beatrix Jones Farrand (1872-1959) the accomplished landscaper (White House Gardens) and female founder of the American Society of Landscape Architects.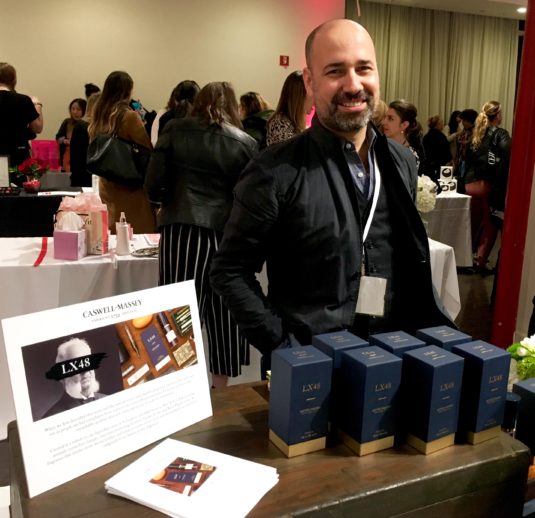 Nick Arauz of Caswell-Massey at CEW Beauty Awards
I next encountered Nick Arauz of Caswell-Massey at the CEW Beauty Awards Product Demo Show and suggested a "Behind The Bottle" interview.
Hernando Courtright: What was your background before taking over and becoming the CEO of Caswell-Massey?
Nick Auraz of Caswell-Massey: My training is actually as an architect. For the last decade, I have been working with luxury and heritage brands on the whole experience and the storytelling behind the brand. I had my own agency for a while where we had Frye Boots and we helped them reclaim their heritage story and relaunch (2010). I also worked at David Yurman as Executive Director of Experiences. Coming into Caswell- Massey was really an incredible story that hasn't been told for a couple of decades. It was an incredible opportunity for me.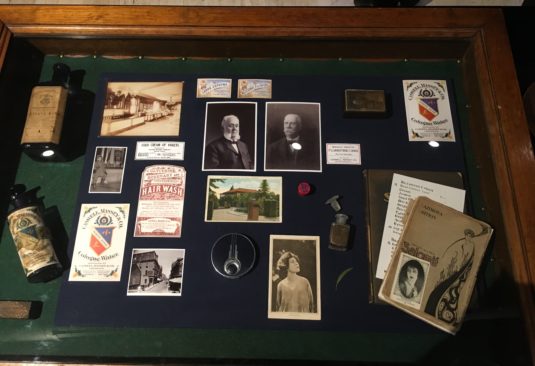 Caswell Massey History display at P E R F U M A R I Ē
HC: Who brought you to Caswell-Massy?
Nick Arauz of Caswell-Massey: The ownership of Caswell-Massey was seeking someone who could help to develop a five-year strategy for the brand. Initially, my agency was hired and we spent eight months doing research on the awareness of the brand and what people knew about the brand. What we found out was the fragrance story of Caswell Massey was important and had been lost.
HC: What was it like re-invigorating such a historical brand?
Nick Arauz of Caswell-Massey: Like Frye, and Anthropologie, there is a tremendous amount of storytelling. But Caswell-Massey is another thing altogether. The history goes beyond American History. The company was founded in 1752, 24 years before the Declaration of Independence. The Taylor's were the last proprietors. They had it from 1933 to 1988, 55 years. They were the last to have the reverence for the brand and what it could be and carry it as a prestige brand. It had a good moment in the late 90's under Anne Robinson. But it was more of a look-alike brand like Crabtree & Evelyn and Kiehls, they have the apothecary history but not the fragrance history that Caswell-Massey has. We filled peoples prescriptions and invented orange soda. The deep history of fragrance in the company makes us unique. The development of what is the equally the oldest American, we don't say the oldest, original American fragrance which is No. 6. So trace that from 1770's all the way through what we are doing today. Two hundred and sixty years of fragrances and dozens of recipes that are unique to Caswell-Massey many of which have been the foundation for other fragrances. We set the bar for what a sports fragrance is with Jockey Club in 1840. Every cologne that has been done in the 20th Century is built around the notes in Jockey Club. Same with the American aquatics that are related in some way to Newport and the fougère that are like our Patchouli or Russian Sage fragrances and now with Greenbriar we set the bar for what would be defined as American colognes.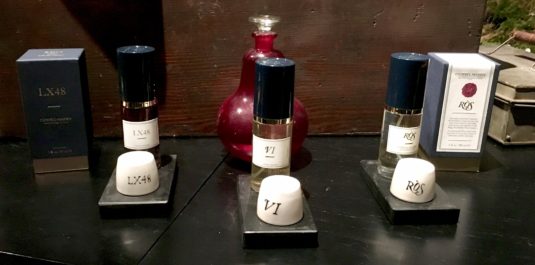 LX 48 ROS and V1
HC: What was your greatest challenge you had to address?
Nick Arauz of Caswell-Massey: In some ways, it was a big advantage that the brand had gotten to a smaller point. We found out that there was a high level of recognition but not everyone knew what we stood for. Sort of a double edge sword. On one hand, it was an incredible challenge to reestablish the brand with consumers and reclaim our story which had been usurped by other brands. We kind of had a clean sheet to build the brand back up. It gave us an opportunity to go back to the original recipes and work with phenomenal perfumers and as we bring the fragrances out we did not have to undo a lot of work with the wrong product out there. That's a challenge for any brand that's trying to change their story or pivot. It's retelling your story in a way. We have an incredible story to tell and at least it wasn't mistold. We weren't fighting any other narrative that people have in their minds.
HC: Is there any brand(s) that you feel is a close competitor or do you feel you are in a unique space?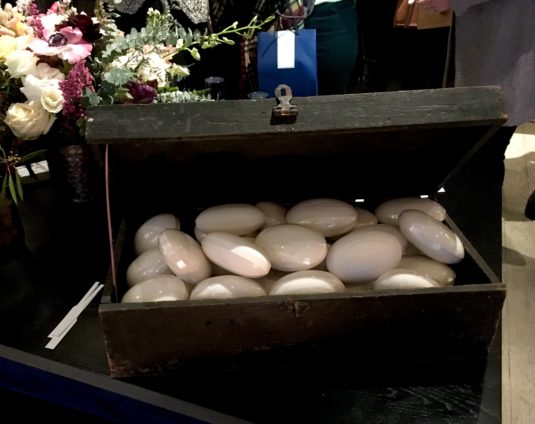 Caswell-Massey Almond Cold Cream Soap Bars
Nick Arauz of Caswell-Massey: There are certainly other brands out there in fragrance that have a really good deep heritage like Santa Maria Novella, Creed, and obviously Penhaligon's. All three of those brands have a significant history. They work with older recipes. Our future is not just pivoting into fragrance. We have a whole bath and body line. We make tremendous triple mill soaps. We have a great business in skin care, lotions, and essential oils. We've sold essential oils for two hundred some years and we are bringing those back those this year in a big way. The scent and memory people have of the scents that we do, not only our Almond scent which everyone remembers from the soap is wonderful. That was definitely the starting point we wanted to go back into and strengthen Caswell-Massey as a fragrance company. We had to get the fragrance right first. We could not do anything until we were sure the fragrances were at the top level of quality and the formulations were right. It's taken us a year, which is relatively short I think in some ways going through dozens of iterations. We spared no expense on the reformulations to make sure they are using the best ingredients and using some fantastic perfumers.
HC: Are all the perfumers from IFF?
Nick Arauz We did partner with IFF on all the reformulations. When I came into the company we were buying our fragrances from lots of different perfume houses. A lot of them are great places and we could have picked any number of them but we chose IFF for a few reasons. One, they are an American company, and we wanted to work with a company that has something at stake in terms of being a long-standing American company in fragrance, and the most important reason for us that we wanted to make sure our fragrances were unified in terms of the ingredients and the approach to the fragrances. For instance, with our Century Sandalwood, it is formulated with the same oils in our new Heritage Tricorn which means you can layer our fragrances now. We wanted to make sure as we updated these fragrances and worked from the original formulations that we were building a common recognizable Caswell Massey fragrance. Building that character into the fragrances that were consistent so we had to work with a group of perfumers that would talk to each other and work together. We are very happy working with IFF with the service and the working relationship has been phenomenal with their team. They really poured a tremendous amount of energy and dedication into our catalog of fragrance formulations.
HC: Going back to the history of the brand, was there ever a candle line?
Nick Arauz of Caswell-Massey: We have done candles over time but it never was a big part of the business. Home fragrance was really focused on potpourri. We had a big potpourri line and also had ways for customers to make their own potpourri. We made a potpourri named Mr. Taylor which was for the proprietor of Lord & Taylor's and sold at the department store.
HC: Do you anticipate launching a candle collection?
Nick Arauz of Caswell-Massey: We are currently working on a home fragrance line and candles are in testing right now for the floral fragrances that we are doing with the Botanic Gardens and also probably for our Century Collection and maybe for our higher end fragrances like Marem and LX 48. We still are evaluating.
HC: Do you anticipate opening a Caswell-Massey boutique(s)?
Nick Arauz: We absolutely believe a store in New York is essential for the brand. We started looking last year but we decided to wait. We had stores in New York for hundreds of years up until the last one at Lexington and 48th Street. I designed a lot of stores like the Yurman store on Prince Street. I'm a big believer in the retail experience. Retail is very important and it's an area that I'm very close to.
HC: How is Caswell-Massey approaching the web and social media?
Nick Arauz: We had a site that we have overhauled. A couple things about our digital presence. We completely cleaned out our Instagram account and started over. In all of our social media, Facebook, other platforms the brand's story was not being told right. We weren't very mobile friendly. We introduced a new web platform last October. It's very important that we look good in mobile. It's always a balance with a heritage brand. You don't always want to look backward. All of our fragrances are being made with solar power. We want to show people where we are going with things like LX 48 or the Supernatural #6 that's coming out next year. We are doing a lot right now that's about the future. One thing that we don't talk a lot about is that LX 48 and the Century fragrances have high concentrations of natural oils. We are very focused on the future as a brand like sustainability initiatives that we take very seriously. This is a dream job for me. I'm blown away what we have done in one year with this brand.
–Hernando Courtright, New York City Event Contributor and Brand Ambassador
All photos Hernando for Cafleurebon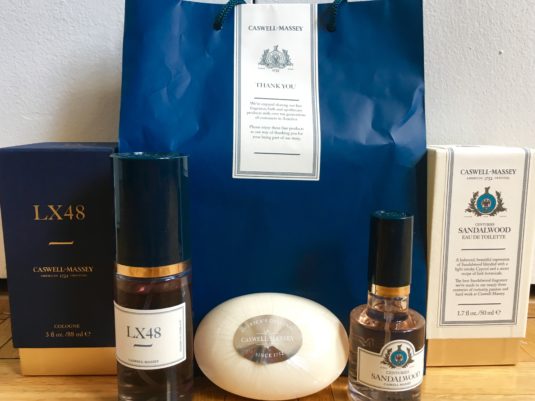 Thanks to the generosity of Nick Arauz of Caswell-Massey we have a very special giveaway of two fragrances and one soap for a CON US registered reader, (you must register to be eligible here) for a 50 ml bottle of CENTURIES SANDALWOOD EDT, an 88 ml bottle of LX48 EDT, and and Presidential Soap Collection 3 bars. To be eligible please leave a comment on what you found interesting in Hernando's interview with Nick Arauz of Caswell-Massey, and if you are familiar with the Brand. Draw closes 4/19/2018
Follow us on Instagram @cafleurebon and @caswellmassey
To increase your chances of winning Like ÇaFleureBon Behind The Bottle on Facebook and your comment will count twice.
We announce the winners only on site and on our Facebook page, so Like ÇaFleureBon and use our Blog feed…or your dream prize will be just spilled perfume.