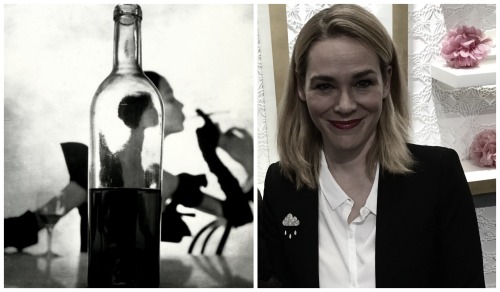 Camille Goutal May 2016
Last month the Annick Goutal Boutique and Sniffapalooza invited us to Celebrate Spring over cocktails and music and to meet Perfumer & Creative Director Camille Goutal.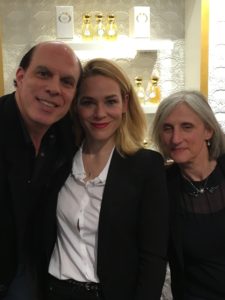 Hernando with Camille Goutal and Isabel Doyen
Although Michelyn has interviewed Mme Goutal in 2009, and again in 2011, we thought it would be a good time to catch up on the changes in Mme Goutal's perfumery and to go behind the bottle on the newest release from Annick Goutal Rose PomPon.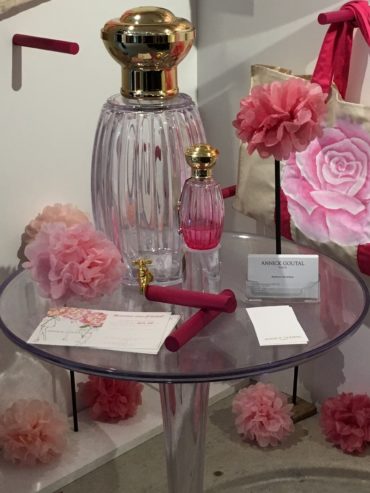 Rose Pompon Display at Annick Goutal Madison Ave (photo Hernando)
CaFleureBon: Rose Pompon is your newest scent. Since your mother was deeply fond of roses which one was her favorite?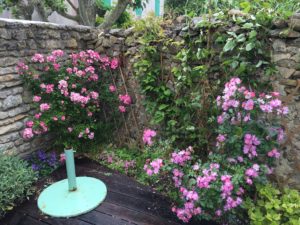 Camille Goutal's rose garden
Camillle Goutal: She was fond of a rose, Charles de Gaulle, like the president. You know the name is not very sexy but the scent is amazing. It's a light colored rose. She really loved the scent. It's a little bit like Ce Soir ou Jamais (1999). We have a lot of roses in the countryside home. She had a lot of very pale roses, like white, pale pink. She did not like strong colors.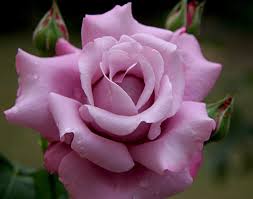 Charles de Gaulle Rose
CFB: And you?
Camille Goutal: Same. I love the Charles de Gaulle too. I have one on my window railing in my city home. I put a lot of flowers there. I have one that is pretty big now. When I open the window, the scent is very strong. I like fleshy pink roses to look at, but the most important is that they smell beautiful and aren't just beautiful to look at.
CFB: How long did Rose Pompon take to create?
Camille Goutal: Not that long actually. About five months. Sometimes a fragrance can take years or they come to me and to Isabel Doyen fully formed.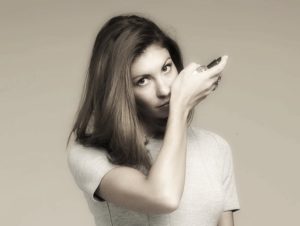 CFB: This time for the first time in the Company's history, a perfumer other than Isabelle Doyen was brought in, Philippine Courtière. Why?
Camille Goutal: Isabel and I, especially Isabel, has worked on many roses, and we wanted a new look. A younger, not that Isabel and I are old, but I love youth, so dynamic. Philippine Courtière was very nice and respectful of the brand. She listened to what we were saying. If she put in an ingredient in the formula that I did not like, not very Annick Goutal, not in the DNA of the brand, when I asked her to take it away she would.
CFB: How did you meet?
Camille Goutal: It's very funny, someone from the marketing department knew someone at Firmenich and the said you should try to work with Philippine Courtière. She was very nice and I was very happy to work with her.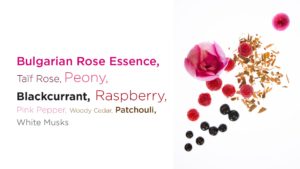 CFB: What is the complete list of ingredients in Rose Pompon?
Camille Goutal: The two roses used in this fragrance are the Bulgarian Rose and the Taif Rose. There is also cedar wood, patchouli and white musc outside of what is on the website.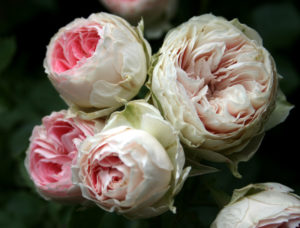 Rose pompon
CFB: Where did the name Rose Pompon come from?
Camille Goutal: The name comes from the blossoming of thousands of little puffballs of roses in France in spring, roses that are in bushes or climbing on the walls of a lot of houses everywhere. It's not a special variety, it's just a certain shape of roses, a visual effect, like pompons…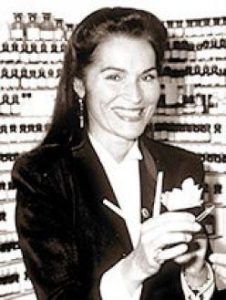 Annick Goutal created her own perfumes until 1985 when she began collaborating with Isabel Doyen
CFB: Your mother worked with Robertet in the beginning Do you still work with them?
Camille Goutal: Robertet is our supplier. So in the beginning my mother knew nothing about fragrances and had to train herself, so she was trained by perfumers from Robertet. They were very nice with her. They taught her a lot of different things. She then was able, as we say in French, "fly by herself." That's when she decided to start on her own and have her own lab and that's when she met Isabel. That was around 1985. We work with IFF who we like a lot. Both are our main suppliers but we have a special relationship with Robertet. They are very helpful. Like if we are looking for something special they can buy it for us. It's funny you brought Robertet up because Isabel and I are going in an hour to a special dinner they are hosting for perfumers

Sables
CFB: One of our modern masterpieces is Sables (1985). Its use of immortelle was a game changer, please tell us more
Camille Goutal: It's a bit hard for me to talk about it. My mother created it but from what I remember at that time it seemed so unusual from what was on the market. It's funny now when we (Isabel) smell other fragrances that are supposed to have Immortelle we don't even smell it. The comparison between Sables and other fragrances is huge. What I also like is that the formula is pretty simple but the idea is very strong. I find that very interesting. The formula is pretty short compared to what she used to do at the time. The idea was very new. And the formula is very, very, very expensive. It's one of our most expensive formulas.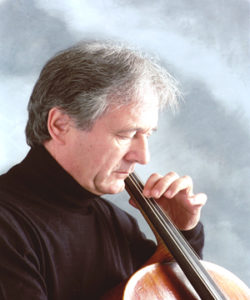 Annick Goutal's husband and Camille Goutal's father cellist Alain Meunier
CFB: What was your mother's favorite musical composition?​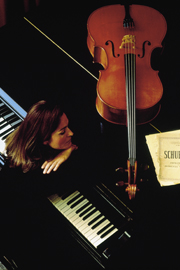 Annick Goutal was a Pianist
Camille Goutal: She really loved J.S. Bach. Especially his Cello Suites and also Goldberg Variations for piano. She also loved piano pieces of Schumann, Schubert and Chopin, especially Chopin's Nocturnes.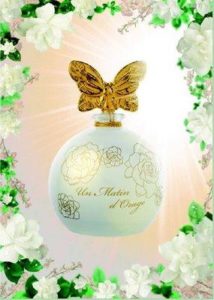 Une Matin d'Orage EDP
CFB: What perfume​s do you currently wear from the collection?
Camille Goutal: I wear three. Neroli (2013). I have always loved the orange flower scent. It's not to overpowering for when you are on the subway or at work with other people. I also love Songes (2005), the one I created for myself on the trip to Mauritius island. I like it because it's so luminous and dark. It's day and night. I'm also crazy about Un Matin D'Orage (2009), in the EDP, that's the one Isabel created which is a bit more round and stronger I wear.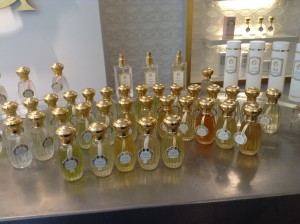 Annick Goutal flacons (photo Hernando)
CFB: One of the things about the bottles that your mother created is that they have a timeless quality to them. Many clients have the impression that the line has been around longer that it has. The timeless look, like a Guerlain, Chanel. What is your impression?
Camille Goutal: I know what you mean. Sometimes I have the feeling that it is too timeless and traditional. I love the bottle myself, the shape, the way it feels when you handle it, especially the feminine bottle. That is something we are working on. We want to keep the spirit but make it a bit more contemporary.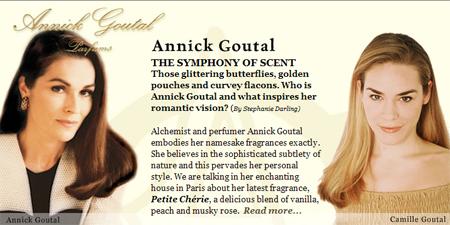 Annick and Camille Goutal Petite Cherie
CFB: You created a tribute to your mother with Mon Parfum Cheri (2011). Your mother's tribute to you is the iconic Petite Cherie (1998). When I think of your mother I think of love and romance.
Camille Goutal: Yes, romance but more about love in general. She loved life so much. She was a very loving person in general. I think you can feel it through the brand. Of course the quality is very important but it's the sincerity that one can feel. Of course not all our fragrances have this story. Most of the fragrances come from something special. Quel Amour (2002) was a tribute to my partner, the man who is the love of my life for twenty years.
CFB: What is your opinion on the thousands of niche perfumes today considering there were so few when your mother started the business in 1981?
Camille Goutal: Hmm, it's very complicated for us as a brand. It's more challenging. Some brands are interesting. Isabel and I do not go and smell the competition. But, there are some brands that are very nice and others not so. They come and disappear. A lot of people think fragrance is so easy. It's not that easy. For us it's hard. It's a competitive market and we have to work hard. You need to be a strong brand and have support, especially in the beginning. Brands like Maison Francis Kurkdjian. He doesn't create fragrances like the way we do but his fragrances but his brand is lovely. His bottles are nice. You can feel his personality in the brand. Atelier Cologne, the owners Sylvie and Christophe Cervasel are very passionate. We like that brand. And also Marc-Antoine Corticchiato's Parfum d`Empire perfumes and colognes.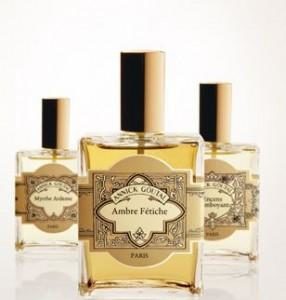 Les Orientalistes 2008 Amber Fetiche, Myrrhe Ardente (disctd) and Incens Flamboyant
CFB: Les Orientalistes were ahead of their time in 2008, since Eastern perfumery ​is now the rage. Any plans to expand the East meets West theme?
Camille Goutal: Maybe. We have just finished another formula so we will present it to the office and see if they will launch it perhaps in a year.
CFB: the company has been bought, first by Taittinger, then Starwood Capital and most recently by Amore Pacific. How has that affected you?
Camille Goutal: It's not the fact that we have been bought so many times, for me it's more complicated because the market is changing faster and faster. As you said, there are so many new brands to follow. And also the clients are always asking for new fragrances, always, always, always! And for me that's very complicated.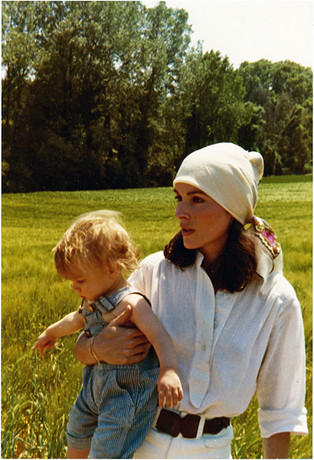 Annick Goutal with a young Camille
CFB: We are not aware of another mother to daughter niche perfumery. When Michelyn last interviewed you (2009), your daughters were six and nine. Have they shown interest to enter the family business?
Camille Goutal: Not yet. They are showing interest in fashion, make-up, but they are teenagers. So of course they want to see series on TV. The can smell very nicely. They have good noses. They love to wear fragrances every day. But for business, they are too young, for now.
CFB: Sneak sniff of what is to come?
Camille Goutal:: Yes, we are launching a new fragrance very soon. I can tell you that there will be a new bottle. And, next year is going to be very interesting for us.
Hernando Courtright, New York Event Contributor (with Contributions from Michelyn Camen, Editor in Chief)
Editor's Note: Subsequent to this interview we have learned from Francoise that the new fragrance is called Rose Oud, housed in a new bottle and will be available very soon.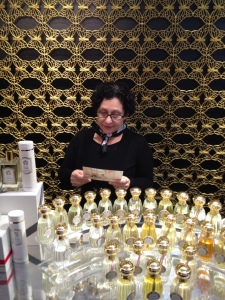 Francoise Allessi Annick Goutal Boutique 955 Madison Avenue NYC
Thanks to Annick Goutal USA and New York Retail Manager, Francoise Alessi we have a 100ml 3.4oz bottle for a registered CafleureBon reader US reader. To be eligible please leave a comment with what you found interesting this interview with Mme Goutal, and the new Rose Pompon. If you have a favorite Annick Goutal perfume we would love to know. Draw closes June 19, 2016
If you want your comment to count twice please LIKE CaFleureBon Behind the Bottle on Facebook.
We announce the winners on our site and on our Facebook page, so Like Cafleurebon and use our RSS option…or your dream prize will be just spilled perfume