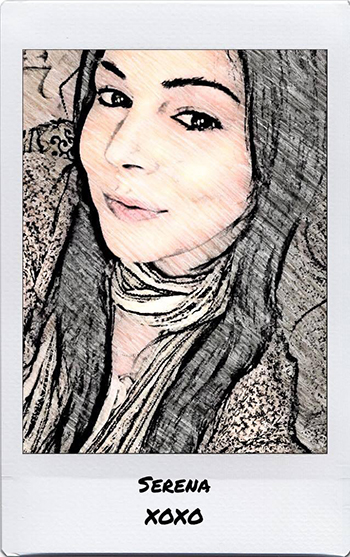 Serena Ava Goode (Serena Ava Franco), perfumer for Ava Luxe Perfumes via ava-luxe.com
Ava Luxe Perfumes: a blast from the past, and relevant in the present as well. I've written about Serena Ava (Franco) Goode's's fragrances as far back as ten years ago (October 2007 for another blog when there existed only a handful of perfume blogs at that time). It seems fitting that I suggest to you, dear readers – three exquisite perfumes which suit the fall season admirably: Tabak Kretek, Royal Parvati and Green Tara. Ah, the woods! Serena Ava Goode loves her fine woods and employs them with a lavish hand. Her output is prodigious, so it helps to have a guiding nose with which to comb through those long lists of tempting fragrant offerings. I chose three which embody the spicy, the sacred and the sensual: I hope they make you as happy as they make me.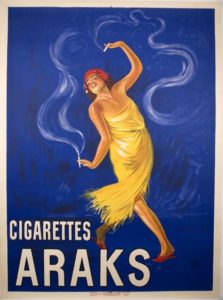 Vintage Ad Araks Cigarettes ©
Let's begin with Tabak Kretek, the perfumer's authentic take on those aromatic Indonesian clove cigarettes (Djarum Black) which were banned in the U.S. in 2009. By 2010 these little jewels became available once more – but only as tiny cigars. Their subversive reputation was due, in part – to the fact that any good intellectual or pseudo-intellectual worth their cloves smoked these in college. They were purported to be good for you – more so than regular tobacco. While they are very alike, I find the latter to be a bit smokier. One thing I'll say for Serena – if she can't locate the appropriate sources for her perfumes or afford the materials she loves, she ceases making them. No compromises.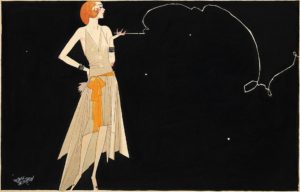 Where There's Smoke There's Fire by Russel Patterson©
Warm, smoky, spicy, envoûtant: just envelop yourself in this potent elixir. A little goes a long way, it always garners compliments and folks lean into that embrace. Add to this the delicious tale of our first personal encounter: we walked into an old tobacco store on Massachusetts Avenue in Harvard Square and ordered ourselves a pack (we knew they were soon to be outlawed) and a roll of Choward's violet mints. We sat beneath a tree in Harvard Yard (the ground was really damp), smoked Kreteks and talked for hours (for the record, I don't even smoke!). It's that sort of intimacy this perfume provides, and your lungs will thank you for it while you enjoy decadence without consequence…Notes: clove bud, cinnamon, cardamom, tobacco leaf, amber, sandalwood, incense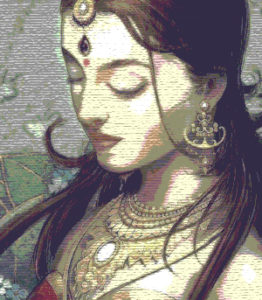 photo courtesy of ava-luxe.com
On to Royal Parvati, regent of regal creamy sandalwoods. his singular perfume is complex and suavely blended; every time I anoint myself, I wonder why I don't wear it more often – and that's the truth of it. It incorporates both sacred and sensual elements. Here is a perfume you may easily wear for yourself alone: soothing before slumber, marvelous for meditation, and furtively animalic in the throes of carnality. Oh, yes – it's all in that tiny flacon. Hard to fathom, but it is an unsung gem which, properly stored – weathers the years beautifully. I possess some newer bottles along with ones which are much older, and both are divine. If you crave a shrieking fragrance, this won't fill the bill: subtlety is among its many virtues, but it lasts. For a rousing spritz, I suggest the edp; it's a joy to layer that over either perfume oil or extrait – and pricepoint is excellent (5 mls.of perfume oil – $35; 5 mls.of parfum extrait – $38; 15 mls. of edp – &45). The perfumes alone will serve one for a very long time. Notes: cypress leaf, rosewood, Caledonian sandalwood, Parvati sandalwood, cabreuva wood, Peruvian balsam, orris root, ambergris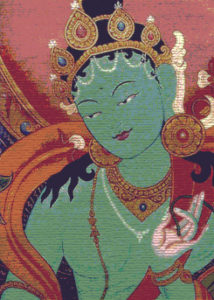 Ava Luxe Green Tara courtesy of ava-luxe.com
Green Tara has been the subject of discussion before on ÇaFleureBon. Years ago, I sent some to our Associate Contributor Sandi Lundberg, who joined the Green Tara Fan Club – along with a certain musical lady on Martha's Vineyard (I gave her lovely daughter Kama when we first met) who was ailing at the time. She continues to enjoy it in good health. What's not to love? This fragrance is woody, spicy, floral, green/herbal, earthy, even amber-y.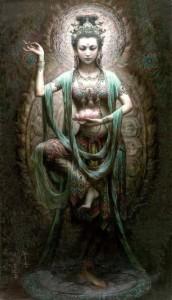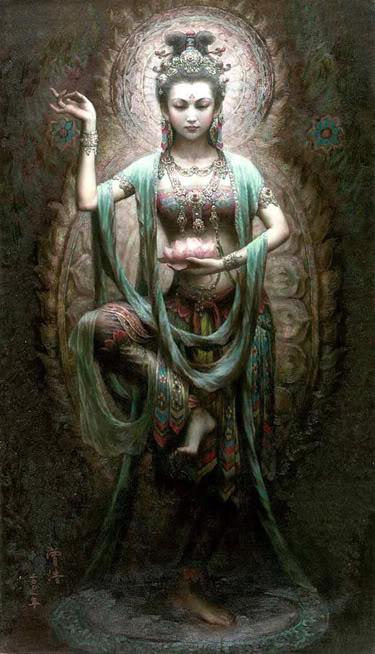 Green Tara painting via wikipedia
It is ever-so-resinous, base-heavy yet lifted by lemon, bergamot, lemongrass, piquant black pepper. Incomparable sandalwood is caressed by the merest suggestion of oud and frankincense, daubed with the sable brush of fine vetiver, just enough patchouli, and the rich leatheriness of labdanum and benzoin. Florals in the form of geranium, Moroccan rose and Spanish lavender float among all these elements with such grace. One can wear this anywhere, it's so versatile – and Green Tara's longevity is tenacious.It's heavenly at bedtime: but so are each of these choices. You cannot go amiss. Notes: sacred sandalwood, oude wood, vetiver, patchouli, deep amber, labdanum, benzoin Siam, Moroccan rose, rose musk, Spanish lavender, frankincense, lemongrass, Italian lemon, bergamot, geranium, Chinese peppercorn
Disclosure: All the perfumes are from my own personal collection. My nose is my own…
~ Ida Meister, Senior Editor
~ Art Direction: Michelyn Camen, Editor-in-Chief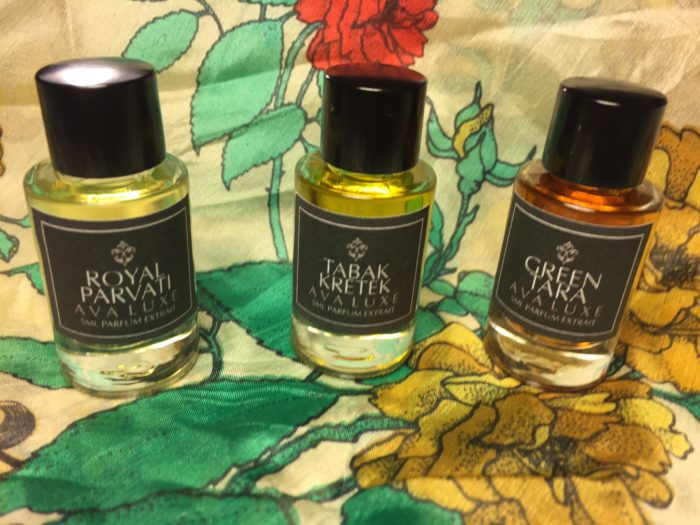 Royal Parvati, Tabak Kretek, and Green Tara photo courtesy of Serena
Thanks to the generosity of Ava Luxe Perfumes and Serena Ava Goode, we have a draw for ALL three 5 ml. flacons of the parfum extraits for a registered reader anywhere in the U.S. Please be sure to register. To be eligible please let us know what appeals to you about Ida's reviews, which appeals to you, and if you are familiar with Ava Luxe Perfumes. Draw closes 10/23/2017
We announce the winners only on our site and on our Facebook page, so like Cafleurebon and use our RSS feed…or your dream prize will be just spilled perfume.