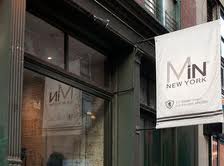 The streets were busy considering it was a rainy night in New York City, the wet cobblestones glistened on Crosby Street, and through the window of MiN New York one could see a long line of colorful umbrellas forming for an event across the street at Housing Works Bookstore, uptown Museum Mile Night was in progress come rain or shine, and I guess it was a wet one. MiN is a gorgeous boutique where the proprietors, Mindy and Chad, have created a place where a community of people can gather to talk about and smell what we love most, perfume.
As I entered the store, I saw Jean-Paul, and he was tenderly tending to his fragrances on the table. Jean-Paul's joyfulness is contagious. His smile, laughter, and candid nature makes one feel instantly comfortable and just plain good. We spoke about his very short stay in NYC, and how there isn't enough time for him to do all the things he loves to do. At the top of his list is visiting Guggenheim and MOMA, he spoke of his admiration for contemporary art, and how incredibly visual he is and how this can be a source for his creations at times.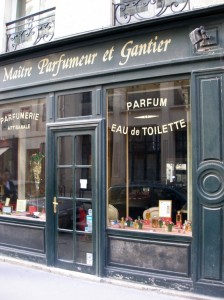 When given a choice Jean-Paul prefers a fragrance that stays close to the skin rather than a more tenacious fragrance, not surprisingly. He added, just because a fragrance is light does not mean it can't last long on the skin. Alternatively, there is nothing wrong with a strong fragrance, "it depends on how you use it", one must pay attention in the application, know how to spray the perfume, and apply it "elegantly. "Fragrance is intimate," he said, it takes time to choose one and it should be considered. In his Maitre Parfumeur Gantier boutique in Paris the expectation for his customer is to take their time, there is no rush, he knows in a few weeks they will return.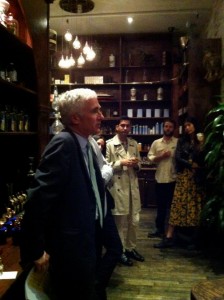 Jean-Paul was precise when he spoke about the discipline of making a fragrance, but at times he likened it to a dream. Seeking a good idea with a certain refinement, and having the right combination of raw materials in order to build a fine fragrance is a good place to start, "this is the dream, the heart of the imagination, materials are part of the dream, the dream is about a fragrance." He turned almost serious as he spoke about respect for rules, and the fragrance pyramid. The discipline is in the technique, "Inside the discipline you can do what you want"; inside the discipline is where the freedom lives. To illustrate, he described a very famous fragrance (that he would not name) that is incredibly beautiful, "a beautiful perfume, but it doesn't last, because the construction is not good." He continued, the top and middle notes are where the perfumer can dream and have fun, but it is in the base where one needs to be technical. The foundation needs to be strong, without a strong base it all falls apart.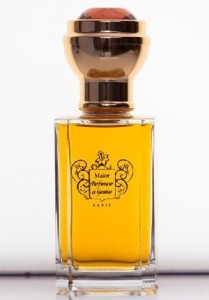 When I went to MiN New York, I knew I would meet Jean-Paul, and I was pleasantly surprised that I got to experience two Maitre Parfumeur et Gantier fragrances with him: Ambre Doré and Bois de Turquie. "Ambre Doré was an additional creation that I revisited." The revisit I would imagine is Jean Laporte's incredible Ambre. For Millet Lage there was ease when composing Ambre Doré, it took less than a year to complete. He contributes this ease to MPG's amazing Ambergris and he simply stated, "I added an Oud." I suppose he wants the fragrance to speak for itself, and it does. He touched on the current trend of Oud, so in some respects he gave the people what they want, but he did it in an incredibly beautiful way that is true to himself and his line. On the skin is where Ambre Doré and its complexity comes alive (as it should.) Applied delicately it is slightly salty and sweet, the smoky Oud comes off as atmospheric, not hard hitting as most. The base is beautifully constructed, and it is a true oriental. "Bois de Turquie was born from nothing." Jean-Paul told me he was a blank slate when imagining Turquie. He had traveled to the country twice and Bois was his impression. Bois de Turquie is settled in its rounded warmth and sweetness. As I wear it there is a lovely light floral and twiggy quality to it; I smell Orris Root. It ever so delicately approaches the gourmand family, but with a plenty of creaminess and woody support and restraint.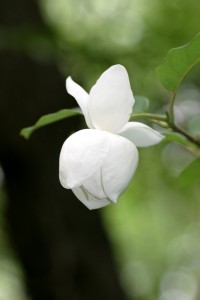 Jean-Paul was incredibly generous with his time and after our conversation, we smelled some of the other fragrances of the line together. He told me of his love of gardening, and cooking. As we smelled, Jardin Blanc together, he explained to me how a particular white flower blooms downward in his garden, not upward toward the sun. As he described this he gently curved his hand and fingers turning his palm down, and then slowly rotated his wrist turning his palm up. I asked if he grew vegetables, he smiled and said, "I only grow flowers."
Thank you to dearest Jean-Paul for your time and MiN New York for hosting this special event. If you have not read Editor In Chief Michelyn Camen's interview with Jean-Paul Millet Lage, you can view it here
–Valerie Vitale of Soliflore Notes, Contributor