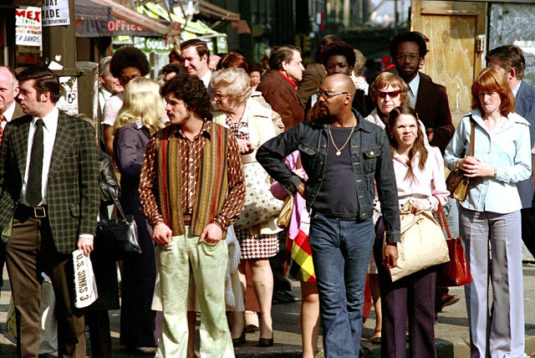 New York City, 1974, stock photo
New York City in the 1970s was everything you've seen in movies – Serpico, Superfly, Saturday Night Fever and Annie Hall all rolled into one kinetic hustle. Plastic heels, garbage and neon at Times Square; the smell of secondhand vinyl, worn leather and weed around St. Marks Place; Gatsby hair and silk blouses seeped with Rive Gauche at the Palm Court; the scary decay of Harlem, where I'd see people hanging up clothes in tenement windows from the commuter trains I took back to the burbs. I remember it all with the quickening pangs of first love. The city's contrasting glamour and perversity of that time inform Amouage Imitation Woman and Amouage Imitation Man .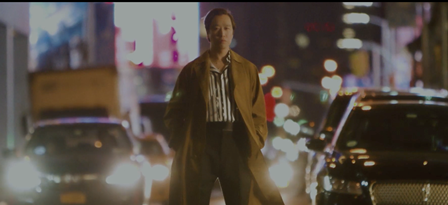 Christopher Chong courtesy of Amouage©
Together, Amouage Imitation Woman and Amouage Imitation Man are creative director Christopher Chong's olfactory essay on the New York of the 70s: "a city that is full of tension and displacement," but also a kaleidoscope of cultures and provocations.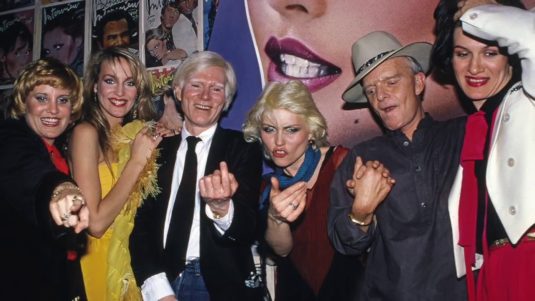 Jerry Hall, Andy Warhol, Debbie Harry, Truman Capote and Paloma Picasso at Studio 54, stock photo
Amouage Imitation Woman (Pierre Negrin): Studio 54, the inspiration behind Amouage Imitation Woman, was my weekend mecca: a glittery, decadent-innocent carnival with dark reaches where Andy Warhol kept court and questions shouldn't be asked about what goes on upstairs (including asking Drella's entourage for a light, I discovered). It mingled smells of cologne, Charlie, cigarette smoke, spilled booze, metal, sweat-infused polyester, lip gloss and that peculiar electric bulb smell with the old theatre remnants of velveteen, wood and dust that never quite left the balcony above the dance floor. Christopher Chong's ode to my old haunt does it justice: rather than recreating smells, Imitation Woman embodies the club's over-the top dazzle and contained dangerousness with big florals, a glitterball of aldehydes and a dose of outré.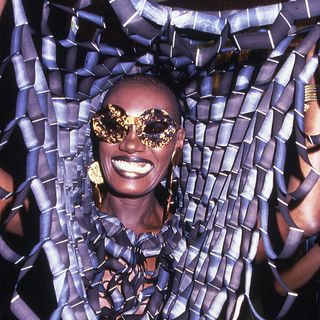 Grace Jones at Studio 54, Getty Images
Amouage Imitation Woman opens the way Grace Jones grabbed a mic: an in-your-face, attention-getter with a blackcurrant and rose opening as big as all five boroughs. The fruit is saturated and phenolic, like concord grapes on acid. As you recover from that immediate burst of purple berries, a huge, lush lipstick pink rose elbows her way onto the dance floor where it's sprayed by a geyser of aldehydes.The thick, honeyed creaminess of orange blossom moves in next. It's as if one of the mid-eighties powerhouse fragrances stopped by Studio 54 for a night of champagne swilling and naughtiness. But before it can all get to be too much, some dry incense moves in, along with the calming touch of sandalwood, and Imitation Woman turns out to be a natural beauty under all that teased hair and mascara.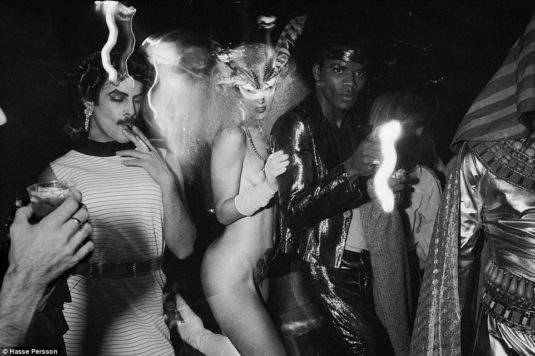 Studio 54, late 1970s, photo Hasse Perssons©
With its saturated flowers and geyser of aldehydes, Imitation Woman gets Studio 54's over-the-top, crazy glamour. But it isn't afraid to embrace the club's corners of seediness. Just as the flowers and blackcurrant reach fever pitch, a sinuous black licorice bitterness cuts right through all those partying florals. Taking its sweet time, the dry-down, when it finally comes, brings a green smoky incense with a reined-in woods accord that keeps everything in place. Imitation Woman is gorgeously, addictively perverse. Drella would have loved it. Imitation Woman notes: Rose, ylang ylang, orange blossom, jasmine, blackcurrant bud, aldehydes, licorice, incense, sandalwood, patchouli.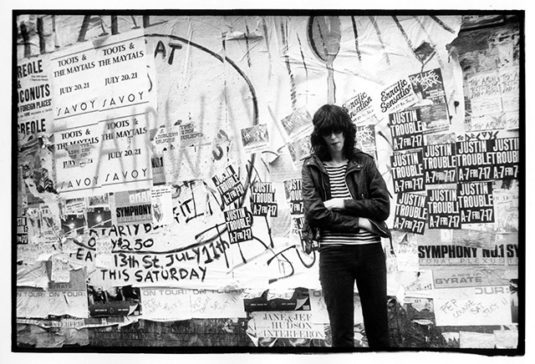 Joey Ramone in Saint Mark's Place, photo David Godliss©
Amouage Imitation Man (Leslie Gerard): If Imitation Woman is an uptown diva with a lurid heart, Amouage Imitation Man is the downtown bit of rough she's taking home for the night. Man's trajectory is less brash than his feminine counterpart but is just as arresting. Spray it on, and record vinyl spins off the top of the fragrance at 78 speed: anisic, rubber-plastic, mastic. That vinyl note immediately smacks up against a sensual blend of jacket leather and castoreum that is both polished and louche.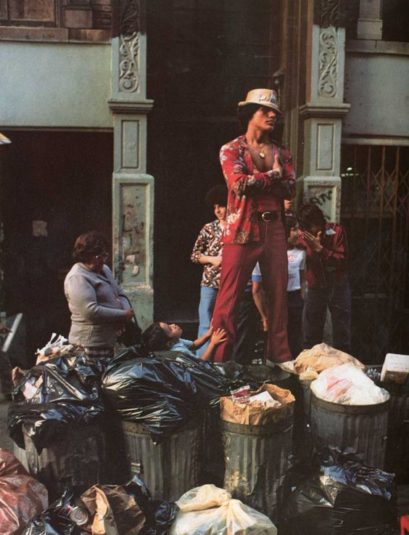 Photo Ozzie Friedman©
As the vinyl-leather accord continues its street swagger, a host of urbane notes sidle up alongside it. Rather than calming down the opening, the contrasting cool florals and warm spices that emerge next act as a bolster for the animal aspects. First, powder orris, rose and violet come up through the center of the perfume one at a time. The cool lightness of the orris is unexpected, as this is often a rooty, earthy smell. It moves forward rather quickly and is followed by a dark, liquid violet, a flower whose velvety, loamy sweetness melds effortlessly with leather. It takes me rather longer to recognize rose, but she's there, adding a touch of softness.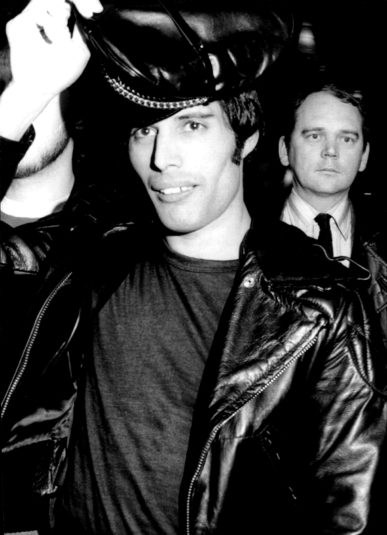 Freddie Mercury, 1979, stock photo
As Imitation Man broadens, the flowers and animalic notes merge into a spicy blend of black pepper and nutmeg. Maybe it's the backstory, but as I inhale that vinyl top note mixed with the flowers and spice, I get quick sense memories of the East Village as it was – the vintage stores selling old jeans and LPs next to punk bars, the lines of leather-clad clubbers outside CBGB smoking Marlboros, Santana blasting from a squat brownstone off Avenue A. Imitation Man is an addictive, carefully orchestrated mashup of refinement and seediness. I can't smell it without thinking of Freddie Mercury. Notes: Cedrat, nutmeg, black pepper, Turkish rose, orris, violet, myrrh, leather, vetiver, patchouli and castoreum
Amouage Imitation Man & Amouage Imitation Woman show a willingness to go big while keeping a keen sense of structure and rhythm. Art, in this case, does indeed imitate a life that was.
Disclaimer: Samples of Imitation Woman and Man provided by Amouage – many thanks. My opinions are my own.
Lauryn Beer, Senior Editor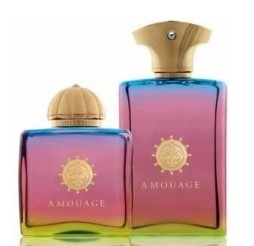 Amouage Imitation Man and Amouage Imitation Woman
Thanks to the generosity of Amouage, we have 10 ml of either Imitation Woman or Imitation Man for one registered reader in the U.S., Europe or Canada. To be eligible, please leave a comment saying what appeals to you Amouage Imitation Man and Amouage Imitation Woman based on Lauryn's review, what your favourite Amouage perfume is, and where you live.Please leave which Amouage Imitation you would like to win in your comment. Draw closes 5/27/2018.
Available on Amouage .com now and worldwide July 1, 2018
We announce the winners only on site and on our Facebook page, so Like ÇaFleureBon and use our blog feed …or your dream prize will be just spilled perfume.