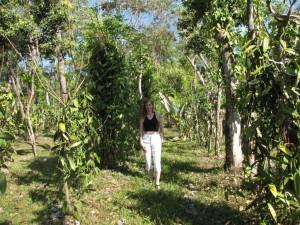 A Perfume Organic describes their newest offering as:
"A blend of three vanillas, rare resins and spices. A tribute to the wonderful vanilla orchid – a plant that changed the world."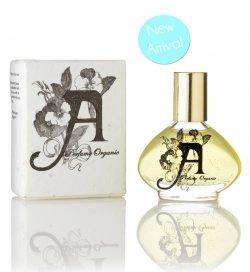 To be frank I found it difficult to hold on to my A Perfume Organic Mejica sample long enough to write this review. I had a lot of 'foodie' friends on Martha's Vineyard trying to slip this one in their pocket! It isn't a caramel sweet vanilla perfume, rather a spicy vanilla reminding me of a delicious nutmeg spiked rice pudding without the calories. I would say a nice holiday scent, a scent for foodies and one to add to your "vanilla perfume wardrobe" if you are a collector of such scents.
A Perfume Organic presents this lovely perfume oil in their signature sensually curved perfume roller bottle, available as of November 8th, just in time for eggnog season and holiday gift giving.
Vanilla certainly is perhaps the most popular spice in the world and the most expensive second only to saffron.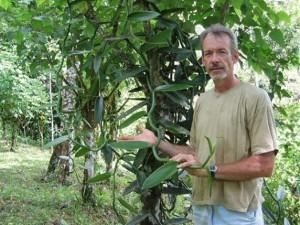 My friend and fellow Perfume Pharmer Hank (Henry Karczynski) owner of Villa Vanilla Rainforest Spices near Quepos, Costa Rica is fond of telling his visitors that the real Montezuma's revenge is the indigenous Mexican people's purposeful ommittance to inform the conquering Europeans that vanilla requires a special pollination if it is to produce the treasured spice.
To learn about the history, cultivation, curing and uses of Vanilla; the best case scenario is a trip to Costa Rica's tropical rainforest and a tour of Villa Vanilla's (http://www.rainforestspices.com/ ) spice farm and vanilla curing facility.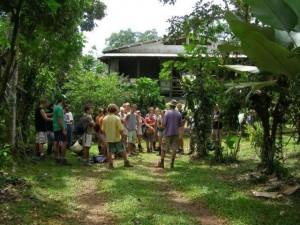 Natural or blended: Even better. All Natural AND Organic!
Sillage: subtle
Longevity: mild
Worth the risk to purchase unsniffed: Yes, if you like nutmeg, cloves, vanilla- it's a spicy vanilla
Bottle type: 12ml roll-on bottle
Box type: Flower seed-embedded box
http://aperfumeorganic.com/perfume/mejica
O my sweet negrita
Delicious vanilla
how I love you!
You graced the sugar jar all those years while I grew up
I loved to swirl the sugar jar and inhale your floral bouquet
Your thin black beauty
Eclipsed only by your o so gorgeous aroma!
Monica Miller 2010
–Monica "Skye" Miller, Natural Perfume & Senior Editor