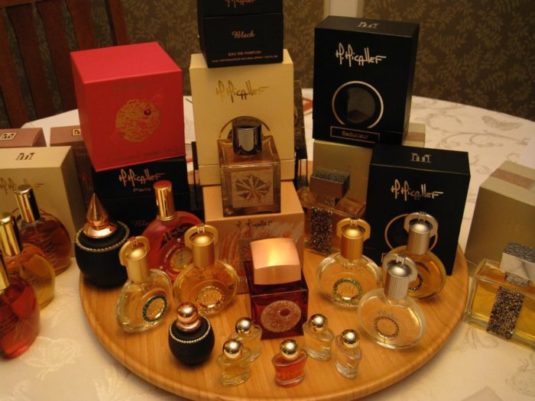 Gail's Collection of M.Micallef Perfumes (2016)
It surprised me that with all my M. Micallef perfumes I had never experienced the original Ananda composed by House perfumers Geoffrey Nejman and Jean-Claude Astier in 2005. It was the first in the Ananda series, was followed by Ananda Black (2011), Ananda Dolce (2015) and Ananda Tchai (2017). Each fragrance in the collection has a very distinctive and unique personality and scent profile. I love them all. The new limited edition Alex Doll and M. Micallef Ananda gives a new look "pop" meets elegance to the original scent; beautiful hand painted and silk-screened flacons.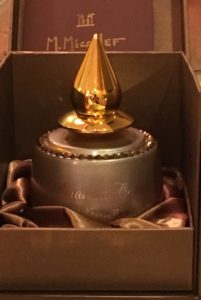 Ananda Tchai by Gail
Martine Micallef, designer and co-founder of M. Micallef, travels the world on a regular basis to visit her shops and boutiques, meet her customers and demonstrate painting, bottle engraving and decoration. When Alex Doll came to visit the M. Micallef boutique in Moscow, Martine Micallef was immediately impressed by the dazzling work of the young artist.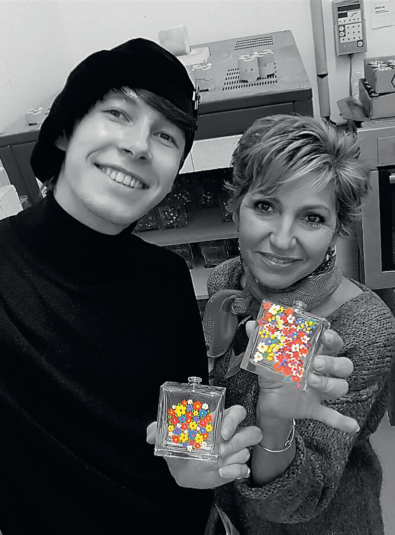 Martine Micallef and Alex Doll via M.Micallef©
Alex Doll was born in Russia in 1990 and today he is already one of the leaders of a new generation of designers and painters, bringing his fresh perspective to pop, expressionist and impressionist styles alike. Alex is a member of honor of the Russian Academy of Artists and is currently exhibiting his work at the National Museum of Liechtenstein. "When I discovered the joyful and poetic universe of this promising young artist who had an unconditional love for the floral universe, we shared an instant artistic connection!" – (Martine Micallef). Alex Doll was equally taken with the fragrant world of perfume and artwork created by Martine Micallef, Geoffrey Nejman and Jean Claude Astier.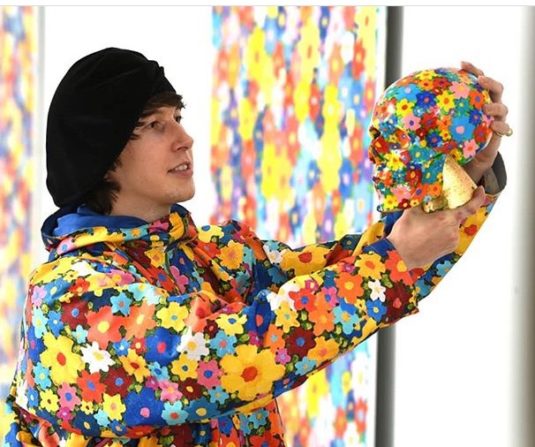 Alex Doll via @doll_alex
Alex Doll was invited to come to Grasse and work together with Mme. Micallef, designing and painting the limited edition flacons for M. Micallef's best sellers, Ananda and Royal Vintage.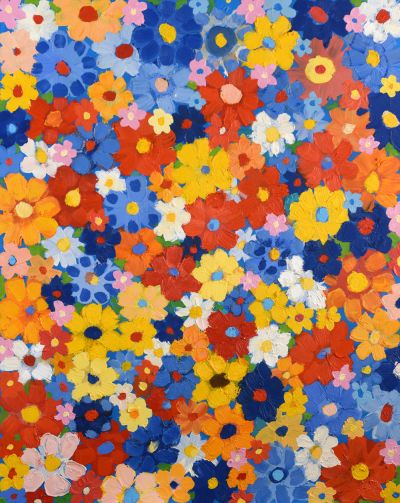 Art by Alex Doll©
Like the meaning of the Sanskrit word "ananda", Alex Doll and M. Micallef Ananda blesses with a surfeit of happiness, an experience that treats the senses to a blissful infusion of joy, contentment and peaceful pleasure. Alex Doll for M. Micallef Ananda opens with a meditation on the scent of plums, pears and green peaches, a diffuse silken breath of warm, juicy fruit – a veil of fragrant bliss. This sublime haze of scent comes into focus after a few moments as hints of black current and citrus add a slight edge and tang to the diaphanous blend. M. Micallef Ananda is all about the serene and the sublime, yet the bright modernity of Alex Doll suits the scent perfectly. At the heart of the fragrance, the peachy warmth of ylang-ylang and the seductive sweetness of jasmine add an exquisite richness – a subtle body, so to speak – to the ethereal opening. A hint of violet and rose waft a delicate, fresh breeze over the initial translucent fruit. The heart of M. Micallef Ananda lingers on my skin and clothing for a good five hours. As the fragrance dries the presence of mimosa inspires powdery, honeyed recollections of childhood innocence, even as the velvety vanilla and white musk insist on intimacy. After more than ten hours I can still sense the peace and bliss, the reflection and self-realization that is M. Micallef Ananda.
Notes: Blackcurrant, lemon, plum, pear, violet, rose, ylang-ylang, jasmine, vanilla, mimosa and white musk.
Disclaimer: I would like to thank M. Micallef for my treasured set of the new limited edition Alex Doll and M. Micallef Ananda. My opinions are my own.
Gail Gross – Senior Editor
Art Direction: Michelyn Camen – Editor in Chief
Follow us on Instagram @cafleurebon @doll_Alex parfumsmicallef and @azarsmith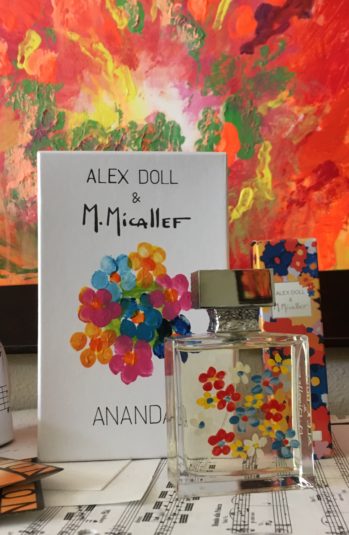 Gail's limited edition 100 ml bottle of Alex Doll and M.Micallef Ananda and the 10 ml behind it©
The bottles of Ananda and Royal Vintage are hand painted by artist Alex Doll and each are unique as a snowflake, sold throughout the world in their 100 ml version/€245 at M.Micallef boutiques (for information call +33 (0) 4 93 60 48 27). The 10 ml screen-printed hand finished travel size is available in all sales outlets as well as on the e-shop for €29. They were officially launched at Esxence 2018.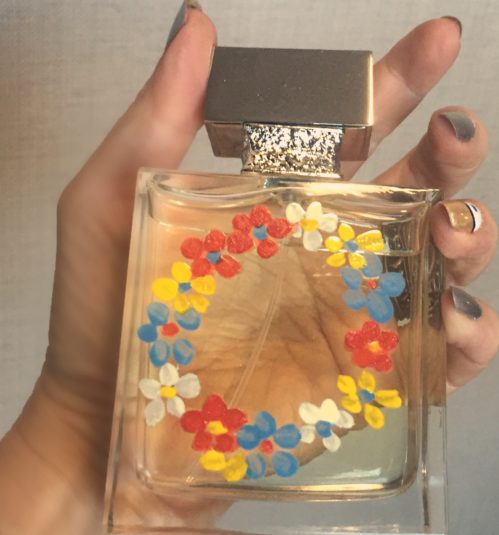 Michelyn's Bottle is no 150 ©
Thanks to the generosity of M. Micallef we have one LIMITED EDITION UNIQUE Alex Doll and M. Micallef Ananda 100 ml bottle available to one registered reader anywhere in the world or you may choose 10 ml of Alex Doll and M.Micallef Royal Vintage (notes here and read our review here). Be sure to register or your comment will not count.) To be eligible for the draw, please tell us where you live and what appeals to you about Gail's review of Alex Doll and M. Micallef Ananda, and if you choose Ananda or Royal Vintage. Tell us what do you think of this collaboration? Do you love the bottle as much as we do? Draw closes 4/26/2018
We announce the winners only on site and on our Facebook page, so Like Cafleurebon and use our Blog feed…or your dream prize will be just spilled perfume.