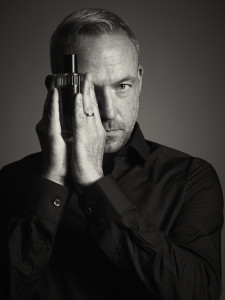 Nicolas Chabot Creative Director for Le Galion and AETHER Parfums
Paris hosted a small exhibition of fashion, jewelry and perfumes last January. This exhibition was a small event, but still big enough to be the platform for brands to promote their new releases. I discovered a new perfume brand called Aether Parfums. It is owned by Creative Director Nicolas Chabot of the revived house Le Galion, which celebrates vintage style French perfumery with reformulations of well know classics and new compositions. Aether Parfums is a complete contrast, and takes its inspiration from the new wave of neo synthetics.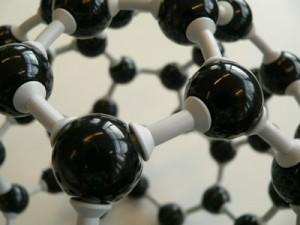 Welcome to 21st century perfumery
Living in France is paradise for a perfumista as I am able to smell most everything. For some time, there has been risk takers like Geza Schoen of Escentric Molecules, who is the young father of this category. Some call it anti-perfume…., notably some fragrances by Etat Libre d'Orange, Juliette Has a Gun, Histoires de Parfums, and last year Nomenclature. Technology is changing traditional perfume making. Molecules are all around us; many are quite expensive and are not "cheap" synthetics. AETHER Parfumsis a modern paradigm. What does that means? It is contemporary perfume brand that uses molecules only and I would guess that many more will follow as it expands the perfumers palettes..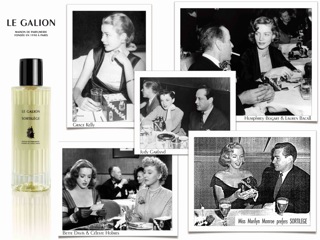 Le Galion Sortilege collage MC
Le Galion uses classic components and is a brand that debuted during the "années folles" in Paris, when modern perfumery was in bloom and led to the democratization of perfumery. The perfumer of Le Galion Paul Vacher, became famous and Sortilege is still one of the most revered perfumes. In 2013, when Nicolas Chabot breathed new life into the House, the fragrances were classic in feeling but still conformed to IFRA regualtions but are nonetheless beautiful and retro.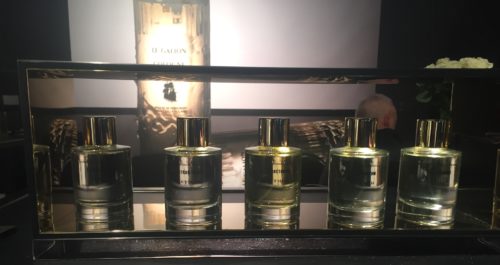 AETHER Parfums Carboneum, Ether Oxyde, Citrus Ester, Muskethanol and Rose Alcane display at Esxence 2016 photo Darryl Do for Cafleurebon
After two years of great success, Nicolas decided to make something completely opposite to Le Galion and the result is AETHER Parfums. Le Galion has opulent scents that are based mostly on natural ingredients and the atmosphere is the one from the past century.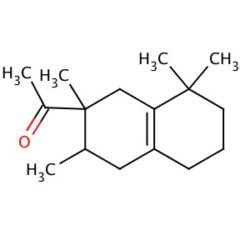 Iso E Super
Aether is definitively a 2016 brand composed of 100% synthetic molecules that shows the abilities to create contemporary and advanced perfumery. The molecules include C12, Amboxan,and ISO E Super. This new olfactive vocabulary is a language a perfume lover needs to know. C12 is a carbon synthesis while ISO E Super is better known to the most readers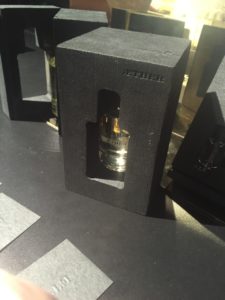 Carboneum AETHER Parfums photo from Esxence 2016 Darryl DO for Cafleurebon
Amélie Bourgeois and Anso Benhage are the two perfumers who have worked on the fragrances, creating in Paris, in their Flair studio. There are some fantastic scents within the brand. My favorite is Carboneum. Carboneum is an unusual mix of neoprene molecule which is complex and difficult to describe. It is sweet, but not as sweet as in the smell of pralines or flowers, but an unusual sweetness, glue like. It is industrial sweetness. To me, that is the most extravagant scent of the line. I see it as the modern brother of the legendary Dior Fahrenheit. It has the edgy, metallic and petrol notes.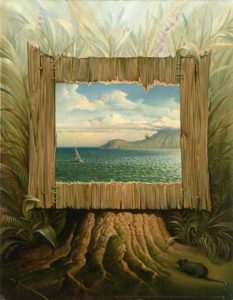 Hardware Software by Vladmir Kush
Ether Oxyde is quite interesting because it is based on ISO E Super molecule which is perhaps the most well known. It is transparent, woody, sweet, watery scent. It is based on ozone and oxygen notes that are soft and tender, fragile almost. It is on the trail of the great perfumes of 90s such as CK One, Kenzo or Miyake fragrances.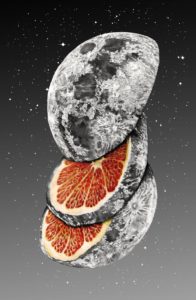 Citrus Ester is not a complicated scent and smells fresh, stimulating and invigorating but still with an edge.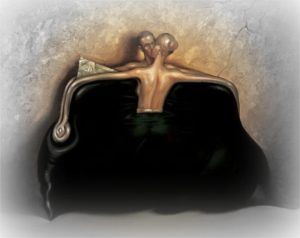 Vladmir Kush Purse digitalized Mc
Muskethanol is the quintessential clean musky that reminds me of Ion Musk from Ramon Monegal. White, light, transparent and soft. It leaves a light and sweet tone on the skin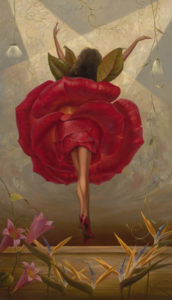 Flower Dancer by Vladmir Kush
Rose Alcane is wonderful scent that is amazing because it really smells like a rose. It is evident that it is not a real rose inside, but it gives that exact aroma never the less. It reminds me of the rose petals in biscuits which is one of my favorite treats and is the most feminine in the collection.
The perfumery of tomorrow is already the perfumery of today. That is why AETHER Parfums is a welcome addition to generation next of fragrance.
Juraj Sotosek-Rihtarec, Guest Contributor and author of BL'eauOG with Michelyn Camen Editor in Chief
AETHER made its debut at Esxence March 2016 where I had the pleasure of meeting Nicolas and fellow blogger Juraj, I chose most of the art from surrealist Vladmir Kush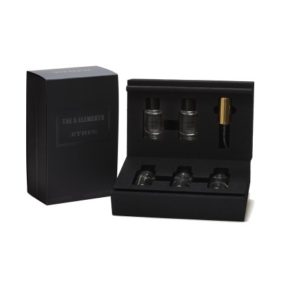 Thanks to Nicolas Chabot we have a discovery set of all five AETHER PARFUMS for a registered reader anywhere in the world. To be eligible please leave a comment with which appeals to you, what you think of 100 percent synthetic perfumes and where you live. Draw closes 7/13/2016
We announce the winners only on site and our Facebook page, so like CaFleureBon and use our RSS option…or your dream prize will just be spilled perfume