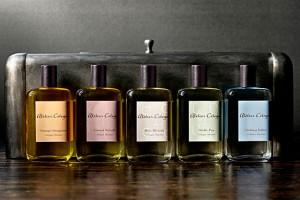 Sylvie Ganter, formerly of Hermès Parfums, Fresh and past President of Selective Beauty and her former colleague (and significant other) Christophe Cervasel are blending business with pleasure,with the debut a new fragrance concept that was ten years in the making –Atelier Cologne.
Atelier adds a new chapter to a 300 year old story. Sillage.
Historically, eau de colognes are created with the lowest percentage of pure perfume extraits, usually under 5%. Aftelier has created five "Colognes Absolues, using 12-20% concentrate. Atelier is as an olfactive etude in collaborative art; artisans and artists working together and contributing their graphic, artisanal design, visual imagery, and copywriting talents. Each Atelier fragrance tells a story, not just on the skin but of a distinct moment in time.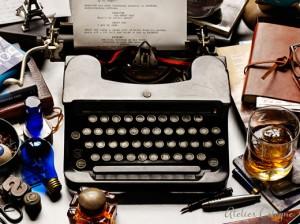 Oolang Infini's, (a smoky citrus with notes of tea and leather) "character" is a writer:
"His breath fogged the window while he watched new snow fall upon the frozen lake. He came here to catch up on his writing and escape the the city. At that moment the fireplace crackled, ice settled in his glass and his thoughts made his way back to ink" – Demetria Chappo, Writer and Atelier collaborator
Master perfumers for Atelier are: Ralf Schweiger, le nez for Hermes Eau de Merveilles, Jerome Epinette, of Fresh Cannabis Rose fame and Cecile Krakower
– Michelyn Camen, Editor-in-Chief
(For those readers attending Sniffapalooza's Spring Fling, the line will be at Bergdorf Goodman).