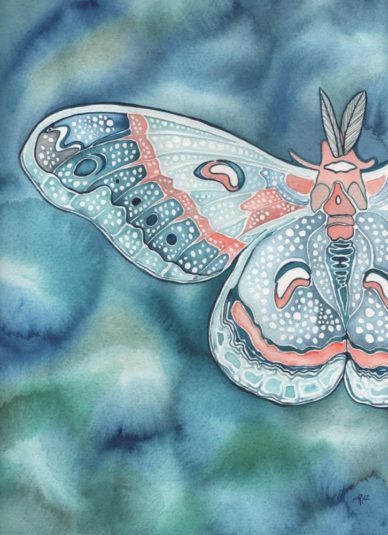 Giant Silk Moth by Tamara Phillips©
Have sympathy for the maligned moth, possessed of extraordinary olfactory acuity upon which its very existence is predicated. Be they drably minuscule or immense and brilliantly-hued, moths navigate their quest towards procreation and foraging guided by their spectacular olfactory receptors. The male silkmoth is champion of the insect world in this respect; the aroma of the beloved actually changes his gait, giving him the appearance of being lovedrunk on her pheromones…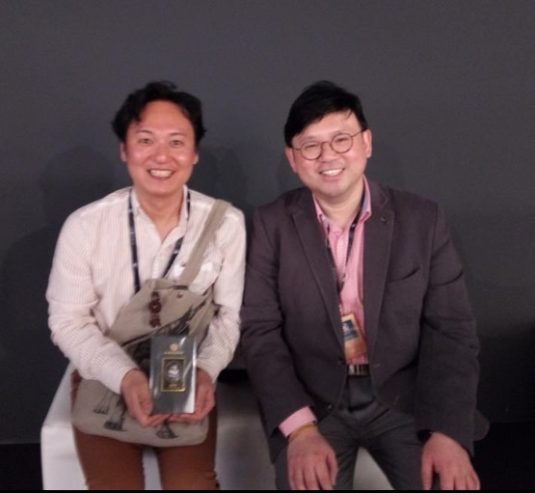 Tomoo Inaba and Victor Wong via Facebook
How many of us can make that claim? Victor Wong's Zoologistperfumer of choice here is Tomoo Inaba, a tender young, passionate Japanese perfumer who created Nightingale for the Zoologist perfumed anthology. I have not yet met Tomoo – but there is something which radiates from photographs of him which moves me profoundly. Sensitivity, soulfulness, aesthetics rooted in something deeper? I don't know; I only feel it. And through his perfume Moth, you may sense it as well.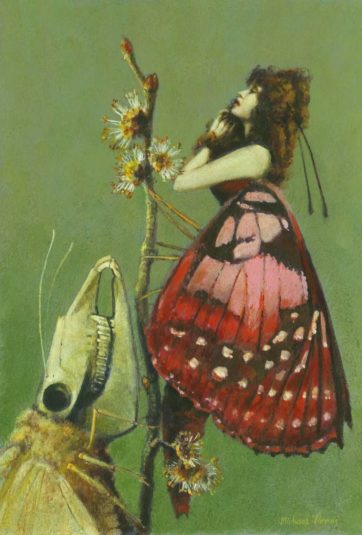 Michael Thomas Saatchi art©
To my nose, Zoologist Moth is a perfume which improves over time as it is worn. It's perfectly delightful at the onset, flushed with the glow of myriad spices seasoned with saffroned lemon. Its heart notes resemble a Victorian love letter, awash with sweetness initiated by heliotrope, jasmine, mimosa and muguet and segued by resins and honey. What may appear as aromatic overkill at first glance serves its nectarous purpose gallantly: simmering spice and abundant florals are essential in balancing that benevolent flame to which our moth is so poignantly drawn.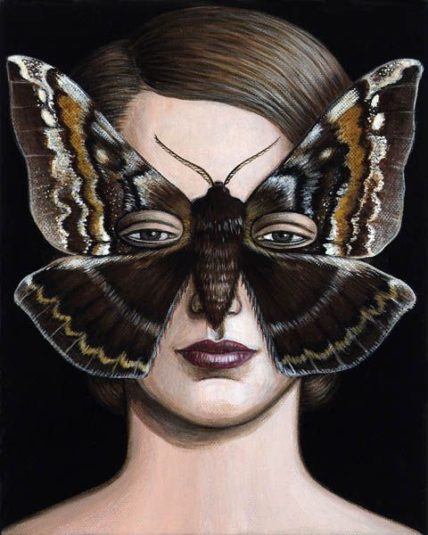 Moth Mask by Deborah Klein ©
And it is benevolent – comprised of sacred woods, vetiver's balsamic tranquility, the murmur of the ancient mint (patchouli), time-honored musk and a magician's puff of sleight-of-hand smoke. As Icarus was driven too near the sun by his own desire, so may the moth find its demise seeking the alluring flame to which it is fatally attracted. I don't perceive this as morbid, and it doesn't smell of death; Moth echoes the seductive nature of the afterlife, that connection to the Eternal.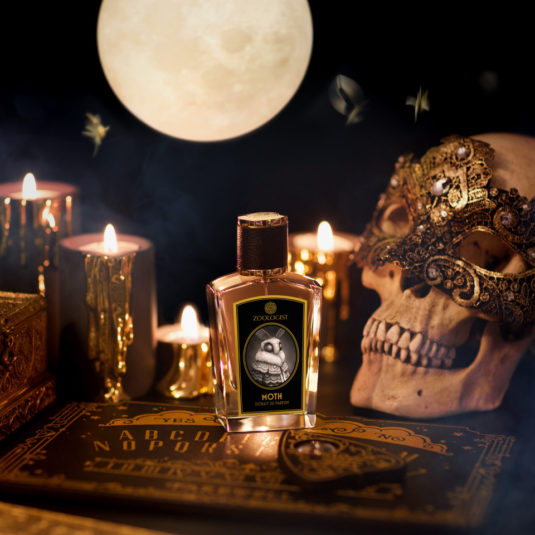 Ad image of Zoologist Moth via Zoologist Perfumes
Hours after it has been applied, Zoologist Moth continues to whisper a dulcetly dusty plaintiveness which speaks volumes. A beautiful voice which has not spoken in a long time in a room long overlooked down the disused corridor. It haunts us tenderly as keeper of the benevolent flame.
Notes: black pepper, cinnamon, clove,cumin, lemon, nutmeg, saffron, heliotrope, iris, jasmine, mimosa, muguet, rose, ambergris, honey,resins, guaiacwood, musk, nagarmotha, oud, patchouli, smoke, vetiver
Sample kindly provided by Victor Wong of Zoologist Perfumes. My nose is my own…
~ Ida Meister, Senior Editor
~Art Direction: Michelyn Camen, Editor-in-Chief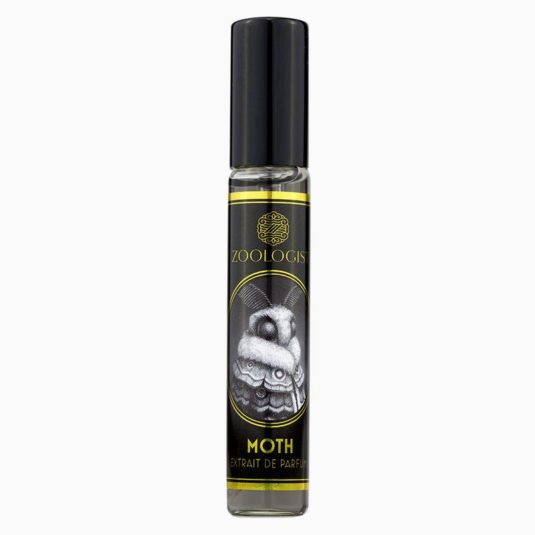 Thanks to the generosity of Zoologist Perfumes, we have a 11ml travel spray of Zoologist Moth Extrait de Parfum to give away to one registered reader anywhere in the world. To be eligible, please leave a comment saying what appeals to you about Zoologist Moth based on Ida's review, where you live, and if you have a favorite Zoologist Perfume.
We announce the winners only on site and on our Facebook page, so Like ÇaFleureBon and use our Blog feed… or your dream prize will be just spilled perfume.