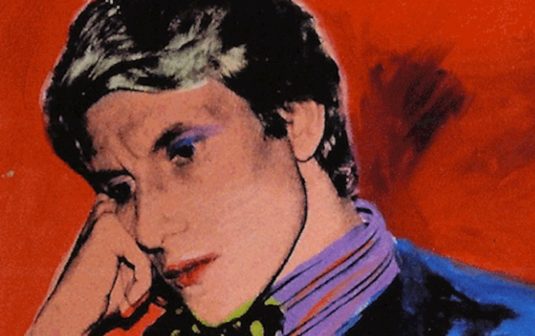 Yves Saint Laurent by Andy Warhol
My introduction to Monsieur Yves Saint Laurent disruptive creativity dates back to 1988, the year Yves Saint Laurent Perfumes Jazz was launched. I just entered my teens and felt it was time to stop stealing from my parents' drawers and properly invest my savings in my first grown-up perfume.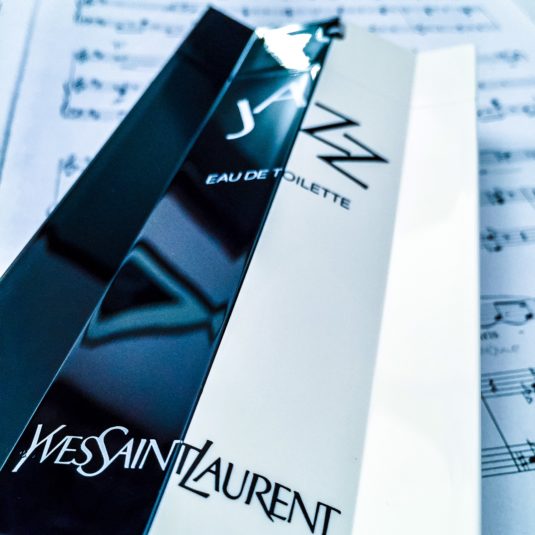 YSL Jazz B/W flacon by Ermano.
I was a piano student which probably was the reason I was immediately attracted to that black and white bottle. I knew nothing about perfume then; I just thought it smelled amazing. It was only decades later that I understood that Yves Saint Laurent Perfumes Jazz was that mix of classic carnation fougère and modern freshness that made it the classy brother of Drakkar Noir making me feel so luxurious among my friends who were mostly wearing their dad's aftershaves (because yes, in the countryside men used to wear mostly aftershaves only and my dad didn't even use aftershave) .
Yves St Laurent with Naomi Campbell at the launch of Jazz, 1988
This past August 1st Yves Saint Laurent would have turned 82.

Yves St Laurent Le Smoking by Sr. Editor Gail Gross©
Many fine words have been written on his genius in fashion and design. Much less on Yves Saint Laurent perfumes, so since Jazz turns 30, let's celebrate Monsieur Saint Laurent with a glimpse on his persona through scents.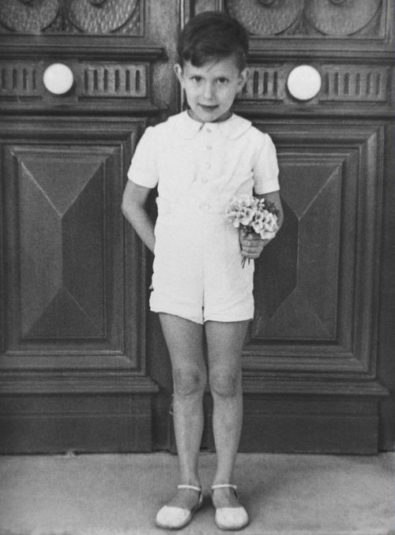 Yves in Oran, Algery during the 1940s – Credits Musée Yves Saint Laurent, Paris©
An introvert by nature, he spent a happy childhood in Oran, Algeria with his sisters and his parents where his mother Lucienne, who passed on her fine taste in fashion to him.The sweet memory of these years and that mal d'Afrique never left him and later in life his Villa in Marrakesh became his safe haven where he could recover from life struggles, being just Yves with friends and his beloved Pierre Bergé.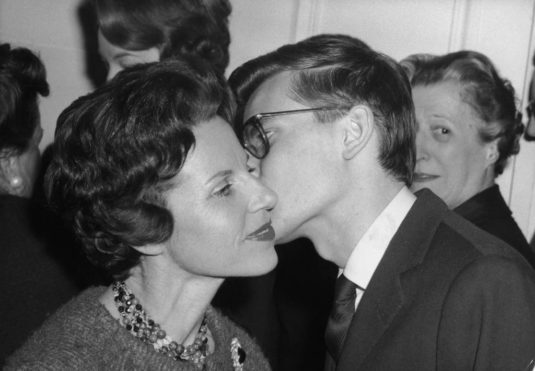 Yves Saint Laurent kissing his mother Lucienne after a Dior show on January 29th 1959 in Paris – (Photo by Keystone /Hulton Archive/Getty Images)
His Africa blues was reflected in his love for sparkling citrus colognes, as the lifetime friend Fabrice Thomas reveals in his memoirs. Dior's Eau Sauvage was a staple in his drawer "but he only rarely wore it, preferring Mouchoir de Monsieur from Guerlain, his favorite one I think, which I also adore" writes Mr. Thomas.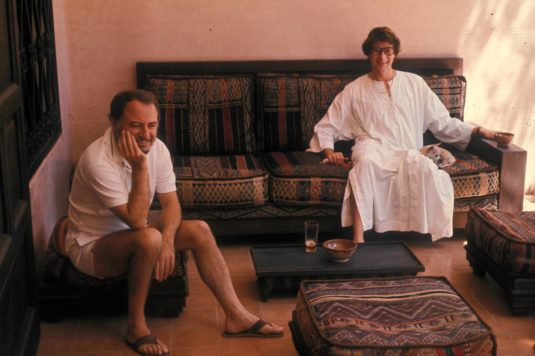 Yves Saint Laurent and Pierre Bergé in their Villa in Marrakech, 1977 by Guy Marineau – Credits Musée Yves Saint Laurent, Paris
This love for lightweight, unisex scents also led him to create amazing colognes for himself. Impossible not to mention his first masculine,YSL pour homme (Raymond Chaillan) that debuted in 1971, the same year his radical 1940s collection shocked animal activists and fashion critics. The effortless sensuality of the perfume was simply a brilliant match with the scandalous advertising, the anti-macho nude portrait shot by Jean Loup Sieff.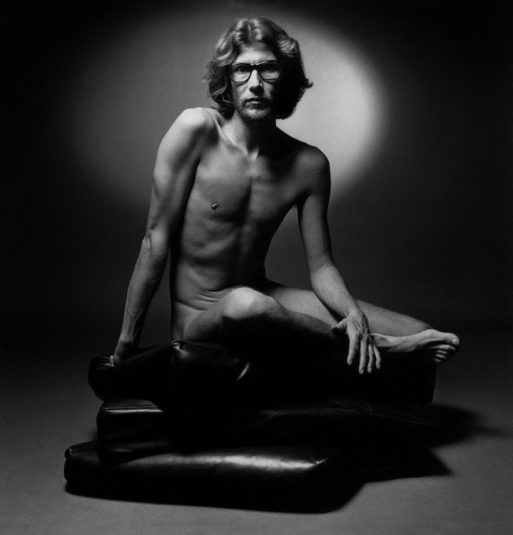 Yves Saint Laurent nude portrait for the YSL pour homme ad
Yves Saint Laurent Perfumes were gender fluid long before the term was invented, featuring a mixed-racial couple sharing it, another genius hit which was probably Yves take on Eau Sauvage: Yves Saint Laurent Perfumes Eau Libre (Michel Hy, 1975), the first perfume openly marketed as unisex that he cherished for its sparkling citrus greenery.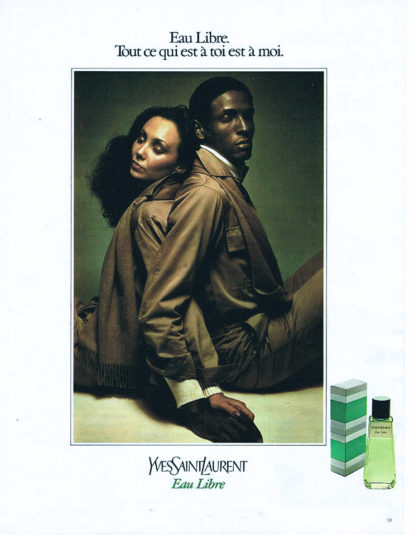 Eau Libre advertising 1975
The vibrant post war Ville Lumière scene provided him with stimuli and glory. Reflecting all that was wonderful then….friends, love and dreams fulfilled shine in the witty refinement of Yves Saint Laurent Perfumes Y (Jacques Bercia and Michel Hy, 1964). An essential beauty archetype he loved so much, this peach and iris-laden chypre perfectly suits his connections with the Rive Gauche intellectuals, and above all the collaborations with his close friend Zizi Jeanmaire and her spouse choreographer Roland Petit.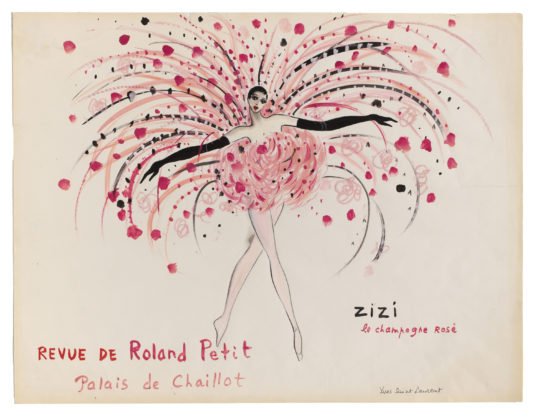 Sketch for Zizi Jeanmaire Music Hall review in Paris in 1963 – Credits Musée Yves Saint Laurent, Paris
"Being a genius and a fragile human being ain't no place for sissies", to quote Bette Davis, and Yves Saint Laurent spent his whole life struggling with angels and demons, with creativity and thoughts of death, highs and lows, with spiritual love and with lust. These two very polarizing sides of him are embodied by his closest friends and muses: the angelic Loulou de la Falaise and the wicked Betty Catroux (born Saint).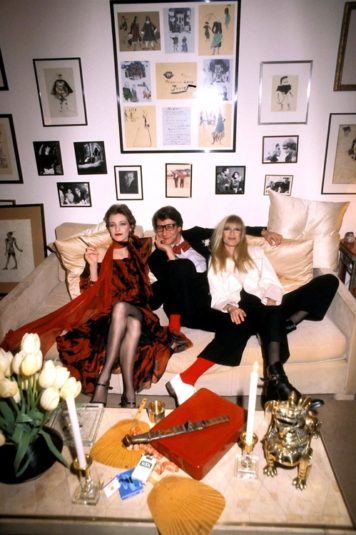 Yves with Loulou de la Falaise and Betty Catroux at Saint Laurent house in 55, rue de Babylone in by Guy Marineau, 1979 – Credits Musée Yves Saint Laurent, Paris
The joyful days spent with Pierre Berge shines in Paris (Sophia Grojsman, 1983), with its romantic bouquet of fruity roses; here I see the influence of his muse Loulou de la Falaise.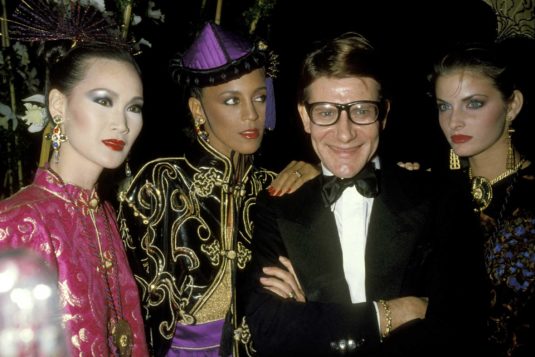 Collection Chinoise and Opium launch party at Studio 54 in New York, 1978
I recognize Betty Catroux in the debauchery of Opium (Jean-Louis Sieuzac and Raymond Chaillan under the direction of Roure-Bertrand co-director Jean Amic, 1977), distilling those clubbing nights dipped in half liters of heady concoctions, smoke, heavy drugs, sperm and tears. Even Mr. Thomas recalls those smells steeped his clothes and the car for ages while driving Saint Laurent home those nights.
Dear Yves, thank you for leaving us a legacy of so many amazing Yves Saint Laurent Perfumes that scent marked our lives and in many ways predicted the future of perfumery. Above all thank you for still being such an inspiration; we will celebrate Yves Saint Laurent Perfumes and your life for many many August 1st to come.
-Ermano Picco, Editor, author of La gardenia nell occhiello and vintage perfume expert (edited by Michelyn Camen)