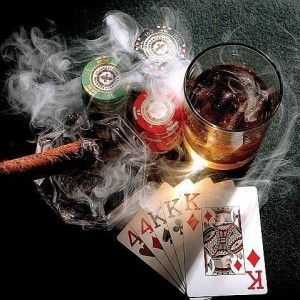 What is it about whiskey? Is it inevitable that the rich amber liquor would become a staple olfactory ingredient of the masculine gourmands? Given its connotations of Casino suite luxury coupled with the cult status of the drink among the Cuban cigar set it would seem so. Many figures of note have had much to say about the stuff. Mark Twain, for instance declared, "Too much of anything is bad, but too much of good whiskey is barely enough." Whiskey is, after all a drink, but it is also a legend. It tells a story of kings and rebellions, prohibitions and moonshine, connoisseurs and country-folk alike! It's as masculine as it is feminine; it is as mainstream it is fetish.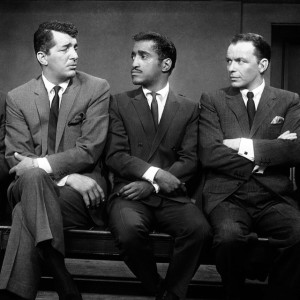 Dean Martin, Sammy Davis Jr. and Frank Sinatra
Yet nothing exudes "whiskey chic" like the Rat Pack which inspired it. The Rat Pack was the name used by the press which has endured to this day. Although loosely defined as including Peter Lawford and Joey Bishop, the heart of the "Summit" (as they actually called themselves) was the trio of Dean Martin, Sammy Davis Jr., and Frank Sinatra.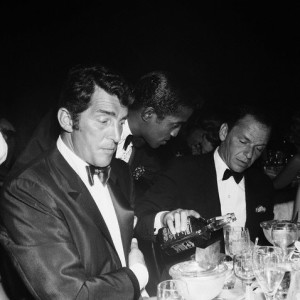 Early 1960s, Los Angeles, California, USA — L-R: Dean Martin, Sammy Davis, Jr., Frank Sinatra. — Image by © Michael Ochs Archives/Corbis
Each man was a star on his own, but as a group they elevated each other allowing for the group synergy to be greater than the sum of its parts. Clearly they were friends and enjoyed each other's company, but they also co-starred in numerous films and live shows. They would routinely guest star in each other's television shows and made unscheduled cameo appearances in live acts into the late 80s. A modern marketing team would call the Rat Pack a lifestyle brand.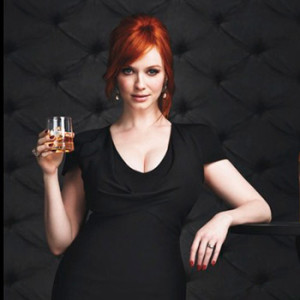 Christina Hendricks of Mad Men
There is an entire generation of men (and women too) who look to the Rat Pack as inspiration for style, music, and for their alcholic drink of choice… whiskey of course! They are icons of pop culture…. just look at the recent popularity of Mad Men.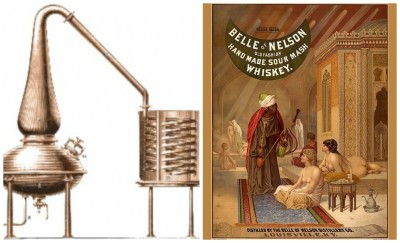 Whiskey Distillation and Belle & Nelson Ad 1878
The relationship between whiskey and fragrance goes back to their mutual roots in the distillation process. The art of distillation, utilized in the manufacture of whiskey, is originally from ancient Mesopotamia and was intended for perfumes. It is possible that the distillation technique was imported from what is now modern Iraq into Ireland by missionaries around 7th century BC. During the Middle Ages monasteries used distillation to create medicines. While monasteries in the warmer regions of Europe began the cultivation of grapes and developed wine making, the cooler climates of Ireland and Scotland steered toward the use of barley. The result was a culture of whisky. Currently, there is a resurgence of as whiskey chic. There is a new wave of fragrances which put the scent of whiskey front and center. The following is a flight of favorite whisk(e)y inspired by the Rat Pack: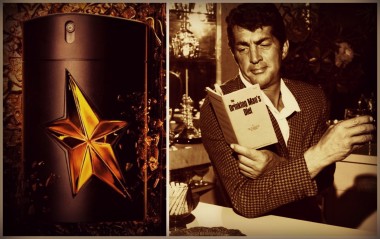 Thierry Mugler A*Men Pure Malt
So coveted was this 2009 limited edition to the Thierry Mugler A*Men line, it has become a staple of the A*Men army. Malt whiskey (without the "e" is Irish) is made traditionally in Scotland entirely from malted barley and serves as an olfactory muse. In a unique take on perfumery the company has the juice aged in oak casks for 8 weeks in an earnest attempt at whiskey authenticity. Although the top notes are decidedly fruity, the heart of malt comes out almost immediately. It is complemented by a smoky dry down, heavy with the oak and wood undertones. Like many a good whiskey it comes in an elegant bottle. The flacon is stylish and black emblazoned by the iconic Thierry Mugler three dimensional shooting star revealing the amber liquid.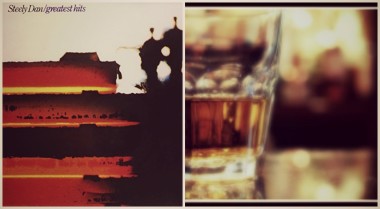 Once the scent hits the skin it evokes Steely Dan's jazz inspired classic rock song "Deacon Blues: "I'll learn to work the saxophone / I'll play just what I feel / Drink scotch whiskey all night long / And die behind the wheel." Decidedly masculine and as smooth as the best Scotch whiskey, Thierry Mugler A*Men Pure Malt evokes the "spirit" of Dean Martin, who was known as the "King of Cool" for his easy banter and unflappable style. Dean Martin first gained notoriety as the partner of a popular comedy act with Jerry Lewis. After 10 years together, Martin moved on to an even more successful solo career. Martin's first film with Frank Sinatra was "Some Came Running" which debuted in 1958. They would go on to do many more films as a duo and with the other members of the Rat Pack.
Dean Martin famously accessorized his stage act with a glass of what audiences assumed was whiskey. Off stage, Dino liked his J & B on the rocks.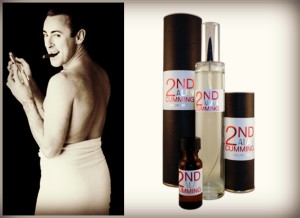 Alan Cumming and 2nd Cumming
CB I Hate Perfume 2nd Cumming
The successor of the cult fragrance Cumming by Alan Cumming, was 2nd Cumming which reeks of "sex, scotch, cigars and Scotland"…just as the marketing claims. Alan Cumming is a Scottish actor who discovered niche perfumery while he lived in NYC and shopped at an East Village specialty perfume boutique.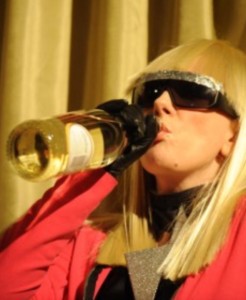 Lady Gaga
Alan Cumming fulfilled every fragrance aficianado's dream when award winning perfumer Christopher Brosius collaborated with him to create a fragrance that upped the ante on the sex factor bringing to mind Lady Gaga's " I want your whiskey mouth / All over my blond self / Red wine, cheap perfume / And a filthy pout."
The best formula is the perfume absolute, the fragrance equivalent of drinking your Scotch neat. The notes of 2nd Cumming include a barrage of Scottish (or fetish) inspired ingredients: scotch pine, malt whiskey, cigar, heather, Douglas fir, leather, highland mud, and peat fire. The white truffle may be the ingredient that gives it the smell of sex. Either way, it winks at the double entendre that is the name of this naughty fragrance.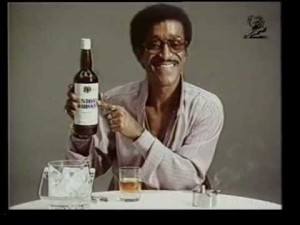 Sammy Davis Jr.
The quirky sexuality of this fragrance recalls Sammy Davis Jr., known as "Mr. Show Business", for his versatility as a charismatic dancer, singer, and actor. His status as a member of the elite Rat Pack was an enormous juxtaposition to that of the average American black man during was now called the Jim Crow era. Davis appeared in his first Rat Pack movie alongside Dean Martin and Frank Sinatra in the 1960 movie "Oceans 11". Another big whiskey lover, Davis appeared in television commercials in Japan for Suntory whiskey. He drank many types but is has been said that Jack Daniels was his favorite. He may have been thinking about whiskey when the highly accomplished Davis claimed, "Alchohol gives you infinite patience for stupidity."

D.S. & Duga HYLANDS Spirit of the Glen and Perfumer David Seth Moltz at the Glenlivet Distillery in Speyside Scotland
D.S. & Duga HYLANDS Spirit of the Glen
Women are the fastest growing demographic of whiskey drinkers and Spirit of the Glen is marketed to both genders. Part of the HYLNDS collection, David Seth Moltz of D.S. & Durga composed Spirit of the Glen in collaboration with the Glenlivet Distillery in Speyside, Scotland. This scent is true homage to the actual distilled whiskey which inspired it. Spirit of the Glen begins floral-woody working its way to a strong vanilla note then nails a landing on a strong Scotch Whiskey accord.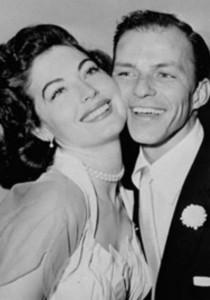 Ava Gardner and Frank Sinatra
Although inspired by Scotland, as the thistle Glenlivet emblem on the square glass flacon suggests, this scent is less bagpipe and more Rhianna singing, "This whiskey got me feeling pretty so pardon me if I'm impolite…" She openly poured her own drinks and she confessed that whiskey emboldened her to take the lead in a late night booty call. No shame in that; flashback to a lushly flushed Ava Gardner dialing Frank Sinatra, the once-married (whiskey) lovers.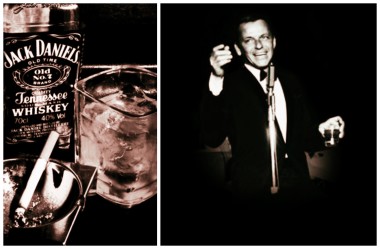 "One for my baby and one for the road" -Frank Sinatra
Frank Sinatra, known as "The Chairman" for his role as the de facto leader of the Rat Pack, started his career in the late 1930's in swing under the tutelage of legendary band leader Tommy Dorsey. By 1953, Sinatra was a huge recording and movie star with his breakout performance in "From Here to Eternity" for which he won an Oscar for Best Supporting Actor. Sinatra was married to Gardner at the time and they had a tumultuous relationship which outlasted their six year marriage. They also both liked their whiskey! He sang, "make it one for my baby and one for the road." Frank liked Jack Daniels with a splash of water and three ice cubes. Inspired by the passions of Frank and Ava the fragrance of Spirit of the Glen celebrates living life to the fullest!
-Liza Wade, Contributor