Merz Apothecary – 4716 N Lincoln Ave Chicago
The obvious destination for fragrance shopping in Chicago is the Magnificent Mile, with its dazzling array of upscale department stores and luxury boutiques. But Chicagoans in the know will direct their visiting perfumista friends to Merz Apothecary in Lincoln Square. We'll tell you to take the Brown Line to the Western stop, and plan to spend a leisurely afternoon exploring the one-of-a-kind shops and cafes. We know you'll have an unparalleled shopping adventure at Merz, and that the next time you're in town, you'll be running back there, ready to discover even more.
But even if you're not currently planning a visit to America's Third Coast, you can still share in the wonders of Merz by going to Smallflower.com, where everything in the brick-and-mortar shop can be delivered right to your home. You will be stunned by the number of international brands carried by Smallflower, and impressed by its thoughtfully curated selection of niche fragrances.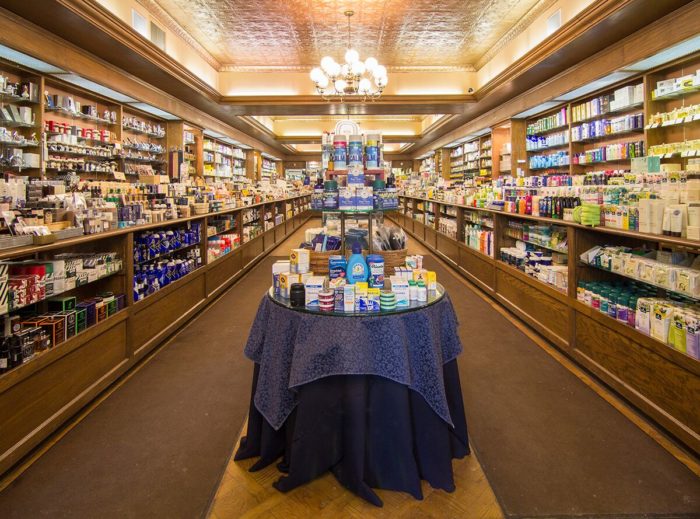 Merz Apothecary interior
Established in 1875 by Swiss-American pharmacist Peter Merz as an apothecary noted for carrying diverse European health and beauty brands, the shop stayed in the Merz family until 1972, when a young Pakistani pharmacist with a grand vision purchased the business. Abdul Qaiyum soon moved the shop to the old German neighborhood of Lincoln Square, wisely retaining its old-world charm by designing the new space in classic apothecary style, with shining tin ceilings, parquet floors, and the additional gravitas of floor-to-ceiling wood bookcase shelving.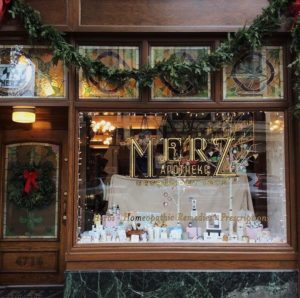 Merz Apothecary – 4716 N Lincoln Ave Christmas window
Today, his son Anthony has expanded the business and brought it into the twenty-first century, adding an ecommerce dimension and devoting a section of the shop entirely to niche perfumery. The exterior of the shop retains its turn-of-the-century style, with leaded glass windows and the Merz name in gilded lettering.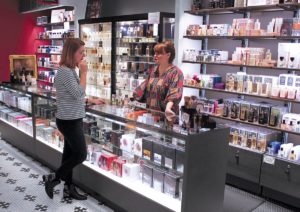 Sharmane Baker at Merz Apothecary in Chicago with a customer
When I visited Merz, eager to put my nose on some new and exciting scents, I was personally escorted right over to the gorgeous fragrance displays and commended to the care of the delightful Sharmane Baker. I immediately recognized flacons identical to several treasured perfumes in my own collection in the bright and beautiful displays of Bois 1920, Olfactive Studio, Histoires de Parfums and Penhaligon's. When I told Sharmane what I already owned and loved, she quickly and expertly selected a few fragrances from the Nasomatto, Grossmith, and Memo Paris displays, spraying each onto a testing strip, and introducing me to a wondrous array of fragrances that I had not yet tried.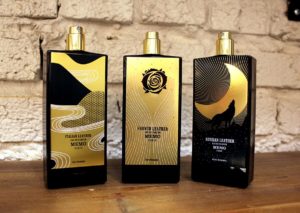 Memo Paris Italian Leather,French Leather and Russian Leather
I was favorably impressed by a trio of Memo creations, all leather-based to a greater or lesser extent, but each one creating a completely different scent experience. This is the great joy of visiting a shop with such knowledgeable staff: Every visit is an opportunity to expand your olfactory range as you happily chat about ionones and Iso E Super with experts who share your passion.
Sharmane also surprised me with a waft of Nasomatto's Black Afgano, which I had always imagined as much too hard-edged, even macho, for me. But no! It was a warm and fuzzy cloud, suffused with notes of coffee and cherry tobacco and amber and oud.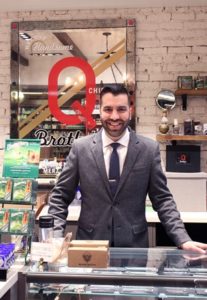 Anthony Qaiyum, owner of Merz Apothecary in Chicago
Very soon, Anthony Qaiyum, the owner, came and introduced himself to me, and I confess that he charmed me completely. He totally understands the niche perfumery customer because he is one himself. We had a lovely chat about the history of Merz Apothecary, and I Iearned that his father, the patriarch of the family, still comes to work every day. I complimented Anthony on the wonderful job he and his staff have done curating their wide-ranging yet very thoughtful fragrance selection. He explained that he very much enjoys the relationships he has created with perfumers, and he was quite eloquent as we talked about what fragrance houses we personally enjoy and why. He even shared which scents his daughters love best on him. (Anat Fritz's Tzora by Geza Schoen, and Dame Perfumery's New Musk Man both make his girls smile.) A proud family man indeed!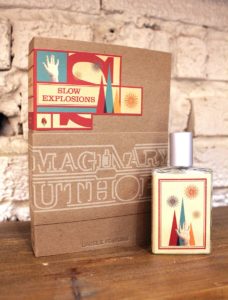 Imaginary Authors Slow Explosions
Anthony also loves Slow Explosions, the newest from Imaginary Authors. While I was waving around a test strip spritzed with this practically perfect autumn fragrance, Anthony mentioned that he recently enjoyed a surprise visit from Josh Meyer – so you never know who might drop into Merz when they're in Chicago! If you follow Merz Apothecary on Facebook, you'll see that they host lots of in-store demos and events for us lucky locals. And with an Amazon Prime subscription, we Chicagoans can get free two-hour delivery with Amazon Prime Now! But don't despair, non-Chicagoans. Smallflower.com, Merz's e-commerce site, is fully stocked and ready to ship your order anywhere on the planet. (Yes, worldwide shipping, handled through iGlobal, which means you can use an international credit card, Paypal, or bank transfer!) And I am delighted to note that Smallflower's U.S. and Canadian shipping rates are shockingly affordable.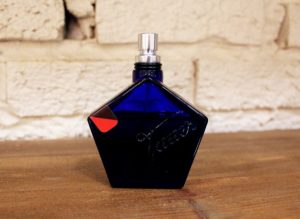 Au Coeur du Désert Andy Tauer
Merz Apothecary is the only place in Chicago to buy Tauer fragrances, and Andy Tauer was there this past April, debuting Lonesome Rider. Of course while I was right there at the source, I just had to sample Andy's newest, Au Coeur du Désert, and it's just beautiful. It is much more than just an extrait-level concentration of L'Air du Désert Marocain — it's like a chiaroscuro rendition that results in a brighter (petitgrain), woodier (patchouli and cedar), softer and more accessible fragrance. If you're like me, and are dying to get your nose on this one (or something else!) Smallflower.com has samples available of practically every fragrance in stock, reasonably priced between $3.00 and $5.00 each.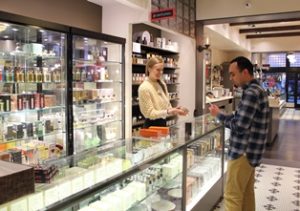 Tanja Buhler of Merz
Anthony and I were soon joined by another of his wonderful employees, Tanja Buhler, and she was my intrepid guide through more sampling adventures while Sharmane helped another customer and Anthony stepped away for a moment.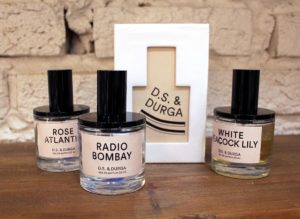 D.S. and Durga Rose Atlantic, Radio Bombay and White Peacock Lily (Gail's review here)
Tanja noticed my interest in the D.S. & Durga display, and in the blink of an eye, Atlantic Rose, Radio Bombay, and White Peacock Lily were placed before me. Radio Bombay is lovely; it's simultaneously dusty and woody and metallic and absolutely intriguing. White Peacock Lily is not your usual lily; it's softened by gentle touches of jasmine and violet. But it was Rose Atlantic that truly caught me by surprise with a splash of sea spray and a waft of roses and a dash of greenness on this unseasonably warm autumn afternoon.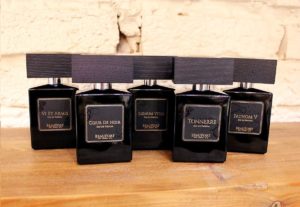 Beaufort London created by Leo Crabtree our review of Full Fathom V here. One of the best fragrances of the year according to Lauryn
When Anthony returned, it was with more treats in hand. I was furnished with an olfactory preview of the range of Beaufort London fragrances that will very soon grace the shelves of Merz. Beaufort is marketed to a clientele that leans a bit more masculine than I generally do, but I'm a firm believer in gender freedom in perfumery, and Anthony thought I'd appreciate this line. He was so right! I never would have discovered this remarkably inventive line on my own, and to my nose, there's absolutely nothing else out there like it.
I left the shop in Lincoln Square with Rose Atlantic on my wrist and in the crook of my arm, and as I rode the CTA train toward home and gazed out the windows at the tar rooftops of my beautiful city, the rough-textured brick buildings of Chicago blurred into watercolor paintings, my view transformed by the scent of roses and the sea. I'll be back soon for something from the Beaufort London line (I am not yet sure which one), but I'll return to Merz again and again for their carefully chosen and ever-expanding niche selection, and their unparalleled customer service.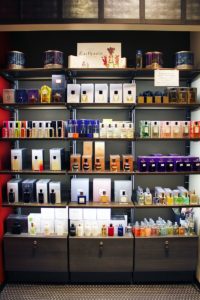 Niche and Luxury Perfume display at Merz
Merz Apothecary and Smallflower.com carry100 luxury and niche fragrance brands;this marvelous shop also carries an incredible range of health and beauty items from all over the world, and is famous for being the place to finally find the beloved products you can't locate anywhere else.
– Lisa Poirier, Guest Contributor and CaFleureBon reader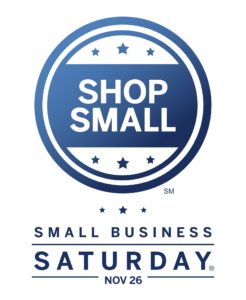 Editor's Note: Stop by Merz on Saturday November 26, 2016 and for the first 100 customers that spend $75+ will receive a surprise swag bag filled with marvelous fragrant and beauty treats. We support #shopsmallsaturday…neighborhood stores need your business and treat you like kings and queens. Like Merz Apothecary on Facebook here
We have posted #shopsmallsaturday for Providence Perfume Co 2015 here and Indigo Perfumery 2013 was featured here
Merz Apothecary – 4716 N Lincoln Ave., Chicago, IL 60625
Hours: Monday through Saturday, 9:00 am – 6:00 pm
Merz Downtown – 17 E Monroe St., Chicago, IL 60603 (main entrance, Palmer House Hotel)
Hours: Monday through Saturday, 10:00 am – 8:00 pm, Sunday 10:00 am – 5:00 pm
E-commerce website: Smallflower.com
Order by phone: 800-252-0275, 9 am – 6 pm CST, Monday through Saturday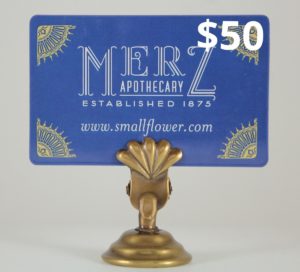 Thanks to Merz and Smallflower.com, we have a $50 Gift Card for a registered US or Canada reader. To be eligible please leave a comment with what you enjoyed about Lisa's virtual tour of Merz Apothecary and Smallflower.com, if you have heard of the store previously, and what you would use your gift card to buy should you win.Is there a brand you would love to see on SmallFlower? Please let us know. Draw closes 11/28/2016
Follow us on instagram @cafleurebon and @merzapothecary
We announce the winners only on site and on our Facebook page, so "like" Cafleurebon and use our RSS option…or your dream prize will be just spilled perfume.