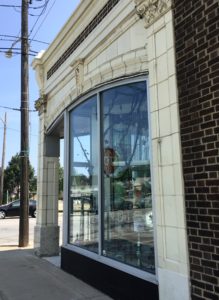 Indigo Perfumery in Lakewood Ohio photo Cecile
While there are quite a few of us fragrance lovers in the greater Cleveland, Ohio area, there are very few options for finding artistic, niche and hard to find scents. Primarily relegated to obtaining samples from online perfumers and other swap/sale sites, finding a boutique as finely appointed and carefully curated as Indigo Perfumery, which opened its doors in 2014 in our area is an exciting experience for a true perfume lover!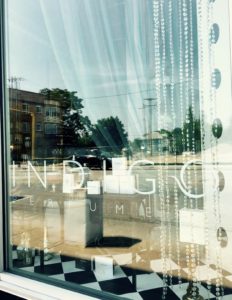 Indigo Perfumery Store Window photo Cecile
At my most recent visit, I was practically spinning in circles to try all of the 46 truly unique, great collections that the owner Ann Onusko has to offer.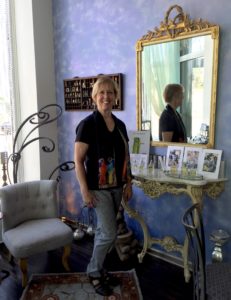 Ann Onusko of Indigo Perfumery photo Cecile
What impressed me the most besides the amazing offerings was the friendly and sensitive shopping experience that I had. Ann is fun, present and helpful, but she lets you work your way around the boutique at your own pace. It's like exploring a personal collection that a friend would have. She graciously offers suggestions if needed, and is happy to introduce new to niche customers who soon fall down the "rabbit hole" of artistic perfumery. Ann also combs the fragrosphere for what's new and noteworthy, as she did with Shay & Blue and Hiram Green before any American retailer.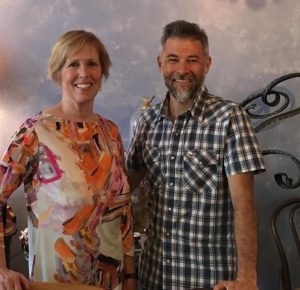 Ann with Alessandro Bun Creative Director of Masque Milano at an Event
Ann has added several new lines to her fragrance boutique in the last year including: Collection Crosiere by Parfumerie Generale Pierre Guillaume, Masque Milano from Alessandro Brun and Riccardo Tedeschi that collaborate with rising stars, classically trained young perfumers such as Luca Maffei, Julien Rasquinet, Cecile Zarokian to interpret high Italian perfumery as opera. Ann is a champion of artisan perfumers, who create small batch fragrances from all over the world.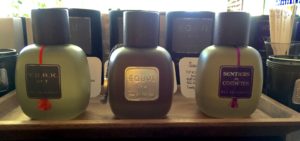 Yeye Perfumes photo Cecile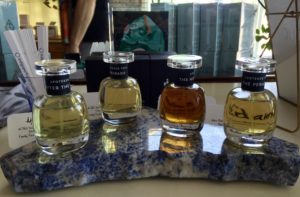 apotoker tepe photo Cecile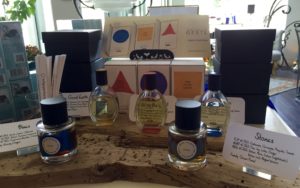 Atelier Geste photo Cecile
New to Indigo is Auphorie from the Malaysian brothers Eugene and Emyrs Au who won the Art and Olfaction 2016 Award, YeYe Parfums' distinct fragrances blending European and American traditions. Halloday Salz of Apoteker Tepe, and Beau Rhee's Atelier de Geste (The Gesture Studio): art inspired by movement, color and design. Ann will soon launch the new Art de Parfum ….five very wearable extrait de parfums created in France by Ruta Dugatye. I was able to sample them and immediately was captivated with one named "Gin and Tonic Cologne", described on their website as: "an ice-cool gin tonic accord, brought alive with grapefruit peel, sweet resinous juniper and a slice of fresh-cut cucumber".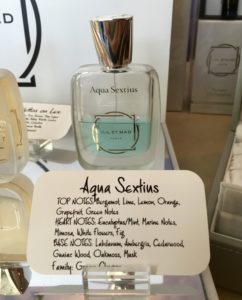 Jul et Mad Aqua Sextius photo Cecile
I asked Ann what a few of her current favorites are. She expressed that, for her, she enjoys scents that she perceives as "personal and intimate". For summer she is enjoying Jul et Mad Aqua Sextius (perfumer Cecile Zarokian) a citrus chypre scent. She describes it as not your typical citrus, beautiful and long lasting.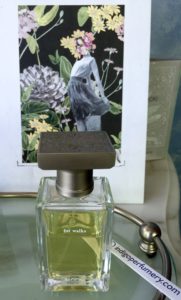 Blocki For Walks photo Cecile
Ann has a fondness for green fragrances and has been favoring Blocki, For Walks from Tyler and Tammy Delabarr Kraemer(perfumer Kevin Verspoor), a floral woody musk that features violet, mint, fir, orris, vetiver, sandalwood, boronia, and cedar.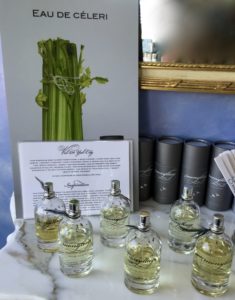 Monsillage Eau de Celerie from Canadian Perfumer Isabelle Michaud
Her other choice was another Art and Olfaction award winner Monsillage, Eau de Celerie (perfumer, Isabell Michaud) with green notes, coriander, galbanum, grass, vetiver, floral notes and celery.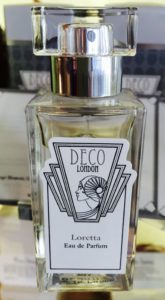 The Art Deco London Collection is exclusive in The USA to Indigo
Ann loves patchouli and chose a fragrance from the U.K., Deco London, Loretta that has notes of orange blossom, osmanthus, rose, patchouli, jasmine, musk, moss and vetiver.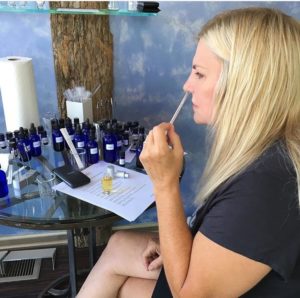 Ceil creating her own bespoke perfume at Indigo Perfumery
Indigo Perfumery also holds classes and events including her recent one with John Pegg of Kerosene. One of the most special experiences that you can participate in is taking advantage of their opportunity to create your own personal perfume (along with experiencing champagne and chocolates!). Ann explained that this was something that her customers were asking for and, having taken classes herself in New York, she was happy to provide this experience for them. I was graciously invited by Ann to do just that! I had a very enjoyable time creating my own scent with top notes: bergamot and cardamom; heart notes: magnolan, peony and fir; base notes: frankenwood, sandalwood, white musk, tobacco and benzoin. You also receive a thick blue wool felt pouch to take your fragrance home in. And in four weeks it will be ready for you to enjoy!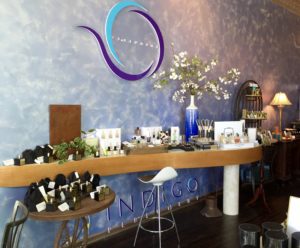 Interior of Indigo Perfumery
While it is truly special to have the in store experience of a fine Perfumery that carries such a wonderful selection of the best niche and hard to find scents, you can also have a great shopping at the Indigo Perfumery online website as well. Ann is just a phone call away for assistance and a really fun chat with in order and offers great customer service. Live in the area? Sign up for her fun fragrance events and classes; the next is September 17. Indigo Perfumery is an experience not to be missed either in person or online.
Ceil Schissler, Guest Contributor and Cafleurebon reader with contributions from Michelyn
12011 Detroit Ave., Lakewood, OH 44107
216-767-5563 www.indigoperfumery.com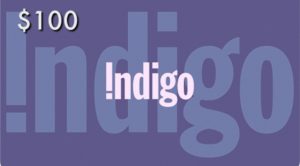 Thanks to Ann, who continues to sponsor FULL bottle draws we have a $100 gift card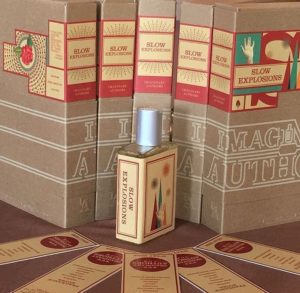 or a bottle of the NEW Imaginary Authors Slow Explosion by Josh Meyer ( Former Managing editor Tama Blough was the first to review what is now the cult line for any blog nearly 4 years ago in 2012)
for a registered US reader you must be registered so click here. To be eligible, please leave a comment with what you enjoyed about your virtual visit to Indigo perfumery what fragrance you might buy should you win or if you prefer Slow Explosions. If there is a line you would love for Ann to carry we would appreciate your comment on that too.Draw closes 8/17/2016
Are you a reader and want to write for CaFleureBon's WE LOVE THIS STORE anywhere near you live, drop us a line.
Support artistic perfumery and small business owners.
We announce the winners on our site and on our Facebook page, so Like Cafleurebon and use our RSS option…or your dream prize will be just spilled perfume