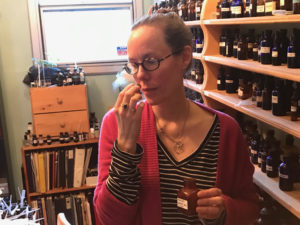 Dawn at Essence Studio in Boulder, Colorado
I'm an artist by nature, it's always been a part of my life in some way or another, and because of it I tend to experience the world in a way that I feel only other artist can understand. When I was introduced to niche perfumery I immediately saw the work of a perfumer as an artistic expression, one that I've always revered since scent seems like such an enigmatic way to communicate between the artist and the observer, so when I had the opportunity to visit Dawn Spencer Hurwitz of DSH Perfumes shop I immediately called for an appointment. During the two-hour drive from my home in Colorado Springs to Dawn's studio and store location in Boulder, CO so many questions came to mind. I wanted to ask her about her artistic process, I wanted to know how she views scent and each individual ingredient when she's creating a fragrance I wanted to know how her journey began and where it's taken her since, I essentially wanted to dive deep into the mind of another artist and try to understand what made her tick; luckily Dawn was more than happy to welcome me into her world and her mind.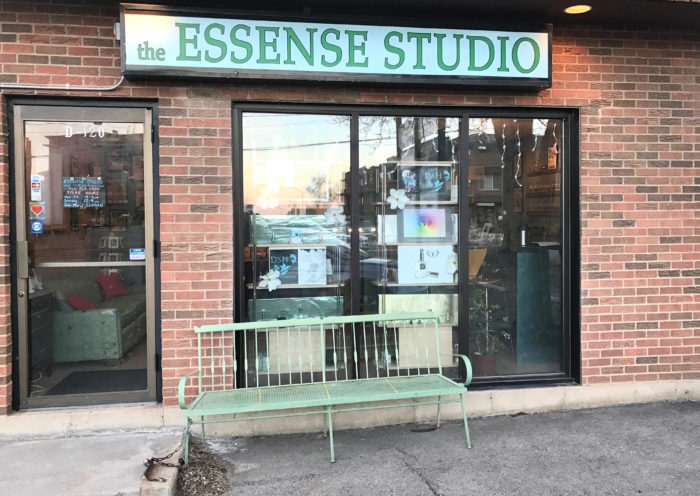 DSH Perfumes Essense Studio in Boulder, Colorado
When I pulled into the parking lot of Dawn's Essense Studio I was greeting by a quaint corner building with a turquoise bench, matching signage above, and a blooming jasmine plant in the window and my excitement grew even stronger. This is the first time I've ever had the opportunity to visit a niche perfumer and I've wrote for Dawn in the past and always appreciated her work so as I walked to the door I started to feel like a teenage Bieber fan, "Be cool brother, don't bombard her with questions" is what I kept telling my self. The moment I walked into the shop I was greeted by these amazing aromas that filled the air, the smell was incredible but far from cloying-no scent competed for attention, each greeted me humbly and awaited one by one for my nose to return the welcome. Once I announced my self, I heard Dawn warmly shout from the back of her studio that she'd be there in a moment so I decided to look around and make my self acquainted.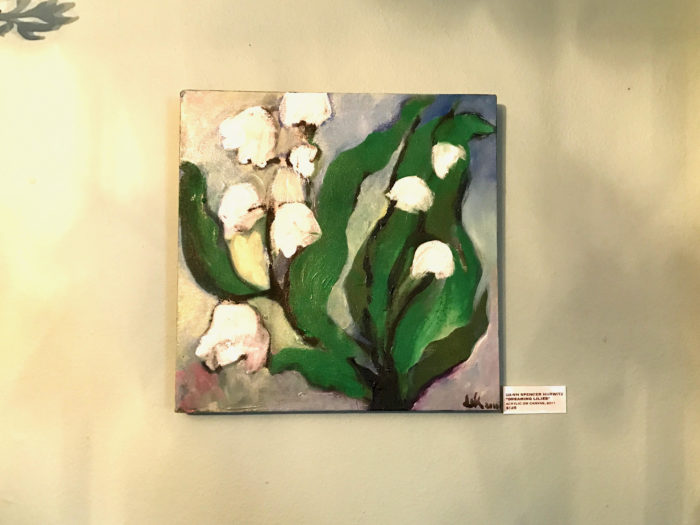 "Being synesthetic allows me to create fragrance in the same way I would paint. I smell an aromatic and say, 'this color should go here' or 'this stroke should be more broad' and I think that relation is what's really helped me though out my career as a perfumer."Dawn Spencer Hurwitz
As Dawn appeared from the back she greeted me with a warm smile and gentle handshake and we sat on the couch a bit to talk. Dawn has an amazing personality and as I began to ask her questions about her journey as a perfumer I instantly realized that her passion for what she does was much, much larger than her tiny 5'2 frame. She began by telling me that she had a back ground as a classically trained painter in Boston and while living there always suffered from severe allergies, when doctors told her to get used to always being on medication she decided to search for alternative solutions. One thing lead to another and she discovered a small perfumery in Boston where she had convinced the owners to allow her to work there even though she had no prior experience in perfumery or retail. On her first day at the job the shop explained to her that she would be custom making perfume for clients and with out any training what so ever they immediately threw her into the water, talk about sink or swim right? Lucky for us Dawn swam like Michael Phelps and although she claims she wasn't making great perfumes at first she was getting the job done and soon she realized she was synesthetic which means she has the ability to see and feel aromatics through color, shapes, and textures which made it easy for her to quickly excel at her new medium.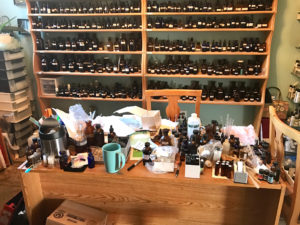 Dawn's Work space and perfume organ
As we continued our conversation I asked her if I could get a glimpse of her work space and see what the studio of a perfumer is like and she was more than happy to take me to the back. As someone who has been studying fragrance design for the last three years and tried their hand at making accords I was immediately in awe as I saw tons and tons of bottles of diluted aroma molecules and essential oils on the wall and all different types of pipettes and paper work on her desk.She began to tell me about her workspace, explaining that this was her own little piece of nirvana and she's adamant about keeping her shop closed once a week so she can spend the entire day creating. We spent a few minutes talking about different molecules and oils and how her synesthesia allows her to view them, and she also let me smell some of the exotic oils she hand on hand while educated me on the different dilutions she makes them at before working which allows for lighter or broader strokes of the material when's she's designing a fragrance.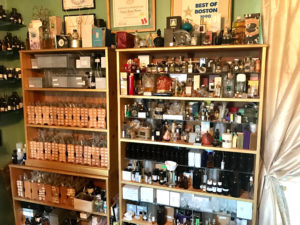 Dawn's gallery of vintage perfumes
Then I turned to a wall whose shelves were filled from top to bottom with vintage fragrances and I literally had to keep my nose from drooling at all the perfumes from the past. Dawn explained that she has been collecting vintage fragrances for decades because it allows her to study the work of the great artists of the past.Dawn told me that she had amassed such a collection that she decided to start hosting a gallery session of all her collections for the community and took me further into the back of her studio to show me her latest gallery hosting.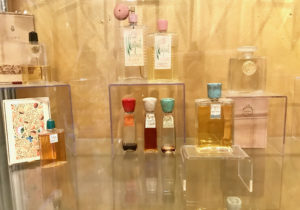 Vintage Coty Perfumes at Dawn's museum space in the Studio
I just started collecting vintage fragrances a few months ago (starting with a 1952 bottle of Chanel No 5) so I was thrilled when she pulling out bottles of Francois Coty that dated all the way back to the very early 1900's. As she explained the significance of each fragrance I eagerly asked her if I could smell each one and she happily obliged to offer me the pleasure to get a whiff of the past. One reason I have always appreciate artistic perfume over mainstream collections was because I felt like I was experiencing true artistry as opposed to smelling just another rendition of what large corporations think consumers want to buy. As I smelled those vintage Cotys I instantly made the connection between perfumers of the past and indie perfumers of the present- the spirits of the greats seem to be at the root of the best contemporary niche perfumery.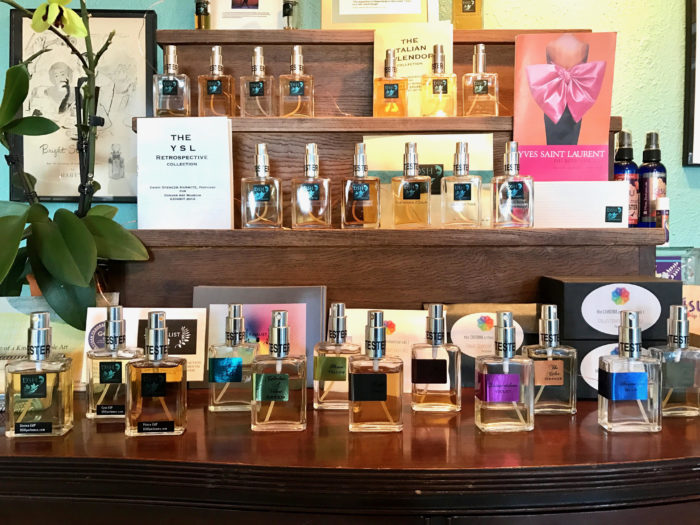 DSH Perfumes Display
As we made our way back to the front of the studio we sat back down and Dawn let me sample many of her fragrances while she took the time to explain where her mind was during each process of creation. She dabbed a few fragrances on pieces of paper and with a gentle smile she told me they were from a collection that she is planning to release this Spring. I inhaled deeply and was immediately able to detect the texture that she spoke of in each fragrance, I don't want to give the collection away but I will say this-if you're a fan of animalics you're in for a real treat!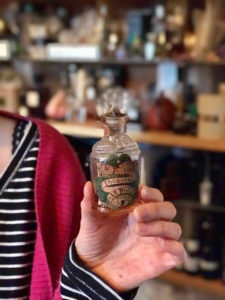 As my visit came to end Dawn was generous enough to send me home with a bag full of goodies, I could have stayed there and talked to her for ever but as the sun began set and I was aware of the long drive ahead of me I knew it was best to say goodbye. The opportunity to meet a perfumer in person and one with such talent and passion for their art as Dawn has was such an incredible experience and one that I'll never forget.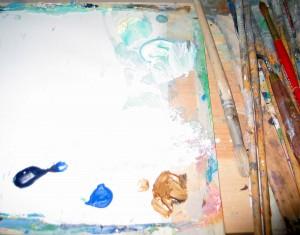 Dawn's Painter's Palette (photo by DSH)
If you're ever in the Boulder area I urge you to visit Dawn's Essense Studio where you can meet the perfumer, explore her collection, and create your own custom fragrance. Dawn also regularly host gallery viewings of her vintage collections titled The Art Scent Museum and her next showing will be from the house of Molinard where the focus will be on vintage concretas so be sure to check that out to if you get the chance. Dawn trulyis an artist in every sense of the word. She believes an artist never becomes a master until they are no longer alive on this earth, and that's why I love this this perfumer and her store.
–The Nosey Artist, Contributor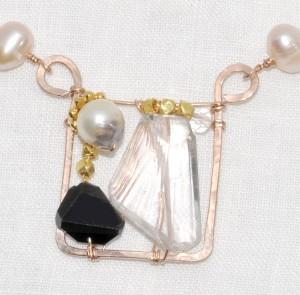 Pink Amethyst Necklace
Editor's Note: Dawn also creates and sells beautiful gemstone jewelry at the studio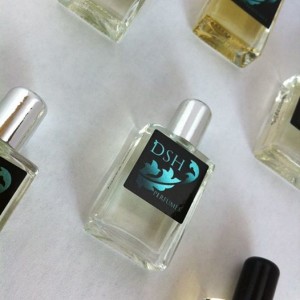 Courtesy of Dawn Spencer Hurwitz of DSH Perfumes we have a worldwide draw for one registered (you must be registered to be eligible) reader for your choice of a 5ml voile de parfum of the Nosey Artist's two favorite fragrances Jitterbug and Tubereuse.or Onycha (a Top Ten Finalist in the Artisan category, The Art and Olfaction 2017 Awards). Comment below with what you enjoyed about The Nosey Artist review and tour of The Essense Studio, where you live, your favorite DSH Perfume, which of the three you would like to win. Draw closes 3/28/2017
We announce our winners on the blog and our Facebook so be sure to like CaFleureBon and follow our RSS feed or your dream prize will just be spilled perfume.