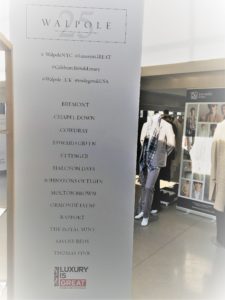 Photo of Walpole sign
On Friday, October 27th, CaFleureBon was invited to attend the invitation-only Walpole British Luxury Showcase at Spring Studios. Consumer perception is that French and Italian luxury brands are the leaders. I have news for you, Britannia still rules when it comes to cutting edge design and heritage collections spanning home furnishings, fashion and fragrance.The British are not coming, they are here. Walpole, an alliance of 200 of Britain's finest luxury brands, hosted the tightly curated event featuring thirteen key brands chosen to represent England's luxury business across fashion, beauty, lifestyle, wine, and décor. The mission is to promote, protect and develop British luxury worldwide.
Here are highlights: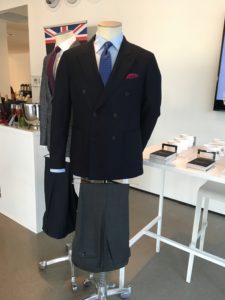 Photo of Thomas Pink
Thomas Pink, (better known as Pink), a UK luxury shirt maker with an international clientele was launched in 1984 by three brothers.Their iconic bags are a fixture in mid-town Manhattan. Pink shirts, ties, and cufflinks are the epitome of sartorial splendor.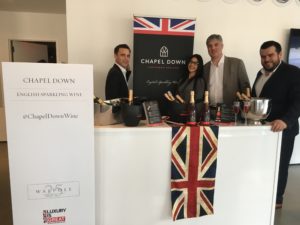 Photo of Chapel Down
English sparkling wine has come a long way and has started giving Champagnes a run for their money. Mark Harvey, Managing Director for Chapel Down was on hand to pour three sparklers from their award-winning wine collection, the brut, the rose and Three Graces 2010. The brand is England's leading winemaker, whose products also including still wine, beer, and brandy.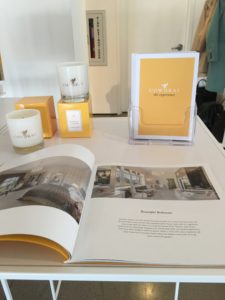 Photo of Cowdray House
Cowdray House is located in Sussex, about an hour out of London and is situated in a 110 acres forest. Jonathan Russell, Chief Executive highlighted for me the features of the unique Tudor house. Cowdray House is available for exclusive use, including weddings, corporate retreats, therapy sessions and any and all forms of celebration. On display were their branded candles and diffusers which are created on premise. They include fragrances of Lemongrass and Verbena, Sandalwood and Cedar, and Grapefruit.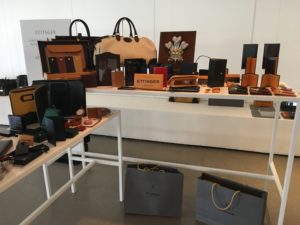 Photo of Ettinger
London based Ettinger is a family run niche luxury leather goods manufacturer with an international reputation for excellence in craftsmanship. A selection their elegant purses and leather wallets was on display and are both contemporary and classic. A huge honor was obtaining the Royal Warrant to HRH The Prince of Wales.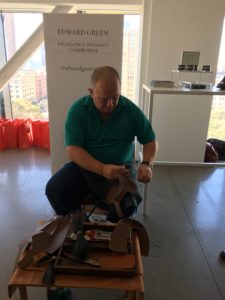 Edward Green
Northampton based Edward Green specializes in creating 'the finest shoes without compromise'. With sixty skilled artisans making over 350 pairs of shoes a week, quality control is paramount. A made to order service is available. Ernest Hemingway, Cole Porter and the Duke of Winsor have all walked a mile in their shoes. One of the artisan shoemakers was on hand demonstrating the art of stitching footwear.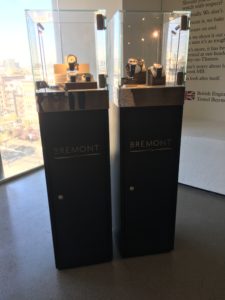 Photo of Bremont
Award-winning Bremont produces beautifully engineered watches which have a military and aviation focus. From a father's tragic death a company was born. Evading French authorities led to naming the nascent company, Bremont. The company offers a 3-year warranty on every watch. Immensely precise, reliable and durable, Bremont watches are crafted by hand in limited numbers.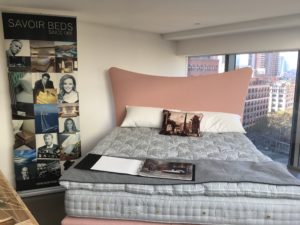 Photo of Savoir Beds
Created for The Savoy Hotel in London in 1905, Savoir Beds are almost as legendary as the stars who have slept in them, Marilyn Monroe, Giacomo Puccini, and Sir Winston Churchill to name a few. Every bed is made specifically created for the customer. Veronica Macasaet, Vice President of Sales insisted I test the bed. No more sleepless nights if I owned one.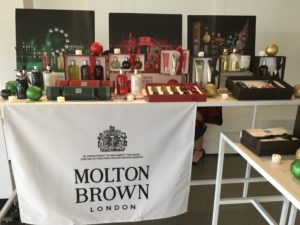 Photo of Molton Brown
With a reputation spanning four decades as London's premier beauty collection for connoisseurs, Molton Brown is found in five-star hotels, stylish homes, and premier department stores the world over.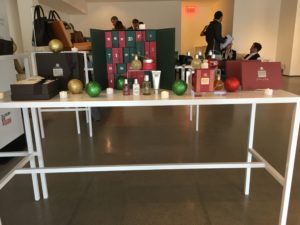 Molton Brown
The line includes perfumes, shower gels, body lotions, candles and hand care products all blended in the UK. Molton Brown was awarded the Leaping Bunny logo which certifies they never test on animals. Nancy Tomei, Marketing Director USA presented The Holliday Collection which will adorn the stores and Russian Leather, the latest release.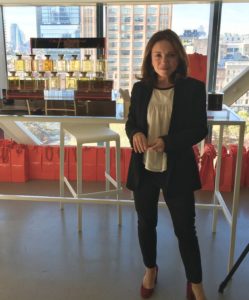 Photo of Linda Pilkington of Ormonde Jayne
I had the pleasure chatting with the lovely Linda Pilkington, creative director and founder of Ormonde Jayne. I learned that her interest in perfumery began in her teenage years, intrigued by the passion and romance of perfume and perfume bottles. Her years traveling influenced her approach to her brand. The perfumes are hand bottled in their London workshop. Linda featured "Create You Own Cologne", an exercise in composing your own scent starting with 9 oils and distilling it down to a bespoke fragranceyou can take home. Linda loves the American market and the fans of the brand know the collection landed stateside this year and is already creating quite a buzz. The Ormonde Jayne collection is available in the USA at Brooklyn's Twisted Lily, Cleveland's Indigo Perfumery as well as select stockists such as Luckyscent.com, Aedes de Venustas and OsswaldNYC.
All Photos by Hernando except for the Ormonde Jayne Travel Lab
-Hernando Courtright, Sr. Contributor and Brand Ambassador and Michelyn Camen, Editor-in-Chief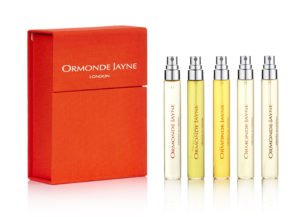 Thanks to the generosity of Ormonde Jayne and Molton Brown, we have a draw for 1 (or 2) registered reader in the U.S. and the EU for the Ormonde Jayne Travel Lab 1 Kit, which includes 5 x 8 ml sprayers of Chamapaca, Osmanthus, Ta'if, Frangipani and Qi (value of $125)
and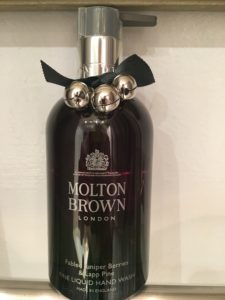 in the USA only for Molton Brown 300 ml Fabled Juniper Berries & Lapp Pine Fine Liquid Hand Wash. There could be two winners depending on country restrictions. To be eligible, please leave a comment saying where you live, what you found compelling about the Walpole Event and your favorite British perfume or fashion company. Draw closes 11/23/2017
We announce the winners only on our website and on our Facebook page, so like Cafleurebon and use our RSS feed … or your dream prize will be just spilled perfume.