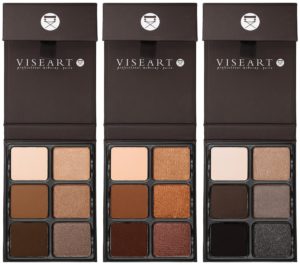 Viseart Cashmere, Minx and Chroma Theory Palettes (photo beautylish)
Two and a half years ago, a friend of mine was in Paris and knowing of my obsession with eyeshadows brought me home a professional version of the Matte 01 VISEART (vi zee art) 12 pan eyeshadow palette. Viseart is a company from Paris that at the time was well known to make up artists and hardcore beauty junkies; in 2014 their brand was carried online at a few stockists. Made in small batches, Viseart is known for their HD quality palettes for the lips, the eyes and for the face. The same year, Sephora.com started to carry four of the shadow palettes: 01 Matte, 03 Bridal Satin, 05 Sultry Muse and 06 Paris Nude in 2014. (within hours they would sell out, but I was fortunate to snag them at 2:00 AM that November). Over the past 2 years founder Anastasia Vas Dusen has stepped up their production and four Matte and four Satin 12 pan palettes are now regularly instock at Sephora and on Beautylish.com (my reviews: Dark Matte, Cool Matte, Paris Nude, Sultry Muse the mattes were purchased at Frends Beauty). For those readers who are eco and anti-cruelty conscious, Viseart products are not tested on animals, are made without petroleum, parabens, silicons, butylene glycol or propylene glycol, phthalates, or artificial dyes.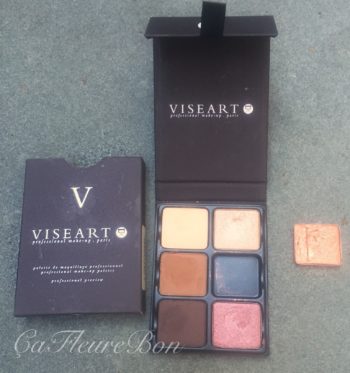 Viseart Theory Minx note removable pans
Stalking Instagram late Spring (@viseart), I learned that Viseart had developed three new 6 pan eyeshadow palettes that mixed matte and metallic/shimmer shades; the bonus was the removable pans. They are Theory 01 Cashmere, 02 Minx and 03 Chroma. All three are repackaged in sleek easy to open cardboard case with a ribbon tab housed in a molded plastic container that fits in your palm and gives you the feel of a real artist's palette. The price per pan is slightly more expensive (the Pro palettes are $80 for 12) at $45 for six shadows. Oh but the benefits! Mix and match, customize if you are adventurous, but most women will appreciate that each Theory palette can be used tout ensemble. Viseart's gorgeous texture, highly pigmented formula and great color payoff are all there; no corners have been cut. Extra Bonus… plastic tops that fit over the shadows (not shown).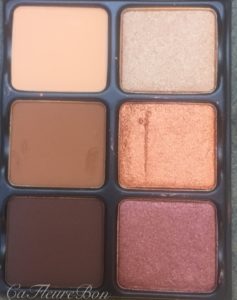 Closeup of Viseart Minx 6 pan Theory Palette
Viseart Theory Palette in Minx: As a warm complected, blue-eyed gal this is my favoriteof the two… gorgeous, as each hue leans warm with reddish and orange undertones which suit me best.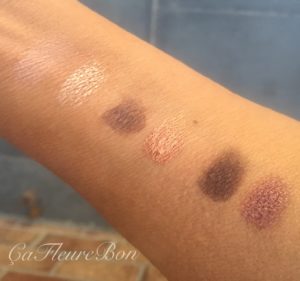 applied dry natural sunlight no filters
The colour explanations are left to right horizontally see photo above swatches
Minx 1- warm, very pale peach matte finish, not chalky, with good color pay off and silky texture. Similar but less beige than in the Matte 01 palette
Minx 2- a warm shimmery slightly metallic light rose gold. Stunning as a highlighter and I used it lightly on my cheekbones as well
Minx 3- medium saddle in the pan but on the eye, not orange in tone; a rich chocolate brown with intense pigmentation
Minx 4 Metallic shimmery bright copper, no slip, no fade a little goes a long way but I love the drama
Minx 5 Satin to Matte dark brown with slight reddish undertone… used wet as a liner it's perfection
Minx 6 Rosy shimmery medium plum that I prefer wet, but is great for a daytime look
Overall rating: 9.9 out of 10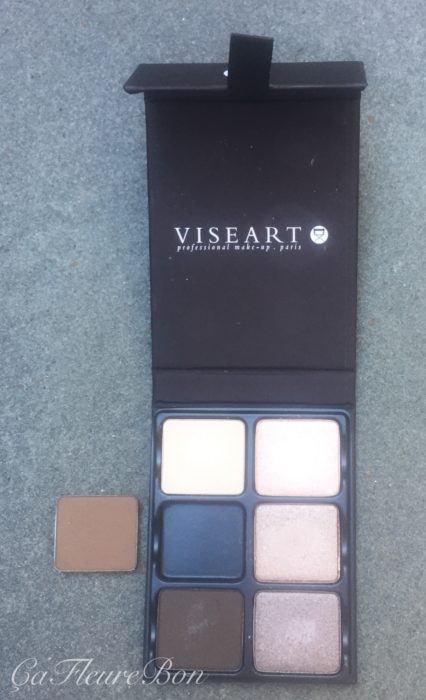 Viseart Theory Palette in Cashmere which I am going to venture a guess and say our readers who love neutral should buy this NOW. I shy away from most neutrals, but this palette will look amazing on any complexion and can be as casual or dramatic as you desire.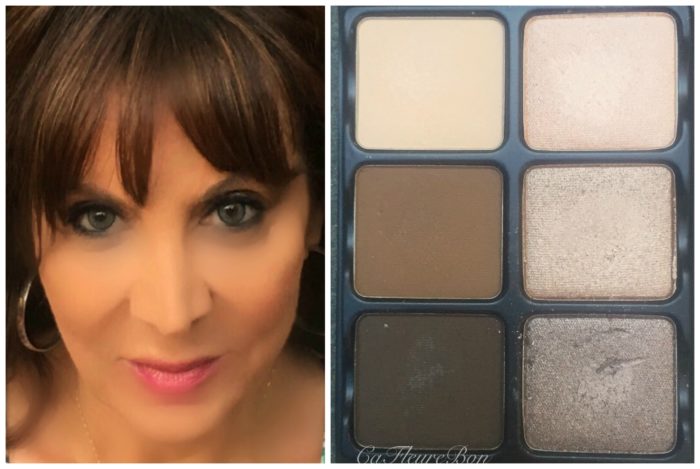 Daytime Smoky Eyes using Viseart Cashmere Palette ( # 2 on my cheekbones lightly applied and #3 for my brows) natural sunlight no filters (Photo of me by my neighbor Ted at 7:30 AM)
Cashmere 1 – creamy matte lightest beige with a silky texture
Cashmere 2- Light shimmery beige with neutral to golden undertone. Like candlelight for the eye. Brightens your entire face. Applied dry or wet it is a work horse. Also can be used sparingly as a highlighter for the face. Amazing color payoff.
Cashmere 3- Neutral medium to dark brown with excellent pigmentation. I used this shade to fill in my brows as well as in the crease.
Cashmere 4- silvery medium taupe with a frost finish. This is not highly pigmented but has a beautiful sheen and longevity.
Cashmere 5- dark charcoal brown when with grey undertones. Beautiful used as a liner or to smoke out your eyes.
Cashmere 6- medium shimmery taupe with noticeable silver undetones. Buildable color and not too dramatic for day.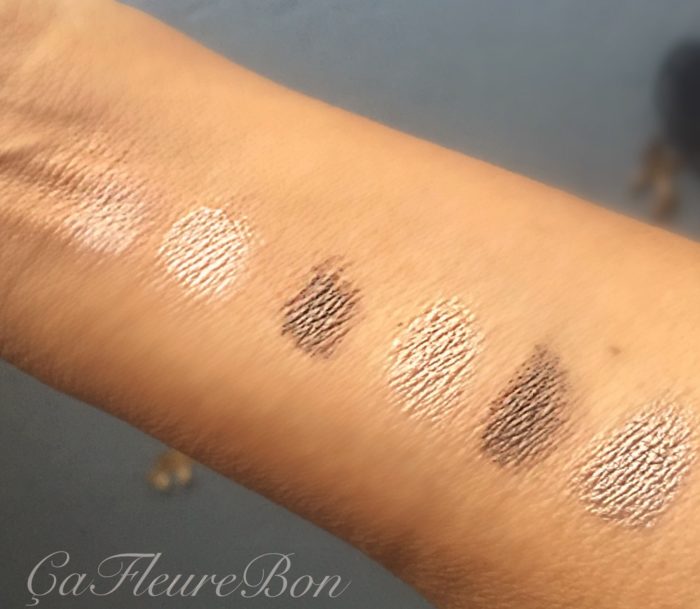 Top to Bottom 1-6 applied wet
Overall Rating 9.9 out of 10
I took away .01 because the cover of the palettes show a little dust and fingerprints. The colors themselves do not budge or transfer and the plastic cases keep the colors from smudging on the inside. Would love a mirror if Viseart wants suggestions, as that would be back of a cab perfection.
Disclosure: I received Minx and Cashmere from Viseart; opinions my own
–Michelyn Camen, Editor in Chief who is lemming for Chroma
Do you own any Viseart face or shadow Palettes? Do you prefer Minx or Cashmere