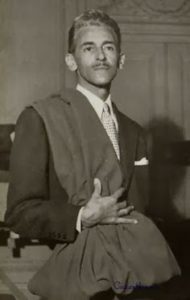 Robert Piguet
In my opinion, the world owes a huge debt of gratitude to Robert Piguet. The man was a visionary who provided the world with not only some of the most influential fashion of the time (he also trained Christian Dior and Hubert de Givenchy), but also more than a few of the most influential perfumes of the 1940's thanks to his collaboration with Germaine Cellier (think Bandit and Fraças). Both of these perfumes were drenched in an air of subversionary glamour that it seems no one could easily forget. I've heard that when Bandit was introduced it was quite the spectacle – replete with knives and guns (and I am sure more than a bit of leather and some knowing winks) and the world loved it.
Unfortunately, Robert and his house met an early demise with his house closing in 1951 and his death in 1953 at only 55 years old. Fortunately, his perfumes lived on along with his classic (yet futuristic), elegant, and subversive spirit. The 50's brought us Baghari and Calypso. The 1960's gave us Futur and, the first masculine fragrance for the house, Cravache. Today the name of Robert Piguet is still alive thanks to Fashion Fragrances & Cosmetics Ltd. The company has reintroduced new versions of many of the classic fragrances as well as a large collection of new fragrances bearing the Robert Piguet nameplate.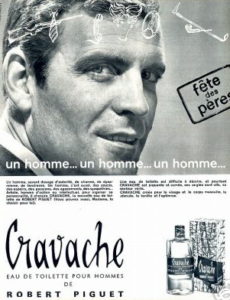 Vintage Ad Cravache de Piguet 1964
Of all the reintroduction's, I have been most keen on exploring Cravache. The name itself piques my curiosity as it evokes the thought of horseback riding in my mind (a much loved personal pastime for me), but, moreover, it refers to a whip, or the act of being whipped (sadomasochism, maybe?). Of course, how this name and notion can be taken can be vastly different to each individual, but I prefer to think that a double meaning was exactly what this was all about. For me, it's all about leather, masculinity, and a whole lot of sexiness.
Thanks to the Perfumed Court, I was recently able to fully experience the original version of Cravache ( I am a bit perplexed as to who is responsible for this creation.Try as I might, every avenue I took came up with no definitive answer to its creator. Nonetheless, whoever made it did a mighty fine job).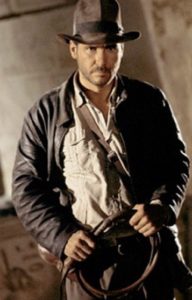 Harrison Ford as Indiana Jones in Raiders of The Lost Ark 1981
We are greeted with a burst of citrus and aromatic herbs. Although the more citrusy aspects may have dissipated a bit with age, there is no doubt they are still there. Bergamot plays the central roll, but there are certainly elements of orange that shine through. Most notably, there is a very distinct (read…sexy) leather present – a very dry brown leather to my nose.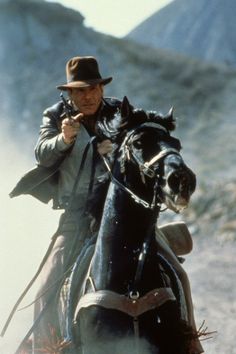 Indiana Jones on Horseback: Raiders of the Lost Ark
As a matter of fact, the initial blast almost immediately reminded me of one of my very favorite movie characters, Indiana Jones. I know, this fragrance would not have been around at the time of the character, (1936), but it is precisely what I could imagine him smelling like while horseback in Raiders of the Lost Ark.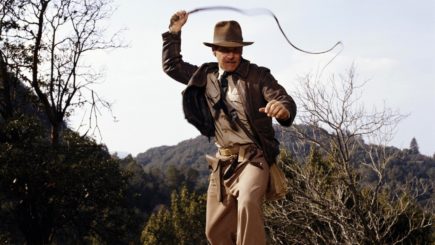 As the fragrance warms up the more aromatic facets come to the forefront. There is very strong lavender and basil accord that I find interesting. It seems to hide and pop out again depending literally on body temperature. The warmer it is, the more it shines. It performs best in action. Mingled through the mid are spicy/woody aspects (à la geranium and a dash of carnation) and florals (dark rose and jasmine). As we move into the base, oak moss and patchouli are the first to rise up – almost in triumphant manner – all wrapped up in that unmistakable and downright rugged leather. Many, many hours the very last vestiges of leather are still rather strong, but mingled with oak moss and vanilla. Frankly, it wears like a beast. There's no doubt whatsoever that this fragrance can clearly be labeled as a very aromatic leather chypre of awesome proportion. One thing is for sure, this is sexy and adventurous man material here.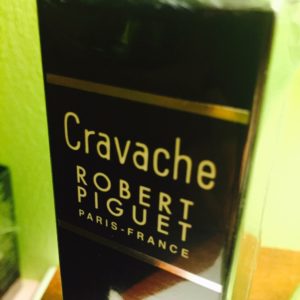 Aaron's bottle of Cravache (2007)
In 2007 Cravache was revisited and reimagined by the very talented Aurelien Guichard. As with the other reintroductions, the goal was to make the fragrance as close as possible to the original. Immediately out of the bottle the similarity is apparent. As with the original we greeted with a burst of citrus and aromatic herbs that is almost the same (I believe it's a bit brighter thanks to its younger age). However, after a few minutes there is something noticeably absent and something else much more present. The herbs here are most definitely more in the forefront – with clary sage playing the central role and lavender following closely behind. The sage and lavender here are very, very aromatic and most certainly showcases the minty aspects of both (there may be a hidden mint note in here too). What's missing are the leather and floral notes and, while there is a spicy note present, it is a much different presentation than the original. Instead of geranium and carnation, the spicy role here is taken over by a nutmeg note. What's interesting is that it acts similarly to the way basil worked in the original. It will make itself known at times, but really starts shining when your body temperature is warmer. When it does warm up, the citrus aspects also start to shine very well in concert with it (which I find quite nice).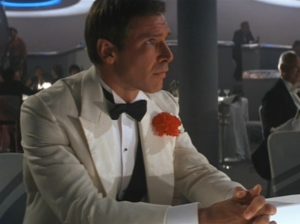 Harrison Ford: Indiana Jones And The Temple of Doom, 1984
As we move into the base, the fragrance becomes much drier with a very nice vetiver and patchouli (with only a tad of oak moss) that projects nicely, but doesn't stray too far from the skin as it fades away slowly. In the end, what we are left with is what I would consider a finely crafted woody-aromatic chypre of great quality. Going back to Indiana Jones, I see him in a very dashing dinner jacket (as in Indiana Jones and the Temple of Doom) for this one. It truly smells of class and sophistication.
In comparison the two do indeed smell very similar in ways.However, the absence of leather in the modern version certainly makes for a different experience. With either there is a definite "masculine" vibe, but the new version misses the more subversive/adventurous feel of the original. In other words, it still goes there, but that whip is left behind. The good news is…they both perform like champions on their own merit. My final opinion – any random "Mr. Jones" would ravish in either.
Disclaimer: Vintage Cravache decant kindly provided by The Perfumed Court- thank you! The new Cravache is from my own collection. Opinions are my own.
–Aaron Potterman, Contributor and Vintage Perfume Expert.
Art: Michelyn
Thanks to The Perfumed Court we have 2.5 ml glass sprayer of vintage Cravache, which is very rare and hard to find for a registered reader worldwide. To be eligible, you must be a registered reader and sign up for The Perfumed Court Newsletter (they are having a 30 percent off sale January 7-8) so please take advantage. Have you seen Indiana Jones movies, where do you live, and what you think of Aaron's review. Draw closes 1/9/2016
We announce the winner on our site and on our Facebook page, so Like Cafleurebon and use our RSS option…or your dream prize will be just spilled perfume