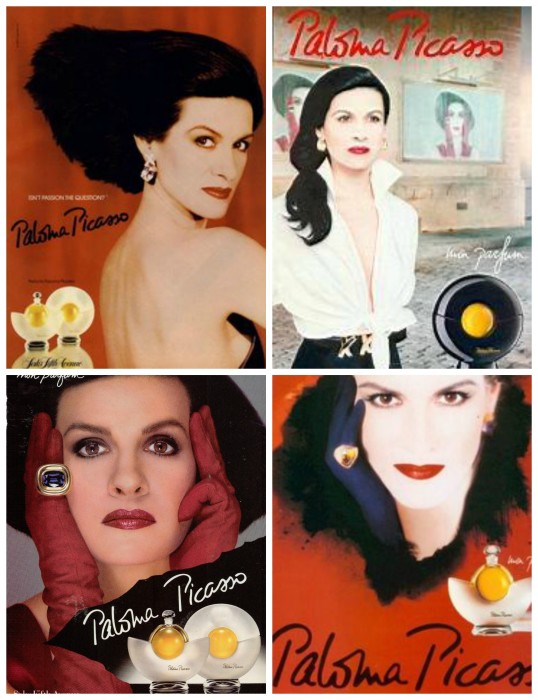 Paloma Picasso Vintage ads (far left bottom, Richard Avedon, 1984 Saks Fifth Avenue Launch
A box of Paloma Picasso was always something that I tended to ignore in the past. Seeing a box of it sitting on a shelf elicited no interest whatsoever from me at all. It was one of those perfumes that was everywhere, but nowhere at the same time. I would see it at mid and upper range department stores, drug stores, and discounters all time with no fanfare whatsoever. It was if it was one of those perfumes that were just a given and carried only because it was being made and somebody had to sell it. So, it would be put out on the shelf just to see what happened. I never bothered to even try it.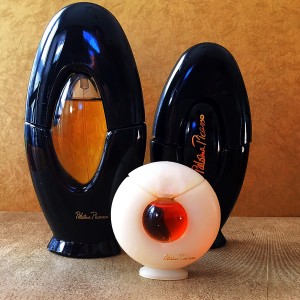 Aaron's three Mon Parfum "Paloma Picasso" perfumes
It was only a few years ago that the full scope of Paloma Picasso hit me. I came across a little bottle of parfum at a vintage shop that looked different than the black egg bottles I have seen everywhere and then some. I made a mental note of it and went about my merry way searching for all of the "real vintage" I could find. The next day I was speaking to a friend of mine about my adventures and mentioned the Paloma Picasso. She said she considered Paloma Picasso to be one of her favorite scents ever. Was she referring to the mystery bottle or the ones at the store? After a thorough grilling I deducted it must be the ones at the department/discount stores because she said the bottle was egg shaped with black plastic. I then decided to go to the discounter nearby to try it at long last. It was indeed in the black plastic egg bottle with a clear glass bottle in the center. I sprayed it and was immediately dumbfounded. Why on Earth have I been ignoring this gloriousness coming from this bottle? What a lovely Chypre! It was an epiphany – I went ahead and bought it and left the store with a firm new admiration and understanding of why it was everywhere. Still, I felt there was something missing in this puzzle. That different bottle at the shop was driving me absolutely mad – I set my sights on getting it the next time I went to the said shop. I just knew it had to be different than what I just bought.
Paloma Picasso at Tiffany & Co. New York, 1980. Photo Roxanne Lowit.
The next weekend I was at a flea market and came across another bottle that looked different from the other two. I was definitely confused. This one was the egg shaped bottle like the new one, but it was pure black. I inquired about it and the woman said she thought it was from the 80's. I sprayed it on and noticed a similarity to what I tried at the store, but it was markedly different. It was a bit lighter and better put together, but yet oddly the same. Was it a different perfume? I decided it couldn't be and being that it was different, I decided to buy it. The plot was thickening. I then made the 2 hour trek to see if the other bottle was still at the shop.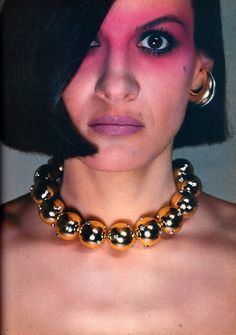 Paloma Picasso, photographed by Richard Avedon for American Vogue, November 1980.
I arrived and sure enough it was still there. This bottle was white frosted glass with a frosted lid and clear glass in the center and had a price tag of $3.50 on it. I snatched it up and went my way. When I got home I opened it up and dabbed a bit on my wrists. Oh my heavens, it was GORGEOUS. This was a floral fruity chypre to die for. It was every bit as good as any of the genre I have ever come across. I thank my lucky stars every single time I put this beauty on!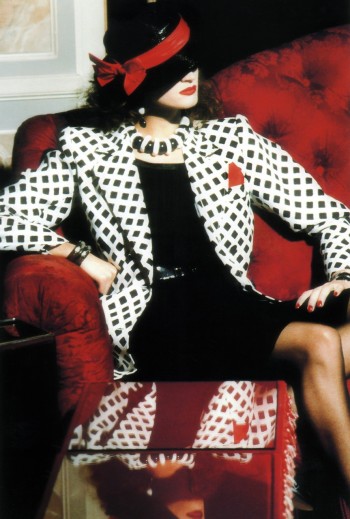 Paloma Picasso Wearing Yves St Laurent, Helmut Newton 1992
At this point I now owned 3 bottles of what appeared to be the same perfume in different bottles with no clear indication of what was what. Online research made me realize that what I had here was all variations of the perfume Mon Parfum by perfumer Francis Bocris all listed as simply Paloma Picasso. I was immediately drawn to the ads – something I had long ignored along with the perfume. They made everything more abundantly clear than words ever could. Suddenly, it all began to make sense. What tied them altogether was simple – it wasn't the bottle – it was Paloma herself! Her dark hair and red lips perfectly matched the red and black box (with gold accents) and the black bottles the perfume was and is currently housed in! Paloma's personal style came shining through. It was a throwback to a time more glamourous, yet classically modern and very tasteful. Getting the dichotomy of this right can be tricky for some; and doing so is a marvelous feet – a sure sign of knowing what is going on both then and "in the then" present. Not surprisingly, the perfume mirrors this dichotomy as eloquently as she did (and still does) herself. Mon Parfum was as modern as the loud 80's as it was representative of 40's demure provocativeness. It hasn't lost is class. There's a good reason why it's still holding its own.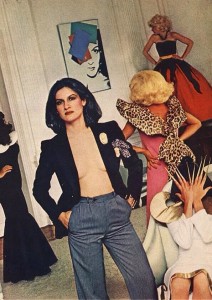 Paloma Picasso Wearing Yves St Laurent, Helmut Newton 1992 (Andy Warhol Portrait behind her)
The perfume itself does vary depending on age. It has been a definite victim of reformulations over the years. However, I am happy to say it is one that overall has survived well. Currently I own three versions – a 2014 EDP, vintage Mon Parfum and Parfum (I gave a dear friend a bottle of the early 2000's formulations away). Of these the white frosted glass is the oldest and is by far the best example. While all share the same basic elements, it is by far the best constructed and has the best development. It opens with a burst of peachy aldehydes and citrus (bergamot and a tad bit of lemon) mingled with jasmine and a rich civet and labdanum/clove/carnation combo that would drive any civet lover into near hysterics.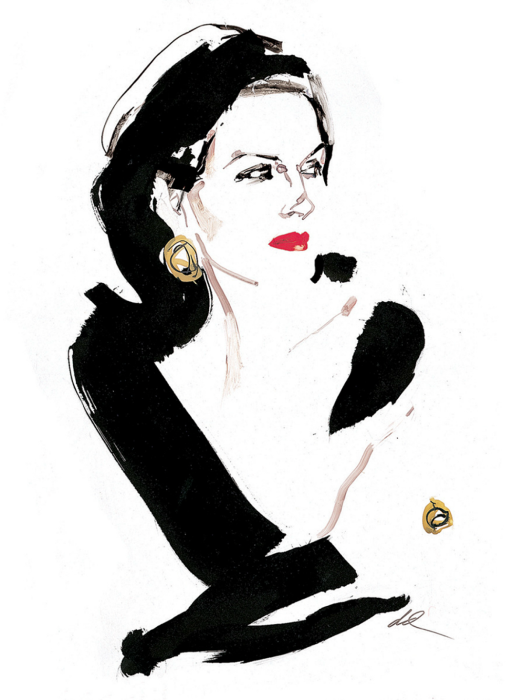 Paloma Picasso Drawing by David Downton, 1999
Next a very pronounced tobacco note emerges that calls to mind a glamourous 40's lady smoking like a chimney and looking fabulous doing it. It's here I can see a Paloma like starlet dressed in Yves St Laurent with dark hair, red painted lips, and elegant jewelry (Paloma is also well known for her jewelry design with YSL and Tiffany Co.) smoking a sultry cigarette amongst a throng of well-dressed men all ogling over her every move. It's a lovely sight to behold in the mind. Soon thereafter a deep dark rose emerges along with a hefty dose of labdanum and hyacinth. It's here that a wonderful honeyed effect comes into play and castoreum becomes evident. I absolutely adore this stage. In the background a mixed bag of florals interweaves through the cloud at times. I get traces of ylang-ylang and the sweetness of lily of the valley every so often. As the dry down progresses patchouli and oak moss are a plenty and makes for a lovely end.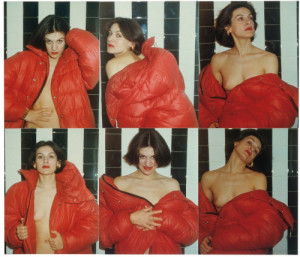 Paloma Picasso by Antonio Lopez, 1975
The Mon Parfum version in the all black bottle is markedly different than the EDP and the current formulation. The main difference is that it lacks the animalic notes prevalent in them. This is not a bad thing and would certainly make it more enjoyable for those that do not like that aspect of the perfume – I myself am not included in this group. This is not to say the animalic facet is not there. Here a dose of musk takes the place of civet and castoreum very nicely. The honeyed effect is also rather downplayed and the aldehydes are considerably toned done. There is much less fruit and the peach note in them is not at all evident as with the parfum. All in all it makes for the impression of a very clever segue from the green musky 70's into the 80's. Another key difference is the dry down, in this version it is much more powdery than it's relatives due to an increased presence of sandalwood and an iris note.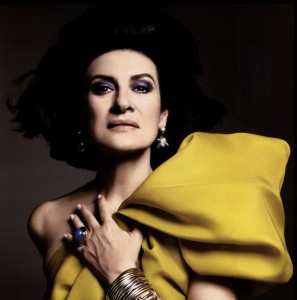 Paloma Picasso by Mario Sorrenti Vogue Paris March 2009
As for the more modern versions…the bottle I have dated as made in October 2014 is downright marvelous. It is most certainly a worthy contender to the original parfum. All the classic elements are there and in full effect (although to a very picky nose, the synthetic counterparts are evident). The aldehydes here are a little less fruity and much more floral, but, overall, it doesn't make much of a difference in comparison. That said, it's just as rich and opulent as it ever was within the guidelines of current regulation. One thing is for certain, whichever one you come across, any of them are worthy of having as an example of the genre.
Aaron Potterman, Contributor, Perfumer for Maison 303 and Vintage Perfume Expert.
Art Direction: Michelyn Camen
For our draw we have a 5ml decant of Vintage Mon Parfum Eau de Parfum (1984) for a registered reader in the USA. To be eligible please leave a comment with if you have ever tried Mon Parfum from Paloma Picasso, your favorite fleamarket fragrance find and what you enjoyed about Aaron's review. Draw closes November 9, 2015. There is no spilled perfume.