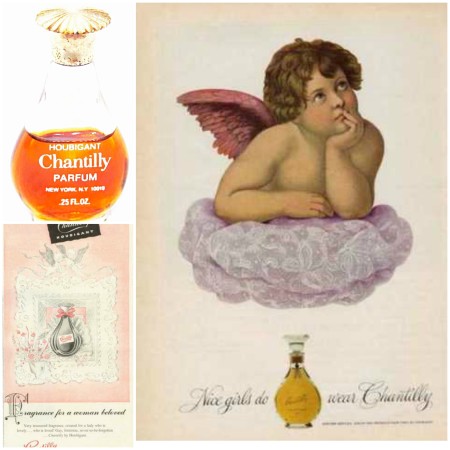 Top Right: Houbigant Parfum 1960s from Aaron's collection, bottom Vintage Chantilly ad 1955 and far right Nice Girls do wear Chantilly 1965 ad
Of all the perfumes of yesteryear that hold a special place in my heart, Chantilly is my absolute favorite. There is just something about this lovely scent that speaks to me in a way no other does. Apparently, this must be the case for many, many people as it is still beloved today by both young and old as it is still available on a wide scale. Why might that be?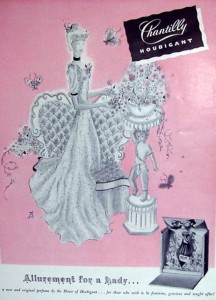 Vintage ad 1942 Houbigant Chantilly
The story begins in the late 1930's with the nose of Marcel Billot for the house of Houbigant. It was the house's intention to make a perfume that would augment the illustrious successes of Houbigant's former perfumers: Paul Parquet (Fougère Royal and Le Parfum Ideal), Robert Bienaimé (Quelque Fleurs and La Belle Saison), and Paul Schving (Essence Rare). The perfume was to be upmarket, but accessible (something the house was working very hard towards during the war as finances for many were strained). The result was a perfume that borrowed from many of these hits in a new yet tried and true way; its name was Chantilly.
Following research during the late 1940's, the perfume was officially launched in 1941. It was an almost immediate hit. The perfume itself sat in the range of Oriental, but also had a firm foothold as a Chypre. Either way the perfume was darker in character, but lighter in appearance. The original version is certainly more of an Oriental. In this form it fit in perfectly with other greats of the Orientals such as Guerlain's Shalimar and Coty's Emeraude, but stood firmly on it's own. There is undoubtedly a hint of what leather chypre was to become shortly thereafter. It was chic and exotic at the same time prim and proper. In other words, it fit the changing times at exactly the right moment in both fashion and societal terms.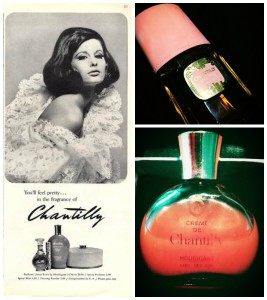 Chantilly Vintage ad 1964 Top Right: From Aaron's Collection Chantilly Spray Cologne Mist 1970s and Creme de Chantilly early 1950s
The perfume itself is fairly classical in structure (on paper and in theory) for perfumes of the time. It contains top notes of bergamot and lemon; middle notes of clove, carnation, jasmine, ylang-ylang, rose, neroli, and orange blossom; base notes of tonka bean, musk, benzoin, oakmoss, vanilla, vetiver, patchouli, leather, and sandalwood. The beauty of the perfume (and how it deviates from the classical) is how it develops. It was nothing short of revolutionary in ways. On immediate application, it goes on with the distinct impression of a powdery Oriental – It's lush and beautiful, shiny, and bright (It seriously drives me crazy in love). For the majority of the time it keeps this impression of brightness, but in the far, far reaches of its final stages the darker Chypre characteristic comes out with a hint of patchouli. It's completely mesmerizing. In my opinion, this makes the perfume a masterpiece in design, form, and function.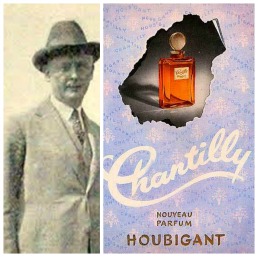 Perfumer Marcel Billot creator Houbigant Chantilly
Another striking feature is how none of the notes dominate at any particular time. How all the aspects intermingle in accord is nothing short of amazing. The blending of the notes is superb. Most astoundingly, it still develops and is not linear at all. The longevity is absolutely astounding even in vintage cologne form. In the right circumstance, it is quite literally days before the end result of vanilla kissed sandalwood and patchouli is obviously evident. Frankly, there are very few perfumes out there that can pull this feat of as well as Chantilly. My hat goes off the creator, Marcel Billot. I can not thank him enough for the inspiration for the art of perfumery and the beauty he brought into the world with this fragrance.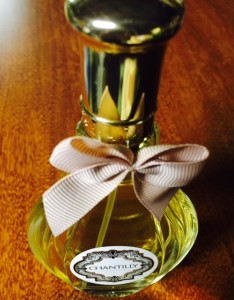 From Aaron's Collection 2014 Chantilly in vintage style bottle
Over the years the perfume has changed little even with the perfume changing hands from Houbigant to Dana. There have been slight changes in the formula over the years, but nothing too drastic. During a period of the late 80's and 90's (when Houbigant was in its death throes and began licensing its name out) there can be vastly different variations of quality. Even so, Chantilly is still Chantilly and can easily be recognized regardless. The newest version has a slightly different composition than the vintage due to regulation reformulations. There is an added note of tolu balsam that was absent from the original, but, in all honestly, does nothing but fill in some gaps which may have been evident otherwise. The notes are much more discernible than the older version, but that magical mixing of them all is still there. One other item of note is that there is higher concentration of patchouli. Where it only shows itself in the very final stages in the the vintage, it comes out quicker with the new making for a different effect in the mid notes. Overall, it's lighter in structure and not as rich, but, to my nose, that is nothing to fret about. It's still darn good and it remains my favorite perfume ever made to date in any form and brand it has its name on.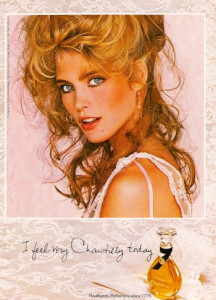 Kim Alexis "I feel very Chantilly today" ad 1983
So, if you want to smell my very favorite perfume in the world, it won't take much money and you won't have to go very far. The good thing about Chantilly is that you can find it almost anywhere Dana fragrances are sold. I would suggest trying it in its newest form, but, by all means, if you can find a bottle with Houbigant emblazoned across it, it may be worth your time to buy it. You will most likely appreciate the slight differences. If you haven't smelled it, I invite you to get out there and try it. If you think it's old, think again. When I wore this recently, I had many compliments. The next thing I knew, Chantilly was being worn by both men and women in my circle of colleagues from 18 year old guys to 80 year women! Good is good…and this is STILL good.
From my own collection
-Aaron Potterman, Contributor and Vintage Perfume Expert
Editor's Note: Fragrance X.com is offering 15% off any perfume including Chantilly and fragrancenet.com is offering 30 percent off so it might be a great time to give Dana Chantilly a try. Ebay is a good source for Houbigant Chantilly.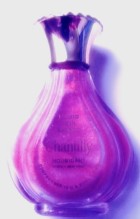 Aaron's Chantilly Sachet bottle 1950s
We have 3ml of the Houbigant Chantilly Sachet early 1950s which Aaron belives is particularly exquisite for a US registered reader. To be eligible, please leave a comment with what you learned about Houbigant Chantilly, if you have ever worn it and any thoughts. Draw closes 2/15/2016.
Due to the rarity of the sachet…There is no spilled perfume.