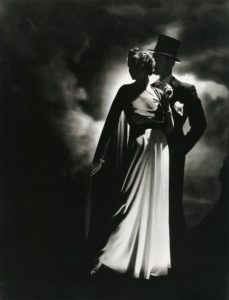 Photo: Horst P Horst (late 1940s)
I am a huge fan of a good romance. I am most certainly a "new romantic" at heart. So, when I discover a nice story about such things, I immediately start digging for more information. While there are many perfume built around the concept of love, romance, and family, there are few that stand out more than others (think of the Houses and perfumes of Caron and Guerlain, Estee Lauder, and most recently Blocki Parfums and Le Jardin Retrouve,(my reviews here). However, amongst them all, the house of Evyan quietly hides its love story.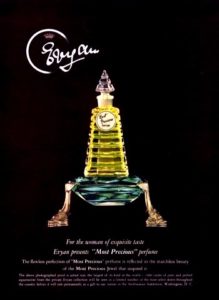 Evyan Most Precious Parfum vintage ad (source Evyan)
The house of Evyan was founded in New York in the late 1930's by chemist Baron Walter Langer von Langendorff as an American answer to the French perfume industry. The name of the company was actually a contraction of the love of his life, his wife Evelyn Diane.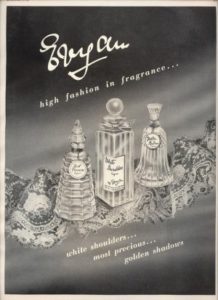 Evyan Most Precious, Golden Shoulders and White Shoulders 1957 Ad (source: Evyan)
He wanted his perfumes to be a celebration of his love for her as well as the art of perfumery. Evyan went on to produce dozens of perfumes over the years, but all were eclipsed by his first creation, the interminably lovely White Shoulders (released 1945).One of those lost perfumes was Most Precious (c1947-1951); which, in my humble opinion, ranks right up there in greatness to White Shoulders. In certain respects it contains some of the DNA of White Shoulders, but stands as almost a sister fragrance of sorts.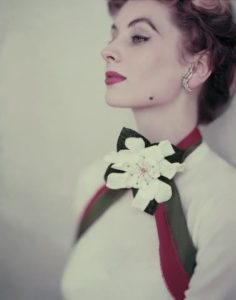 Suzy Parker, 1952 Photo Horst P. Horst
The fragrance opens up with a bouquet of white flowers that immediately grabs your attention as being heady, lush, and verging on one of the best presentations of gardenia that this nose has ever come across. It is absolutely stunning in its majestic appearance accompanied by oh so sweet muguet and stately jasmine on a bed anise and tarragon that mixes so eloquently amongst the white cloud of flowers as to only lend a bit of fresh cut licorice/herbal leafiness to the composition.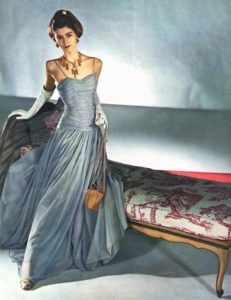 Carmen Dell'Orefice by Horst P. Horst 1940s
As the mid notes start to develop, more floral aspects begin to emerge; a powdery purple heliotrope is entranced in the spell of golden ylang ylang. Orange blossom weaves its magic now and again and acts to extenuate the more indolic roll of jasmine and gardenia. This perfume is not heavily indolic (it does not cross that line into my beloved sexy naughtiness) but it is, nonetheless, alluring and quite refined.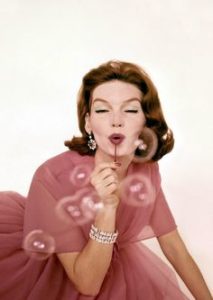 Horst P. Horst. Vogue, 1959.
Most Precious Parfum links the fragrant decades of the 1930s-40's into the 50's quite well. As mentioned earlier, one can discern elements of White Shoulders, but in a tamed fashion– like the little sister of a fully grown woman. It's a mirror of the 50s' ideal 'good girl' (or what she was supposed to be).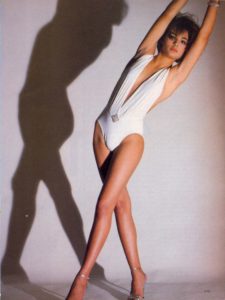 The Body Equation Photo Horst P. Horst Model: Carol Alt US Vogue November 1983
Moving into the base, the fragrance keeps its floral tones while slowly fading away into a very light skin scent. Gentle wafts of the final vestiges of florals are mingled with slightly vanilliac tones of tonka bean What I think is of particular note, is overall Evyan Most Precious seems very contemporary as it seems like a precursor to body mists/sprays popular to the masses today. It starts out strong (very strong) and fades out slowly but surely into a very personal fragrance. The quality speaks for itself.
Notes: tarragon, heliotrope, anise oil, lemon, lily of the valley, ylang ylang, jasmine, orange flower, gardenia, rose, tonka, coumarin
Disclaimer: Opinions are my own based on product from my personal collection and decant kindly provided by The Perfumed Court.
–Aaron Potterman, Contributor and Vintage Perfume Expert.
Art: Michelyn Camen, Editor-in-Chief: All photography by Horst P. Horst the iconic American fashion photographer, known for his work with Vogue (unless otherwise specified)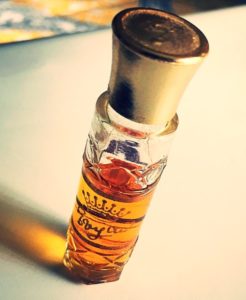 Evyan Most Precious Parfum (Aaron's Bottle)
Thanks to The Perfumed Court we have 2.5 ml glass sprayer of vintage Evyan Most Precious EDC, which is very rare and hard to find for a registered reader worldwide. To be eligible, you must be a registered reader and sign up for The Perfumed Court Newsletter . Do you like skin scents, where do you live, and what you think of Aaron's review. Draw closes 2/7/2017
We announce the winner on our site and on our Facebook page, so Like Cafleurebon and use our RSS Feed…or your dream prize will be just spilled perfume