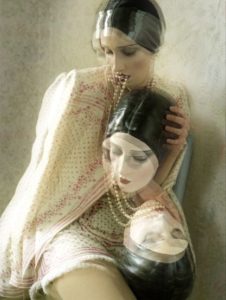 Being a vintage fragrance buff and complete perfume lover can sometimes be a daunting task. I mean there are literally millions of different fragrances out there just waiting to be discovered! The reality is with so many new ones being introduced daily, it's even worse than ever! Perhaps it that very challenge that makes me adore it so much? Hmmmm, well, whatever the case maybe, in my quest to discover hidden gems (both new and old) there is often one thing that pulls my attention in more than anything else-civet. I have got to admit that most every time a bottle of fragrance crosses my path, it's that single note that's topmost on my radar. Sadly, with restrictions and the necessity to use its synthetic counterpart (I still love it), finding a scent true to the natural thing is hard. Still, I'll take what I can get despite how it's made…just as long as it's there! I love civet!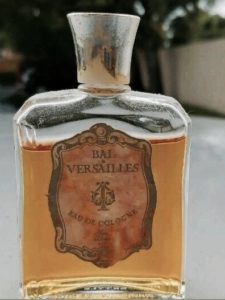 Jean Desprez was the perfumer for Bal à Versailles Bottle from the 1960s Aaron's collection
I think my obsession with the civet note stems from one of my earliest perfume discoveries. This was none other than Bal à Versailles by Jean Desprez (I do have to tip my hat to Jicky and Korous too though). It was one of those fragrances that I often found empty bottles of in antique stores both near and far. One afternoon I found a micro mini parfum with the smallest little dab of juice in the bottom. When I opened it I was instantly floored at the carnal delight that wafted out of that time capsule. What a grand gloriously delicious and decadent creation! My mind instantly brought up pictures of powdered faces and elaborate costumes doing exactly what the name says…engaging in strange behavior at the ballroom in Versailles. Marvelous.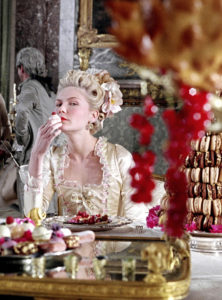 Kirsten Dunst as Marie Antoinette in the movie by Sofia Coppola 2006
The fragrance itself was introduced in 1962, but to me seems much, much older. I can no doubt imagine this as hundreds of years old and something that someone like Marie Antoinette would have worn proudly with wild abandon. I also have no trouble picturing Napoleon getting a little more than frisky with Josephine whilst this drenched their bodies.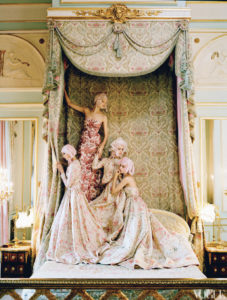 Kate Moss for Vogue 2012 Photo Tim Walker
The thought of this adorning the masses at a gigantic party in Versailles and everyone getting romantic or down right scandalous is right on the money. I must give it to M. Desprez, he knew what he was doing and he had a heck of a way of marketing it.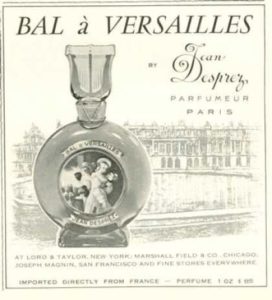 Bal a Versailles Jean Desprez Parfum (1972)
Over the years I've gone through several bottles of different formulations of the fragrance and find them all to be exquisite. However, the version I am most enamored with is the cologne concentration. There is just something so otherworldly to me in the way it works.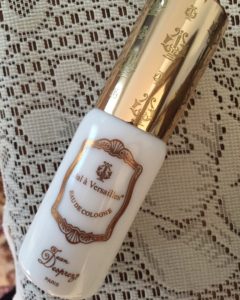 Bal à Versailles Eau de Cologne Aaron's collection
The EDT, PDT, and parfum versions over the years are also great, but to my nose, it's all about the way the cologne works. Therefore, I have focused my admiration on this particular formulation, but the EDT is also excellent, actually they all are!.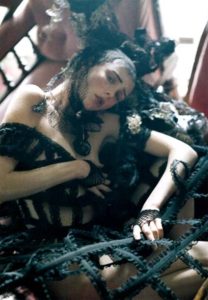 Edie Campbell for Love Magazine 2014 Tim Walker
The fragrance starts with a beautiful blast of bergamot complemented by various other citruses dressed in a mélange of light florals, powder, and a very distinct civet. The immediate blast brings to mind a bit of Shalimar and Chantilly (both of which are among my top fragrances ever), but it's in a whole league of it's own, and for the most part, it's where the similarity ends. Bal à Versailles right out of the gate is much more animalic with more pronounced civet muskiness than most anything out there.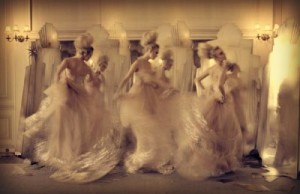 Tim Walker for Vogue UK 2009
Now, when I say it's complemented by a mélange of flowers, I am not kidding. The marvelous thing about it here is that not a single one is screaming for attention. You get hints of everything, but, like a chorus, you can make out certain subtleties in the wave so to speak. A very indolic jasmine is one of them- it mixes so well with the civet…it drives me absolutely mad with adoration! Right here is where I am past the point of being smitten. I very quickly start to fall while a passion starts to build…I am truly all caught up in the ecstatic rapture and wanting more.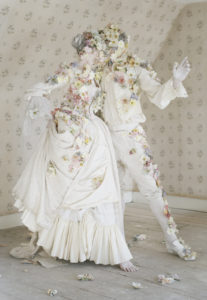 Tim Walker and Rhea Thierstein for Italian Vogue
As I'm taken in and allowed to go deeper, hints of vanilla and benzoin act to sweeten the deal in what I can contrive to be an act to make it all seem a bit more tidy. Powdery aspects of amber and sandalwood begin to become more prominent and, in a certain way, act to keep everything restrained as well; however, in my little fantasy, it's really doing nothing but seducing me even more! So, it can try to play nice (and it shows) but, oh let me tell you, this is naughty any way you go around it. . In my mind I am thinking rather intently, "I am yours." Then it's all out passion…with a tad bit of leather involved too….oh my. We all know naughty can be nice. Wink, wink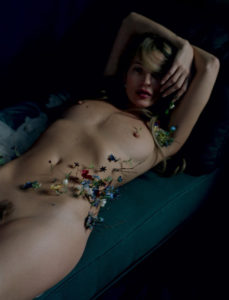 Kate Moss for Love Magazine Tim Walker
After the passionate foray plays itself out a dark patchouli rises to welcome vanilla into its own. Resinous woody aspects mingle in the background of the powder and hints of musk arise in the midst, but the undoubted champion is still civet.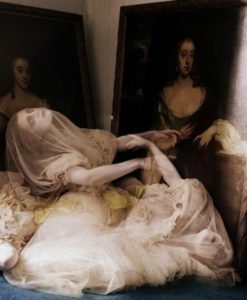 Dreaming of Another World Guinevere van Seenus by Tim Walker for Vogue Italia March 2011.
As time wears on the fragrance moves on into certainly acts to be more private – acting more like a skinscent meant more for personal pleasure. It's rather fitting after the experience really. It's a fond memory to which one will never forget and adds to that carnal desire to repeat and enjoy all the pleasures again and again. I am left feeling completely satisfied on many levels.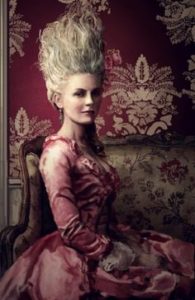 Kirsten Dunst as Marie Antoinette for Vogue Magazine
The fragrance itself has been listed as a favorite of royalty and celebrities (Michael Jackson is said to have based his own perfume on it) and its appeal has stayed fairly intact. It hasn't been spared the turmoil of modern business though. Like many classic houses, Jean Desprez has gone through many different owners.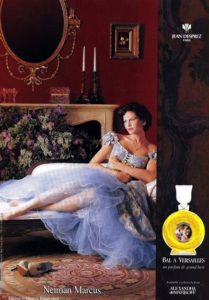 1996 Ad for Bal à Versailles
Fortunately for us, Bal à Versailles stayed fairly close to its roots despite the ownership. However, the most recent does not have the longevity of the vintage or is it as animalic. That by no means makes it bad. On the contrary, it's fantastic! Sad news is that it has apparently been discontinued in the past year…when it's gone it's gone.
Aaron Potterman, Contributor and Vintage Perfume Expert
Art Direction Michelyn I used many of the fashion editorials by Tim Walker of Versailles as well as stills from the movie Marie Anotinette
Thanks to The Perfumed Court we have a 2.5ml Vintage sprayer of The EDT or a 1 ml of the pure perfume for a registered reader anywhere in the world. To be eligible Please be sure to subscribe to The Perfumed Court newsletter, Also as a side note there is a current promotion for 35 percent of Vintage fragrances you may want to take advantage of here but the offer expires 10/2 EST
Please leave a comment with what you enjoyed about Aaron's review of Bal à Versailles, which version you would like to win EDT or Pure Parfum and where you live. Draw closes 10/5/2016
We announce the winners only on site and on our Facebook page, so Like Cafleurebon and use our RSS option…or your dream prize will be just spilled perfume