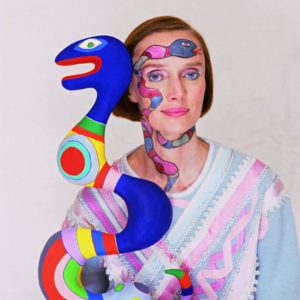 "Painting calmed the chaos that shook my soul." – Niki de Saint Phalle
More than 50 years before sexual abuse and gender bias were held up to public scrutiny by media and prominent celebrities, French/American artist Niki de Saint Phalle (1930 – 2002) was shedding light on the feminine experience and exorcising the demons of her fractured childhood. Painting, sculpture and performance art served not only as defense but also as outlets for the artist's repressed anger as did her Niki de Saint Phalle perfume. In 1961 she applied color to sculptured reliefs using an explosive "paint by bullet" technique.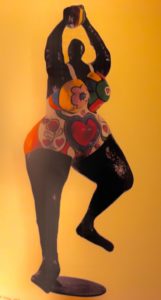 Black Venus 1967, Whitney Museum of American Art
Saint Phalle also enlisted the aid of legions of fanciful monsters with huge gaping mouths, strange hungry firebirds and plump, flamboyant giantesses called Nanas ("dames"). With the Nanas, it seems that the tiny ancient figurine, the Venus of Willendorf, somehow gave birth to a protective army of massive mamas.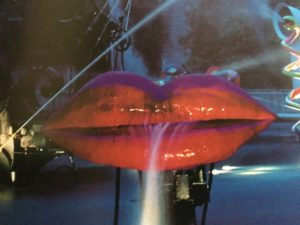 From Jean Tinguely and Niki de Saint Phalle La Fontaine Stravinsky. Photo by Leonard Bezzola
Perhaps these larger than life sculptures helped the artist come to terms with the dark secrets of a traumatic childhood scarred by incest.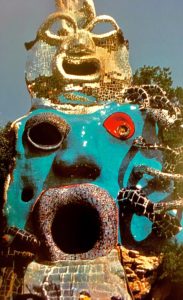 The High Priestess from the Tarot Garden under construction. Photo by Peter Runnquist
"I decided to be my own entrepreneur. If Niki de Saint Phalle perfume succeeds I can finance the garden." – Niki de Saint Phalle
In addition to the personal catharsis and social activism afforded by her art, Niki de Saint Phalle was preoccupied with the occult. This fascination inevitably drew the artist to the Tarot. In 1979 she began work on her magnum opus – The Tarot Garden (Il Giardino dei Tarocchi) located in Tuscany near the town of Capalbio. Inspired by the 22 major arcana of the tarot deck, Saint Phalle's Tarot Garden was to be built on 14 acres, on the site of Etruscan ruins, featuring an assemblage of sculptures, some as large as multistory buildings.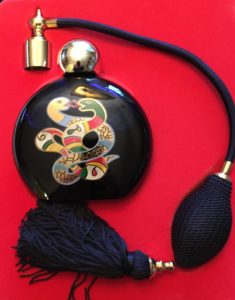 Niki de Saint Phalle vintage perfume from Gail's collection
To finance this monumental project the artist turned to another art form – perfume! With the help of Carlo Biotti, then president of Jacqueline Cochran Cosmetics, the resulting 1982 fragrance was indeed a success. Sales of Niki de Saint Phalle perfume, her strange eponymous brew, resting in cobalt blue bottles topped with colorful intertwined snakes, provided the seed money for her supernatural garden. The Tarot Garden was completed in 1998 and has seen thousands of visitors ever since. Meanwhile, Niki de Saint Phalle perfume, is still available but has been re-licensed at least twice. Despite reformulation, the newer versions manage, to my nose, to retain much of the vivid, provocative punch of the original
."Most people don't see the edginess of my work. They think it is all fantasy and whimsy." – Niki de Saint Phalle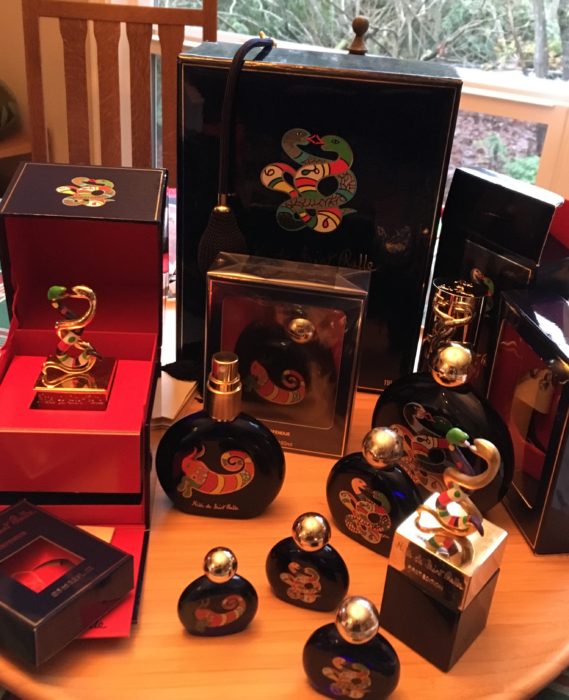 Gail's collection of Niki de Saint Phalle perfume. The original Jacqueline Cochran versions of the Snake bottle Perfume and EdT are in the right front of the photo.
If the edginess of the artist's vision is lost to some, there is no mistaking the edge and sharp olfactory bite of Niki de Saint Phalle perfume. Lovers of powerful chypres, of the green and fantastic will be drawn to Niki de Saint Phalle, no matter the iteration. I own every strength and formulation but tend toward the Astrological series entitled Eau de Defendue.
Jean Tinguely and Niki de Saint Phalle La Fontaine Stravinsky
Niki de Saint Phalle Perfume Eau de Defendue opens with a blast of dry artemisia, mint and metallic tagetes, a powerful courageous statement that announces to everyone "I am here, deal with it!" If you need a perfume power suit, Niki de Saint Phalle will be the perfect fit. Cool, brisk and no nonsense, the opening notes put the wearer in control. As Niki de Saint Phalle perfume matures on my skin the initial sharp, green point diffuses into a bouquet of rosy clove, ylang-ylang and peach married to suggestions of powdery iris and pine. While still fierce and herbal, this phase of Niki hints at icy fruit and cool detached seduction. As I wear the fragrance I find myself in a dream garden of scent; oakmoss hanging from coniferous trees and strange alien blooms dotting the dark forest floor. The arboreal heart of Niki de Saint Phalle perfume stays in place for two more hours before the fragrance loses its focus and relaxes into a"laid back" patchouli laced with sandalwood, amber, pine and musk. Eight hours later I am still lost in the wonderland of NIki de Saint Phalle perfume.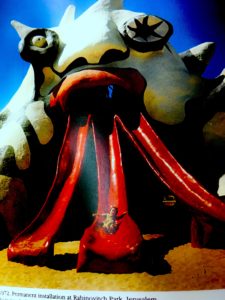 The Golem, 1972 Photograph by Leonard Bezzola Niki de Saint Phalle
"I am in solidarity with all those that society and the law excludes and crushes." – Niki de Saint Phalle
Niki de Saint Phalle's artwork and her feminist perspectives are preserved in public and private collection worldwide. Her sculptures and outdoor installations (Golem, La Fontaine Stravinsky and many others) are beloved features in parks, on university campuses and in museums, showcasing her quirky and effective mode of social activism.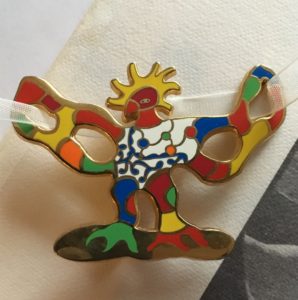 Niki de Saint Phalle Hungry Bird pin/pendant from Gail's collection
I am inspired by her life and her art. Niki de Saint Phalle perfume as an expression of herself, lends me the courage and daring to be true to my personal artistic vision and to create my own slightly edgy world of beauty and fantasy. Notes: Artemisia, mint, woods, jasmine, rose, peach, tagetes, ylang-ylang, iris, cedar, vetiver, sandalwood, patchouli, oakmoss, amber, and musk.
Disclaimer: The vintage Niki de Saint Phalle perfume bottles sampled for this review are from my own collection. My opinions are my own.
Gail Gross – Senior Editor
Art Director – Michelyn Camen, Editor in Chief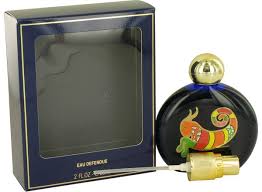 Photo via FragranceX.com
HAPPY BIRTHDAY GAIL!!!
For today's draw Gail, who is the birthday girl is giving one of our reader's a gift. She is offering one 60 ml bottle of Niki de Saint Phalle Eau Defendue Capricorn available to one registered reader in the US (or if you would reimburse Gail shipping to Canada). Be sure to register or your comment will not count). To be eligible, tell us what appeals to you about the art and the perfume of Niki de Saint Phalle, based on Gail's review. Does any one perfume give you the courage to face whatver demons you have personally encountered. Are you a Capricorn? Draw closes January 18, 2017
We announce the winners only on site and on our Facebook page, so Like ÇaFleureBon and use our RSS blog feed…or your dream prize will be just spilled perfume