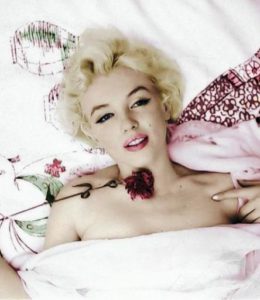 Marilyn Monroe with Carnation
I admit I am a complete and total fan of carnation perfumes and both the Modern and Vintage (1954) versions of Caron Poivre are among my favorites. Carnation is one of those absolutely marvelous aromas that puts my nose into overdrive mode. There is something just so fascinating to me about it. Quite frankly, I find it ridiculously sexy. While in the past couple decades carnation-centric scents seem to have waned, that by no means that it is forgotten. Some modern carnation perfumes that feature the fiery flower that I admire include En Voyage Fiore di Bellagio, DSH Perfumes Oeillets Rouge and Serge Lutens Vitriol d'Oiellet; it seems with this cold winter, I am craving carnation perfumes again.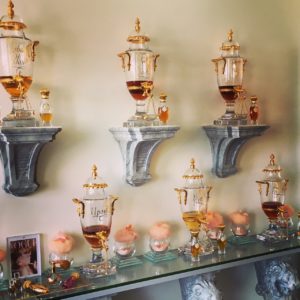 Caron Urn Fragrances Poivre, Tabac Blond, Farnesiana, N' aimez Que Moi and En Avion (photo Michelyn)
The House that best represents carnation perfumes throughout history to my mind is Caron. Several of their vintage fragrances (composed by the founder and perfumer of Caron Ernest Daltroff) 1932's En Avion, 1927's Bellodgia, and 1919'sTabac Blond are absolutely full of the glorious flower and, in my opinion, are among the best ever made. Arguably, one can say its use was a big part in what made the House successful (over and above the massively successful Narcisse Noir from 1911).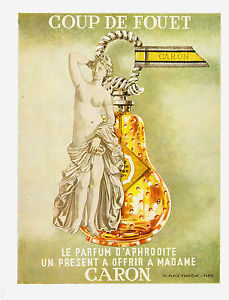 Coup de Fouet Vintage ad 1958
In 1954, perfumer Michel Morsetti revisited carnation perfumes (that I've heard tell were meant to really spice things up for the modern 50s woman): Coup de Fouet (Crack of the Whip) and its extrait counterpart Poivre. Now, with a name like Coup de Fouet, one is definitely going to take notice. How daring it was! Caron went as far to call Coup de Fouet the scent of Aphrodite. Ohhhhh! Aphrodite with a whip…I like where this is going!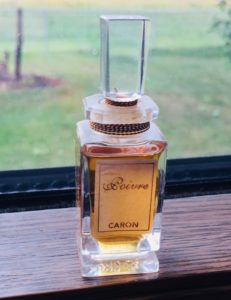 Aaron's flacon of Vintage Caron Poivre
Formula wise, in either concentration (the notes are basically the same) they are each fiery beasts of hot spices, but Caron Poivre is the clearly the master of the beast. In ways, I think the names should have been reversed! Poivre opens with a sharp dose of pepper that immediately brings tears to one's eyes (metaphorically). It's very, very prominent within the first few minutes and most certainly adds a fiery effect to the atmosphere once introduced to one's personal space.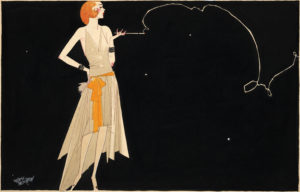 Illustration Where There's Smoke There's Fire Russell Patterson
There is no doubt that Caron Poivre makes its presence known and then firmly announces that "I'm the Boss". As one's nose flares from the assault of pepper's awesome power, clove swoops in to add its own sense of warmth. The effect here really hits me in the back of the nasal passages and into my throat. It's not unlike the effect of smoking a clove cigarette. Mind you, I don't get smoke from this, rather the illusion of smoking. Also, I really like how if you go in real close to your wrist and smell really deeply, you get a numbing effect. Dare I say this would be great to kiss off? Yup, I just did.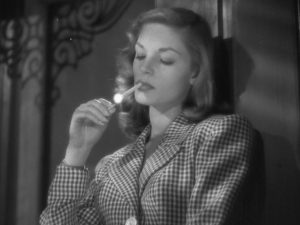 Lauren Bacall lighting a cigarette in the movie To Have and Have Not 1944
After about 20 minutes the cloves segue into a glorious carnation replete with a touch of powder. The effect here is like wallowing in huge field of dianthus with your nose blissfully smelling each bloom over and over again to a point that it's nearly narcotic. The fragrance sticks close to the skin behaving similarly as the scent of the flowers in nature. As compared to other carnation perfumes, Caron Poivre stays closer to the skin than most. This by no means is an issue. In fact, it's a plus!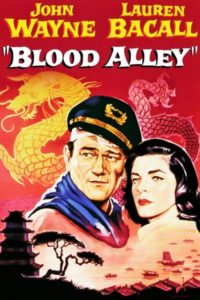 Lauren Bacall in Blood Alley-Doesn't the poster look like the Caron Poivre ad below?
After a fairly loud invitation, this gives it more of that "come hither" type of vibe which is so perfectly Caron. If I had to imagine the type of woman I envision wearing this back in the day, it would be Lauren Bacall.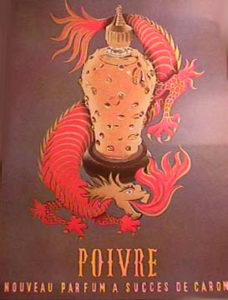 After a hour or two the clove and carnation are still going strong. Clove at times seems to come back and dominate over the carnation, but the concert they are performing is quite enchanting. Hints of balsamic sweetness appear in a way very similar to myrrh incense (opopanax) before being burnt (think incense resin nuggets in a corked jar). Over and above this, I am getting hints of similarity to the floral aspects of Bellodgia now and again – rose makes its way forward, but here it's coupled with ylang ylang and a much drier sandalwood/vetiver combo which makes for a completely different (yet familiar) effect from Bellodgia. I detect what my brain is telling me is vanilla here as well, but, at the same time, I think this is a trick. In the distant end there is a cinnamon-ish backdrop and in the far, far end jasmine peaks out with just tad bit of musk. It's not in the least bit of an indolic jasmine or hugely animalic musk either. The two really act to simply quiet the situation after a long a very satisfying romp through the fire.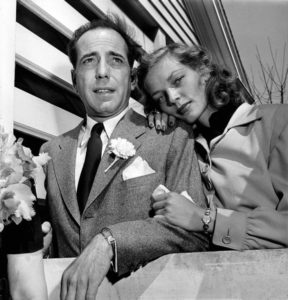 Newlywed actors Humphrey Bogart and Lauren Bacall attending wedding reception at home of novelist Louis Bromfield, Mansfield, OH
Caron Poivre (modern version) longevity was on average around 5-6 hours before its last remnants remained on my skin. Sillage and projection were a bit on the short side after the initial bombastic nuclear pepper and carnation cloud dissipated. In all, it strikes me as a very personal fragrance that would appeal to vintage perfume lovers and modernists at the same time. That said, there is one thing that is certain…you must love clove and carnation to appreciate Caron Poivre. If you adore these two key aromas, then you are going to love Caron Poivre. If you are not familiar with the notes, then Caron Poivre is one you should explore.
Top notes:red and black pepper, clove; Heart notes:Carnation, ylang ylang ,jasmine; Base notes: Opoponax (sweet myrrh), woods, sandalwood, vetiver, oakmoss, musk
Disclaimer: Review based on a decant provided by Diane Haska at Caron (Thank you, you are simply the best!)
You can order any current CARON fragrance including the coveted urn perfumes by calling Diane (212) 308-0270 | (877) 88-CARON |dhaska@alesgroup.com
–Aaron Potterman, Contributor and Vintage Perfume Expert
Art Direction: Michelyn Camen, Editor-in-Chief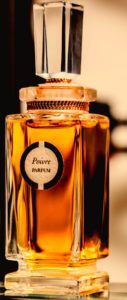 Caron Poivre
Thanks to Caron Paris USA we have a 7.5ml of the hand-poured and individually bottled Pure Perfume Extrait of Caron Poivre (not vintage but from 2014) which is very rare and not sold anymore for a registered USA ONLY reader (if you are not sure if you are registered click here). To be eligible please leave a nice comment with what you enjoyed about Aaron's review of Caron Poivre, if you love carnation perfumes and if you have a favorite Caron Paris fragrance. Draw closes 1/19/2018. You can follow us @cafleurebon @maison303 on Instagram. Check out on @caron.paris on instagram as well.
We announce the winners on our site and on our Facebook page, so Like Cafleurebon and use our blog feed …or your dream prize will be just spilled perfume