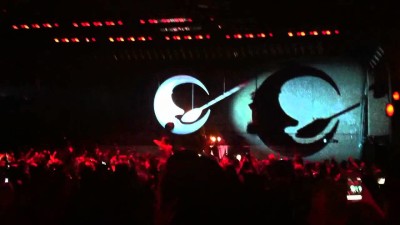 The Weather Girls performing It's Raining Men at Studio 54
I want to make one thing clear before we even start; I love Disco. I love everything that I have ever seen about it. Unfortunately, I wasn't any part of it whatsoever, but my disco memories are fresh in the mind from my experiences in the dance culture scene of the 90's and 2000's. Still the 70's…what a marvelous time it must have been to be alive and old enough to experience it. Personally, I would have loved to witness it in person!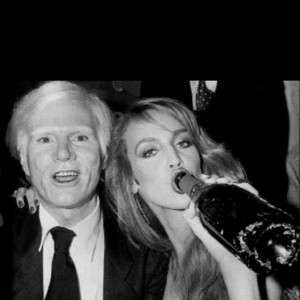 Andy Warhol and Jerry Hall at Studio 54 1975
Alas, that can't happen without a time machine. So, be that as it is, the era has to stay relegated to history as a memento from the past that's looked back upon with both irr and fascination. Obviously for me, it's complete fascination. Many that lived it say to me that, "the grass is always greener on the other side". To that, rightly or wrongly, I say, "whatever, it was fabulous in all it's good and bad!" Cause being "BAD" was good, baby. At least, I think Andy Warhol thought so.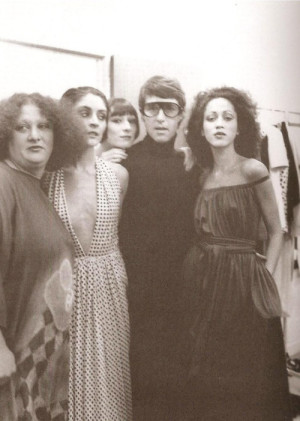 Designer Halston with models Pat Cleveland and Anjelica Huston, 1970s
Disco had many personalities that infiltrated the media. However, one personality that goes hand in hand with the glorious era of dance fueled decadence in a way slightly different than the other was Halston. For those in the know, the name conjures up visions of earthly delights of the most extravagant yet accessible of ways. He was everywhere. His clothes were being worn by the highest status celebrities in the world.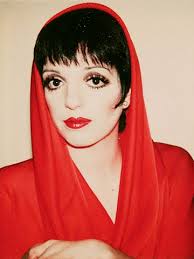 Liza Minelli Wearing Halston Photo Andy Warhol
The ultra exclusive Studio 54 was his stomping ground and many a celebrity woman that walked through those doors were clad in Halston ultrasuede, cashmere, or matte jersey halter dresses. As such, he was an adored celebrity among celebrities whose products were on a pedestal so high that few could obtain, but everybody wanted. He was the in demand man to the extreme and he knew it. He flaunted it, lived it, and was ultimately destroyed by it.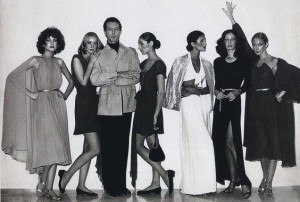 Designer Halston with models late 1960s
Halston was the creation of Midwestern born Roy Halston Frowick (1932-1990) from the great state of Iowa . Roy was educated in Indiana and got his start in the fashion industry in Chicago, Illinois working for Carson Pirie Scott and attending night classes at The Art Institute of Chicago. By the mid 50's he eventually left Carson's to partner on a salon selling hats of his own design on Chicago's ever still so fashionable North Michigan Avenue.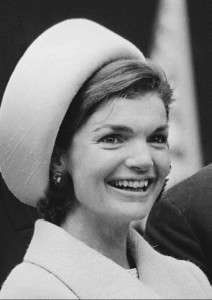 First Lady Jackie Kennedy wearing the iconic Halston Pillbox Hat
By late 50's he left Chicago for New York where he worked as co designer with milliner Lilly Daché (the wife of perfumer and Coty executive, Jean Despres)...I do believe a seed was sown here. Through his work with Daché, Haston soon became a fixture at Bergdorf Goodman as head milliner. His big break came in the early 1960's when Jackie Kennedy wore his pillbox hats to much fanfare. Halston was an instant star. Alas, despite the success and newfound stardom, the great and glorious days of the hat were dwindling...and Halston had the foresight to know it.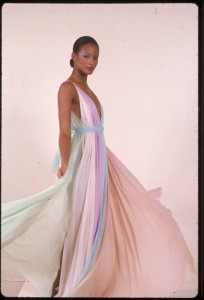 Model Beverly Johnson full length modeling Halston a pastel gown with vertical pieces of flowing materialand a plunging neckline V to waist. (Photo by Dirck Halstead/Time)
By the mid 60's Halston was already moving on to design womens wear. His designs bucked the trends of almost everything that came before it; his style was different, forward thinking, modern, and minimalist.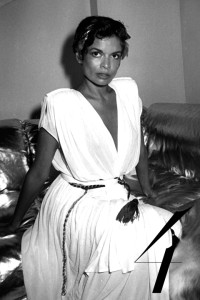 Bianca Jagger wearing the iconic white Halston Goddess Dress
The clothes were often flowing, but form fitting-complimenting a woman's body like nothing else before it really had done. The clothes gave women a new way to express themselves. It was perfect timing for him to hit it big in the hedonistic and sexually charged 1970's. He went on to be one of the biggest designers in American History.
Halston with Elsa Perretti designed perfume bottles
To go along with his clothing, Halston wanted a perfume that would boldly exemplify his vision. To help realize this vision he enlisted the help of Max Factor and perfumer Bernard Chant. Throughout the early 70's they worked together to find a scent that encapsulated the time with a forward eye to the future. By 1974 his namesake perfume was ready. However, it was not complete in design - the bottle needed perfected. Halston was not content to put it in any old plain bottle - his bottle had to be different from the Chanel's and Dior's that preceded him.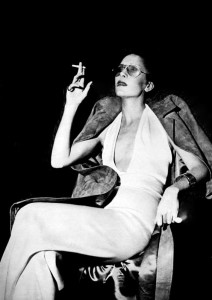 Elsa Peretti in Halston, 1972
For this job he chose the talents of Elsa Peretti, an Italian fashion model/ designer who would, along with Halston, later become a fixture of the disco scene and Studio 54. What resulted is the iconic tear drop angle topped bottle (and dare I say quasi phallic bottle- you know you're thinking it) that is still used today. The perfume was officially released in 1975.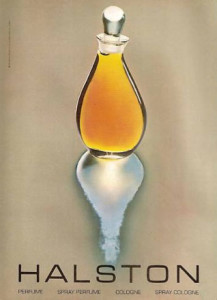 1981 halston vintage perfume ad
The perfume itself is absolutely glorious in it's original form. It was indeed a marvel of the highest caliber (I expected no less from the house of Max Factor and Bernard Chant). All one has to do is barely smell it and you get a grand idea of what 70's perfumery was all about and also recognize Chant's work almost immediately. One thing that makes it all the more intriguing is...this perfume went on to be the second highest selling perfume in history only behind Chanel No. 5! Anybody who was anybody was wearing it. Even the nobodies could be somebodies with Halston wafting from their body. That in itself speaks volumes. So, what was this marvel like?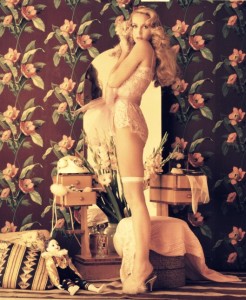 Jerry Hall 1970s
When first applied, it's character is bold and strong. It wants to be noticed, and, oh yes, it will be noticed. The start is green, so very, very sweetly green; a fantastic, marvelous green that so many others of the time exhibited, but could not do as well. The green notes are mixed just right with light citrus (bergamot), peach, ylang ylang, and Orris (Iris) all working together over a subdued mint (more like spearmint?) to make an experience that for me is absolutely breathtaking. I need to clarify that the mintiness here is not overpowering, it simply adds to the lift so to speak (thankfully, as I am not a big mint fan, but I do like it done well). In fact, I think one could easily miss it- it so subdued as to be barely noticeable. What's the most evident is Oakmoss... glorious Oakmoss in full effect….solidifying Halston as a Chypre Floral to be reckoned with.
The middle notes start to come out around 2 hours (possibly sooner given different circumstances). This is where the spicy floral aspects start to shine. I first notice carnation mixed with rose as not to be too evident. It's quite clever and in ways reminds me of certain stages of Aromatics Elixir (another Chant masterpiece). I also get traces of jasmine, but not too much. Still, Oakmoss is the one thing that still compliments it all in this stage.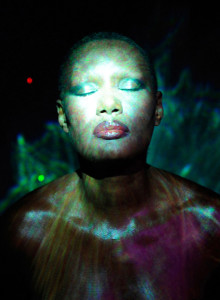 Grace Jones Chris Levine
The final stages of the perfume are by far my favorite. After the Oak Moss finally fades, we are left with a patchouli and frankincense that is so downright alluring, I can not help but love it. It is just too darn sexy in the best way! There is cedar involved here which acts to finally dry up the remnants of the mossiness - very clever. Frankly, this juxtaposition is quite unisex. Matter of factly, many would call this straight up "manly" nowadays. That said, I have come to the conclusion that after all is said and done, the perfume is androgynous in this day and age.
Village People, Valerie Perrine, Bruce Jenner (now Caitlin) & Michael Jackson at Studio 54 for the Can't Stop The Music party, 1980 (right before Studio 54 closed)
By time the 80's rolled around Halston's name started to fade along with disco. He had long licensed out his name, and as time wore on it cheapened his foothold in the luxury market. His high tiered clothes eventually became less desirable as he made a cheaper line that was famously available (very successfully) at JcPenney (a first for a designer of his magnitude). It was revolutionary, but damning (it was too far ahead of his time). Unfortunately, for all the success and forward thinking that Halston had, it eventually started to crumble and he lost control of both himself and his business soon thereafter. His high flying days of partying at the discotheques also took their toll, and by the late 80's Halston was very ill. Halston died in 1990 from complications brought on by the AIDS virus.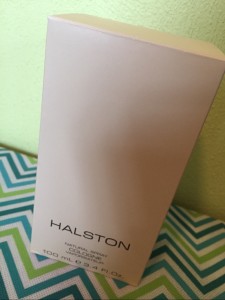 Aaron's Vintage Halston Perfume Collection
Halston's name lived on with products bearing his name (produced by many a company to varied success) over the past three decades since his death. Today Halston's name is making it's way back upscale. Clothing bearing his name and his aesthetic is once again doing well amongst fashion circles and available at high end department stores and boutiques as Halston Heritage. Halston fragrances are now distributed by EA (Elizabeth Arden) Fragrances and are readily available just about anywhere fine fragrances are sold.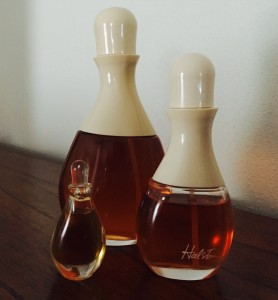 For this review I used vintage Parfum and EDT dating from the 70's and 80's manufactured by Parfums Halston. For comparison, I also utilized the cologne version produced by EA Fragrances circa late 2000's. They are all similar in structure, however the EA Fragrances version I own (right side with Halston written on the bottle) lacks Oakmoss. Nonetheless, the floral character and drydown are very similar to vintage. However, with the absence Oakmoss, it is indeed a vastly different experience. In this version I detect a slight hint of civet. Another version of the cologne that I did not test at this particular time (but know very well) is the newest formulation which was purchased late last year. I'm pleased to say the Oakmoss is back in a form as close as it could possibly be to the original and is quite impressive. So, don't be afraid to march into the drugstore and buy a bottle! You just may like it!
Aaron Potterman, Contributor and Vintage Perfume Expert
Art Direction Michelyn Camen; Note: I was right on the cusp of Studio 54, too young.but like Aaron I LOVE Disco. Had a blast finding the images
Halston for Woman in parfum strength is really rare, which is why we are going to offer 2 ml to one USA only registered reader. To be eligible, please leave a comment with what you enjoyed about Aaron's review and your favorite disco song. Draw closes 3/5/2016 and no spilled perfume.