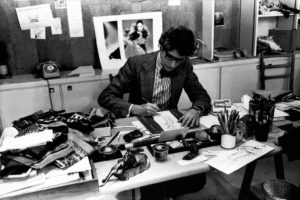 Yves Saint Laurent nee Yves Henri Donat Matthieu Saint Laurent in his design studio 1970s Copyright Fondation Pierre Bergé – Yves Saint Laurent, Paris/ Guy Marineau
When I think of the 1960's-1970's I inevitably always start to think of Yves Saint Laurent. The man was an absolute genius.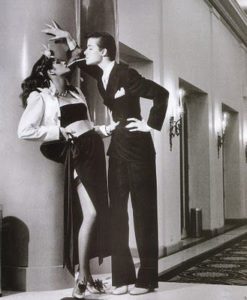 Gia Carangi le smoking in YSL Rive Gauche photographed by Helmut Newton for Vogue Paris (March, 1979)
He was at the forefront of gender bending with many of his designs (think of his 1966 Trouser Suits Le Smoking) and the effect it had on the industry was nothing short of amazing.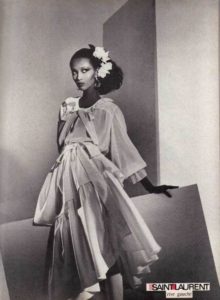 YSL's muse Mounia for Rive Gauche 1970s
He was also instrumental in bringing women of color into the forefront of the modeling industry. On top of all this, he was the first to bring ready to wear to the general public…they flocked to it en masse. I hold the man in very, very high regard.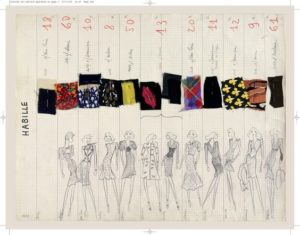 1971 – Yves Saint Laurent 'Liberation' collection board (Fondation Pierre Bergé Yves Saint Laurent)
One of his most famous clothing lines was Rive Gauche. This ready to wear line was launched in 1966 to a massive success on an international scale.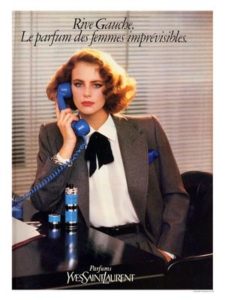 Vintage ad for Rive Gauche Perfume 1979
Several years after the launch a perfume was released with the Rive Gauche namesake. It was a monster of a success. In many ways the perfume was very symbolic of the changing attitudes of the early 1970's and fit perfectly into the changing mindset.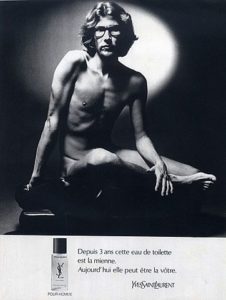 Vintage ad YSL Pour Homme photographed by Jeanloup Sieff 1971
Following the success of Rive Gauche YSL released another fragrance in 1975 by the name of Eau Libre. Again, it fit in very well with what was happening in the 70's.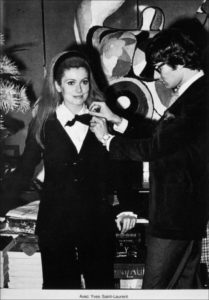 1966 Catherine Deneuve, le smoking
Where Rive Gauche explored the feminist side of the spectrum and 1971's Yves Saint Laurent Pour Homme was unapologetically masculine; Eau Libre explored the duality of masculine and feminine as a unisex fragrance. The fragrance was penned by Michel Hy whom also go authored Rive Gauche (with Jacques Polge) and the wonderful Calandre for Paco Rabbane. With Eau Libre he explores the basics of a traditional EDC but with a higher intensity. In certain ways the fragrance reminds me of a toned down Pour Homme with a greater emphasis on citrus and more muted herbals and woods.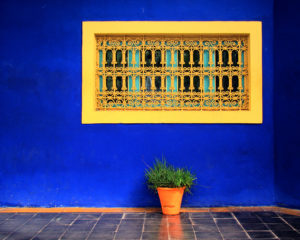 Jardin de Majorelle in Marrakesh was purchased by by Yves St Laurent and his partner in love and life Pierre Berge in 1980. They spent the rest of their lives restoring it.
The initial blast is full of aldehydic citrus encompassing bergamot, lemon, a bit of lime and the slightest hint of orange. For the most part is very consistent with the notion of standard citrus cologne. What makes it stand out is the tenacity and the way the fragrance starts to take on floral aspects a short time later. Within about half an hour a wonderful green note begins to develop mixed with neroli and hints of jasmine. I would be amiss if I did not draw a comparison to Edmond Rouditska's Eau Sauvage for Dior during this stage; albeit a very stripped down version. The similarity to Pour Homme is also evident here in that they both portray an element of dryness as the herbal aspects begin to develop that seems to be a bit prettier than Pour Homme.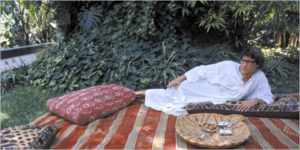 Yves Saint Laurent in his Marrakesh garden . Credit Guy Marineau
As we move into the final stage the herbal /aromatic nature of the fragrance. The dryness that I am detecting would be attributed to vetiver. What's nice about it is that it is very understated, it never comes to the forefront to the point of one thinking…oh vetiver! The aldehydes from earlier help mask it very nicely….it is very well blended and even after several hours the citrus aspects are still faintly noticeable. There is a bit of a woody character that comes through, but it is very subdued. Honestly, there is nothing at all in your face about it at all. Herein is the difference between the stronger male fragrances out at the time (and to come) and Eau Libre. The composition is such that anyone could wear it with ease and confidence.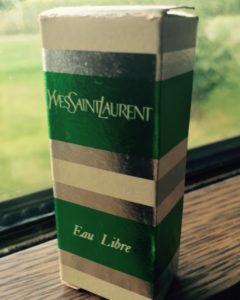 Aaron's bottle of Eau Libre translated means Free
Eau Libre has been discontinued and as of yet not been revisited by YSL (the recent L'Homme Libre really has no relation to this vintage whatsoever). It has become rather difficult to find over the years, especially in the U.S. The fragrance seems to be have been marketed to other markets in primarily Europe and Asia. There are bottles that pop up on eBay on occasion, but are usually a miniature for the Asian market and can be pricey.
. -Aaron Potterman, Vintage Fragrance Expert and Contributor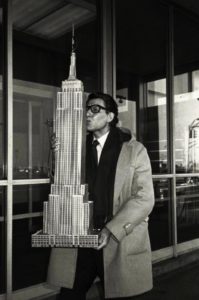 With Love from New York City: Happy Birthday Yves St Laurent here holding a model of the Empire State Building
Art Direction MC Today is August 1st and would be the 80th anniversary of the birth of Yves Saint Laurent from NYC with love
We have a 7 ml decant for registered reader (you must register to be eligible)in the USA, EU, or Canada.. To be eligible please leave a comment with what you enjoyed about Aaron's review of Eau Libre, where you live and your favorite Yves St Laurent cologne by 8/3/2016
We announce the winners only on site and on our Facebook page, so Like Cafleurebon and use our RSS option…or your dream prize will be just spilled perfume