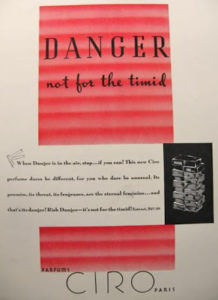 Vintage CIRO Paris AD
Throughout the years of my perfume exploration I have come across many different Houses that flew under my radar just patiently waiting to be discovered. Recently on a trip to Mexico I came across an empty mini of a perfume called Danger by Ciro. Of course, I immediately started researching what Ciro was. Unfortunately, my search for a bottle was futile. It seems there is very little information left, but thank goodness for The Perfumed Court who has a fabulous selection of decants available to feed my curiosity where the rest of history left off! I mean, how I could not be interested in a vintage which name proclaims it's a danger!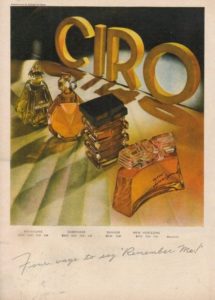 Parfums Ciro was created by a very important personality in the world of perfume, Mr. J.S. Wiedhopf (more on him later). What's interesting is the creation of the house went hand in hand with his love of Caron perfumes. How is that? Prior to starting his own House, he imported Caron perfumes into the United States to sell in his New York City boutique/store, the Guy T. Gibson Company. As many readers well know, Caron holds a special place in my heart (as well as for many other perfumistas ); so, finding out this little tidbit increased my fascination even further!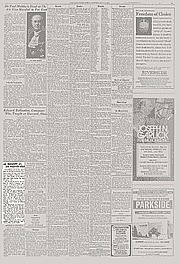 A newspaper clipping featuring J.S. Wiedhopf of Parfums CIRO
Inspired by the wonderful creations of Caron's Ernest Daltroff, Wiedhopf imported Daltroff's fragrances throughout the 1920's and 30's for sale in America. Through their success his fascination into the world of perfumery grew and throughout the two decades he sought to produce more perfumes and now he was at the helm and chose the name Ciro. Between 1936-1939 the endeavor became a full-fledged enterprise. In 1939 he changed the company name to Parfums Ciro, Inc (based in Paris) and a new House was officially born.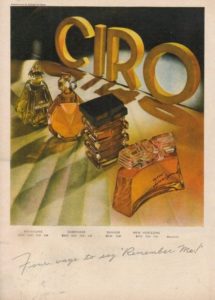 CIRO Vintage Perfume ad circa 1940s
The House became a success. Parfums Ciro was presented as an upper-tier perfumerie available for the masses. Its focus was to be as accessible as a drugstore perfume, but as elegant as any French perfume (mainly Caron). The perfumes were marketed and advertised so elegantly, and in a such a stately manner, that they were very hard for the public to resist. The timing was perfect…it was exactly what the public wanted and they bought it willfully and quite affordably. Wiedhopf masterfully managed this so well that he fact went on to become the very first President of The Fragrance Foundation. The man was and is an unsung hero and legend of the perfume industry.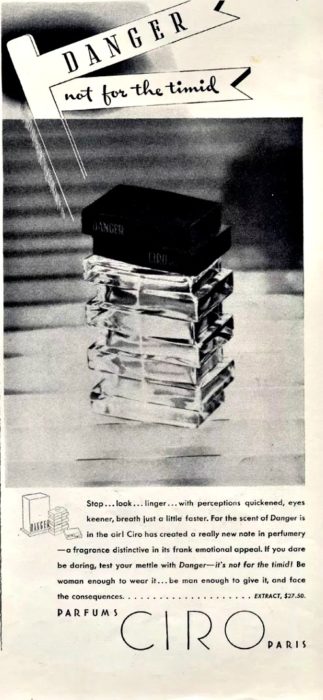 Racy (for those days) copy for CIRO Danger "Be woman enough to wear it..be man enough to give it"
The House flourished until the mid-1960's when it officially closed its doors. In its wake it left a large number of perfumes that have, unfortunately, been lost to the hands of time. In many ways this fact puzzles me given the history of its founder. Interestingly, I have not been able to find any particular perfumer involved with any of the perfumes either. So, the veil of mystery lost through the sands of time will have to wait a little longer to be revealed (if ever). Danger was released in 1938, so it could be considered a mid to early period perfume for the house, and one of the first under Parfums Ciro, Inc. officially. Upon launch the advertising pulled no punches, Danger was "not for the timid". It dared men to purchase it for their ladies and "face the consequences" of what it will wrought upon them. Obviously, this was a bit eyebrow raising and certainly brings in a certain sexuality into the mix. That be said, it certainly isn't overt.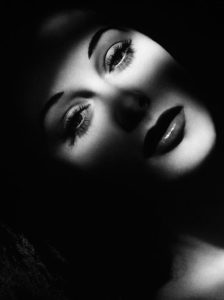 Hedy Lamarr by Laszlo Willinger, 1940
Upon application we are greeted with a syrupy/creamy rose augmented with vivacious lavender and a vanillic undertone that is simply scrumptious. It is DARK, as in glamourous dark and sexy, but not vixen like. I simply cannot escape her allure if I tried – this is, as I suspected, definitely up my alley. An actress that immediately popped into my mind was Hedy Lamarr. I could very easily see her wearing this as her star started to rise. The fragrance is as alluring as she was, and holds all the many distinct qualities that set her and it apart from the others. It represented brains, beauty, and a bit of a threat to masculinity. After all, Hedy was also an established scientist/inventor…certainly enough to make many a man intrigued and somewhat scared…making for a bit of a dangerous situation indeed!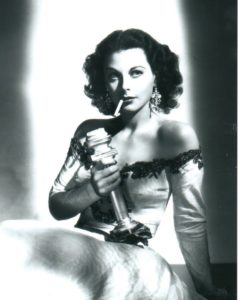 Hedy Lamarr smoking in the 1933 movie Ecstasy
In the middle stage the perfume becomes a spicier affair with a hint of leather and slight tobacco in the mix. At this stage I can detect some similarities to vintage Caron such as Tabac Blond and Bellodgia. Also in the mix are aspects of Guerlain's Djedi (a pleasant and unexpected surprise!) However, deep down it differs from each of them enough to make it distinctive.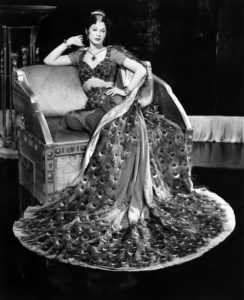 Hedy Lamarr in the movie Samson and Delilah
It is much sweeter and more gourmand than its predecessors (except for Djedi). Here a wonderful cinnamon and slight anise mixes with the tobacco/leather and vanilla to give us an irresistible oriental-gourmand delight (it reminds me of Cinnamon Elephant Ears common at summer fairs and festivals). Actually, in certain ways, it's not unlike a distant smoking a cigar in a bakery, in the most tasteful of terms, of course…it is unusual, but it works. In the dry down an oriental-gourmand marriage is quite evident.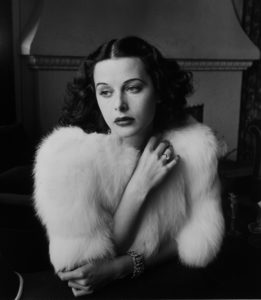 1930s Hedy Lamarr
The vanillic aspects are still clear, but better defined as a hefty dose of balsamic resins rather than straightforward vanilla. The leather note from now shows the more animalic aspects of castoreum propped up with a bit of musk is absolutely delectable. Underneath it all, glorious sandalwood is covered in a blanket of purest honey, amber, and civet that literally lasts for hours and hours and hours. The scent envelops you in a warm comforting aura that makesfor an exciting journey from beginning to end. I will definitely spring for a full bottle, if I ever come across it affordably.
Disclaimer: Review based on an Extrait decant from Perfumed Court. Your graciousness is always appreciated. Opinions are my own.
–Aaron Potterman, Contributor and Vintage Perfume Expert
Michelyn Camen, Editor-in-Chief: Art Direction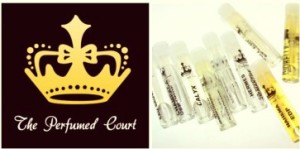 Thanks to The Perfumed Court we have 1 ml glass vial of vintage Parfums Ciro Danger Extrait, which is very rare and hard to find for a registered reader worldwide. To be eligible, you must be a registered reader and sign up for The Perfumed Court Newsletter . Please leave a comment with what appeals to you about this very precious vintage fragrance, if you had heard of Parfums Ciro Danger before and where you live.Please state that you subscribe to TPC in your comment. Draw closes 4/12/2017
We announce the winner on our site and on our Facebook page, so Like Cafleurebon and use our RSS Feed…or your dream prize will be just spilled perfume