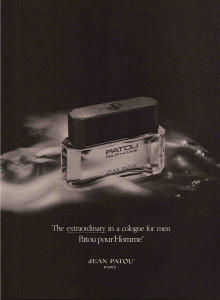 Jean Patou Patou Pour Homme Vintage Ad
Of all the fragrances bearing the name of Jean Patou, this one eluded me the longest. I often wondered why on Earth it was so hard to hard to find and why it seemed so revered amongst perfume lovers. I'm here to say that today I know why.
The original Patou pour Homme is among one of the many fragrances that came and went with what I imagine was pretty low fanfare to the masses. Even though in its heyday it graced the dresser top of the oh so stylish/fashionable/pseudo macho and modern James "Sonny" Crockett (Don Johnson) in Miami Vice… Ahhh, yes, all good things come to an end. Or do they?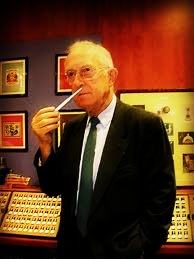 Jean Kerléo
Patou pour Homme was one of the very few masculine fragrances signed by the marvelous Jean Kerléo for Patou over a period of 4 decades for the house: Lacoste Eau De Sport in the 60's, Eau de Patou in the 70's, Patou Pour Homme in the 80's, and Voyager in the 90's. It's worth noting that a slightly different version of Patou pour Homme was also released in the 90's known as Patou pour Homme Privé. With the exception of Voyager, all are now very hard to find, if not darn near impossible, in their original form.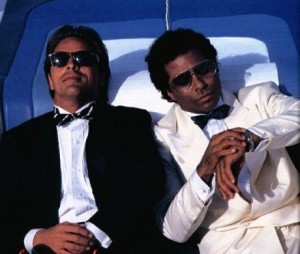 Don Johnson & Phillip Michael Thomas Miami Vice's Crockett and Tubbs
What goes into a fragrance is often formulaic. Still that formula can be tinkered with to make many, many different takes on the same tried a true formula with a similar result. In the case here we are dabbling with the ever fantastic genre of Fougère. The genre officially began many years ago (1882) with the creation of Houbigant's Fougère Royale by Paul Parquet – it was the first and set the benchmark for others to copy to this very day. And has it ever…the genre has been done and redone countless many times with literally hundreds of choices that came and went into obscurity of infamy. Skip forward nearly 100 years and the interest in the genre was nearly at a fever pitch. In the late 1970's and 80's the category of Fougère basically dominated the male fragrance market and lasted until the early 1990's. Jean Kerléo's foray into the genre was with Patou pour Homme. Here he took Fougère and married it it with a bit of Oriental to make one of the most marvelous Oriental Fougère's in history- it is truly one of the richest and most opulent creations one could ever hope to find in the genre. Many others pale in comparison.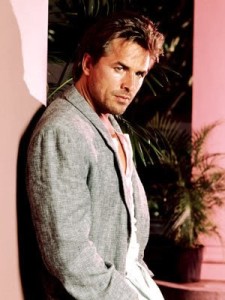 Don Johnson as Sonny Crockett Miami Vice
The fragrance starts off with a huge blast of tempered Lavender in a coumarinic cloud of herbs. This Lavender here is very well done – it isn't soapy or astringent in any sort of way and mixes very well with several aromatic herbs (basil and tarragon in particular) and only a very, very brief glimpse of a citrus note. The impression here is one of the finest blending. I have come across very few that are blended to this level of perfection. It's spicy without being overbearing. It's classy without being snobbish. It is very clear to me this is the work of a masterful hand.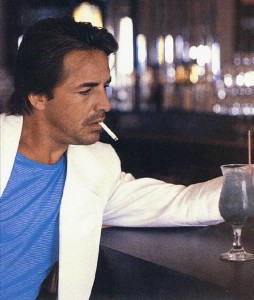 James (Sonny) Crockett smoking and drinking looking debonair and oh so 80s
Within an hour the herbal spicy facets have moved into a more a slightly floral and leathery (Castoreum) and unsmoked tobacco and tonka (Tonquin) affair. The Lavender is still present and at this point is at a stage that is more soapy – not overly so though – just very pleasantly present mixing with a dash of cinnamon. There is an air of wood like that of Bourbon Barrels that is absolutely marvelous. The florals are spicy – carnation and geranium. One's nostrils are also rather "open" due to a pepperish aspect that seems to add a lift to the concoction brilliantly without ever being staunch. The overall image this is conjuring up in my mind is one of the most dashing man living the life of carefree extragravance and loving every last second of it. He stands out, but, he's not a snob.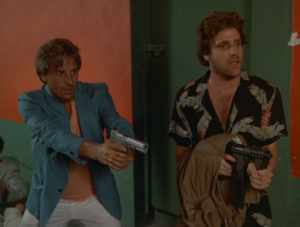 RIP Glenn Frey (Theme song The Heat is On) in his acting debut on Miami Vice as Jimmy In Smuggler's Blues (episode 15)
The drydown is absolutely marvelous. I do mean marvelous in every sense of the word. This quite frankly leaves nothing more to be desired. There is a subtle hint of a dark Patchouli mixed with the Coumarin of Tonka Beans, Bourbonish Vanilla, and Labdanum all over a bed of smooth and exotic Sandalwood of the highest quality. Civet lurks low in the mix of Oakmoss adding just enough depth to make it all a little bit carnal…excuse me…sexy. Absolutely, perfect. Folks, it doesn't get more manly than this.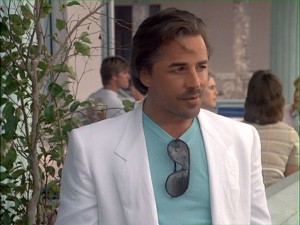 Don Johnson as Sonny Crockett Miami Vice Pilot
The thing that's great about this is how smooth and luxurious it is whilst still seeming to be unpretentious in its pretentiousness. It's refinement on a classic is what makes it one in a million among all others. It's classic, but inspired which makes all the difference.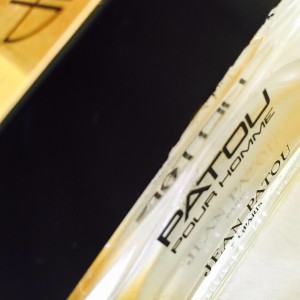 Aaron's vintage bottle of Patou pour homme
Frankly speaking, this exudes what has now become a certain standard of masculine handsomeness. It's a handsomeness that transcends all the cliches one might think of given its 1980 creation date (sorry, Mr. Crockett) and moves them forward and backward simultaneously. When it's all said and done Patou pour Homme may have been the ultimate victim of fast fashion and the trends that move at the relative speed of light. Be that as it may, fashion may come and go, but classic never goes out of style. As many of you may know too, getting a classic right and still moving it forward is an art form unto itself – Patou pour Homme fit that bill and will go down in history as one of the truly greats of the genre.
Author's Note: Sadly, the original formulation is no longer available due to restrictions, but can still be found on auction sites at ridiculously high prices. Patou pour Homme is currently available in a reworked form in Patou's Collection Héritage.
Disclosure from my own collection and a sample from The Perfumed Court
–Aaron Potterman, Contributor and Vintage Perfume Expert
Art Direction Michelyn Camen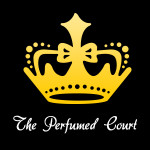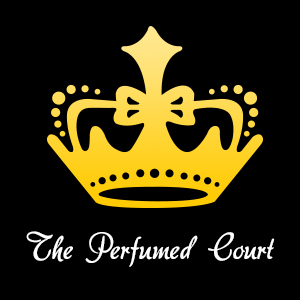 Thanks to The Perfumed Court we have a 1 ml glass sprayer of this very rare and hard to find Patou for Homme for a registered reader worldwide. To be eligible, you must be a registered reader and you must sign up for The Perfumed Court Newsletter. Please leave a comment with what you enjoyed about Aaron's review of Patou pour Homme, why you would like to try it and where you live. If you are a fan of Miami Vice we'd love to know. Draw closes 4/11/2016
We announce the winner on our site and on our Facebook page, so Like Cafleurebon and use our RSS option…or your dream prize will be just spilled perfume