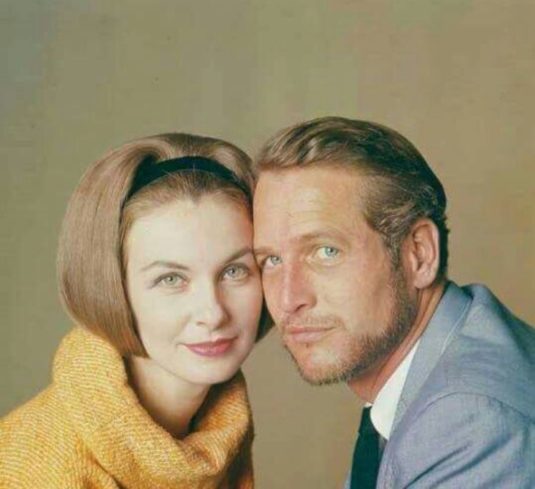 Joanne Woodward and Paul Newman late 1960s were married 50 yrs 1958-2008
Let's face it! Those of us obsessed with fragrance can behave like fickle lovers. Perhaps we vaguely recall the notion of the "signature" fragrance (and once upon a time we might have had one of our own) but these days we probably find ourselves flitting from one new scent to the next like bees in a meadow of flowers. There are some people however, my dear husband among them, who are faithful to the scents of their youth and to this day have but a single perfumed amour. For my husband his first and only fragrant love remains the original and now vintage Estee Lauder Aramis Devin.
"The very thought of you makes, My heart sing
Like an April breeze. On the wings of spring
And you appear in all your splendor, My one and only love." – Guy Wood and Robert Mellin (My One and Only Love – 1952)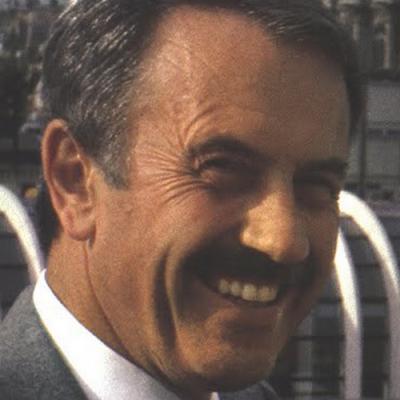 Bernard Chant
Vintage Aramis Devin, was created for Estee Lauder in 1978 by the legendary perfumer Bernard Chant (d. 1987), and subsequently repackaged and relaunched in 2009. Devin, the original, was sold in at least three concentrations, the Light Sporting and Country Colognes (approx. 7%), an Eau de Toilette (around 10%) and the Devin Country After Shave (1-3%).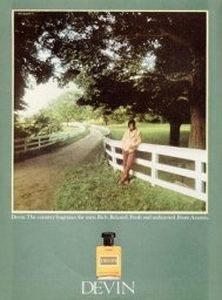 My husband has been wearing the original formulas of Devin since the fragrance was introduced. For years I have tried unsuccessfully to wean him from his dependence on Aramis Devin. In an effort to broaden his fragrant horizons, I have tempted him with powerhouses like Amouage Interlude Man and with the dark roses of Tom Ford Noir de Noir. I have offered Arquiste Parfumeur ÉL, the classic Creed Aventus and various fine oud oils – all to no avail. He professes to love all my fragrant gifts and wears each one for a day or maybe three but always returns to what he considers to be his signature scent, Vintage Aramis Devin, in his preferred lightweight concentration, the Country After Shave.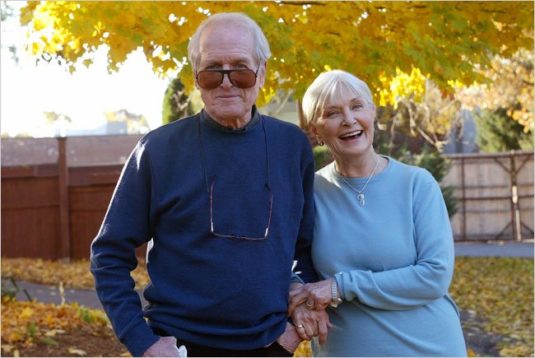 Paul Newman with his wife, Joanne Woodward, in 2002 outside the Westport Country Playhouse New York Times
So what is it about Vintage Aramis Devin that has kept my husband faithful to his signature scent for 40 years? His first response to my query was not totally unexpected. He wears Devin for the memories and associations, a remembrance of a time when life was a little more formal and a lot less stressful. He is also constantly on the go and probably feels he does not have the time to decide which fragrance to wear for any given day or event. He wants to smell nice but doesn't want to give it too much thought. From my perspective it must have been the heavy doses of two of my favorite fragrance notes, galbanum and Artemisia, that hooked him on Devin in the first place.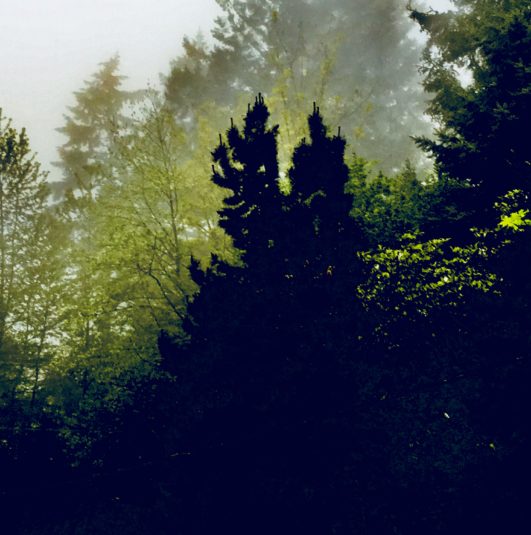 Trees in the Pacific Northwest (Photo Gail)
Vintage Aramis Devin opens with a green blast of galbanum, bergamot and Artemisia. Even the least powerful concentration, Aramis Country After Shave, is a well-balanced take on the classical aromatic chypre, bracing and uplifting. Some have called Devin the masculine version of the Bernard Chant and Francis Camail Estee Lauder Aliage (1972). I admit that I don't recall Aliage but truly enjoy Devin as it morphs from the bright chartreuse of Artemisia, galbanum and fresh herbs to the darker resinous green of pine, and then blooming at the heart as a spicy floral wafting carnation, jasmine and a touch of leather. The dry down exposes a substantial base of resins, including olibanum and labdanum as well as cedar, pinewoods and musk. The Country Cologne version lingers on the skin for about six hours, finishing with a hint of amber and oakmoss.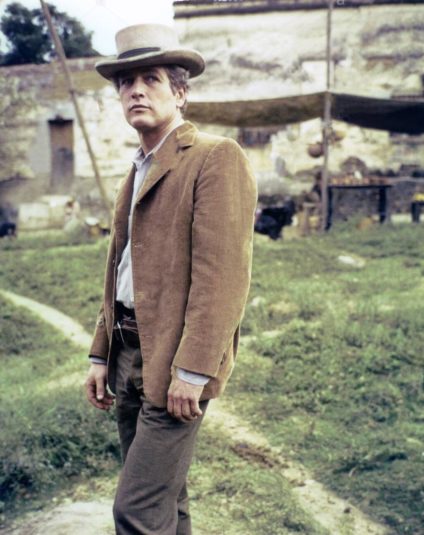 Paul Newman as Butch Cassidy in the movie Butch Cassidy and the Sundance Kid 1969
I find that many of us who love to explore and write about perfume simply don't have the need (or the time) for a single signature scent. Personally, despite the attachment I have for my old favorites like Divine Parfums Divine, vintage Guy Laroche Fidji and the original Tuvache Jungle Gardenia, to say nothing of my myriad newly professed loves, I am compelled by curiosity, novelty and olfactory desire to play the fragrance field. I will profess my love and drench myself in a perfume until I tire of it and then ignore my old flame in favor of a new fragrant romance.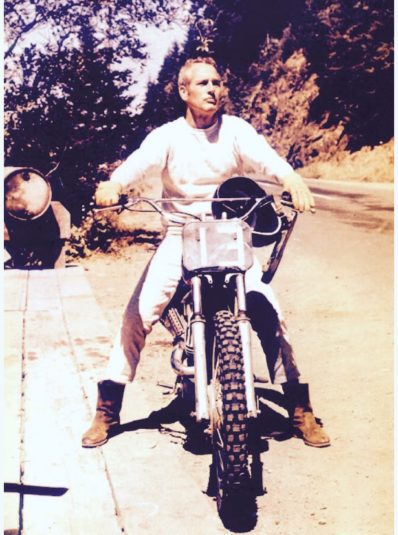 Paul Newman on his dirt bike 1971
Whatever drives my lust for new fragrance experiences, be it curiosity, novelty, media hype or olfactory addiction, I find that the more perfumes I try the happier I am. Out of necessity, I might be a fickle perfume lover but when it comes to personal relationships, my husband has always been my one and only love – and by extension I love the scent he loves to wear – Vintage Aramis Devin. Notes: Bergamot, galbanum, Artemisia, lemon, jasmine, carnation, pine, thyme, cinnamon, leather, olibanum, cedarwood, amber, musk, oakmoss, patchouli and labdanum.
Disclaimer: I have been living with Aramis Devin for many years. My opinions, while influenced by my husband, are still my own!
Gail Gross – Senior Editor
Art Director – Michelyn Camen, Editor in Chief_Images of Paul Newman and JoAnne Woodward… an example of an Old Hollywood couple whose love was legendary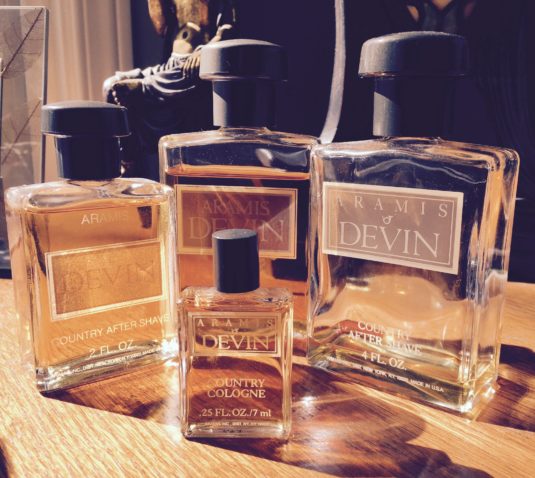 Vintage Aramis Devin photo by Gail©
For today's draw Gail is offering one unused 7 ml bottle of Vintage Aramis Devin Country Cologne (no box, see the smallest bottle in Gail's photo), available to one registered reader in the US (be sure to register or your comment will not count).To be eligible, tell us if you do or do not have a signature scent. If you do, what is it? Draw closes 3/28/2018
We announce the winners only on site and on our Facebook page, so Like ÇaFleureBon and use our Blog feed…or your dream prize will be just spilled perfume.