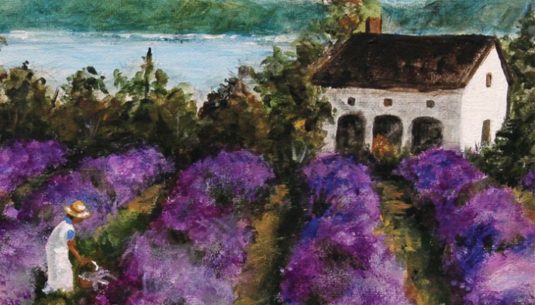 Gathering Lilacs, painting by Kathleen Schneider©
Many odes have been written to the cloudlike lilac, with its heartbreaking, fragrance, the breath of Spring itself. Catching its perfume on the breeze is like the call of windchimes, a siren's fragrance that pulls me helplessly in thrall to it. I'll frequently go out of my way to catch its brief song on my way home.
Sea of lilac, photo by Sarah Rose Smiley©
In perfumery, finding ways to accentuate but not overpower lilac's grey fragility has sometimes proved difficult. Classic lilacs, such as Malle's En Passant, Ineke's After My own Heart and Fath's Lilas Exquis, have often often played up the blossom's ethereal, aqueous quality with delicate notes such as cucumber, angelica, magnolia and hyacinth. But Brooklyn-based Vilhelm Parfumerie has a bolder, more modern take, framing the flower with bright dabs of galbanum and propping her up with some full-bodied rose. Vilhelm Parfumerie A Lilac a Day is no water nymph, but a frisky sprite up for some rollicking frolicking.
Plaza Kvinna #10, photo by Lisa Hasselgren©
The first few minutes of Vilhelm Parfumerie A Lilac a Day matches that flower's hazy sweetness with a crunchy, stemmy galbanum that gives the whole composition a freshness and power that feel quite modern. That initial spray is like walking into a high-class florist's right after the sprigs have been cut from the shrub. A shock of purple-grey perfume rushes right to the top, unmistakably lilac. But within a few moments, an almost citric burst of sharp galbanum grabs hold. The lilac and galbanum climb up each other as if flower is growing right before your nose, before the galbanum gradually eases up and allows lilac her central place again.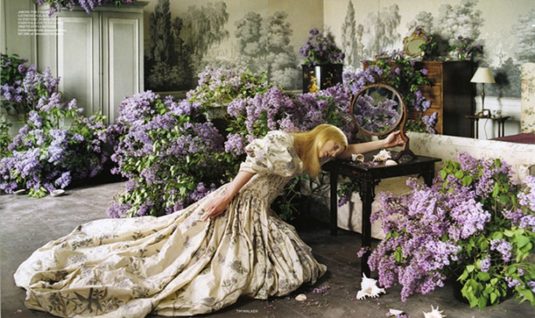 England's Dreaming fashion editorial, photo by Tim Walker for Vogue UK, August 2006©
After a while, a satiny rose comes through, slightly powdery. While the lilac bouquet remains ever-present, the lushness of rose bolsters it, rounding out the perfume, and keeping the galbanum from misbehaving. Jasmine peeks in, radiantly soft and fresh, along with a sappy touch of freesia. Lilac can be as evanescent as the breeze on which it blows. The addition of the headier but restrained floral notes gives A Lilac a Day substance and depth and helps to anchor the lilac rather than overwhelm it.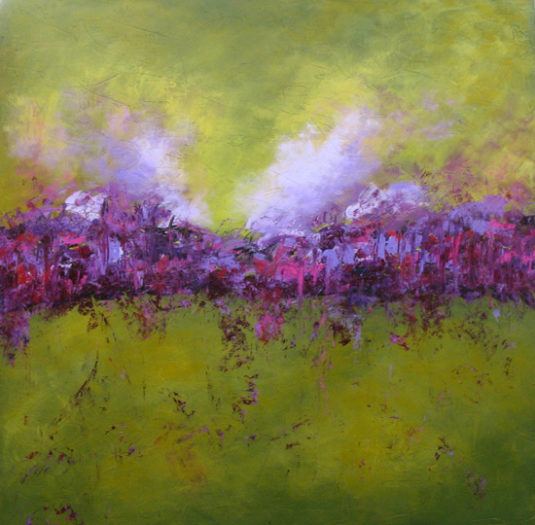 Watercolour by Kerin McBride©
Vilhelm Parfumerie A Lilac a Day is a modern watercolour; softened splashes of rose and jasmine are used with restraint to bolster the flower's fragile sweetness, while that vibrant green galbanum lends an assertiveness that feels modern rather than nostalgic. Each spray is like a fresh waft of chilly-warm mid-Spring air, when a diffuse sun lazes in the sky while serious clouds hurry by.
Notes: Blue lilac, Spring freesia, Egyptian jasmine absolue, galbanum, black amber, Turkish rose absolue.
Disclaimer: Sample of A Lilac a Day graciously provided by Forty Five Ten in Dallas – you guys rock!
– Lauryn Beer, Senior Editor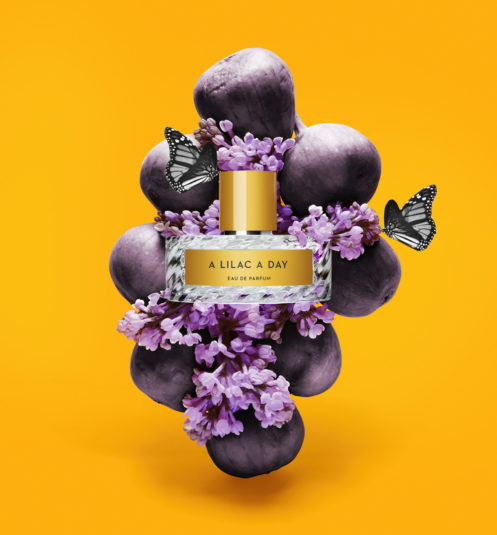 Vilhelm Parfumerie A Lilac a Day
Thanks to the generosity of Forty Five Ten, we have a 2ml sample of A Lilac a Day for one registered reader in the U.S. To be eligible, please leave a comment saying what appeals to you about Vilhelm Parfumerie A Lilac a Day based on Lauryn's review, and if you have a favorite lilac scent or a favorite perfume you associate with early spring. Draw closes 4/3/2018.
Follow us on Instagram @cafleurebon @fortyfiveten
We announce the winners only on site and on our Facebook page, so Like Cafleurebon and use our site feed … or your dream prize will be just spilled perfume.