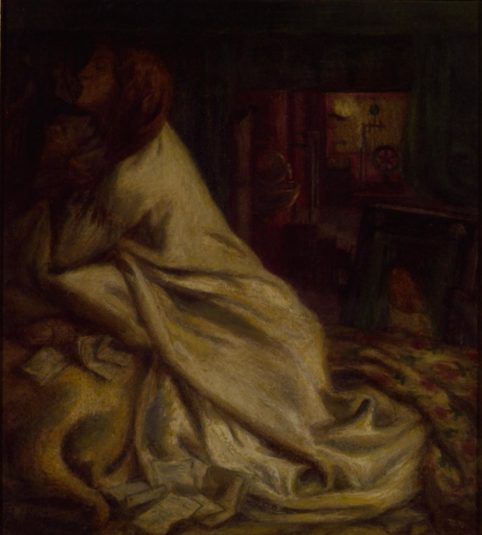 The Heart of the Night (Mariana in the Moated Grange) 1862 by Dante Gabriel Rossetti 1828-1882
In the bleak mid-winter, Frosty wind made moan;
Earth stood hard as iron, Water like a stone;
Snow had fallen, snow on snow,Snow on snow,
In the bleak mid-winter Long ago." ~ In the Bleak Midwinter (aka A Christmas Carol), 1872, Christina Rossetti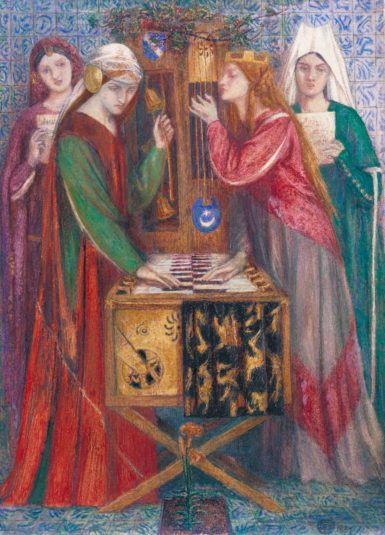 The Blue Closet, Dante Gabrielle Rossetti
It is the Winter Solstice, dear ones: today – Friday, December 21st – we herald the shortest day and longest night of the year in the Northern Hemisphere. It is one of those calendrical high water marks which filled the ancients with combined awe, joy and a modicum of trepidation – the cycle of death and rebirth. Nordic peoples and Germanic tribes observed Yul (thought to come from the word for 'wheel'), a time of ritual practices welcoming the return of the sun – giver of life and perceived as a wheel which changed the seasons.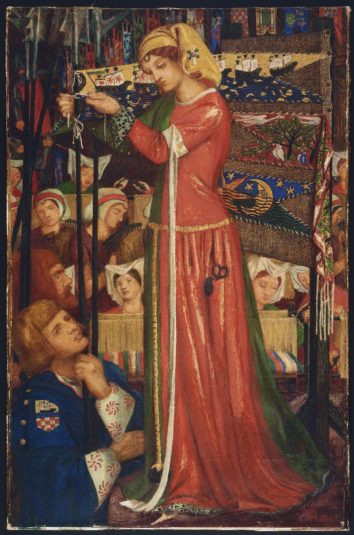 Before the Battle, Dante Gabrielle Rossetti
The Romans celebrated Saturnalia: role reversal (masters dressed as servants and vice versa), the giving of gifts, decorating with greenery, lighting of candles. The Druids of yore cut the mistletoe hanging from sacred oaks to offer one another as a blessing; it was seen as the seed of the Oak King, and hung over the marital bed to enhance fertility (hence 'kissing beneath the mistletoe'). The burning of the Yule log was originally of holy ash or oak: the more quickly it burned, the sooner the earth would warm and crops would grow. You and I could ramble on and on with all the cultural conventions spanning the first markings of time and season as we know it.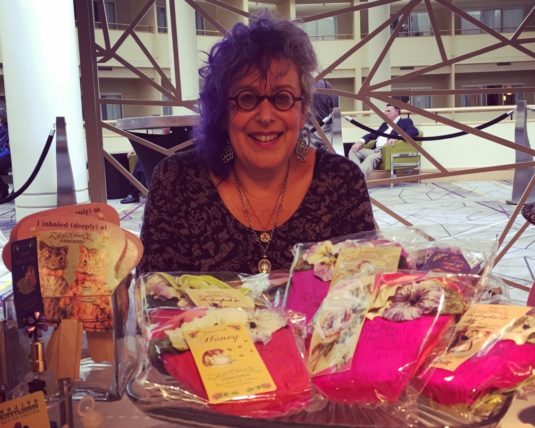 Laurie Stern of Velvet and Sweet Pea's Purrfumery via Laurie
Midwinter, aka solstice time – possesses the quality of hopefulness, of willing the darkness to light. That's why natural perfumer Laurie Stern's latest perfume Velvet and Sweet Pea's Purrfumery Flame Brocade (a small-batch limited edition which was years in the making) feels Just Right. It smells seasonal for all the best reasons. Apparently Laurie worked for years on this fragrance, and as is the case with each of her perfumes, there is no stinting on quality materials. I was sent a sample of both liquid perfume and solid (in a waxy base).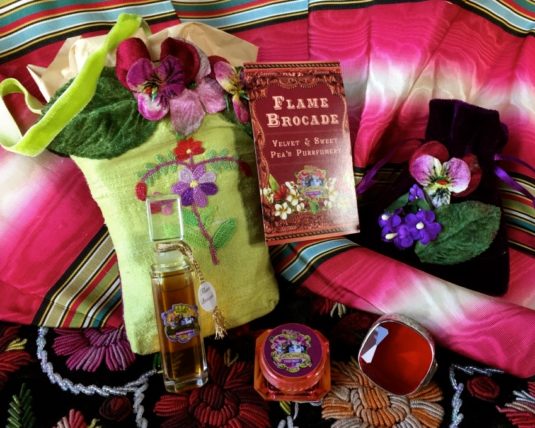 Velvet and Sweet Pea's Purrfumery Flame Brocade via Laurie
While they are each beautiful, I confess that the solid did some serious blooming upon the flesh as its resinous base simply popped and clung so lovingly that it became my favorite medium. I recommend sampling both, though. Beauty is beauty…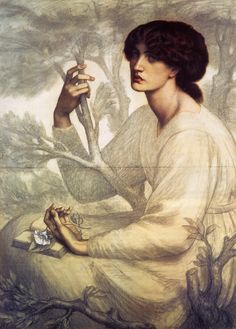 The Daydream Dante Gabrielle Rossetti
Let's be festive! Zesty black pepper and the juiciest blood orange remind you of holiday preparation (black pepper in butter cookies is SO good!) and the oranges stuffed in stockings as a special treat: as a young child in England, my B looked forward to those Jaffa oranges upon which his mother splurged, very like sunshine amidst the midwinter greyness which enshrouds one often in the British Isles. Aged cinnamon and a voluptuous vanilla complete that wintry baking pleasure which warms body and soul.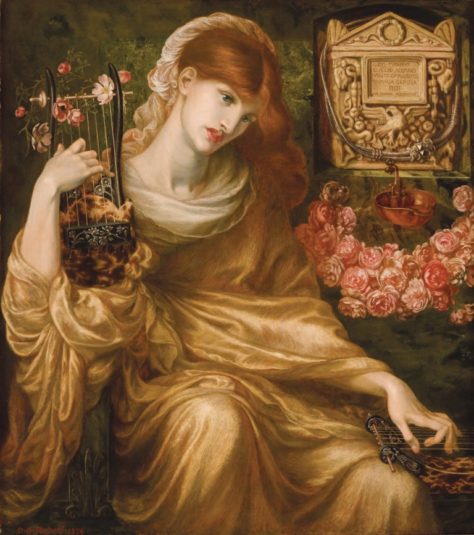 The Roman Window Dante Gabrielle Rossetti
But oh! The tropics wend their way into our charmed circle bearing creamy floral gourmandise: buttery tuberose, frangipani with her spice note; powdery, pollen-y oleander (as deadly as mistletoe when ingested, were it to come to that). Arid sanctity of frankincense allies with meditative sandalwood, yielding satisfying mellowness to the entire composition of and anchoring all its players with palpable tenderness. Velvet and Sweet Pea's Purrfumery Flame Brocade perfume sings with richness which feels cosseting while it glows as a luminous work of olfactory art. Notes: black pepper, antique cinnamon, tuberose, frangipani, oleander, vanilla, frankincense, sandalwood blood orange
Samples of perfume Velvet and Sweet Pea's Purrfumery Flame Brocade kindly provided by Laurie Stern, many thanks! My nose is my own…
~ Ida Meister, Senior Editor and Natural Perfumery Editor
~ Art Direction: Michelyn Camen, Editor-in-Chief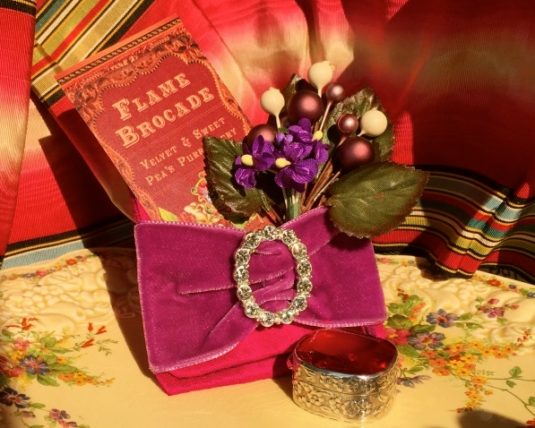 Velvet and Sweet Pea's Purrfumery Flame Brocade Solid via Laurie
Thanks to the generosity of perfumer Laurie Stern, we have a solid perfume ($75) of Velvet and Sweet Pea's Purrfumery Flame Brocade for a registered reader anywhere in the USA. To be eligible you must be a registered reader. Please tell us what you enjoyed about Ida's review of Velvet and Sweet Pea's Purrfumery Flame Brocade and what cheers you in the bleak midwinter. Draw closes 12/24/2018
We announce the winners only on site and on our Facebook page, so Like ÇaFleureBon and use our Blog feed…or your dream prize will be just spilled perfume.