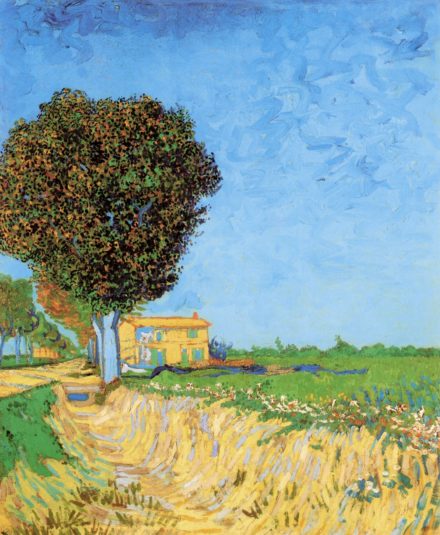 A Lane Near Arles, Vincent Van Gogh 1888
While much of the US has spent the last few days locked in the frigid embrace of Old Man Winter, I have been soaking up the sun on the hillsides of the French Riviera, kissed by lemon and lavender scented breezes of Laurie Stern of Velvet & Sweet Pea's Purrfumery Eze.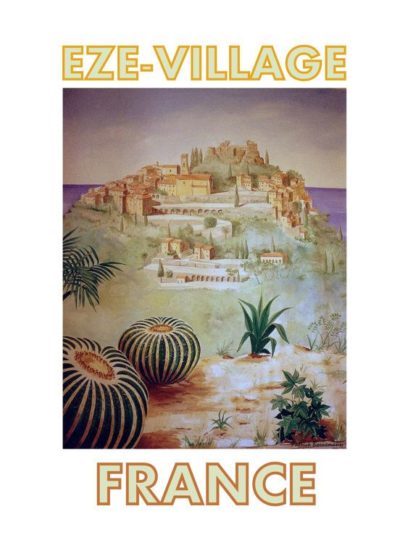 Vintage travel poster EZE France via reddit
In fact, I woke up this morning with no heat in our house; it was 3 degrees below zero outside, and the water pipes had frozen overnight. My husband was understandably frantic, but I had a secret weapon-Velvet & Sweet Pea's Purrfumery Eze. I sent my husband to my mom's for his morning ablutions, and settled in to enjoy my "Mediterranean-Vacation-in-a-Bottle" as I waited for the pipes to (hopefully!) thaw and the HVAC cavalry to arrive. Owner and natural perfumer Laurie Stern took both name and inspiration for her 2016 release from the magical perfume village of Eze, perched high above the French Riviera. I have never been to the Cote D' Azur, but Laurie has imbued her fragrance with such a sense of place that I am immediately transported there; a drop on each wrist and suddenly I'm on a sun-drenched garden terrace, enjoying a glass of homemade limoncello.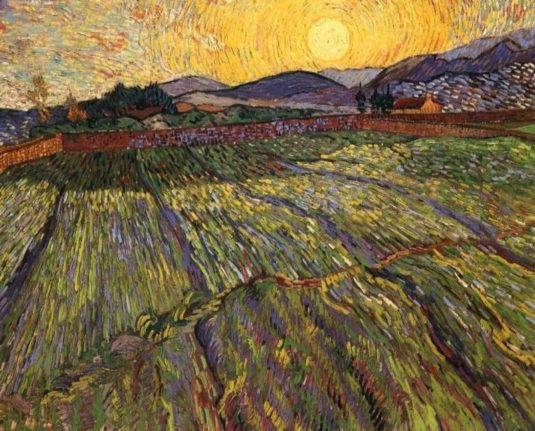 Enclosed Field with Rising Sun, Vincent Van Gogh 1889
Lavender is growing between the flagstone pavers at my feet, and jasmine has her way with the rosebushes surrounding the garden, then clambers up the stucco walls of the villa behind me. Somewhere off on the distance, I hear Sheryl Crow playing, reminding me to soak up the sun, look up when I'm feeling down and lighten up already.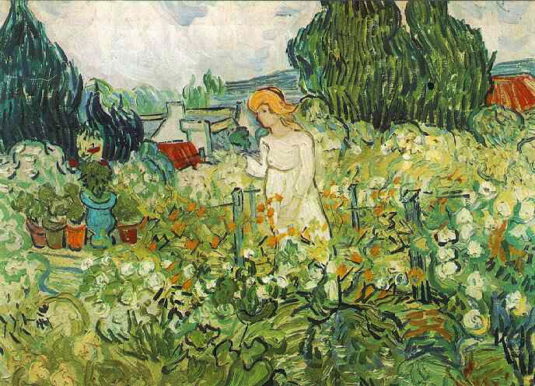 Marguerite Gachet in Garden Van Gogh 1898
Laurie Stern planted this garden of fragrance in a bed of what she calls the "amber, healing warmth" of Labdanum rock rose, and I think that its sweet, earthy facets are what give Velvet & Sweet Pea's Purrfumery Eze such an incredibly realistic feeling of being outdoors. Labdanum is also known to have soothing properties. In fact, she makes a conscious effort to imbue all her perfumes with ingredients specifically included not just for the beauty they add to the fragrance, but also to support your spirit. Eze is joyous and uplifting, as well as calming. If winter has overstayed its welcome in your life, Velvet & Sweet Pea's Purrfumery Eze would be the perfect antidote, and I think it's a perfect summer accessory for our friends in the southern hemisphere.
Disclosure: My review is based on a sample I received from Laurie as part of an order I placed last year. I wouldn't have shared it with you if I didn't love it.
NOTES: lemon, lavender, rose geranium, myrtle, jasmine, labdanum.
Velvet & Sweet Pea's Purrfumery fragrances are 100% natural and certified cruelty-free. Velvet & Sweet Pea's Purrfumery Eze is from the Kittyliscious collection, newly packaged and also carried at Ave Parfum
Tammy Schuster, Senior Contributor
Art Direction~ Michelyn Camen, Editor-in-Chief: Tammy's review of Velvet & Sweet Pea's Purrfumery Eze instantly brought to mind the later works of Post-Impressionist Artist Vincent Van Gogh which captured great natural beauty and depth of emotion becoming more vivid than his earlier years.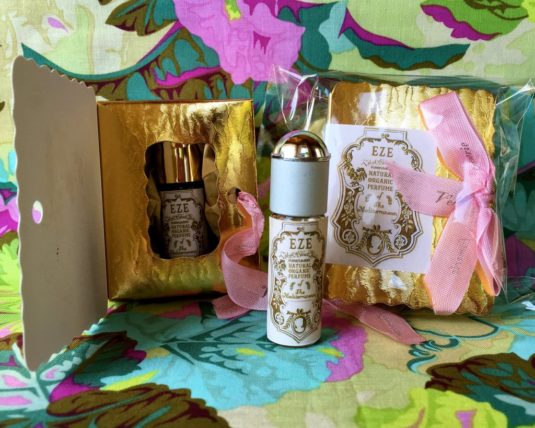 Thanks to Laurie's equally amazing generosity, we have a 5 ml roll-on bottle of Velvet & Sweet Pea's Purrfumery Eze for one registered reader in the U.S. You must be registered, you can do so here. To be eligible, please leave a comment letting us know what appeals to you about Velvet & Sweet Pea's Purrfumery Eze, if you have favorite Velvet & Sweet Pea's Purrfumery scent or where 's your favorite location is to soak up the sun. Draw closes 2/6/2018
Follow us on Instagram @cafleurebon @velvetsweetpeaspurrfumery
We announce the winners only on our website and on our Facebook page, so like ÇaFleureBon and use our Blog feed … or your dream prize will be just spilled perfume