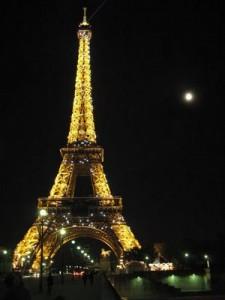 At the recent Sniffapalooza Fall Ball 2010 we were treated to all kinds of presentations of new fragrances. Perhaps the most memorable was given by Brigit, the Van Cleef & Arpels SA, at Bergdorf-Goodman. All the other presenters had handed out blotters, wafted their fragrances through the air with antique wooden fans, and handed out samples. Brigit took a different tack for her presentation of the new Van Cleef & Arpels masculine fragrance Midnight In Paris. Brigit just holding the beautiful cobalt blue bottle decorated with a constellation of stars told a tale of a couple walking the witching hour in Paris. At the end of her tale the couple ended in an embrace accentuated by the man's leather jacket. Brigit left us wanting more and told us we had to come visit her on the Beauty Floor to experience Midnight In Paris. Once I made my way to her counter I was thinking there was no way perfumers Olivier Polge and Domitille Bertier would be able to match the story Brigit told.
M. Polge and Mme. Bertier have collaborated on six previous fragrances, starting with Viktor & Rolf Flowerbomb five years ago. Those previous fragrances were capable efforts but there weren't any of them which had found their way onto my dresser. Midnight In Paris will change that, for me. As Brigit promised, Midnight In Paris is a fragrance which surrounds you in a leather clinch but that central accord is itself surrounded with some cleverly chosen notes which take Midnight In Paris and make it something much more than a run-of-the-mill leather scent.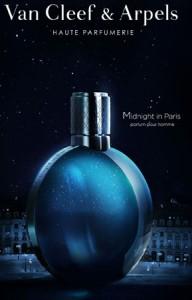 Midnight In Paris begins with the oh so familiar bergamot, rosemary, and lemon trio on which many eau de colognes set sail. It is quickly overtaken by a smoky Lapsang Souchong tea accord. The smoke and leafy tea together are the ideal partner for the deep leather accord as it takes on the central role in Midnight in Paris. It almost seems to rise out of the steaming cup of black tea like a wraith which slowly solidifies. The base is a mix of light clean woods with resinous benzoin and tonka the major notes in the latter stages. The tonka adds a hint of sweet to the leather while the benzoin adds contrast.
Midnight In Paris has outstanding longevity and average sillage.
In the last year Van Cleef & Arpels has been showing as much creativity on the fragrance side of their business as they do with their well-known jewelry. The Collection Extraordinaire fragrances have led to the brilliance that is Midnight In Paris. Midnight In Paris may say "pour Homme" on the bottle but if you love leather fragrances you should make your way to your local Van Cleef & Arpels retailer. If that counter happens to be in Bergdorf-Goodman in New York City ask Brigit to tell you a story of Paris, you won't regret the tale or the fragrance.
Disclosure: This review was based on samples obtained at Sniffapalooza Fall Ball 2010.
-Mark Behnke, Managing Editor