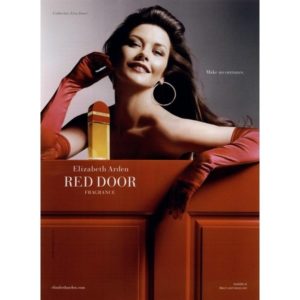 Catherine Zeta Jones Elizabeth Arden Red Door Perfume 2003
Francis Nightingale Graham, aka Elizabeth Arden launched a beauty empire in the late 1920s. By 1929 she owned 150 upscale salons across the United States and Europe. Her 1000 products were found in the luxury market in 22 countries. She was the sole owner, and at the peak of her career, she was one of the wealthiest women in the world. Perhaps best known for the perfumes Blue Grass and Red Door after her famous spa/ salon. Around the same time, American businessman Charles Revson built one of the most successful beauty businesses of the era, the first to introduce matching lipsticks and nail polishes-Fire and Ice, Cherries in The Snow, as well as the iconic Jean Nate and Charlie perfumes. Fast forward to 2016 and the worlds of these two entrepreneurs are joined.
According to Cosmetic Executive Women, Revlon, best known for its drugstore, nailpolish, haircare, beauty and mass fragrances has signed a deal "under which Revlon will acquire all of the outstanding shares of Elizabeth Arden for $14 per share in cash, representing an enterprise value for Elizabeth Arden of approximately $870 million which should be finalized the end of 2016. The deal brings Revlon, into department stores with the addition of Elizabeth Arden's portfolio of licensed prestige fragrances and the global line of Elizabeth Arden-branded prestige skin care, color cosmetics and fragrance products".
During the transition, E. Scott Beattie, Chairman, President and Chief Executive Officer of Elizabeth Arden, will be an advisor to Fabian Garcia, President and Chief Executive Officer of Revlon, Inc., and join Revlon's Board of Directors as non-executive Vice Chairman.
Via CEW
Michelyn Camen Editor in Chief