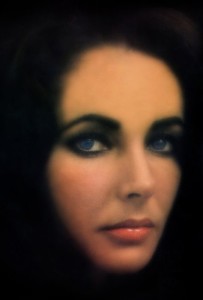 Liz Taylor by William Klein – 1965
"Pour yourself a drink, put on some lipstick, and pull yourself together." ― Elizabeth Taylor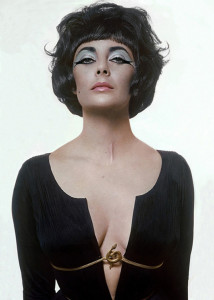 Elizabeth Taylor Promoting Cleopatra 1962 Photo Bert Stern
No actress in Hollywood exudes the glamour of Elizabeth Taylor, who would have been 84 yrs old today. From child star to AIDS activist, from ingénue to the woman who 'stole' Debbie Reynolds husband, Eddie Cantor, Dame Elizabeth Taylor was larger than life. Famous for her tumultuous relationship with Richard Burton who she married twice. Of course, her iconic portrayal of Cleopatra; many associate her with that film, but in truth she really didn't enjoy making it, except for meeting Burton of course.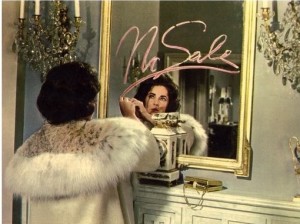 Elizabeth Taylor in Butterfield 8
Her filmology was extensive and among my favorites was her Academy Award winning portrayal of Gloria Wandrous, the call girl who could not be bought, in Butterfield 8 (1960), feisty Maggie "the Cat" in the Tennessee Williams adaptation of A Cat on A Hot Tin Roof, (married to Brick, a man who seemingly loved another man) played by Paul Newman and set in the deep south.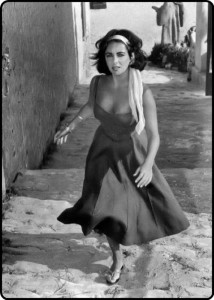 Elizabeth Taylor in Suddenly Last Summer 1959
Her portrayal of Catherine in Suddenly Last Summer (1959), who was being driven mad by her Aunt Violet (Kate Hepburn) isn't as well known but brilliantly acted.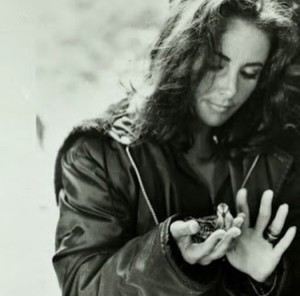 Elizabeth Taylor in The Sandpiper
The movies I watch at least once a year sicne her passing are the Academy Award winning "Who's Afraid of Virginia Woolf, (1966) the adaptation of Edward Albee's play where she knocked it out of the park as the boozy aging Martha, the vitriolic wife of history professor George (Richard Burton) and The Sandpiper (1965) perhaps a metaphor for her own life; she portrayed a sensitive artist, whose own wings were broken (co starring Ricahrd Burton).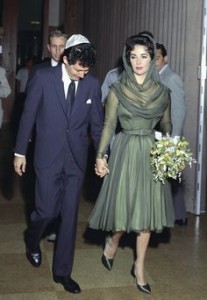 Eddie Fisher and Elizabeth Taylor (husband #4 and formerly married to Debbie Reynolds) Wedding 1959
"You find out who your real friends are when you're involved in a scandal." ― Elizabeth Taylor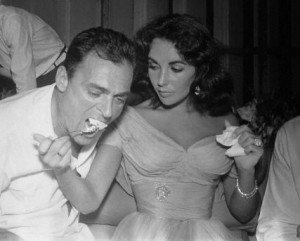 Elizabeth Taylor with husband Michael Todd (no 3) 1957
Married 8 times, it is said that she loved Michael Todd unequivocally and never got over his death when he died tragically in an airplane crash in 1958. She loved him so much she converted to Judaism "I, Mrs. Michael Todd, née Elizabeth Taylor, do declare in the presence of God I seek the fellowships of the people of Israel," and remained Jewish until her death in 2011.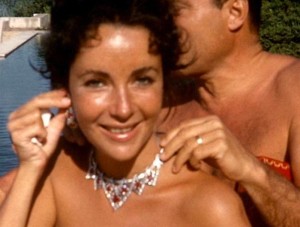 Elizabeth Taylor (no makeup) with husband Richard Burton
Big girls need big diamonds."― Elizabeth Taylor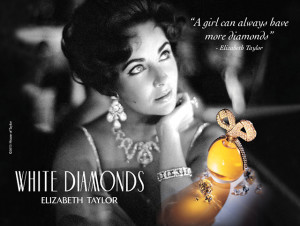 White Diamonds Ad 1991 A Girl Can Always Have More Diamonds (2009 Hall of Fame Fragrance Foundation Awards) photo-Courtesy of The Fragrance Foundation
There is so much to write about Elizabeth Taylor's life more than can fill a single post. She was a perfumista and it was rumored she wore Tuvache's Jungle Gardenia during the filming of Cleopatra in 1963. Ms. Taylor built her own fragrance empire…mover over JLo, Britney and Madonna, White Diamonds, composed by Carlos Benaim in 1991, is the bestselling celebrity scent of all time. Whether by design or as a respite from her dramatic personal life, White Diamonds is a clean, soft white floral a little green and although oakmoss is listed in the notes along with lily, rose, narcissus, jasmine, tuberose; and a base of oakmoss and sandalwood; it smells to me like a happy fragrance and bit like an expensive soap you save for special occassions.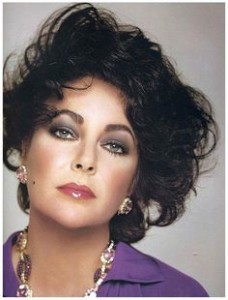 Elizabeth Taylor by Francesco Scavullo,1981
"I'm a survivor – a living example of what people can go through and survive." ― Elizabeth Taylor
What I admire most about Elizabeth Taylor was her resilience. Despite drug and alchohol addiction as well as failing health, she dedicated her later life helping to raise awareness and money for HIV AIDS, which back in the 80s was too often a death sentence. She died at age 79 of heart failure but her legacy lives on forever ..her films, her beauty her glamour and no one in Hollywood today comes close.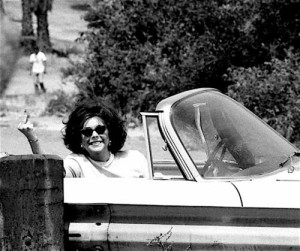 Elizabeth Taylor Flipping the Bird
"You just do it. You force yourself to get up. You force yourself to put one foot before the other, and God damn it, you refuse to let it get to you. You fight. You cry. You curse. Then you go about the business of living. That's how I've done it. There's no other way."-Elizabeth Taylor
–Michelyn Camen, Editor in Chief