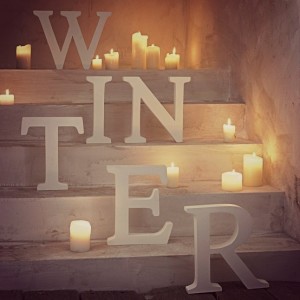 Although many of the writers and contributors who expected to be wearing parkas and boots this time of the year wore light sweaters during most of December, all of us at ÇaFleureBon love our winter fragrances. Our top ten perfume picks of 2015, because you just know that the weather gods are laughing and before we know it we are all going to be turned into human popsicles.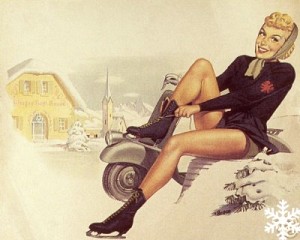 Caron is my favorite House, and Nuit de Noel is the closest thing I have to a signature scent, but Yatagan gets plenty of skin time in the winter. Google it and you'll get plenty of references to sweaty Ottoman hordes and their over-ripe steeds, but on me, it's all pine needles warmed by the sun, or a pair of young lovers after an afternoon spent…gathering mistletoe. The colder it is outside, the better I like it. This is marketed to men, but don't be shy, ladies; we can't let guys have all the good stuff- Tammy Schuster, Contributor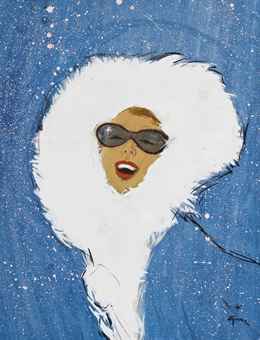 Rene Gruau Winter Sun 1950
The new fragrance from gourmand-master Pierre Guilleme's "Huitième Art Parfums, Shermine (a word-play on 'ermine'- French for Hermine) has white fur as inspiration. A peppery opening leads us into a layer of woody vanilla. The pepper slowly subsides into vetiver, at times a little smoky at times more green, or woody giving an effect of stroking soft moss, rather than animal fur. To finish this subtly beautiful composition is a base of soft iris, musk and dark vanilla pods. Shermine is winter perfect for snuggling up with a woolly blanket on the sofa. – Jasia Julia Nielson, Guest Contributor
Aaron's Yorkie
Nothing says give me a sweater like Creed Orange Spice does. Its warmth and civet heavy presentation just begs me to put on my favorite sweater and deal with the fact that I dislike cold so intensely that I scratch my head every year and wonder why I don't live on the equator! That said, I love this in summer too; however, it's the cold of winter and the warmth I crave that makes this a stand out during this season. Citrus top notes augmented with neroli give this cologne like vibe, but the depth and complexity of the juxtaposition to the base, puts it in a different league. The spicy mid leads to an ambergris and civet laden dry down that is very sensual to my nose (heck, who am I kidding? It's more like my entire body). To cut a long story short, it makes me want to cuddle up with a spiced rum and watch the snow fall in anticipation of the passing of the cold and the promise of a warm spring. –Aaron Potterman, Contributor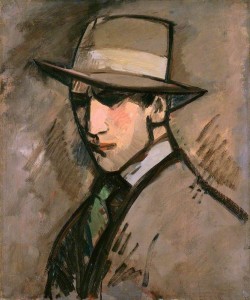 John Duncan Fergusson – 1909 Self PortraitThe Grey Hat
It's been warm here for December but foggy and cloudy. For brighter days lately, my scent of choice is the smoked dryness of Les Nombres d'Or by Mona di Orio Cuir. one of Mona Di Orio's less written about of her perfumes is one of my favorites. The herbaceous artemisia and cade notes empower the husky voice of Javanese vetiver which shine during middle-season temperature, giving Cuir a gray-green foggy opalescence. It is uber chic worn with a long dark coat, big hat and leather gloves- Ermano Picco, Contributor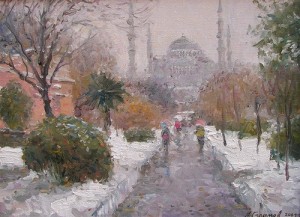 Winter in Istanbul Azat Galimov
Winter means coffee, blanket, sweater and all the other warm things. Of course do not forget the sweeties! Nishane Pasión Choco is all about coffee, chocolate and passionfruit. So try to imagine how well it will it keep you warm in winter. No one ever asks you the temperature, but they'll probably ask you the name of your scent in a freezing weather.
Olivier Durbano – Black Tourmaline is one of the most intriguing fragrances I've ever tried and it has become an instant favorite. And winter is the most suitable season that Black Tourmaline shines. The mysterious aura of the fragrance with notes of oud, cumin and leather tell a magical tale. Fell the stones and fog here and surrender into the world of M. Durbano. -Berkan Basoglu, Contributor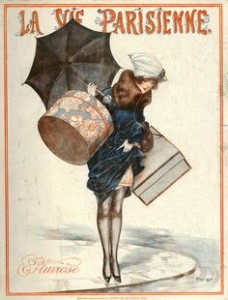 1920s France La Vie Parisienne Magazine
DSH Perfumes by Dawn Spencer Hurwitz's (2015) Albino (A Study in White) is a lovely and surprising fougere, with basil, rhubarb and white cognac. There's playfulness and also a mysterious feel to this perfume that is perfect for the winter months. It's bright, sharp and elegant. The notes are unexpected and it's what I imagine a true Winter Wonderland to smell like.
Naomi Goodsir's Iris Cendre signed by Julien Rasquinet (2015) is the perfect introspective winter scent. Bitter bergamot and tangerine lead down a dark hallway into a burnt offering of orris and violets. This is a winter scent for howling winds and driving cold. If it's you against the elements, wear this as a talisman of protection. Pam Barr, Sr Contributor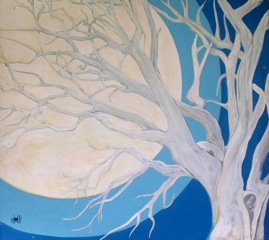 Winter Solstice Waynw Devon
Perfect for winter, Natural Perfumer Christi Meshell of House of Matriarch has created Orca, (2015) an amazing amber perfume to ward off the cold. Coating your skin in a fleece of amber and resins, precious ambergris, hints of spice, and layered with supple leather, Orca is like the impeccable leather coat with plush lining to warm you through the winter days. Marine notes breezing in and out take me back to my time in Seattle visiting the beaches, not too far from the home of House of Matriarch. As I sit here in Colorado surrounded by the snow and ice, I'm grateful for House of Matriarch's Orca to stay nice and toasty during the winter months to come. A few spritzes will be finding their way to my scarves and gloves, scenting them all winter long.- Michael Singels, Natural Perfumery Editor
I like cold weather but the short days make me SAD. That's when perfume becomes my passport to faraway sunny places. East meets West with Emir by Parfums M. Micallef created by Geoffrey Nedjman and Jean Claude Astier in 2010. It is marketed to men, but as always with the lavish and opulent M.Micallef perfumes, my skin loves it. The opening is a citrus mix of pomelo and orange which perfectly balances the strong blend of oud and pepper. One spritz lasts through the long winter night. And then of course- that bottle, straight out of 1001 Arabian Nights, all black and gold (genie not included). This oud a phobe says, Sheikh it off. –Michelyn Camen, Editor in Chief and Art Director
For our Top Ten Winter Perfume Draw: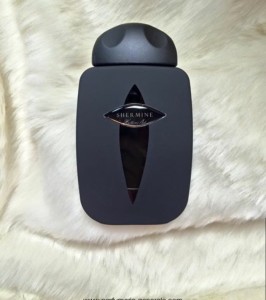 WORLDWIDE: Thanks to Pierre Guillaume 100 ml Shermine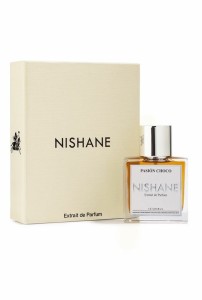 WORLDWIDE: From Turkey with love Nishane Pasión Choco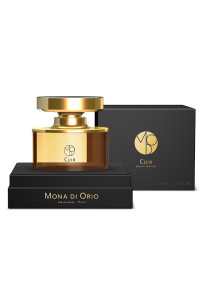 WORLDWIDE: Our dear friend Jeroen Oude Sogtoen 75 ml Les Nombres d'Or by Mona di Orio Cuir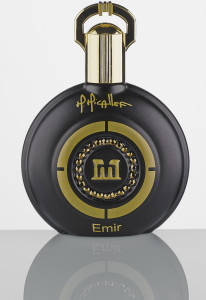 WORLDWIDE: Merci Martine and Geoffrey 100 ml Emir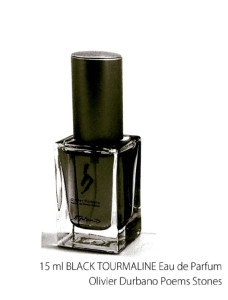 WORLDWIDE: 15 ML SPECIAL flacon of Black Tourmaline from Olivier Durbano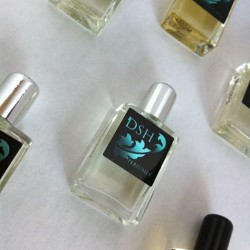 WORLDWIDE: The generous Dawn Spencer Hurwitz is offering a dram mini flask of Albino (A Study in White)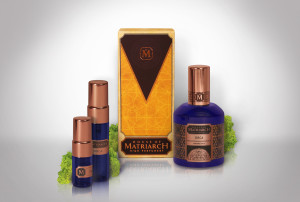 USA: From the beautiful Christi Meshell 50 ml of ORCA ALL NATURAL
To be eligible: You must be a registered CaFleureBon reader (yes that again), please leave a comment with what you thoughts are on our picks for this year's top 10 winter scents, the perfumes you would like to win and where you live. How is the weather where you live??? Draw Closes 12/24/2015
We announce the winners on our site and on our Facebook page, so Like Cafleurebon and use our RSS option…or your dream prize will be just spilled perfume